There's a Mexican restaurant not far from my house that has the best chicken soup.  I ordered it one day, which is not my usual at a Mexican restaurant and was pleasantly surprised at the chunky chicken, tasty broth, and veggies that was in the soup, not to mention chunks of fresh avocado and lime juice.  It was SO delicious that I just had to try it at home.  I Googled (yes, it's a verb) Mexican Chicken soup and came up with several variations and I picked one that I thought would be close to my restaurant soup, from El Nopal.
And I'm happy to say, that it's a pretty good copy of the restaurant soup and we loved it.  It will definitely be on soup rotation around here.
I found this Mexican Chicken Soup from Divas Can Cook and slightly modified it for myself. I used all the same ingredients she did, except for the corn.
I used  2 carrots, green pepper (1), 1 jalapeño pepper, 2 celery stalks, a can of Red Gold petite diced tomatoes with chiles. Of course, you can use any canned tomatoes.  I had this on hand.
I had a whole cut up chicken in the freezer so thawed it out, put it in a big stock pot and simmered it til it was falling off the bone.  I strained off the chicken broth and had 4 cups saved.  I then deboned the chicken and had plenty of chunky chicken to add to the soup.
In the recipe I linked, she baked her chicken in the oven, but I boiled mine.
Chopping up the veggies.
I decided to throw on a yellow onion too, just because.  This mostly follows the above recipe I linked to, but I didn't add corn to mine.
She also didn't do this step, but I saw it on another recipe, so did it on mine.  I added a couple tablespoons of olive oil to my stock pot and sautéed the veggies for about 10 minutes.  I also sprinkled Cumin on top of the veggies as they were sautéing.   Add salt and pepper to the soup to taste.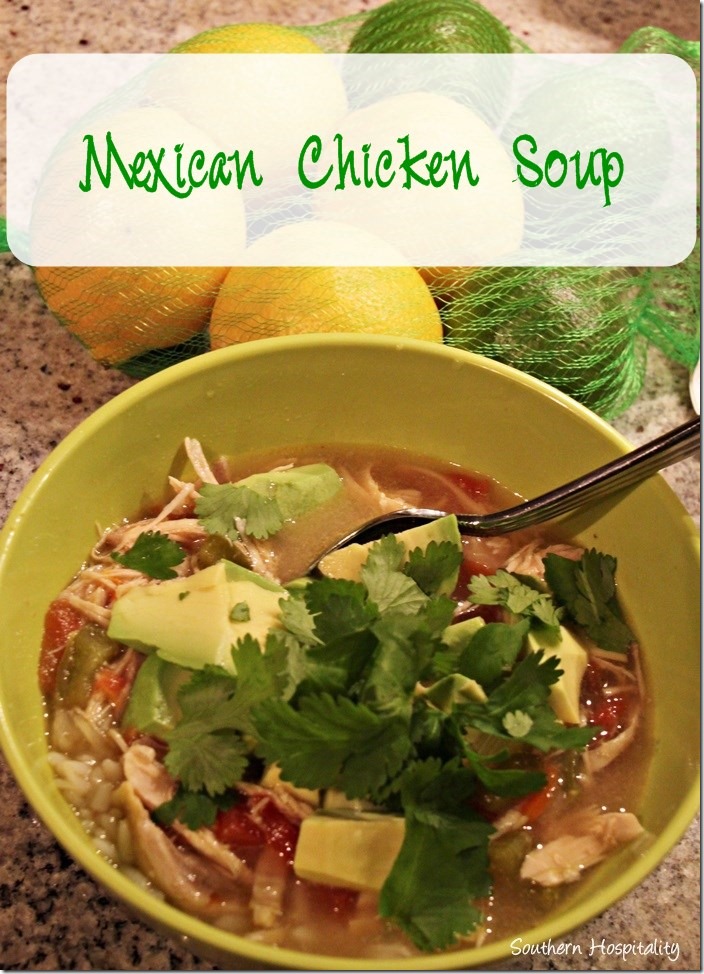 Then, I added back the  4 cups of chicken broth I had saved, of course you can use canned chicken broth too.  I cooked some rice and had it ready when the soup was finished.  I didn't add the cooked rice into the soup, but used it as a base and added bit of rice to the bowl and then spooned the finished Chicken Soup over the rice.  I then added fresh chopped avocado, fresh lime juice and fresh cilantro.
I love lots of lime juice and this soup is amazingly delicious and easy to make.  Deboning the chicken is the most time consuming part, but it's well worth it to get a big pot of chicken soup like this.  All good ingredients and it tastes so yummy too.  I'll definitely be making it again!  So, print off her recipe and tweak it as you want.  I just did my own thing and it turned out great!
Don't Miss a Post, join my list!