Back when I was in my 20's and moving into my first house, I remember being so excited about what sort of dishes I would buy.  As women, don't we all dream about beautiful dishes, glasses, and silverware that we can set out and use for entertaining.  We do, don't we?!  Love beautiful tables and dishware and all of that stuff.
Back then, in the mid-80's, I was feeling a little more contemporary in my décor and fell in love with a pattern from Rich's (then, now it's Macy's), called Silk Flowers.  The plates were octagon shaped and I thought they were the most beautiful dishes ever!  I bought the whole set, 8 piece place settings, plus serving dishes, platters, salt and pepper shakers. I wanted my house to have a beautiful set of dishes to enjoy and use every day.
Aren't they lovely in their pink and teal beauty?
I thought so at the time, but now they are just too pink and busy for my tastes.  Dishes with a heavy pattern will limit you on how to use them.  We all evolve and change and this set was fun, but it was time to move on. I kept that set of dishes at least 10 years and then sold them on Ebay!  They are still available on Replacements website and I had to laugh at an Etsy listing, calling them vintage from the 80's.  OK, that might be a stretch.
So, as my tastes have changed, I began to appreciate the beauty of plain white dishes, just in the last 6 years or so.  I found a pretty set of Pfaltzgraff dishes at a yardsale for $10 (whole set, no kidding) in white and I used those dishes for a good 5 years.  I just passed them on to my mom who passed them onto my aunt.  They had crazing on the plates, but are still very useful.  I definitely got my money's worth out of those white dishes.
Imagine my excitement when I heard from Mikasa about doing a fun promotion with them. Yes, please!  I love dishes and it couldn't have come at a better time.  My yardsale dishes were wearing out and another set of classic white would be so awesome.  They let me choose whatever pattern I wanted to try out and I chose Italian Countryside.  I have always loved the simplicity and beauty of these dishes.  French Countryside is beautiful too, but Italian really spoke to me.   I found out that Italian Countryside is in its 20th year of production and they have added some beautiful and classic serving pieces in wood to go with this beautiful pattern.  Mikasa sent me a set of 8 place settings, plus flatware and goblets to set up a pretty table.  It's beautiful and I could not be more happy with my picks!
Want to see?  Of course, you do!
You can see how beautifully elegant Italian Countryside is with it's softly fluted edging around the plates, along with a subtle band of scrolly leaves.  Just my kind of classic!  I had a lot of fun coming up with this pretty tablescape using some of my yardsale and thrifted items too.
Those placemats are from Pier One and I found them at a local Goodwill last summer while thrifting. I knew I'd be able to use this color on my porch!
I started with these and then pulled out a pretty green plaid runner that I picked up years ago at a yardsale (from Williams Sonoma) to add a nice bit of green to the table.
And here's the finished table!  I just love the colors and how fresh and vibrant it feels. Of course, the white Italian Countryside dishes are the star of the show, but I love that you can add any colors to white dishes and each table will be unique and different.
I simply used things I already had and pulled it together with green and orange.  It's a little bit Fall-ish, but could also be Spring-ish, depending on the season.
You'll see in the center of the table one of the newest serving pieces just introduced for Italian Countryside.  This wooden serving tray holds 4 square plates that can be used for all sorts of entertaining.  Isn't that pretty?   Take note of that, because these new wooden serving pieces are part of my giveaway today.  Someone is going to be SO EXCITED!
A good look at the large plates and glasses.
Italian Countryside pitcher looks perfect on the table too.
I picked up this slice of wood at World Market and it looks so nice and adds a rustic element to the table, along with one of my small planters and cloche.
These beautiful goblets from Mikasa are called Cheers and I adore them!  With their etched polkadots, swirls and lines, they are so fun to set the table with.
Another close up look at the square plates serving tray. The wood on these serving pieces is so rich and elegant.
Table setting for one.
Italian Countryside flatware is another classic piece that I just adore.  This is a simple, yet elegant set of flatware, perfect for everyday use.  Those green and white napkins are yardsale finds years ago and I dig them out for lots of occasions.
One side of the table with cloche.
A simple flower arrangement in one of my vintage vases is all that is needed for this table.
Can you tell I love this square wooden tray?  It's so pretty!  I added some painted acorns that were gifted to me by a blog friend and I just love what she did to these.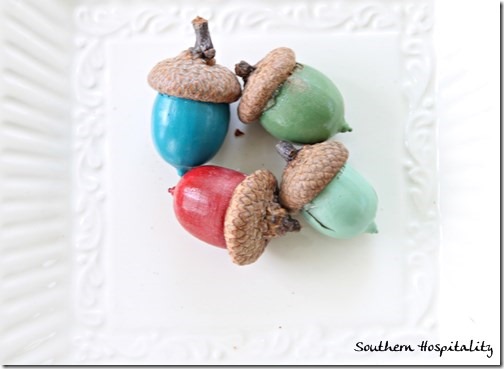 A simple and easy Fall or Spring project, pick up acorns and spray paint them.  I think she hot glued their little caps on after she sprayed them. Love them!
The new line of wooden serving pieces from Mikasa also includes this beautiful large white salad bowl with wooden serving utensils.
And this beautiful wooden bowl with another white bowl inside, perfect for chips and dip.
And yet one more, an elegant long wooden tray, with grooves made just for 3 little serving bowls.  Entertaining has never looked better.  Don't you love these newly introduced wooden serving pieces!  I sure do, now I just need to have some parties!
Now for the Mikasa Giveaway!
Are you ready for the fun giveaway?!  Mikasa is generously giving away to ONE Of my readers a set of 4 PLACE SETTINGS of Italian Countryside, along with your choice of ONE of the above four new wooden serving pieces that go with this set.  Isn't that exciting?  I know one of you would love to win this.  I'm so very happy with my new Italian Countryside dishes, flatware and goblets.  I have no excuses now not to entertain more. 
All you have to do is follow the instructions on the Rafflecopter widget below. There will be two ways to enter, so please enter both for extra points!  Leaving a comment in the comments on this post is the main way to enter!
You can find Mikasa on Facebook and Pinterest.
Mikasa is sold at Macys.com where you can find Italian Countryside and the new accessories.
Disclosure:  I received a set of 8 Mikasa Italian Countryside dishes, set of 8 piece Italian Countryside flatware, and set of 8 goblets from Mikasa to use and keep.  I was not paid to write this post and all opinions and ideas are my own.
a Rafflecopter giveaway

Don't Miss a Post, join my list!