I so enjoyed my visit up to Tennessee for Bella Rustica and being in that beautiful countryside was so exhilerating, even if the weather wasn't exactly Fallish.  It was hot!  But, that didn't stop me from having a great time and one of the highlights was taking a tour of Milky Way Farms manor house.  It looks a bit like a castle, all Tudorish and massive and all.
For more pics, you can check out the website manor house here.
Near Pulaski, TN, this area of the South is so pretty with rolling hills, beautiful vistas and small town squares.
The farmhouse doesn't look like a farmhouse, but more like a castle, a manor house.  It's huge and has recently been purchased by a father and daughter team and I think the plan is to do more events at the farm, like Bella Rustica, as well as luncheons and large group events. The farm was purchased in the 1930's by Frank Mars, of candy bar fame and he employed hundreds of workers during those hard times.  It is certainly a beautiful place to tour and I'm so glad we got to see inside the house. We got a tour from Lynn, one of the new home owners.
There was even a Kentucky Derby winning horse back in 1940!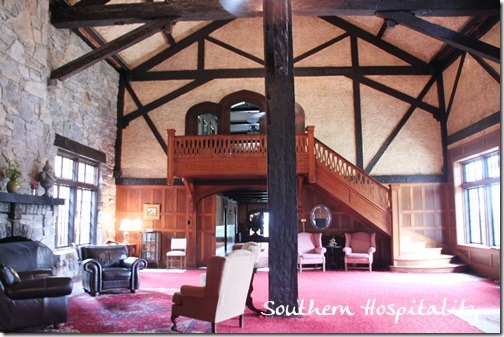 This is the huge great room just inside the massive front doors. The home is plaster, wood and rock, very rustic, but pretty in an earthy way.  Rock solid it is.
Check out these iron gates leading into the massive dining room, which seats around 40 people around the oval table.
Quite a sight to behold.
It's dark inside, so very hard to get great pics on the fly, but I did my best. Have you ever seen a dining table this big?
Huge wood beams and one BIG table.  Wow, is that something to behold.
The kitchen has been modernized for functions and taking care of crowds.
Pretty and functional with some nice views outside.
This large stone fireplace is in the great room.
Looking out at the beautiful countryside from one of the many windows in the house.
More rock and wood beams.
The outside of the home is so impressive too with the stacked stone and just the sheer magnitude of the manor house.
I can't imagine how long it took to build this.
Lots of older vintage lighting still inside.
There are hallways with rows of bedrooms off of them, all with original bathrooms still intact.
Nicely done. Not sure if they are planning to run this as an inn eventually, but maybe.
This was "his" bedroom, Mr. Mars.
Large and stately room.
And this red one was "hers."
Black and white vintage tile in most of the bathrooms.
Old radiators and antiques.
Check out this bathroom with the hex tiles, all coming back in style again.
Still pretty and classic.
Sitting area.
Love this pretty chandy and massive wood beams on the ceiling.
This area even has a screened in tiled porch with beautiful views.  You can see the massive Magnolia trees outside.
One of the hallways.
Ahhh, how gorgeous is this?
Another pretty chandy.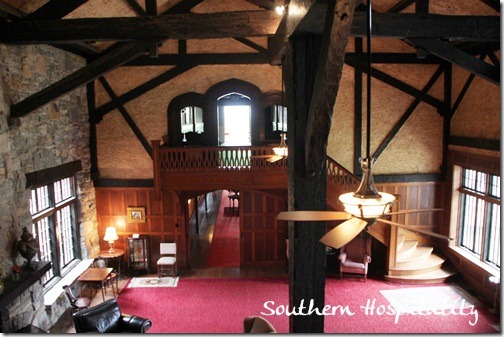 Looking down from upstairs.
Another pretty bedroom.
And yet another porch with view.
Can't take a tour of Milky Way Farms without having a Milky Way treat.
And a pretty vase of flowers as a greeting.
Rolling hills and hay rolls.
We checked out a couple of the barns too, some of the nicest barns I've ever seen.
The chandelier barn hosts wedding receptions, we heard.
How pretty is the door?
Soaring ceilings with a big ole' chandy up high would be a great party barn.
You can imagine all the beautiful horses in these stalls.
That chandy is so pretty in here.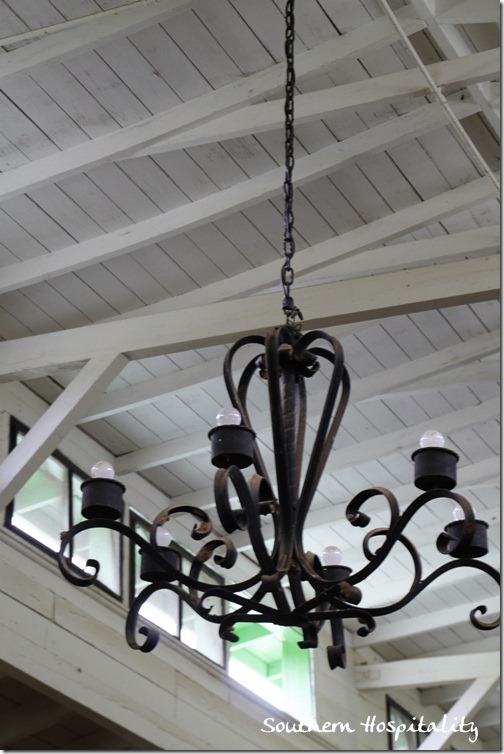 Lovely!
Loved the old wood doors and iron hardware.
It was such fun to visit this part of TN and get a glimpse into this beautiful Manor House at Milky Way Farms.  If you're in this part of the country, I'd definitely tell you to stop by and take a tour.
Driving back home, I had to snap a quick pic of See Rock City, one of the birdhouses and old barns that splash this sentiment across the South for as long as I can remember.
Don't Miss a Post, join my list!