One of my readers emailed me about mixing the metals in a house and asked me what I thought of mixing instead of all matching. She thought this would be a good blog post and I agree.  What's the proper way to mix metals?  I think it's probably all very subjective, but things are a-changing in the design world on mixing things up and frankly, I couldn't be happier about that.
Remember the days when most everyone bought matching sets of furniture, especially in bedrooms and living rooms?  How boring was that?  In the last 20 years, the trend has totally changed and not too many folks I know buy that way anymore.  It's just too predictable and yes, a bit boring.  I think the same could be said for matching hardware in a house.  Back when I was growing up, it seemed that brass and chrome were about the only choices out there. We didn't have the full spectrum of metal finishes that are available today, so mixing things up gets a bit more complicated.
Or does it?
I happen to think that nowadays, most anything goes in mixing those finishes.  It especially shows up in bathrooms and kitchens and now that I'm doing my own kitchen from scratch and updating those 70's bathrooms of mine, I've had mixing metals on my mind a lot lately.
I've come to the conclusion that it's totally OK to mix those finishes.
Do what makes you happy in your own home and I do believe that it will all work out if you do that.
I happen to love dark bronze or black metal for my white kitchen cabinets and love the pop that they give.  Someone else with white cabinets could just as easily choose nickel for their knobs and pulls.  So, where does that leave the faucet and appliances?  Mix it up, I say.  In my own kitchen, I have stainless appliances, black hardware on the cabinets, an oil rubbed bronze track light and the pendant over my sink has chrome accents.  And I think it will all work fine together.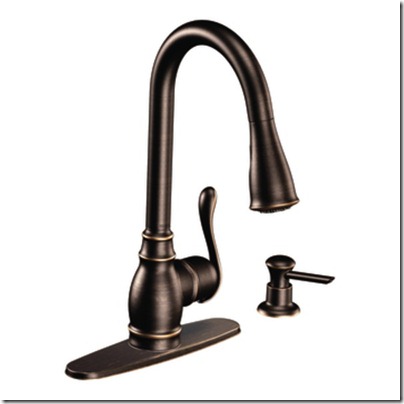 (from Moen)
My faucet could go either way, but I've decided on oil rubbed bronze for that.
(Moen Caldwell)
In my bathrooms, I have chrome in the bathtubs and opted for Satin Nickel for my bath sinks and may go all silvery tones in the hall bath on cabinet knobs and lighting.  But, I just might mix them both up, I think it all is fine together.  The sink will flow with the chrome that I have at least replaced new on my old bathtubs.  But, I do like darker tones on bath cabinets and even lighting.  It's going to be a mix, not matchy-matchy!  Thanks to Moen, I got the faucets for my kitchen and bathroom, so grateful to them for that.
(Schlage from Home Depot)
All of my doorknobs are a mixed bag of shiny brass and antique brass and my hinges are antique brass since my house was built in 1979, so I'm leaning heavily towards changing out all my interior doorknobs to antique brass.  They will totally pop off my dark brown painted doors.  I haven't gotten them yet, but they are certainly on my radar and I'm leaning heavily in that direction.
In the last 5 years, I had a mostly hate relationship with that shiny builder's brass that so many of us have lived with for years.  I still don't love that, but antique brass is certainly growing on me and I really like the luster of it.
(via Horton Brass blog)
So, let's take a look at some real life kitchens and see how the mix works in here.  The kitchen above has brass hardware on the kitchen cabinets and what looks to be silver tones on the overhead pendant lights.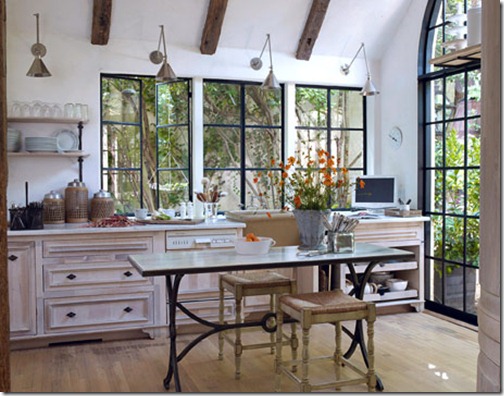 (via House Beautiful)
Ballard Designs master designer, Jill Sharp Brinson, has a mix of metals in her fabulous kitchen of satin nickel on the wall sconces and a dark finish on the drawer pulls.  Jill knows how to mix with the best of them.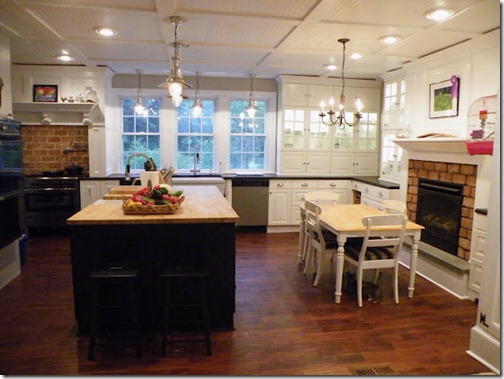 (via Gardenweb)
This is a wonderful old farmhouse kitchen renovation from Gardenweb (Brickmanhouse) that they did a fabulous job with this Ikea kitchen installation and there's a nice mix of metals in this kitchen as well.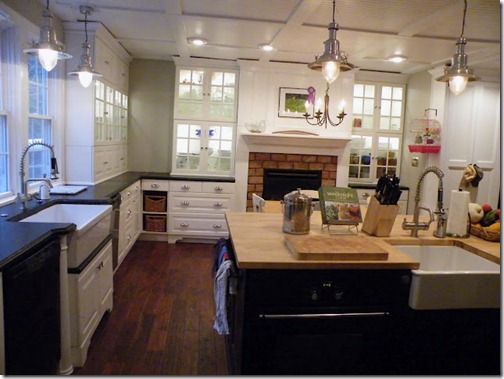 I see mostly silver tones, but the chandy in the background is a black finish and I think the dark island has dark hardware too.  Mixing it up gives this new kitchen more of a period feel in keeping with this older farmhouse.  It's beautiful!
(via Southern Living)
Another great example of mixed metals in a kitchen, is this beautiful rustic kitchen that was featured in Southern Living.  The dark pulls on the cabinets are a wonderful contrast to those weathered brass pendants over the island.
Here's another great example from
Houzz
on mixing metals.  Note the fireplace andirons, the chandelier and the painting over the fireplace.  All different finishes!
And another bathroom from Houzz, note the sconces and overhead lights are silver tones and the knobs on the cabinet are dark and this is one beautiful bathroom.
So, as you can see, this is a subject that's been tackled by a lot of folks and from what I'm reading, we are all agreeing that mixing it up is a wonderful way to get a warm and welcoming feel to your home.  It's not so predictable and gives a lot of depth to spaces.
Have you changed your mind recently on this subject or are you sticking to your decorating guns.  It's amazing how these things change and evolve over time and I'm totally on board with mixing metals now, whereas 10 years ago, I wouldn't have been leaning in that direction at all.  Mixing metals does seem to create that collected over time and vintage appeal that we all seem to love these days.
I want my home to be warm and inviting, whether or not all the metals match or not.  That casual and approachable style that I am so drawn to.
So, what do you think? Are you a metal mixer too or do you love all the same tones throughout your house? Let's chat in the comments!
Don't Miss a Post, join my list!