It's all done!
The laundry room which I thought might take weeks to finish was completed in about 2 weeks and I'm more shocked than anyone, I think. It went way faster than I thought once I got everything ready to go. Today, I'm sharing this colorful small laundry room renovation using wallpaper with inspiration for organization, hanging clothes, and just an overall stylish small space for laundry chores. Something we all have to do around the house! I couldn't be more happy with this little laundry room! It's so cute, adorable, stylish, shabby chic, and organized all rolled into one little jewel box of a space.
I think small spaces are extra fun to decorate. You can really take them up a notch and make every little detail count in there. I wanted a space that was pretty to look at, plus organized with everything at my fingertips that I would need. In a small laundry space, you need to make every inch count and I think I've done that in this room.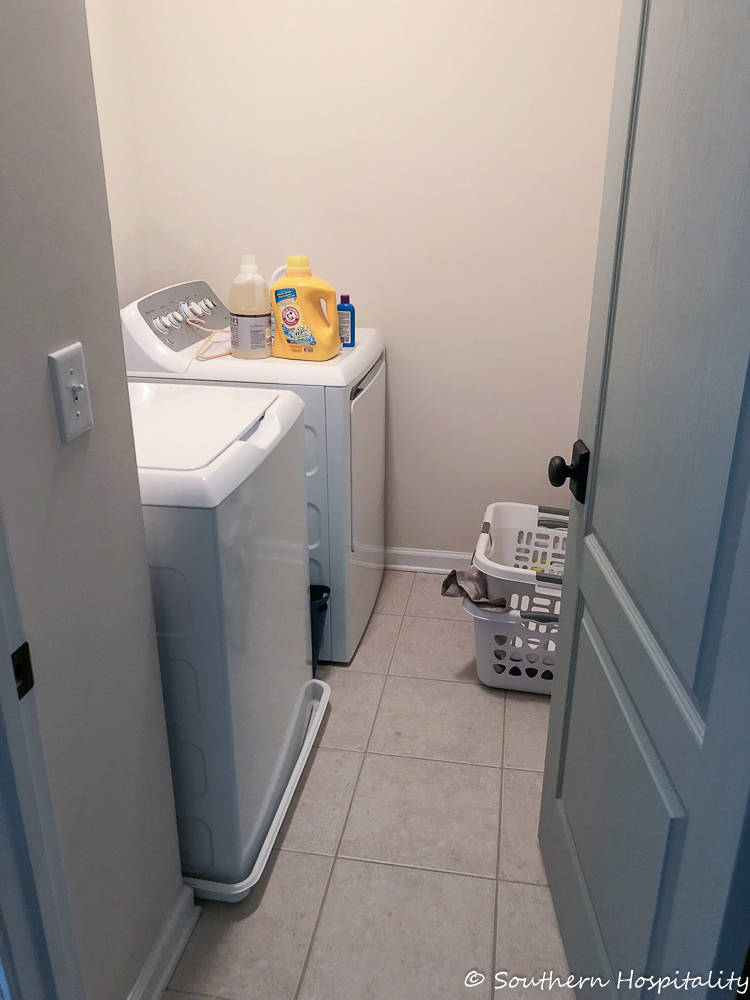 Our house when we moved in was a lot of plain and boring rooms. A nice house, but nothing had ever been done to make each space better and the laundry room was no exception. Off white walls, beige tiles, it was just a boring little box. Don't get me wrong, I'm happy to have a laundry room even if it is small. And it's upstairs off the hallway and near our master bedroom which is really nice too.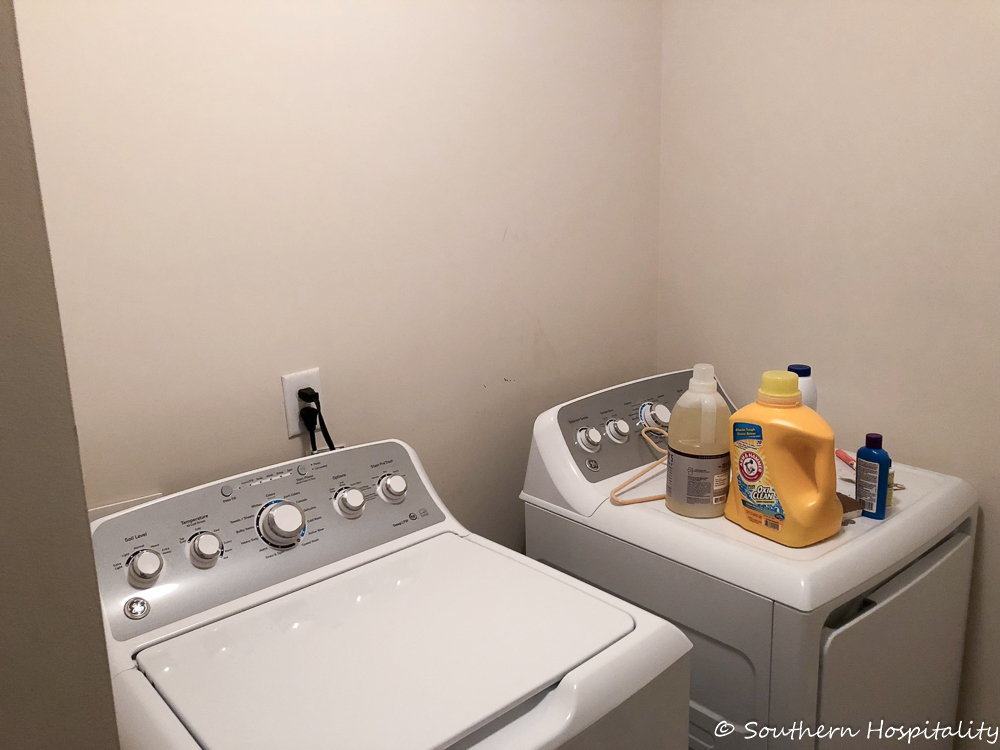 I brought my fairly new, but nothing fancy washer and dryer in and this has been the state of the laundry room for the past year and 1/2 that we've been in this house. No shelves, no nothing. Bare bones!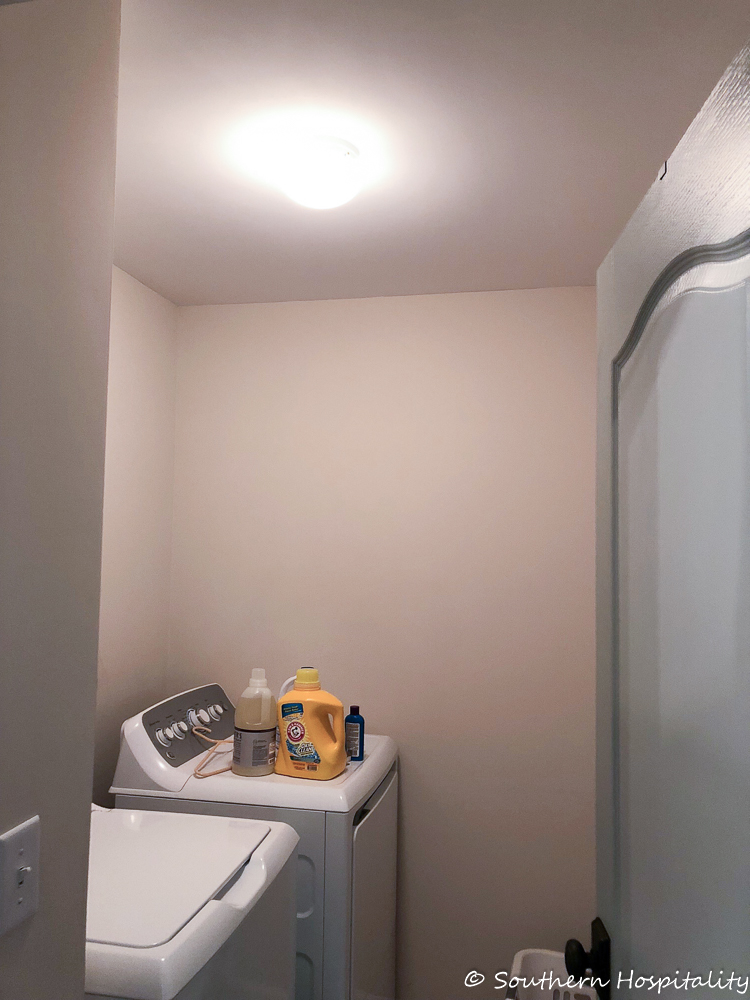 I really thought and thought about this space before I started and looked for ideas online for small space laundry rooms. I found several, but not that many with my shape and style. Most were a lot larger or just closet laundry rooms and there is a lot you can do with both of those. I didn't find much at all that was my size using a combination of paint and wallpaper. So many are farmhouse style too, all neutral. I haven't seen anything like mine so far and I'm happy that I came up with this combo for this room. It really changes it all, the paint and wallpaper and of course, the final touches of the cabinet on the wall and accessories. I bought very few accessories and had all the things that ended up in the cabinet on the wall.
Be prepared because I'm really proud of this little room and took a lot of pics with all the details!  I call it a Modern Vintage laundry space. A little mix of both with a lot of feminine details. Mark likes it, but of course not as much as I do. He still doesn't love that shabby cabinet, but he helped me hang it anyway! That's a good man! And he hung the light fixture for me and cut down the metal rod for my hanging bar. I'll show you all that too. Other than those things, I did this whole space myself.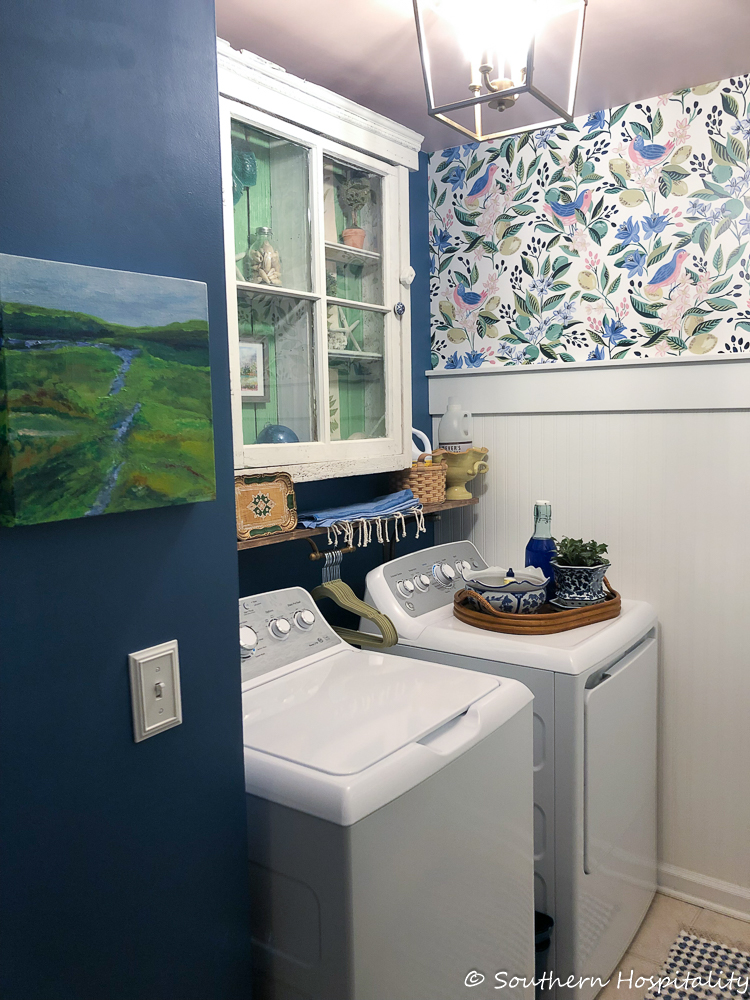 Here she is in all her colorful glory! My new and improved laundry room. Photographing a small space is really challenging for me, especially with no windows and no natural light. I had to keep the light on which creates a lot of shadows, but I did the best I could. Most of these ended up being with my phone camera.
Looking in from the door, it's hard to capture it all in one picture from one view, so I took a lot of detail shots and I hope you enjoy them all.
This Caitlin Wilson wallpaper in Citron Vert is the crowning jewel in the room and does exactly what I wanted, create a colorful and happy space! Of course, I picked one of her most expensive papers! That figures!
If you missed my previous wallpaper post about how I put up all the wallpaper in this room, including the beadboard wallpaper, go here and read that too. It was a process of paint and wallpaper to get it finished and ready to accessorize. The paper was a splurge but totally worth it.
Paint colors:
Ceiling: Rosy Outlook (Sherwin Williams)
Walls: Down Pour (Sherwin Williams)
Trim: Pure white custom mix to match our current trim in semi-gloss
Door color:  Oyster Bay (Sherwin Williams)
Beadboard Wallpaper:
Again, hard to photograph this tiny room, but I wanted to give you a look at every angle. There's room to walk in and do laundry with no additional space.
I found this pretty rug on Wayfair (affiliate link). It might be out of stock now, but should be back in.
You'll notice that little plastic tray that the washer sits in. Someone will probably ask about that, so I'll go ahead and mention that is was here when we moved in. Mark wants me to keep it under the washer just in case there's a leak sometime. Not that the tray would keep water from going all over, but it might help if it's a small leak. I don't love it, but it's not so bad.
Back to the rug, it's about 2′ x 5′ and was the perfect size and color for my laundry room. I thought about doing something to the tiles, but thought a pretty rug would be all I really need in here and I'm so happy with this cotton one. The tiles are in great shape and otherwise neutral, so I worked with them.
It looks great with the tile and the blue and white in the room.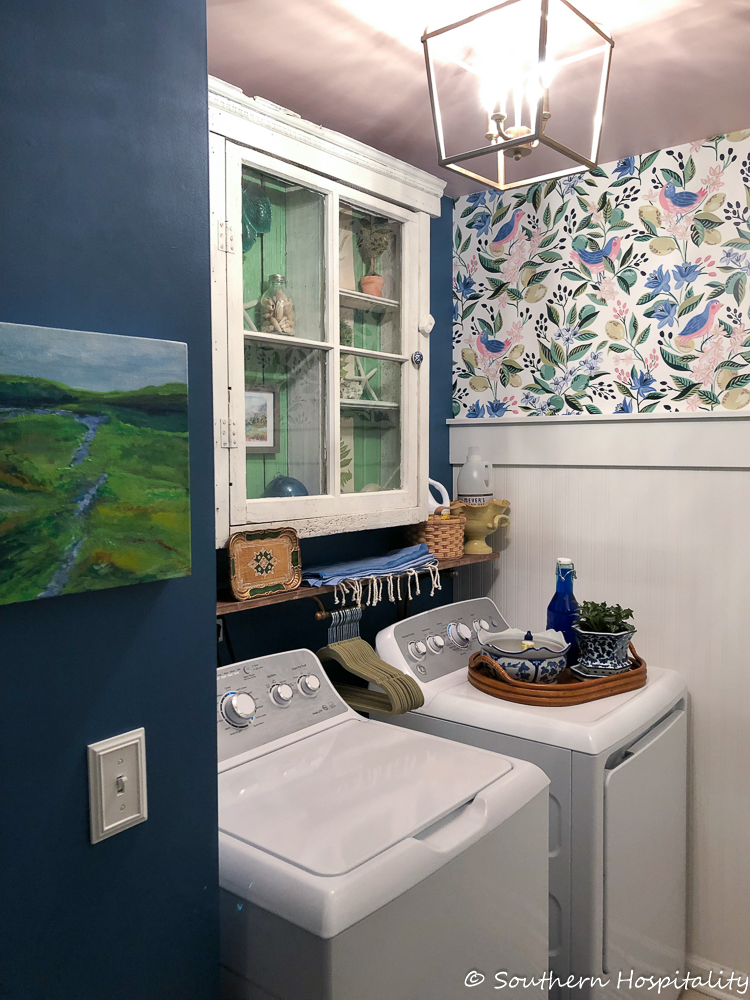 That little painting coming in the door was a gift from a friend, Lynn, here in Marietta. I love it and this is the perfect spot to hang it permanently. Goes with the colors in here perfectly!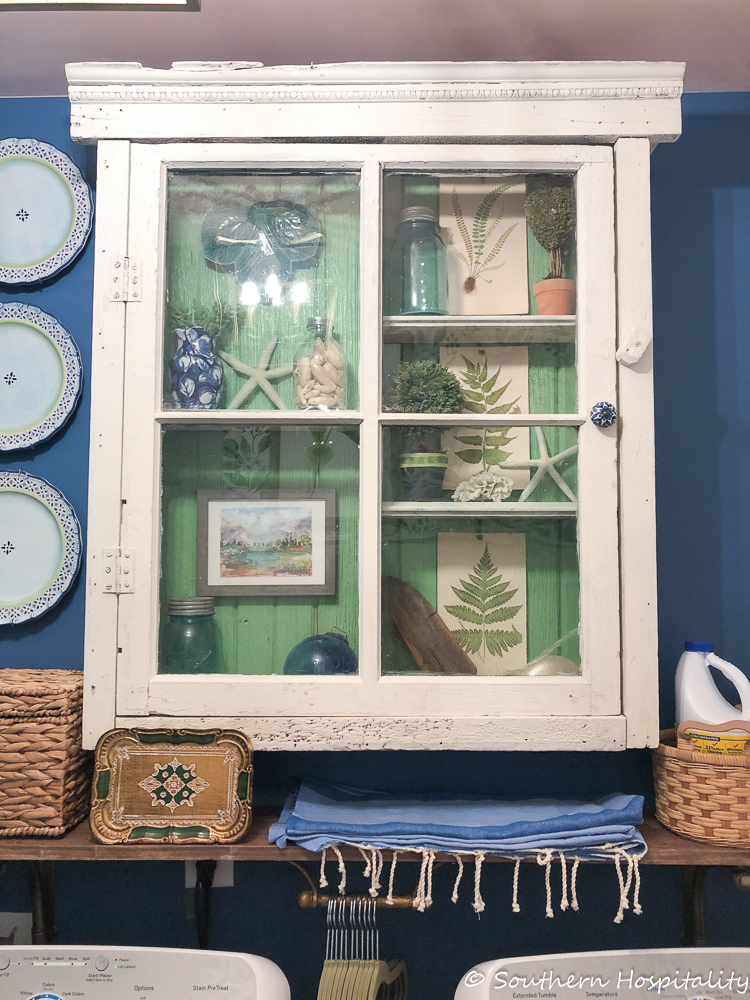 Let's look at how great my old shabby cabinet looks on the wall (in spite of what Mark thinks!). I told him most of my women friends love this cabinet. He doesn't get it! So I bought this piece at a yardsale while I was still living in Birmingham and it was in my old master bathroom in my old house until I remodeled that bathroom. But I kept it and hoped to use it again and it's perfect in this spot! I thought I might use it for storage, but I really don't need it, since most of my laundry supplies are left out and easy to reach, I'll show you that too. So it got filled with pretty things that I like to look at!
I did freshen it up with a new coat of white chalk paint and I painted the back in a pretty Spring green called Organic Green, an HGTV color that I picked up at Lowes (a sample pot). It was a great color flow with the wallpaper and the navy wall.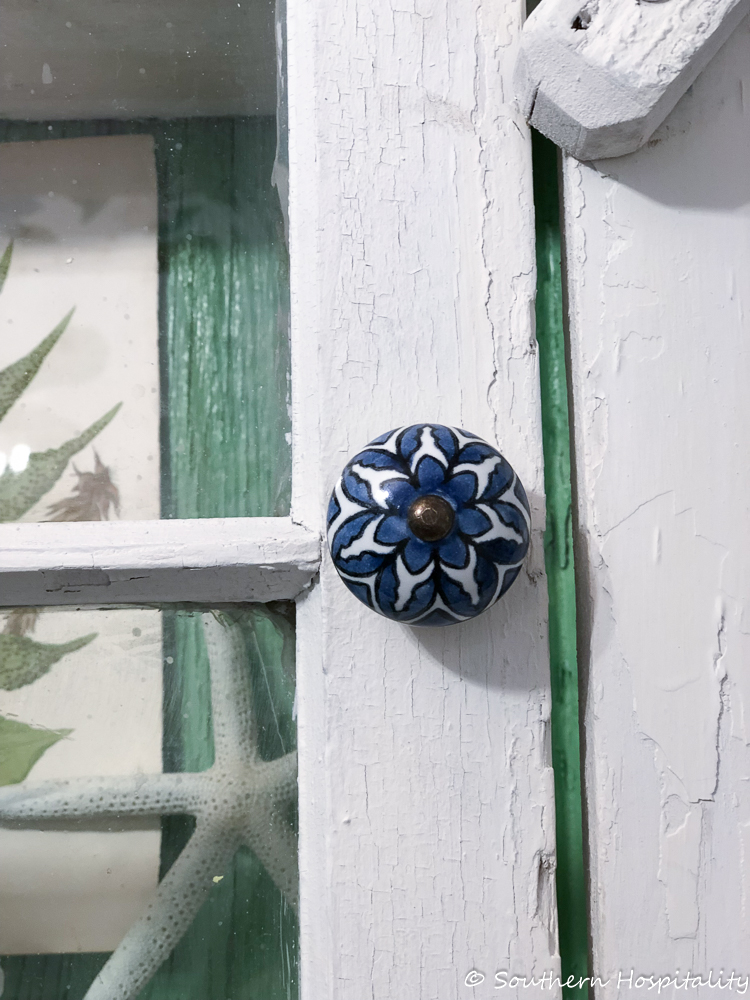 I went to Hobby Lobby and picked up one of their blue and white knobs to really set it off and I love it! It had an old wooden knob originally. This old cabinet came from Lakewood Antiques when it was still in business here in Atlanta. I bought it from a yardsale in Birmingham and she told me that's where she got it. I still remember the guy's booth who sold these, I had looked at them way back when I went. Oh how we miss that market at the old Lakewood Fair grounds in Atlanta!
With the cabinet freshened up, it looks so cute up on the wall.
I added that wood stained shelf underneath along with 2 brackets from Lowes. These are called nickel, but look like antique brass to me. The wooden 5′ shelf is just a poplar board I got from Home Depot and stained it in a wood tone. I wanted it to hide the plugin and take away from the washer plugs behind and it does a good job of that, plus I can put things on it.
I picked up that basket to the left above to go on the shelf. There's nothing in there yet, but it looks pretty. That little Florentine Italian tray was an antique store find last month and I just liked it in here.
I had these 3 plates (from Italy) hanging above the windows in my old master bedroom. I kept them because I love them and aren't they perfect on this navy wall?
This sign, It All Comes Out in the Wash, came from a giveaway I did a few years ago. You probably remember it from my old laundry room. Her shop is called Spunky Fluff. I'm excited to see she is still in business and she created this sign with me way back then and now carries it in her shop, so you can get it directly from her in all different colors! So cute! Mine was originally a teal blue color, but I painted over it with the same green I used in the back of the cabinet.
It's just to the left of the washer on that little wall.
Here's a little something I came up with that I'm really loving! See those hangers between the washer and dryer. I thought that would be a great place for me to store my hangers for things coming out of the dryer.
Again at Hobby Lobby, I bought a long iron pull that I could screw up into the wood shelf and hang my hangers on it! I think that's pretty genius if I do say so myself! They have so many knobs and iron pieces like this to choose from.
They are out of the way but handy. I added some gold Rub N Buff to the black iron pull to add a little glam to it.
It's perfect in this location and I can grab them easily. I picked up this pack of spring green hangers at Homegoods and I'll leave them in the laundry room. They were the perfect color for my space!
That pretty blue fringed Turkish towel came from Foutacolors a few months ago. They gave me a couple of them to mention them on Instagram. The colors were so good in here so I added it on the shelf!
Between the washer and dryer I only have enough room for a small trash can, so it sits here along with a collapsible laundry basket. I got this one on Amazon (see links at bottom of post), but they are all around. I tried to find the biggest one I could find that was about as big as my old ones. I just don't have room for bulky laundry baskets, so this is a great solution for me and hides away between the washer and dryer. I'll show you more of the basket later in the post.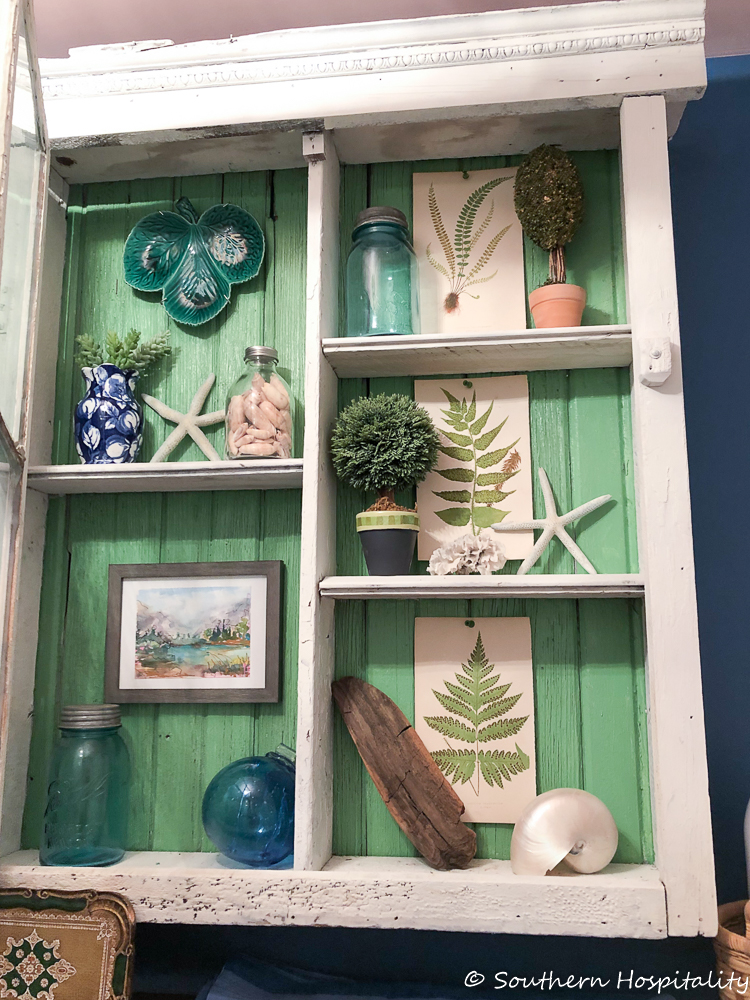 Back to the shabby cabinet. I am loving it all over again! I love the spring green paint on the back and decided to bring in a botanical feel in here to flow with the wallpaper.
I happen to have a lot of little botanical inspired things in my stash, so topiaries along with some shells seemed to fit in here well. Those are real bookplate botanicals that I had enlarged and framed years ago and I held on to the originals. They look cute tacked up with green push pins.
I love vintage pottery and have collected a few pieces of this deep green which I love. That little piece isn't dirty, it's just the light glaring. And of course, blue and white is perfect in here!  Love my seashell collection too. I have plenty of seashells.
I picked up this little original watercolor painting from Etsy recently and framed it in a floating frame which I love. It looks cute in the cabinet too along with some glass things.
Over to the right on the other side of the shelf, I added a basket I found from Goodwill and another pottery piece that looks great with the wallpaper. I've had this bowl for years. They are perfect for holding my bleach and Mrs. Meyers bottles.
It's out of the way on the shelf, but very accessible. I added a cute wicker tray I found at an antique store on top of the dryer.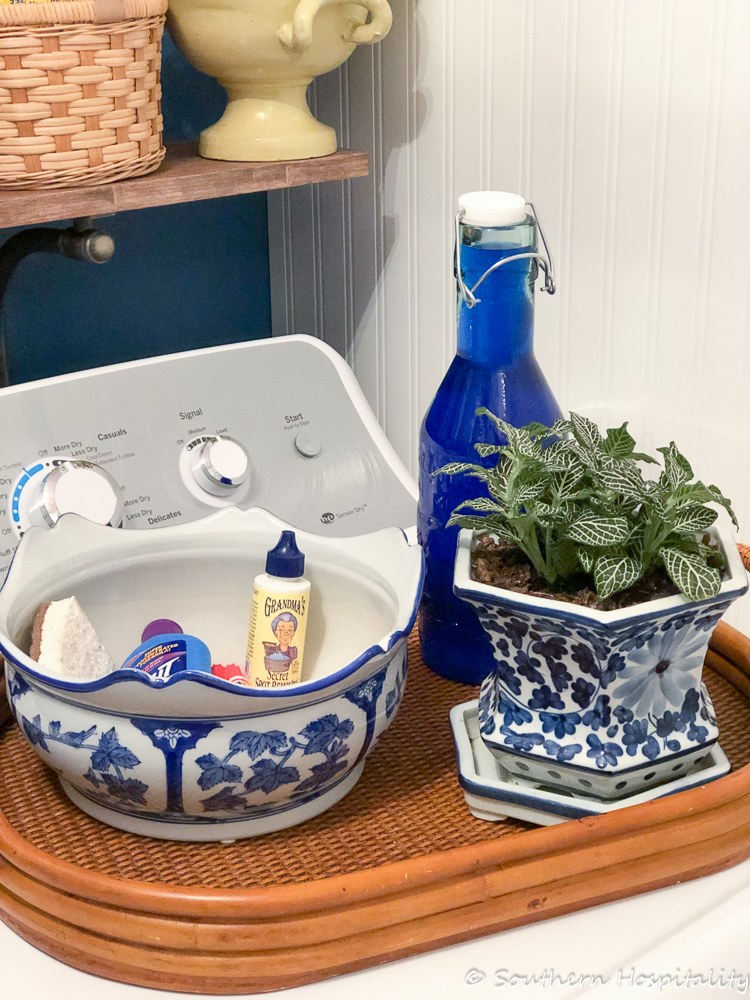 It can stay here all the time since my dryer is front load and hold this blue and white pottery piece, which houses my laundry items like stain removers and Tide pens. I added this little real plant, but it won't stay here since it will need some light. I'll have to get a faux plant for this spot. I picked up that little blue and white planter at an estate sale recently.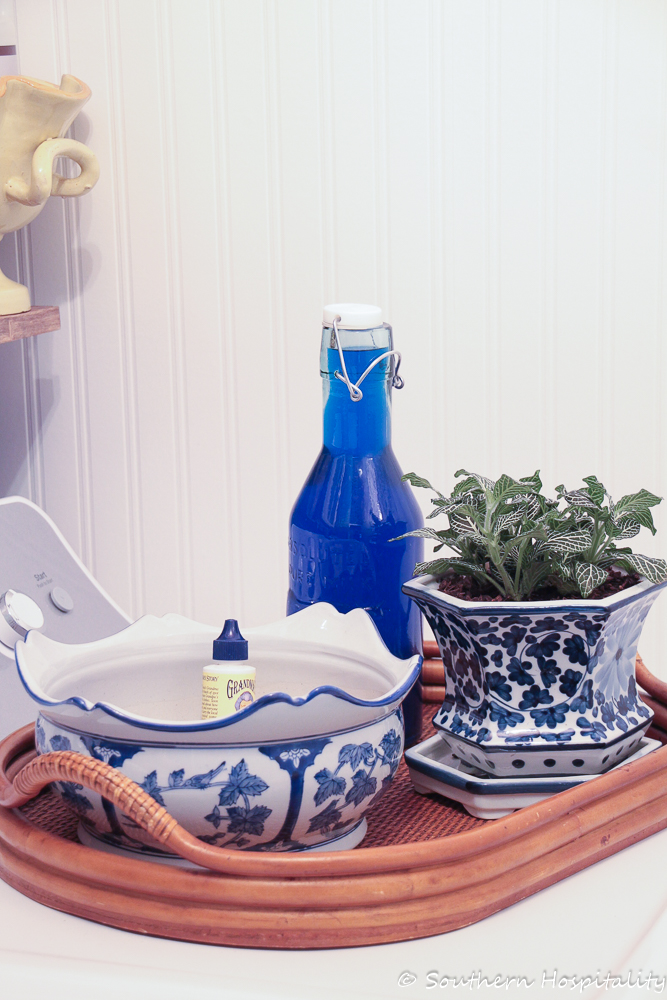 I love the blue and white accents in here, perfect with that wallpaper. The glass bottle I picked up at Homegoods. It has a stopper on top and I'll just refill it with my liquid laundry detergent. I just pour directly from the bottle into the washer. The big container of liquid detergent is stored in the hall closet for easy refills.
I've had that bottle of Grandma's spot remover for a long time and it really does seem to work for me most of the time.
Notice that beautiful light fixture. I found it online and it's a semi-flushmount which was really perfect in here. It also comes with a hanging chain, but I decided more flush mount would be best for this small space. We only have 8′ ceilings on this floor. I changed out these bulbs to LED's.
I absolutely love it! Adds just a touch of glam and bling in here! I put in four 60 watt LED lightbulbs in Daylight and it really brightens up this room so much more than that dinky little fixture I had. I can actually see in there now!
The brand is Minka Lavery and I've added it in the links below. I found mine on Ebay for $90, but the best price I see online is about $165. It's a beauty though!
Another look at that luscious wallpaper.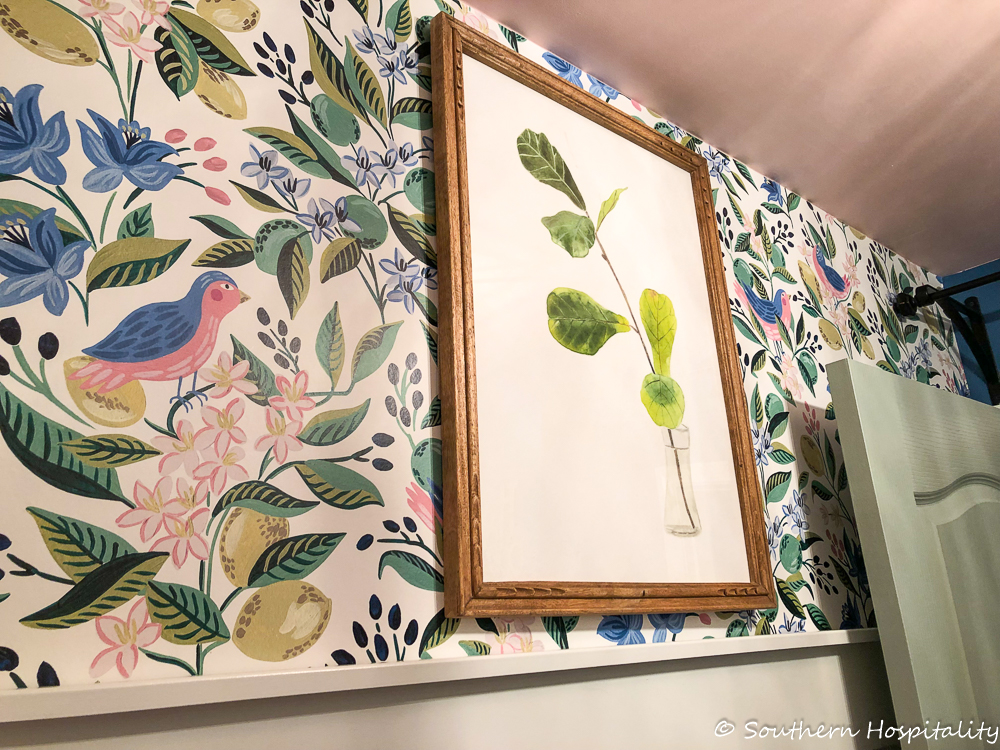 On the right side of the room, I added this pretty green and white botanical print I got from Minted a couple of years ago. I had it on my old screened porch when I redid that space. Loved it so much so put it in here! The wooden frame complements the wooden shelf I put up. I didn't want to cover up much of that wallpaper so this is all I'm hanging over it.
Now here's another great idea for you for a small space laundry room! We all need a place to hang damp clothes, right?! My sister did this in her laundry room and I am copying it in here. She hung hers on the wall, but after looking around my room for the best spot, I landed on above the door.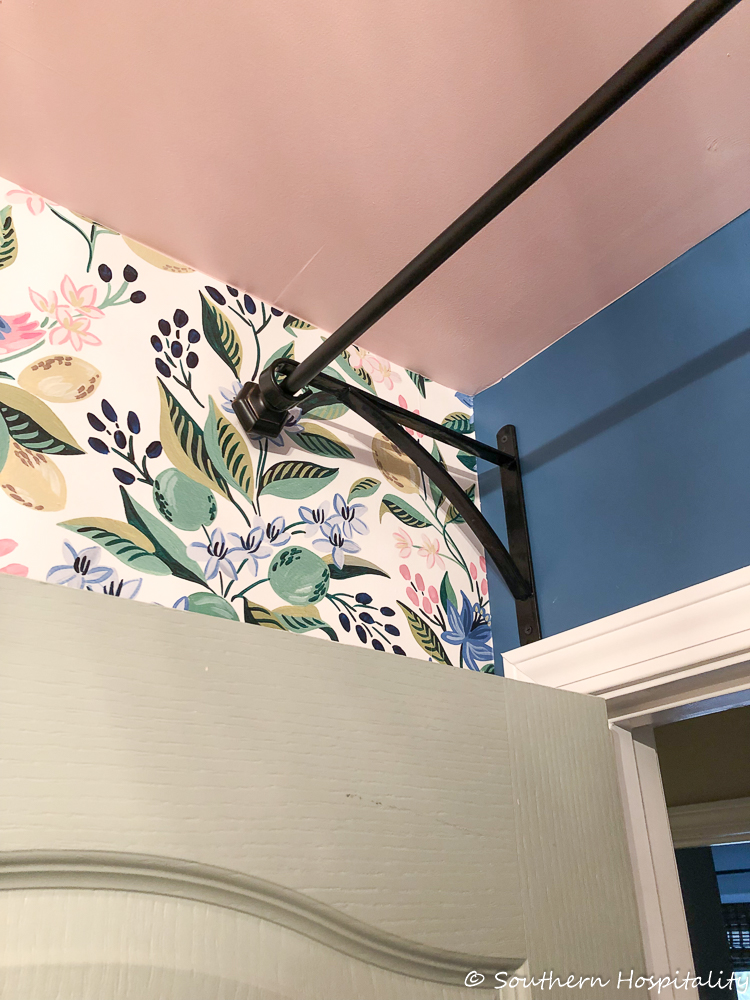 This is two plant hanging brackets. I found them online from Wayfair last year and kept them until I got to this part. The rod is an old curtain rod from Ikea I wasn't using anymore. I cut it down to fit the brackets and added the finials back on. I'll share a post about all that later with more details if you're interested.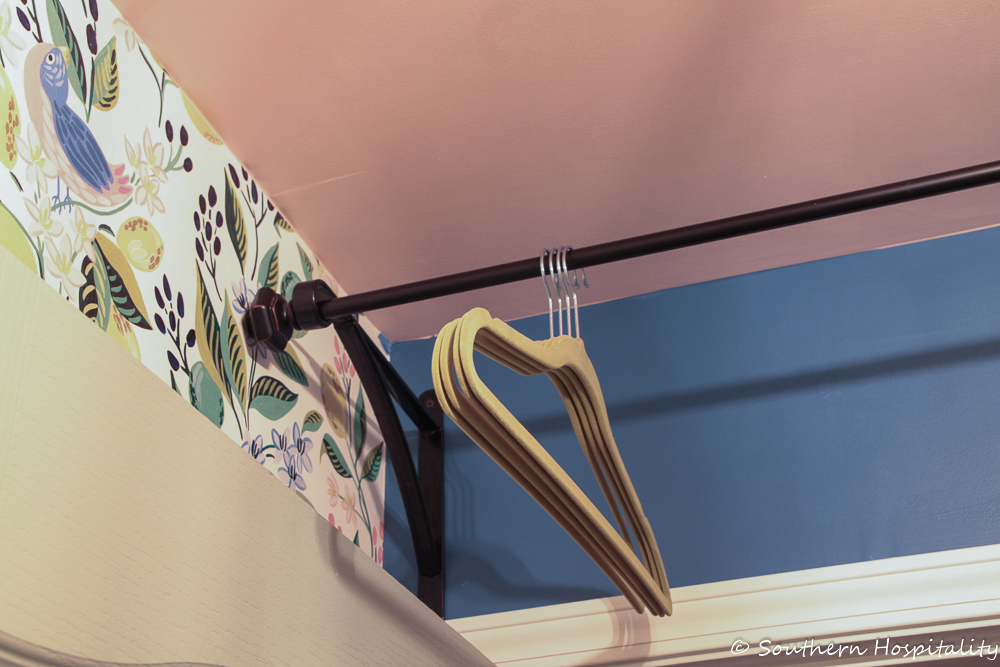 The brackets stick out 12″ from the wall, perfect for hanging clothes above the doorway. Several people asked me on Instagram how I would get around the clothes or close the door.
Well, as pretty as this space is, I probably will never close the door again! And I can get around the clothes just fine when they are hanging up. I was hanging our clothes on hangers over the doorway trim before.
I hardly ever have more than a few things to hang up at a time so it's not hard at all to get around them.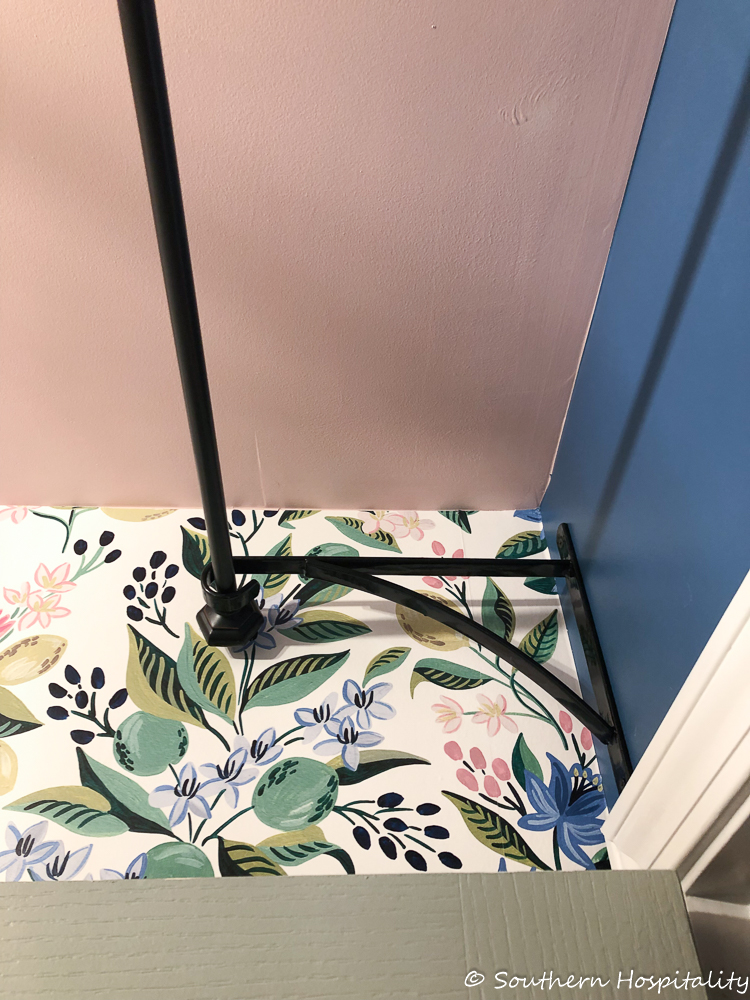 I wanted to show the brackets at all different angles so you could see how well it works and again, I'll share a post about this later to show the details of the rod and how I did that too. I've added these brackets I found on the links below too.
With clothes hanging on it. Up out of the way and not obtrusive at all. I can still close the door when it's empty if I want to, but again why would I want to?
It's so nice to be finished with this space and check one more project off the list. I knew when we moved in here that I wanted to fix up this small laundry space and make it my own. Now I have and it feels SO good in here!
I'd love to add crown molding in this room and it will probably happen. Mark agreed too that it would really finish it off to add crown molding, so when he gets out the power tools and we start shopping for the next molding project, we'll probably pick up crown molding for this space and finish it off. Crown molding adds so much to a small room! For now, I'm happy to be finished with it!
Back to that collapsible laundry basket. Several people told me they have these at Bed Bath and Beyond and Costco. I paid $31 for mine on Amazon Prime and probably paid a little too much, but I didn't feel like driving all over to find them. This is about the same size as my old laundry baskets and I love that it collapses down to about 4″ when closed.
Here's the Amazon affiliate link if you're interested in this one. It got good reviews and is big.
It's going to be perfect for my small space. I hardly ever have to use two baskets and won't have a problem just having one available. It's a short trip to the master bedroom from our hallway laundry room. I'm so glad our laundry space is on the same floor as our bedroom. Makes it so handy!
The final touch was adding crown molding.
So, that's a look at the new and improved and colorful laundry room! I hope you enjoyed this finale as much as I did sharing it. I'm absolutely thrilled with this new space and it will definitely make doing laundry a lot more fun (if you can call it that!). I know I'll be smiling more in there as I look at all of the pretty things in there and that wallpaper will always make it feel like Spring is here! Love!
I'd love it if you would share my post and pin it on Pinterest! I'd love to spread it around, I'm pretty proud of this one!
Total cost spent on things I didn't already have was right under $500. Not bad for such a remarkable transformation. The most expensive thing in here is the floral wallpaper. 
Here's a link list of all I can share in here that are the same or similar products, with affiliate links. I added 2 links for the light fixture in case one is not available, same price:
Don't Miss a Post, join my list!