I love our sitting room more than ever now with the addition of picture frame molding and painting it all out the same Moody Blue color. This space is cozier than ever with the addition of the molding and it's amazing what paint can do. This modern take on picture frame molding is a fresh take on a classic design of applied moldings and trimwork.
When I did this room a couple of years ago, I chose a paint color to go with the color scheme I have going in our master bedroom, taking it right into this little 9.5 x11′ space. I had drapes made with Waverly bird fabric and worked with Bernhardt on those new swivel chairs in there. This little space is cozy and a great place for unwinding watching TV at night. Sometimes I sit in here if Mark is watching football or a movie I don't care about in his man cave. I love that it's tucked away and private. Now it's better than ever with a few changes!
Just for fun, here's a look at the room when we bought the house in 2017. Plain and beige, right? Nothing exciting about it. We had carpet on the entire 2nd floor and one of the first things we did was get all the carpet out and engineered hardwoods installed. That was a big day!
VERSION ONE
Here's where we ended up two years ago. Paint color is Moody Blue and I shared this space with you all then. I never got really good pics, it's so hard to photograph this space, the colors in these pics are way brighter than it really is, but my new phone does a much better job of capturing it. My big camera was even hard to capture the true look in here. This room is on the backside of our house and faces our woods, it tends to be dark in here. So the paint color just adds to that, but I love it.
I sold the above gray console table from Homegoods on Facebook marketplace for the same price I paid for it, so that was a win.
Unfortunately I didn't like Moody Blue mixed with the Oyster Bay paint that I painted all our doors. I knew then that it clashed, but left it alone and thought about going back and painting the doors the same Moody Blue as the walls, but never got around to it. I've been mulling over it since it was finished.
Then I started seeing so many bloggers and others on Instagram doing picture frame molding treatments and painting it all out the same color, a beautiful monochromatic look. Some did light colors and some did darker colors like I had in here, so I knew it would look great in this space. We have been on a mission since we moved in here to add more moldings around the house. It adds so much class to a room. Mark was hesitant at first because he honestly doesn't like picture frame molding. He usually rips that out and opts for something else (like our dining room) so when I told him what I wanted to do (and showed him pics) he agreed but wasn't really gung ho about it. I just knew it was the right treatment for this space. The ceiling was already painted blue and so all we needed to do was add the molding, caulk and paint it. I really needed his help cutting and installing the molding since he is way better with math and measurements than I am.
I will share another post about how we did this picture frame molding treatment, but today want to show you the after pics! I just love it so much and this little room really shines now. I took lots of pics!
FINAL VERSION
Bedroom side looking in. That's a leaning mirror there on the left. The new and improved final version!
Paint color: Moody Blue by Sherwin Williams in a Satin finish.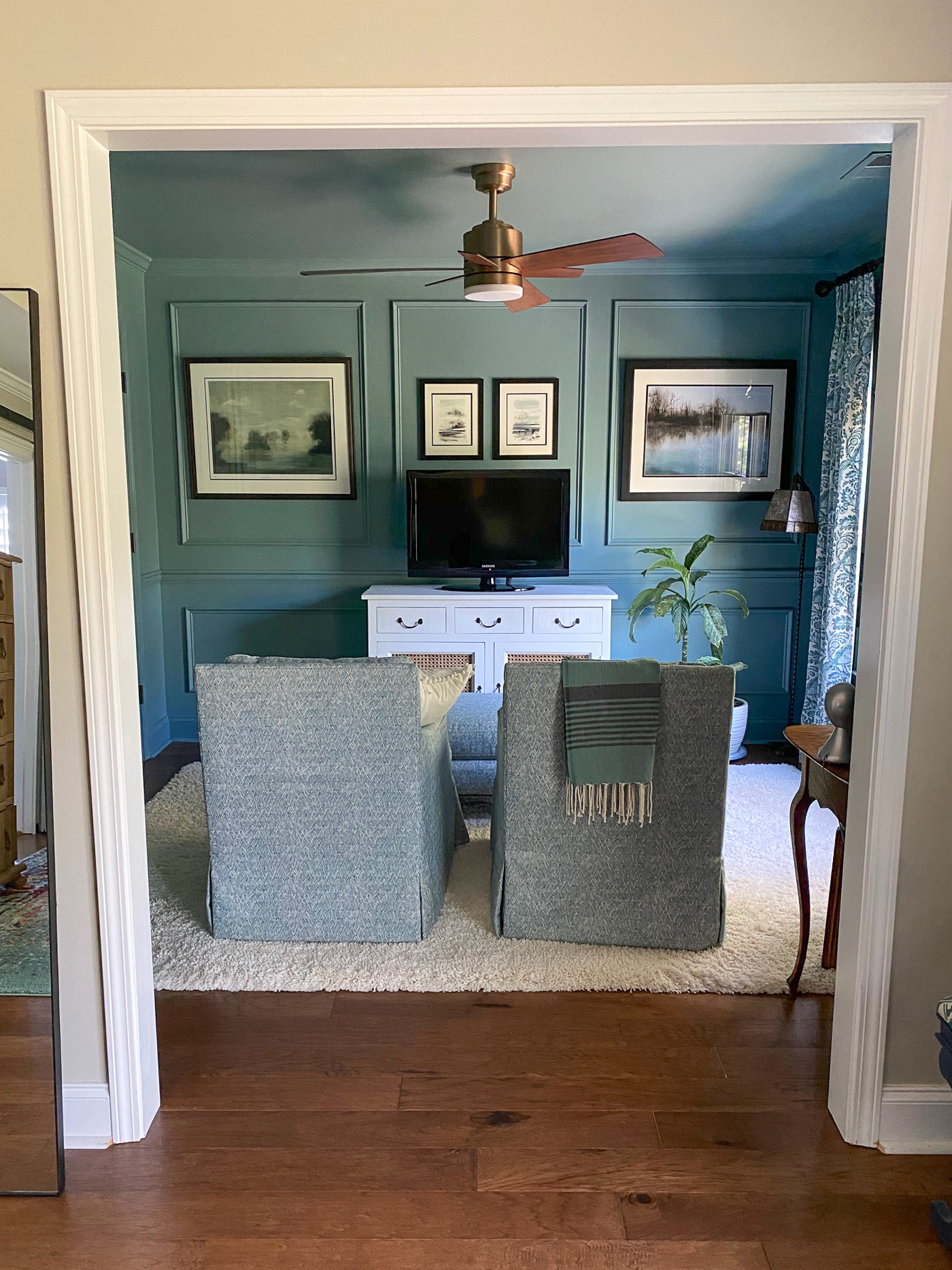 You'll notice that I changed out the TV cabinet. The gray one was rather blah against the blue walls so I wanted something that popped more so I got my cabinet back from my old house and painted it white, which I shared with you here. I love it with the fluffy white rug. The molding totally elevates the space and painting it all one color, Moody Blue by Sherwin Williams, makes it so peaceful and calm in here. Like a little cave!
Here's a similar rug to the white shaggy rug in here from Wayfair.
We also changed out the old fan to this new modern version in brushed gold. It looks so much better too I think. We do use our fans here in the South. It's not an optical illusion that the blades are 3 long and 3 short. I didn't even catch it until it came in and Mark put it up while I was out of town and commented on it. It's a little weird but I like it!
It's from Home Decorator's Collection at Home Depot if you're interested.
I debated on Instagram stories what to do with the window. I think they are vinyl and I really didn't want to gunk them up with dark paint, so I opted to just paint the window sill and window trim around the window as well as that bar strip in the middle in the blue and I left the window itself white. I think it looks fine with the drapes framing it.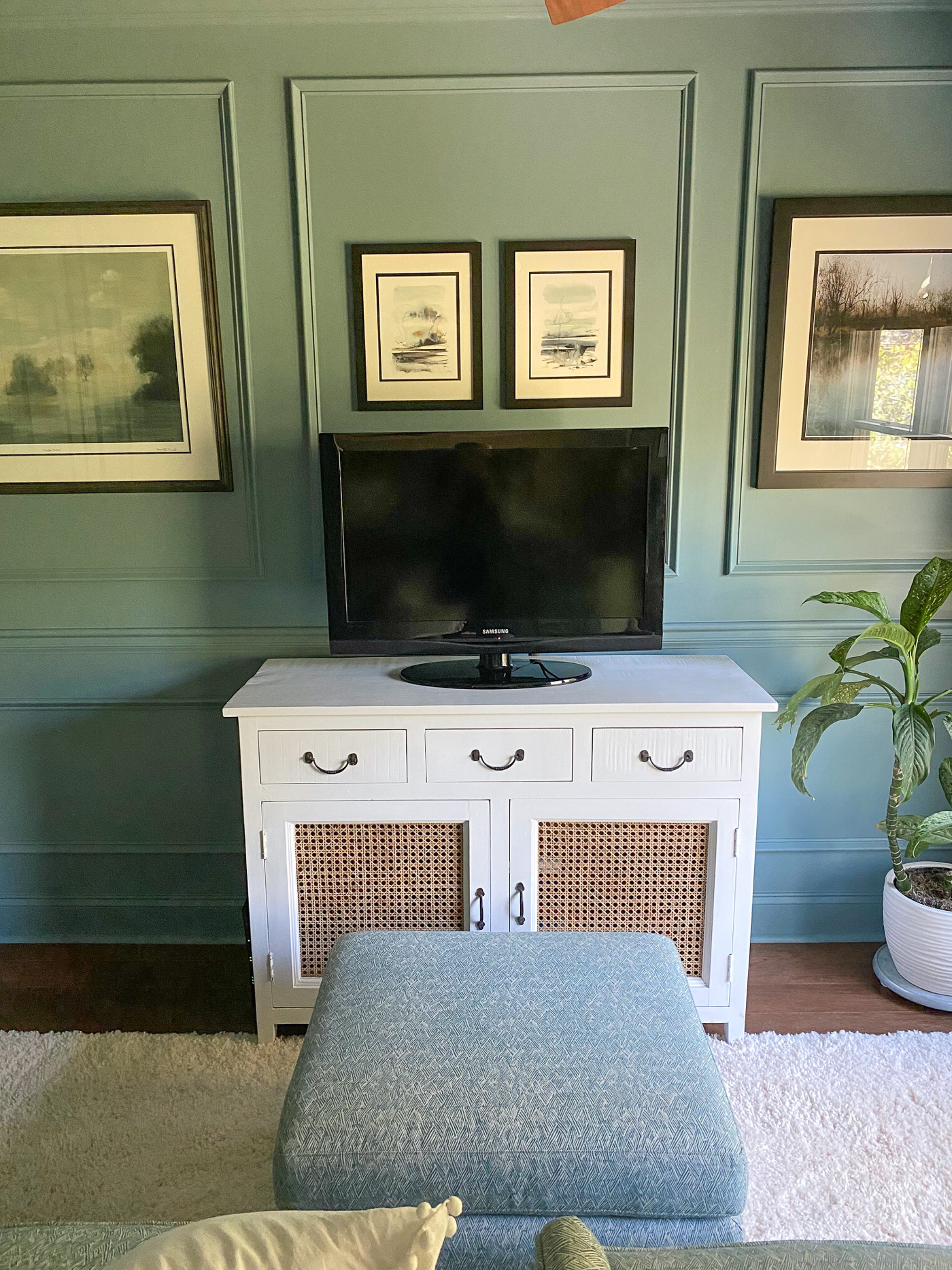 Another peek at the painted cabinet with caning, I love it against the blue walls. I kept things pretty simple in here and added more artwork to the 3 panels, balancing them out. I had the one on the left already, a Charlotte Terrell print and the others I found on Etsy, watercolor prints of water scenes. I love how those came out.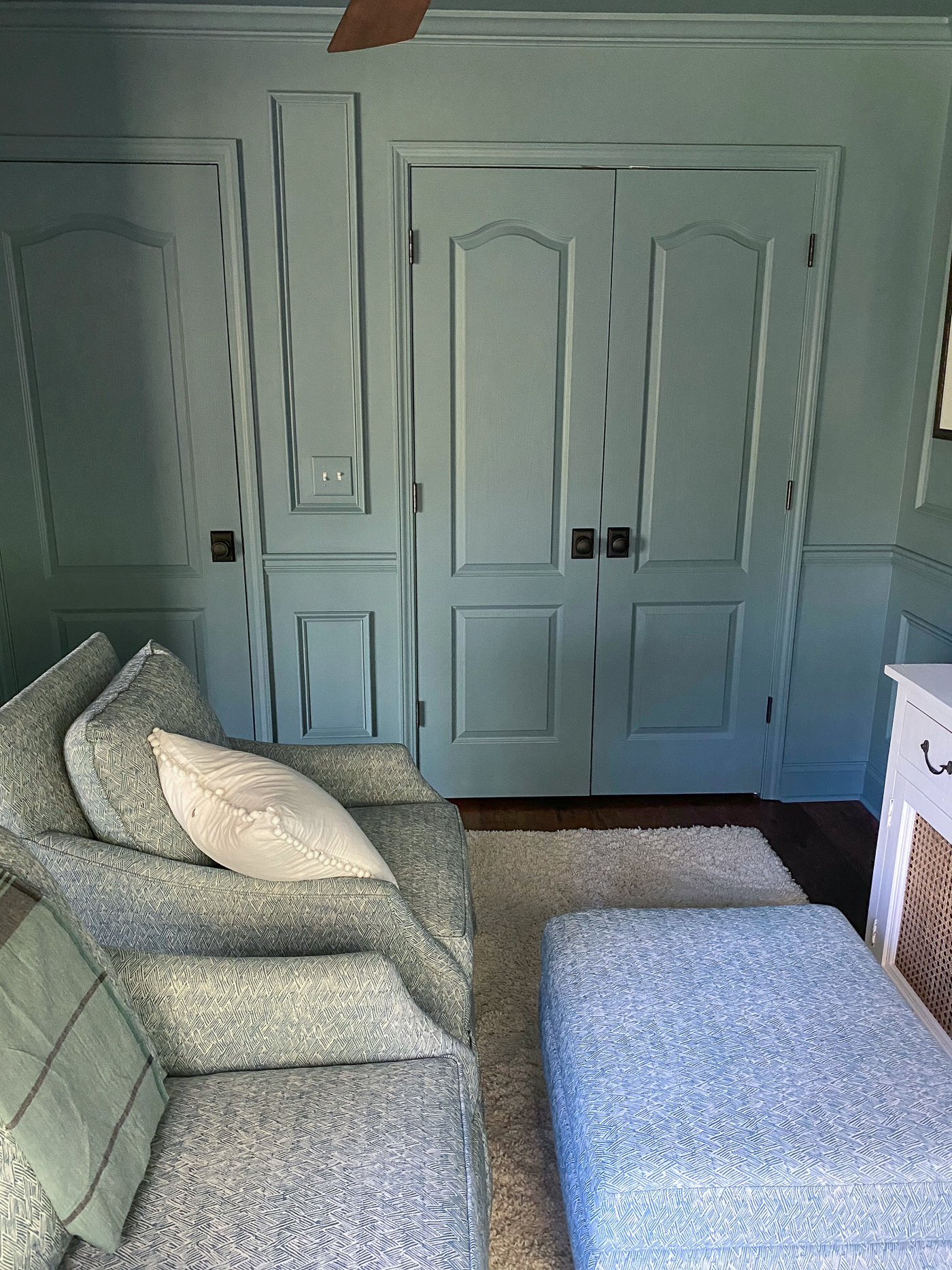 We added the molding around the room for continuity and this is a personal choice when you do this wall treatment. I'll share my inspiration when I do the how-to on this part. I love how it all came out with all the doors blending in now. So much better than before! I absolutely love this modern update on a classic molding treatment.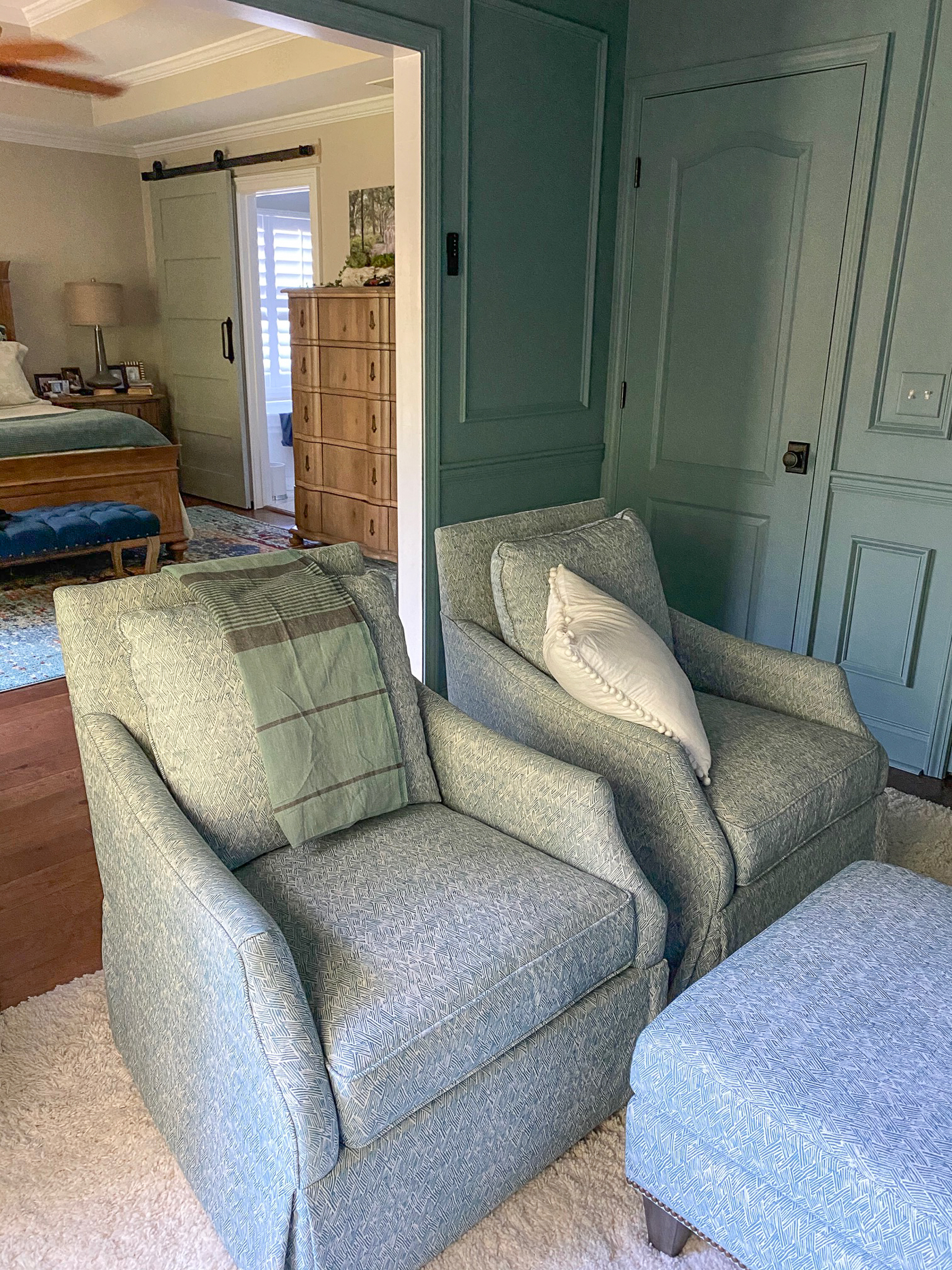 Looking back towards the bedroom, we did molding on those small back walls too and I stopped the paint at the door trim inside.
The left side is where Mark's computer station is set up. This is my old vintage oak desk and chair and he uses it when he needs to get on his computer. It's mostly out of the way so doesn't bother me in here. That's his girls' pics on the wall.
Another look at the window wall.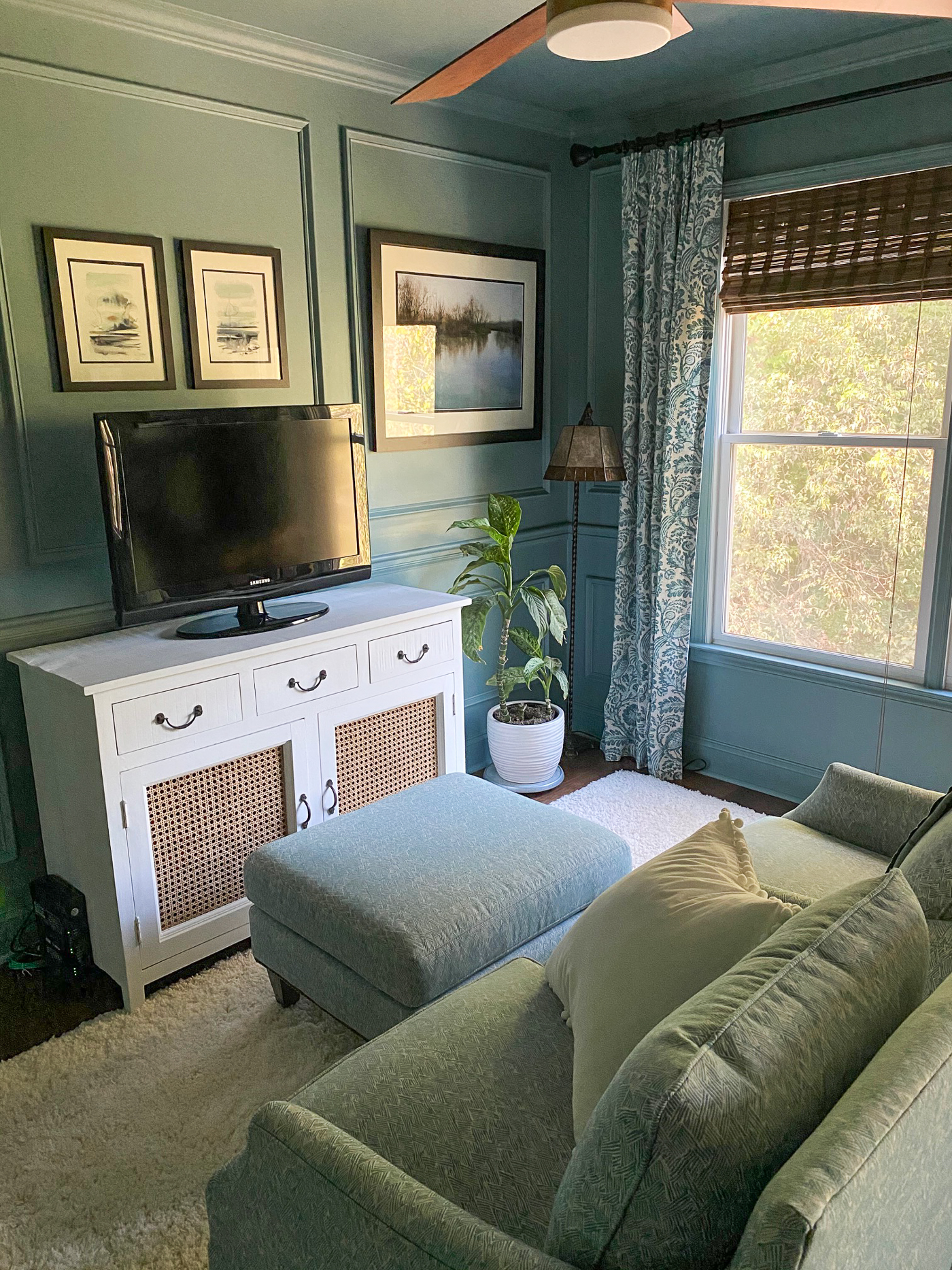 I love how the paint color looks with our hardwood floors and the bamboo blinds. It's such a clean and modern look and not busy at all. I added back in one of my plants and Mark's grandfather's lamp is in here. That's his pride and joy!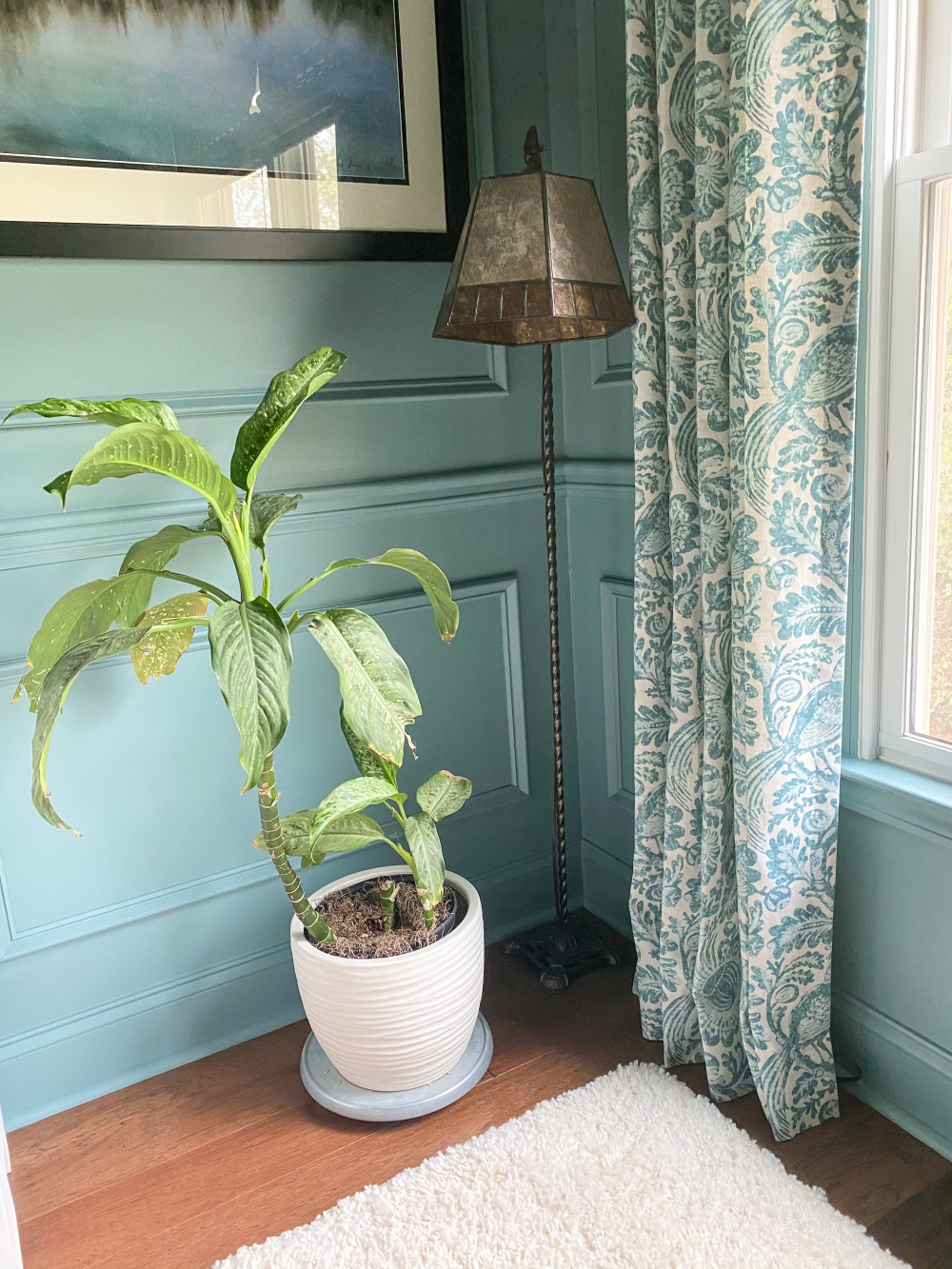 Mark's Pop's lamp is his fave and he restored it after getting it after his Pop died. He had that shade especially made to fit it. This lamp was the first one he did that got him interested in restoring old lamps.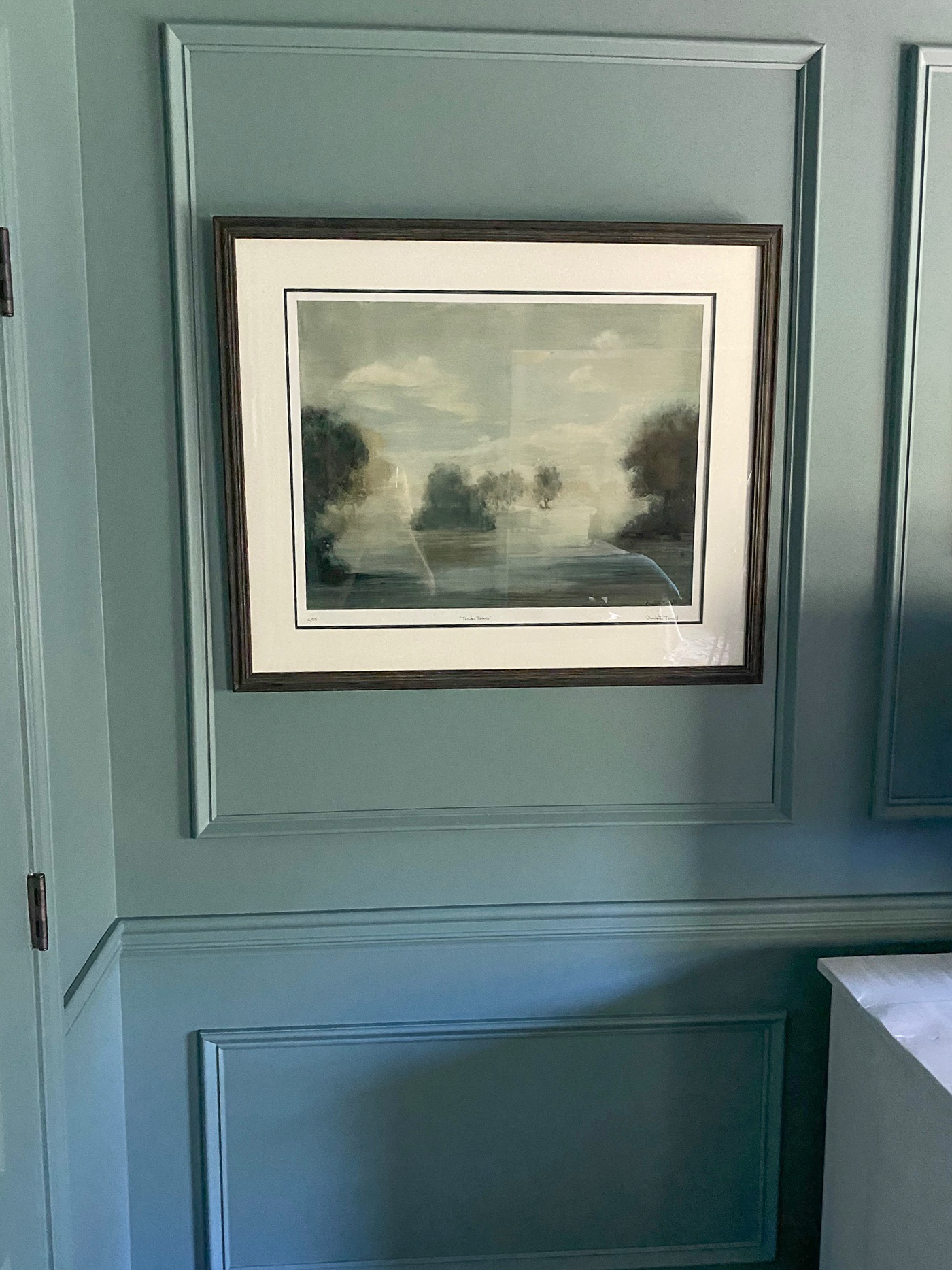 The Charlotte Terrell print was a Christmas gift from Mark a couple years ago. I dearly love a moody water scene.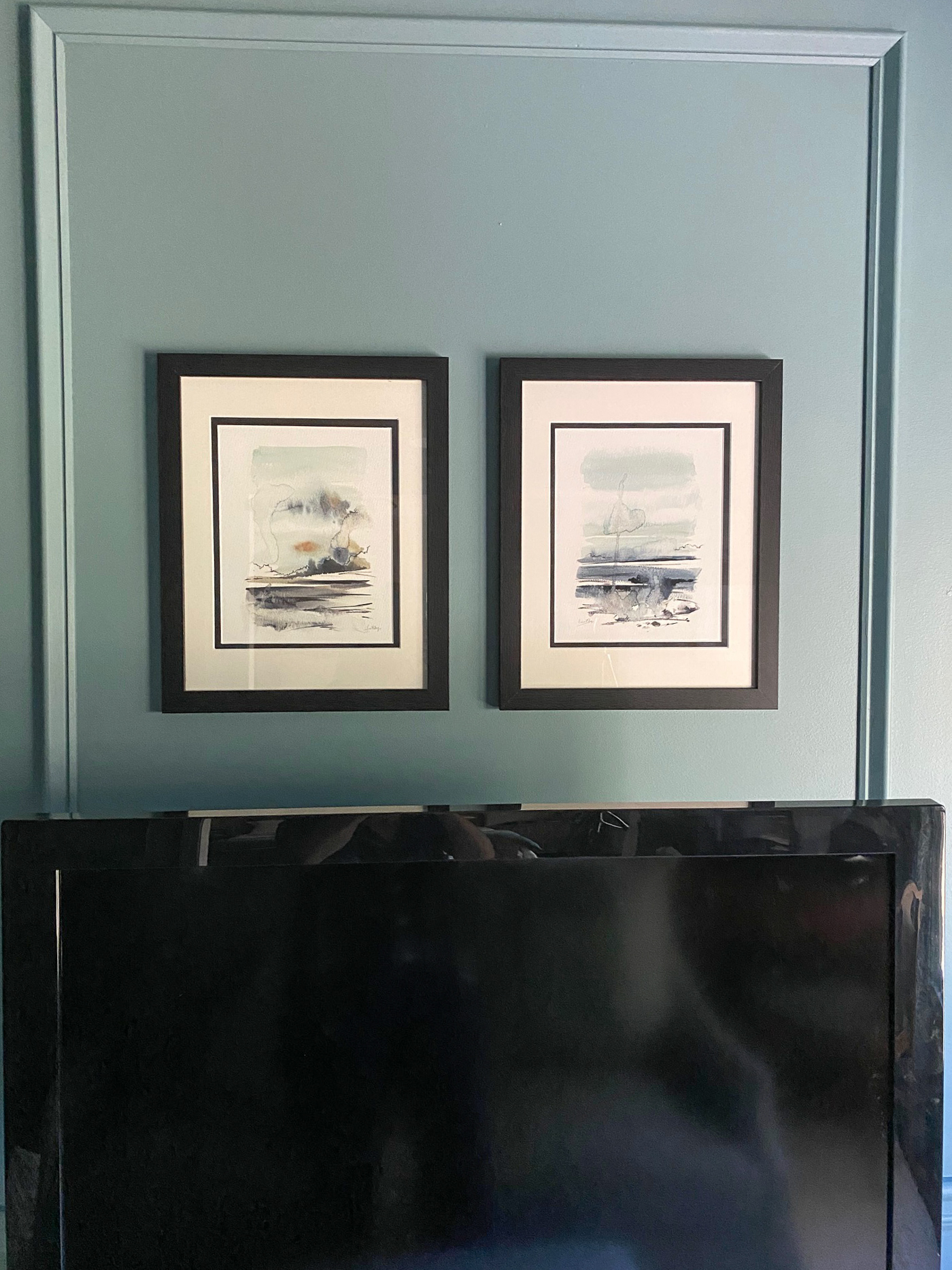 So I looked for more artwork in this style on Etsy and found so many I liked. I'll link these below. This artist is out of Israel. What I did was look for standard size prints that would fit in standard sized frames and this worked out really well. These are 8×10″ prints in 11×14″ frames and they balance out the grouping well, I think. I was able to get these frames off the shelf at Michaels and also off the shelf precut mats so that was very cost effective for these two framed prints.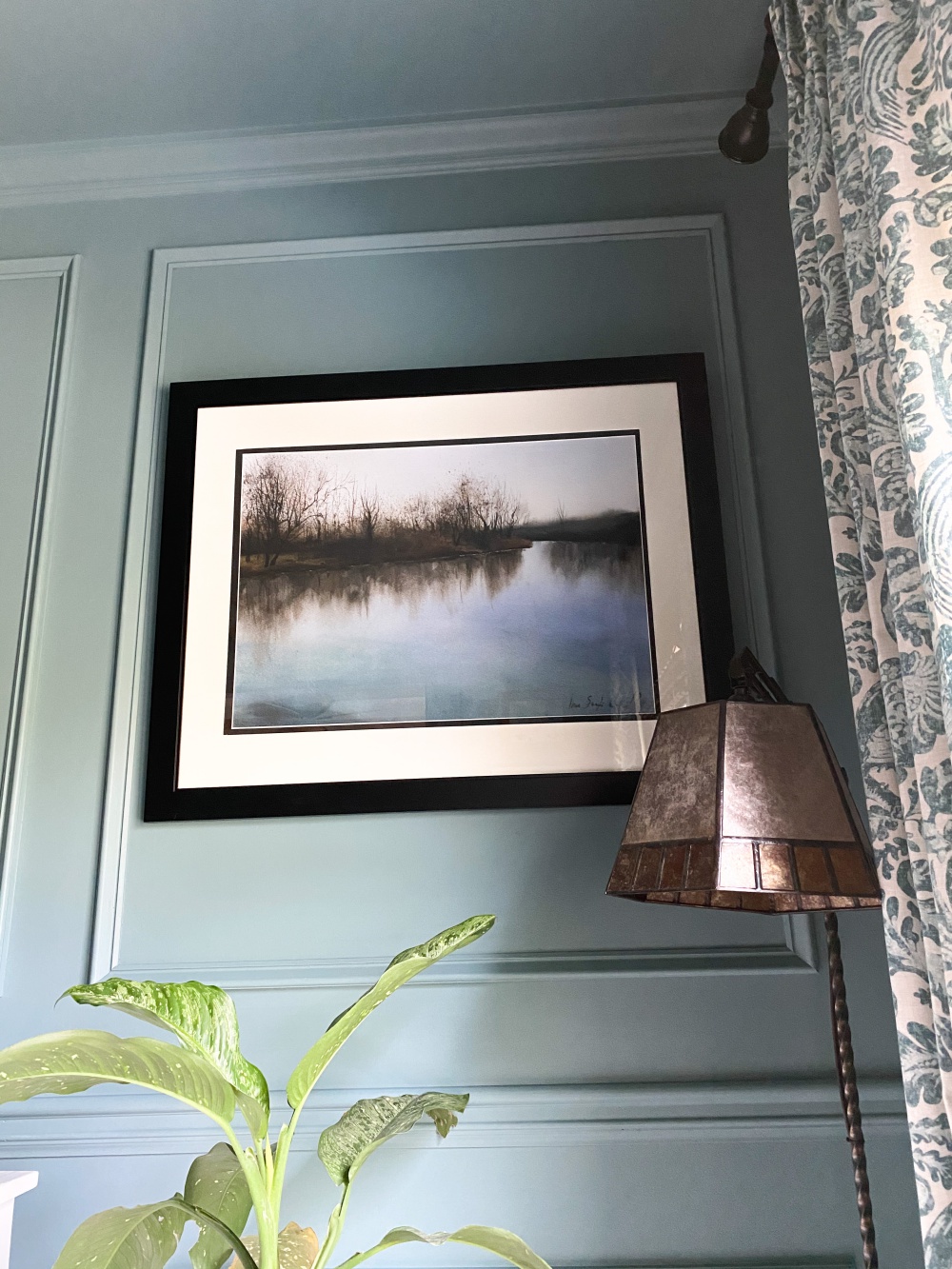 This one on the right is a larger print and I made sure to try to balance the size of this one with the one on the left and they are very close. The one on the left was custom framed and this one was framed with a frame off the shelf at Michaels in 24×30″. I looked online for prints that would fit a frame this size and found this artist who had all different sizes and I loved this print! Such a beautiful lake scene. Since we live near lakes, it's very much at home here. I did have to get mats specially cut for this frame to fit my print and I did that at Michaels.
This large print cost me just under $150 for the frame, mat and print, so pretty reasonable for DIY framing. The frame was on a 1/2 price sale at Michaels and the 2 cut mats were more than the frame at $50 for both. I got the 20×14″ size print from the Etsy shop below. This one worked out pretty well because the specially cut mat ended up being almost the same distance all around the frame. If you can find a frame that's off the shelf and get mats cut that fit this well, it works out so that you don't have to spend more money on custom framing, if that makes sense. Mark and I do a lot of DIY framing ourselves.
I'll link both of these artists here from Etsy (affiliate links):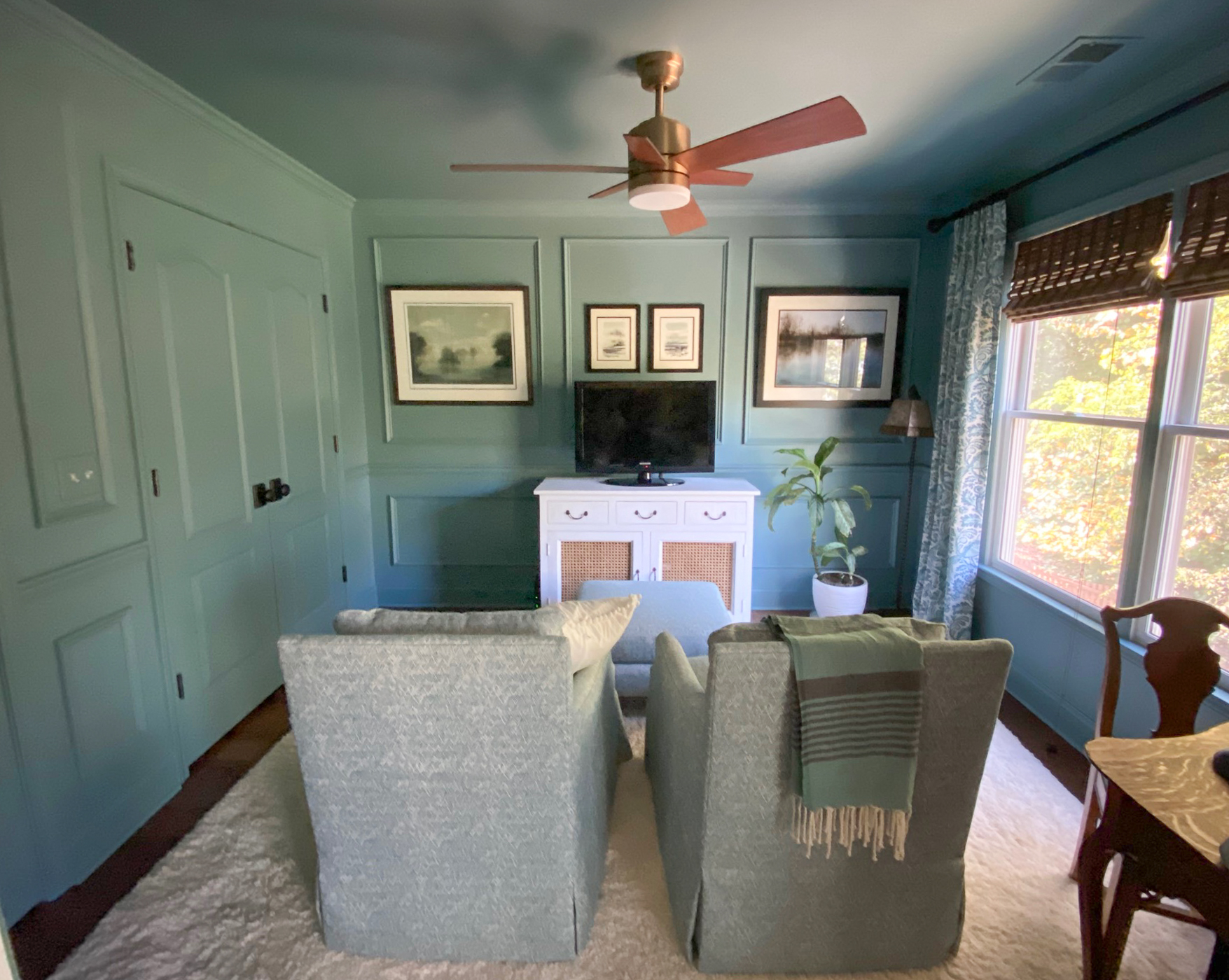 That's a good look at our small sitting room. I'm so in love with it now!
One more peek back at the bedroom.
And that's the new and improved sitting room! I think it turned out so great and I'll share the how we did it post soon. It's one of those things that really elevates a room with just a little molding and paint. I'm so glad we took the time to go back and fix it, this was just the look it needed.
Mark agrees with me too and says that he likes my vision for this space, he's convinced now it was the thing to do. It turned out so good and I'm so glad to have his help in executing my designs.
Don't Miss a Post, join my list!