Hey, there and happy Monday to you all!  I've been working on the master bedroom and sitting room for the last few weeks and finally had time to take pics to share with all of you.  It's sort of scary putting rooms out there for everyone to see, because everyone is opinionated on what they like and so I share this with that thought in mind.  The room feels really good to us. I decorated it for Mark and I to enjoy, a haven for us to escape to and it's not really a big designer reveal and it might not appeal to masses of people, but it's cozy and comfy for us.
And a disclaimer, it's not totally done yet, the master bedroom.  The sitting room is done, but the master still has a few things we'd like to complete.
Here's where we are now!  We do eventually plan to add an architectural look to the headboard wall in a square box treatment, but don't know when we'll get to it, hopefully in the next few months.  That headboard wall will then be painted the same Moody Blue that you'll see in the sitting room, and the top of the trey ceiling will be that same blue as well when we get to that part.  That will bring the same blue into this room and help balance it all out nicely, we think!
I haven't added any accessories to the nightstands and probably won't add much at all, but once we finish the boxed panel look, I'll figure out what else it needs.  I'm keeping this room fairly simple and open and not adding a lot of stuff, but it does need a few more accessories to finish it off. I may add a bit of an accent color from the rug.
This room is very hard to photograph, so I took pics at different times of day, but with 3 big windows on one side of the room, the lighting is always off and I'm not a good enough photographer to deal with it that well.  We get a lot of light in here, which is great.  I use Lightroom for my photo editing, which does help a lot.
Wall color in here:  Magnolia Home Gatherings, same color as our main color downstairs.
That colorful rug was the starting point in here and I got it online at esalerugs.com.  I did a post earlier this year on the rug and the furniture we added in here, so you can read that for more information.
So, I've made a lot of progress since my last update post on the master.  My mom and I got those Euro shams made and I added 2 more pillows, including the no sew bolster pillow I shared recently.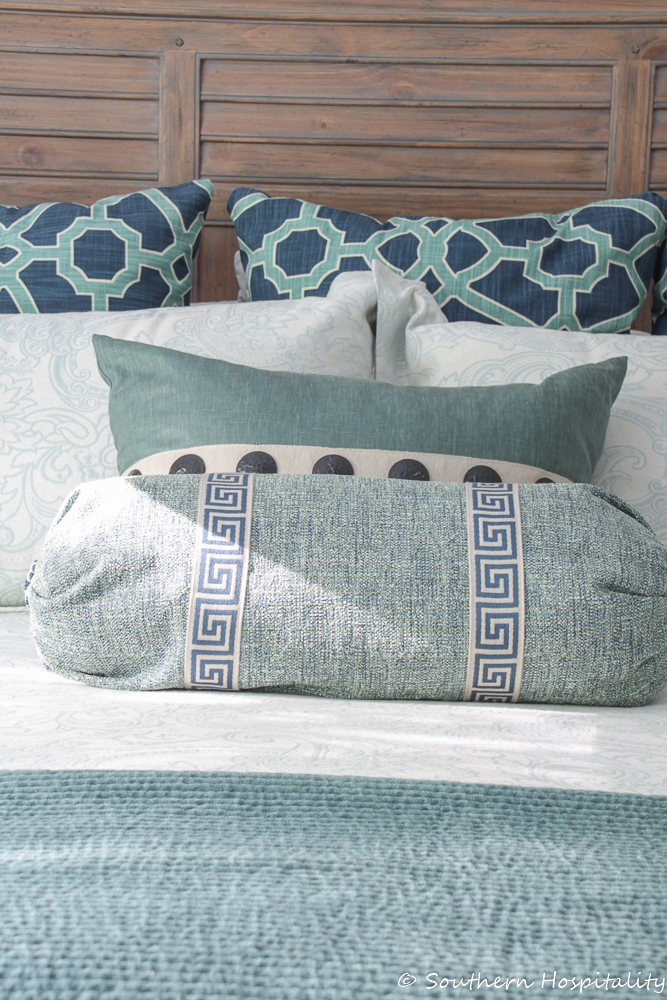 The bedding started with this pretty aqua coverlet from Peacock Alley I found at Tuesday morning, then I built everything else around that.  I found the 2nd pillow behind the bolster at a consignment shop in Roswell, Board of Trade, and it's a beautiful pillow and a great deal. I love these two layered together. The geometric on the Euro shams adds an interesting punch to the bedding.
My goal was to mix up fabrics and textures to create a cozy space and so far, I'm happy with the outcome.  I always have a main something that gets things rolling in a room that's done from scratch, and the rug was the first thing in this room that provided direction for colors.  Then I added the bedding and other layers to to the bed, mixing fabrics that I liked together. Overall, I wasn't going for high impact, but more monochromatic and relaxing with nothing too jarring.  The soft tones all work together to create a feeling we love in here.
We still love our choice of bed and the other furniture in here. The bed is from Kincaid and the nightstands and chest of drawers is from Universal Furniture.  I added simple accessories to the chest and canvas prints of our wedding in Savannah.
The bench at the end of the bed is from Wayfair (affiliate link). 
Notice the curtains are hung!
I had drapes made from a local shop, Fringe Benefits.  I've used Connie for all my window treatments in the last 5 years and she does a great job.  She charges $55 per panel for labor, such a reasonable price.  I bought the fabric from a local fabric store I love, Fabric & Fringe Warehouse and had Fringe Benefits make them for me. I also got the Greek Key trim from F&F and added that myself with fabric glue.  I love how they turned out!  Really finishes off the room.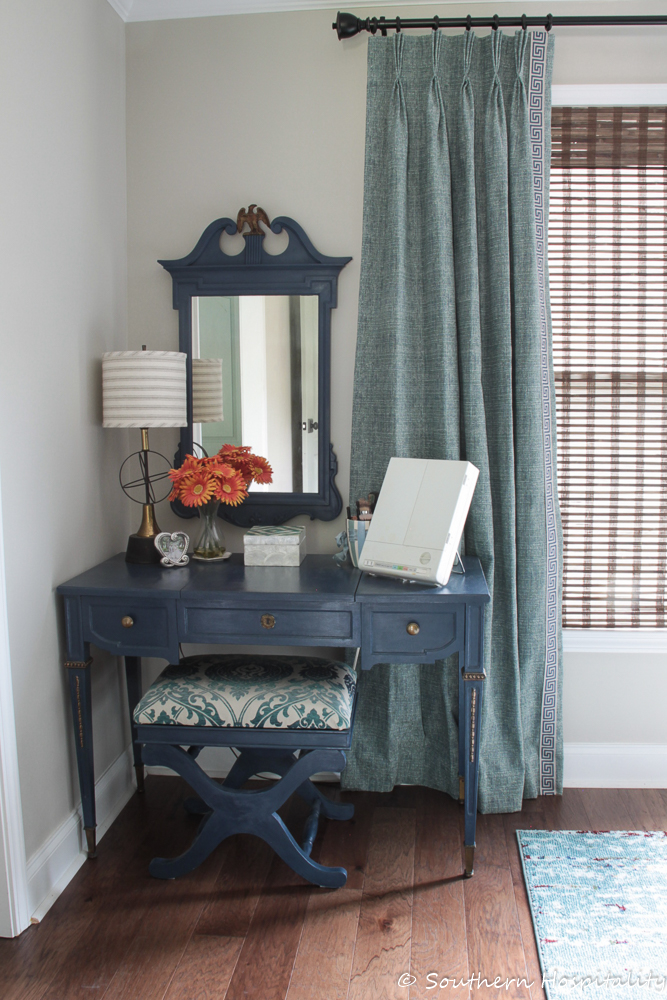 You've seen the painted vanity, but I also painted the vintage mirror I found and I love it too. I left the eagle on the mirror with the natural patina it had when I bought it. I love this little vanity and stool and it's a perfect spot for me to put on my makeup.  I found that vintage mirror at Queen of Hearts Antiques in Marietta a few years ago. It's a great place to browse for treasures!
I already had those faux orange flowers in glass, so added them on the vanity for an accent punch of color. I may add a few more things in this burnt orange hue around the room later, since that color is found in the rug.vI really like how the vanity looks with the new navy paint (Magnolia Home Silos District) and the fabric I added on there.
Notice my vintage Clairol makeup mirror, a throw back to the 70's. The vanity sits right outside the sitting room in this little corner by the window.
I try to keep this vanity cleaned off, but it's where things seem to collect.
I think the eagle on top has the right patina just as he is.
The new panels really do finish off the room!
Here's a shot from the sitting room looking to the master bedroom with lots of sunlight coming in. It's a beautiful space and we are so enjoying it.
Wall color:  Magnolia Home Gatherings, same color as our whole main house color inside.
And here's a peek at the new sitting area, all finished!  I cannot get great pics in here, it's so hard with the way the light comes in, but one day I'll try again.  The walls are painted Sherwin Williams Moody Blue, as well as the ceiling.
Those Bernhardt chairs are gorgeous in here and we are still very thankful that I got to work with them on this project.  These Sabine swivel chairs have been so nice in this space, not too big, but very cozy. Another big shout out to Bernhardt for partnering with me on this room.
I added this cream fluffy rug in the room to offset the wood floors and the moody paint color on the walls.  We love it!  So soft underfoot and it really adds a cozy factor to the room.  It's from Wayfair and I have it linked in my Shop My Home tab, but it no longer is showing available on that link.
That pretty fouta was sent to me from Fouta Colors, a company that benefits Helping Mamas, a non-profit here in Atlanta. I liked their mission statement, so check them out if you like these.  You can use them for tablecloths, runners, towel, lots of great ideas.
The colors are showing way brighter in this photo than it really looks in person, but here are the painted doors (Sherwin Williams Oyster Bay).  This all looks way better in person than is showing here too. I wish I could capture it better.
The TV cabinet is from Homegoods. Again, I'm keeping this space as uncluttered as possible so not adding anything else in here.
Here's a closer look at the Charlotte Terrell print that Mark got me for Christmas last year and I had framed.  I love it on this wall. Landscapes have always been a favorite of mine.
And this winter original watercolor that Mark had framed is on the other side of the TV.  It's so pretty on this wall color too.
I wish I could photograph it accurately, but hope this gives you an idea. I'm going to do a better photoshoot one day!  These are taken with my big camera and tripod, but with all the light coming in, it's very hard to get it perfect.  You can see the new drapes in here too.  I just love this botanical print fabric in this luscious teal shade. I think it's by Waverly.
Here's a closer look at the ottoman, also from Bernhardt.  We love this cozy set up in the sitting room and use it often! I sit in here many days with my computer.
We love all the windows in both these rooms, they let in so much light.
Here's a look at the fabric up close. It's got such great colors and I love the birds and botanical feel. It's called Tucker Resist Flint by Waverly and I found a link to it online.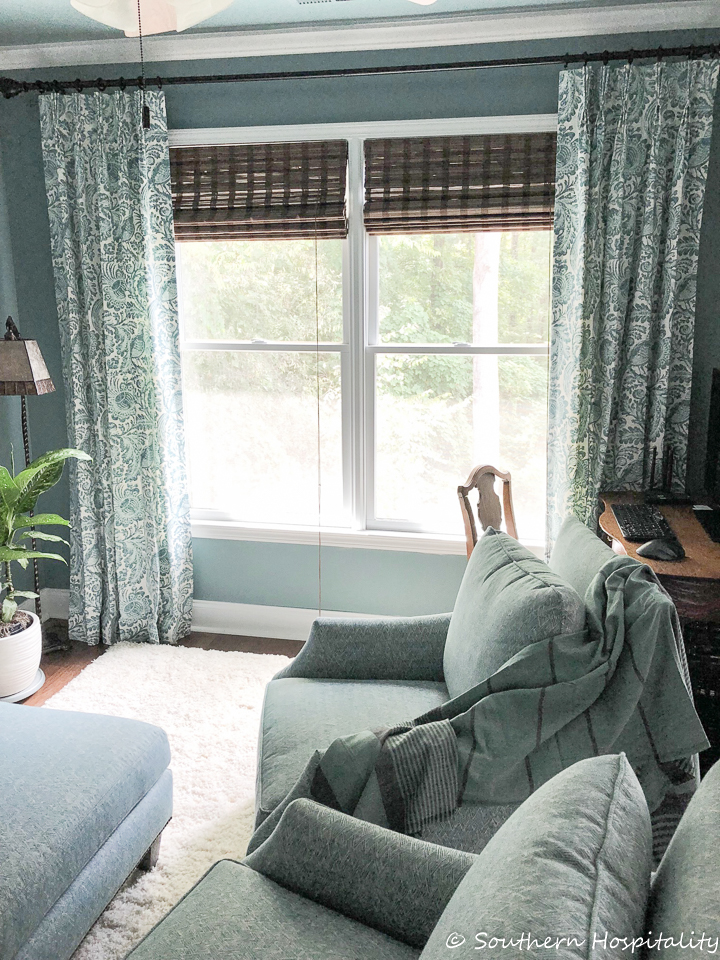 Drapes add such a wonderful layer to a room and frame those hard edges of windows.
I'm so glad we painted the ceiling too, it just creates a cozy cocoon in here.
Mark's computer station is tucked here in the corner of the sitting room.  He didn't have room in his man cave for this, so it ended up here and I'm OK with that.  This is an old oak desk that I've had for 25+ years and it's a cute piece so fits in here fine.  I recovered the chair seat in the same fabric as the master bedroom panels.
One of Mark's daughters drew these portraits of Mark and the 4 girls and it hangs above his desk.
One more look out to the master from the sitting area.  It feels very serene to us.
Mark brought that fan with him to our new house and it fits in there just fine.  It's sort of an Art Deco look, his fave and I think it fits in this room very well.
So, that's a look at where we are now with the master bedroom and sitting room.  I'm calling the sitting room completely done, but we have a little more to do in the master bedroom before it has all the layers I'd like to do in there. I'm not going to add much more, we are really enjoying a less busy look in this space. One thing I do want to add is more real plants.  I love plants and they add so much life to a room.  But, for now it sure feels good to us!  We love this space and how it feels for us.
Thanks for stopping by!  Hope you enjoyed this update post on the master bedroom.
By the way, here's an affiliate link for the rug we have in our master bedroom:
And here's the same rug from Wayfair (affiliate link).SaveSave
SaveSave
SaveSave
Don't Miss a Post, join my list!