My sweet daddy has been at it again, working on finishing up the porch so that I can get out there and caulk and paint it.  It's really looking good now and has definitely come a long way from where it started.  Just a little more trim work, then I can get busy.  He's been so sweet to come over here and work on it, a piece at a time. All those trim pieces have to be cut one at a time.  We've still had some horrendous rain, but the sun is shining again.
We are using plain pine boards on top for the sill and he measured and notched them out with his saw to slide on top of the railing.  He's worked on that all around the 3 sides of the porch.
Working on this side too.
It's really starting to  look great now and I can see the finished porch coming into view, can't you?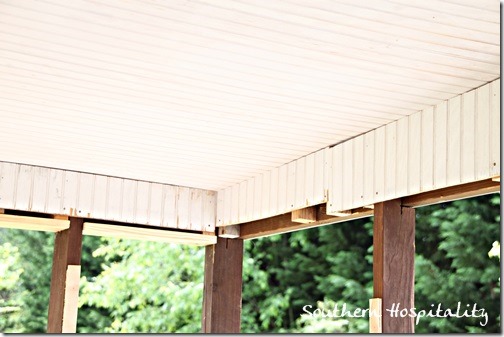 The top is trimmed out with more beadboard and then lots of trim will go up to hide all the seams.
The ceiling slopes up on an angle toward the roof of the house.
Dad choosing the pine boards to cut and install.  We didn't use pressure treated wood inside, because for the most part, it should stay dry. I'll have gutters installed on the edge of the roof too after we are finished.
Here, he is starting to add trim to each 2 x 4 that is currently in place.  We are working with what we have, trying to make it all look better.  After I prime and paint that trim, it will look terrific.
Every piece has to be measured and cut to fit.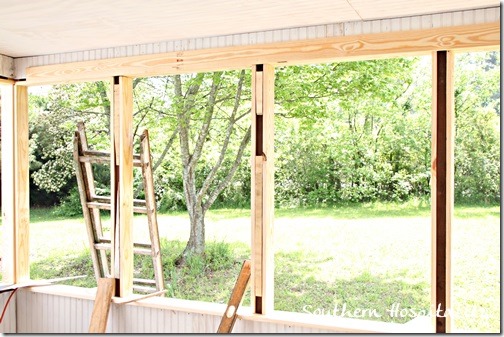 You can see the finished 2×4's and how he's adding to the sides.
Then a front board will go on top to wrap them up completely.  You can see to the left of the lower wall that he stopped at that one vertical board. That is where he will cut out the siding and enlarge my doorway.  The old doorway wasn't wide enough and I bought a pretty white vinyl screened door that looks really pretty to go in here.  We are going to rebuild the stairs too, since they weren't built very well and we're going to swing them the other way (parallel to the porch on the far end there).  That will happen during all of this renovation too.
One corner is wrapped and finished and more trimwork to do on top.
Slowly but surely, we are moving along.  I so appreciate my daddy.  I told him he's the best dad in the world to do all of this for me.  He agreed that not all dads would do what he has done, that is for sure.  I'm one blessed girl to have him!
At the end of the day, he's got most of this side done and the doorway will come later. Once trim is added over the seams and all of it's painting out, it will be so pretty. All of that part will be white.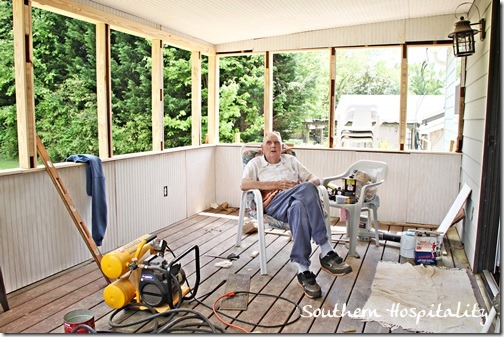 Dad taking a much needed break at the end of the day.
We are moving along and it should be ready to paint in a couple weeks.  I can't wait to get that part done too and get out there and enjoy it this summer!
Here's the latest update when I came back from Jekyll Island. Dad has been moving along and all the trimming out is making a huge difference.  He will still be working on adding the screened door and enlarging that opening to the left.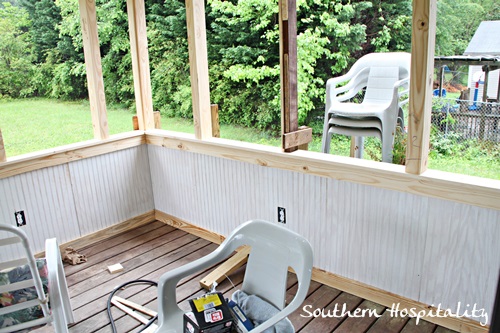 Can you see it all painted out white now?  Once I get everything painted and caulked, we'll go back and add the screening.  That will be the last thing we'll do.
We have been getting SO much rain this spring and I'm hoping that will slow down a little and we'll have some dry weather so I can start painting out there.  At this rate, it will be late June before I get it all finished, but I know it will happen eventually!
Don't Miss a Post, join my list!