Hi, ya'll!  Hope you are having a great Sunday.  It's still hot here.  Yep, we've got a few weeks before the heat of summer starts to make an exit for the year and I am excited about that.  The first chill of Fall in the air makes me giddy.  I don't mind a sweatshirt or long sleeves on my walk in the mornings, just give me some cooler weather.
Y'all are finding some wonderful treasures out there this summer.  I pass yardsale signs all the time, but for the most part have resisted dropping by.  I simply have too many things already and don't need to find a place for one more thing.
Please remember that this party is for 2nd hand finds.  Not great deals at stores!  If you are sharing a Before and After on something you've done make sure it was done with a 2nd hand find.  Otherwise it will probably get deleted.
Here are some of my faves from last week's party!
I love a good dresser makeover and Pleased as Punch stole this one for $5!  Yep, a measly $5.  She had to do some repairs and painting, but wow, is it gorge now!
On the hunt for a banker's chair, Don't Disturb this Groove, was rewarded for her patience by scoring this vintage beauty for $20 at a thriftstore.  Too cute!
I love it when you all think outside the box!  DIY Newlyweds found this vintage coastal inspired fabric for 25 cents at a yardsale and turned it into a pillow.  Now, THAT I love!
Campaign furniture is all the rage and Wildwod Creek found this lovely piece on that list that Craig does!  Great place to score.  She showed before and after pics and painted it a beautiful shade of blue.  So pretty!
Look at this Empire table that Fab Rehab Creations found at the Goodwill for $6.00!  $6 people!!  This is such a classic style. My dining room table is an Empire reproduction and I adore the base on this style.  She did paint it black and it turned out really pretty.  What a find!  I would have grabbed it too.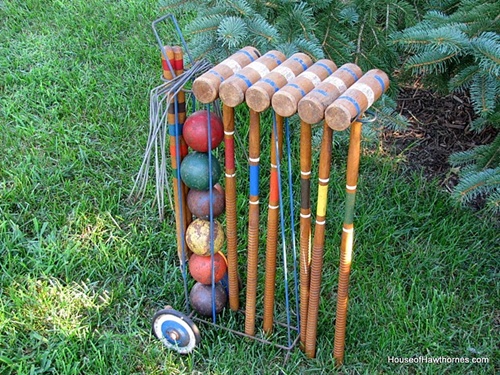 House of Hawthornes was on the hunt for a vintage croquet set and finally found one!  Love this one.  We had a similar set growing up and loved playing croquet in the backyard.  Did you do that too?
Shopping thriftstores and estate sales, Tatter and Fray, couldn't pass up these 2 lamp beauties.  Mid-century lovelies at their finest!  I can see some grand drum shades on these.  I'm a lamp girl myself and can hardly pass up a pretty one!
Look a the redo on this old $10 telephone table!  Really cute, A Turtle's Life!  Mod podged paper, paint and fabric totally transformed this one.
There are a TON of parties out there to highlight all your projects, so please let's keep this one about thrifty finds that were bought 2nd hand! Not a great sale from the store, or a recipe, or just a plain project, but 2nd Hand finds only!
And please DO NOT go back in your archives to OLD posts and link up. Let's keep this party fresh and current! If you have already shared your find in a previous party, DON'T share it again! Please, girls, I don't want to have to delete links.

Add your permalink to the link list, which is the actual post that you did for this party, NOT your general blog url. To get the actual post, after you publish the post, just click on the title and THAT will be your party post url. PLEASE try to get the correct url in the first time!
Please add my button to your post or blog OR at least link back to this post in your post. That's all I ask. It's common courtesy to link back to the person having the party, so that all of your readers can find it too.
Please do NOT link to an Etsy shop or something similar (even if you think it's a fabulous deal) or I will delete the link. This party is for sharing thrifty finds from yardsales, thriftstores, or something along those lines. If I see that your post is not really on track with this theme AND you don't link back, I'll delete your link. Sorry, but I'd like to keep the party consistent! IF YOU SEE THAT YOUR LINK HAS BEEN DELETED, IT IS PROBABLY BECAUSE IT IS NOT IN LINE WITH THIS PARTY THEME.
Don't Miss a Post, join my list!