If you're still excited about fall decorating, I thought I'd share my fall front porch with you today, as well as some highlights that I spotted from the fall home tour I was in last week. If you don't always have time to click around on these home tours, there are some great things to be seen so I chose a few to highlight today.
First up, my fall front porch. I pretty much duplicated what I did last year.
I got the wreath and bows last year (wreath isn't available and bows from Michaels aren't either).
I've managed to keep these topiaries alive for a whole year now! Woohoo for that. I had to bring them inside during the cold months last year, but I did it and saved them. I love them so will see how long they last out here. Faux pumpkins in the lanterns are a nice fall touch.
Those flags are from our 4th of July celebration and I just stuck them in there. I love the simple touch of the urns and those plaid bows on the lanterns.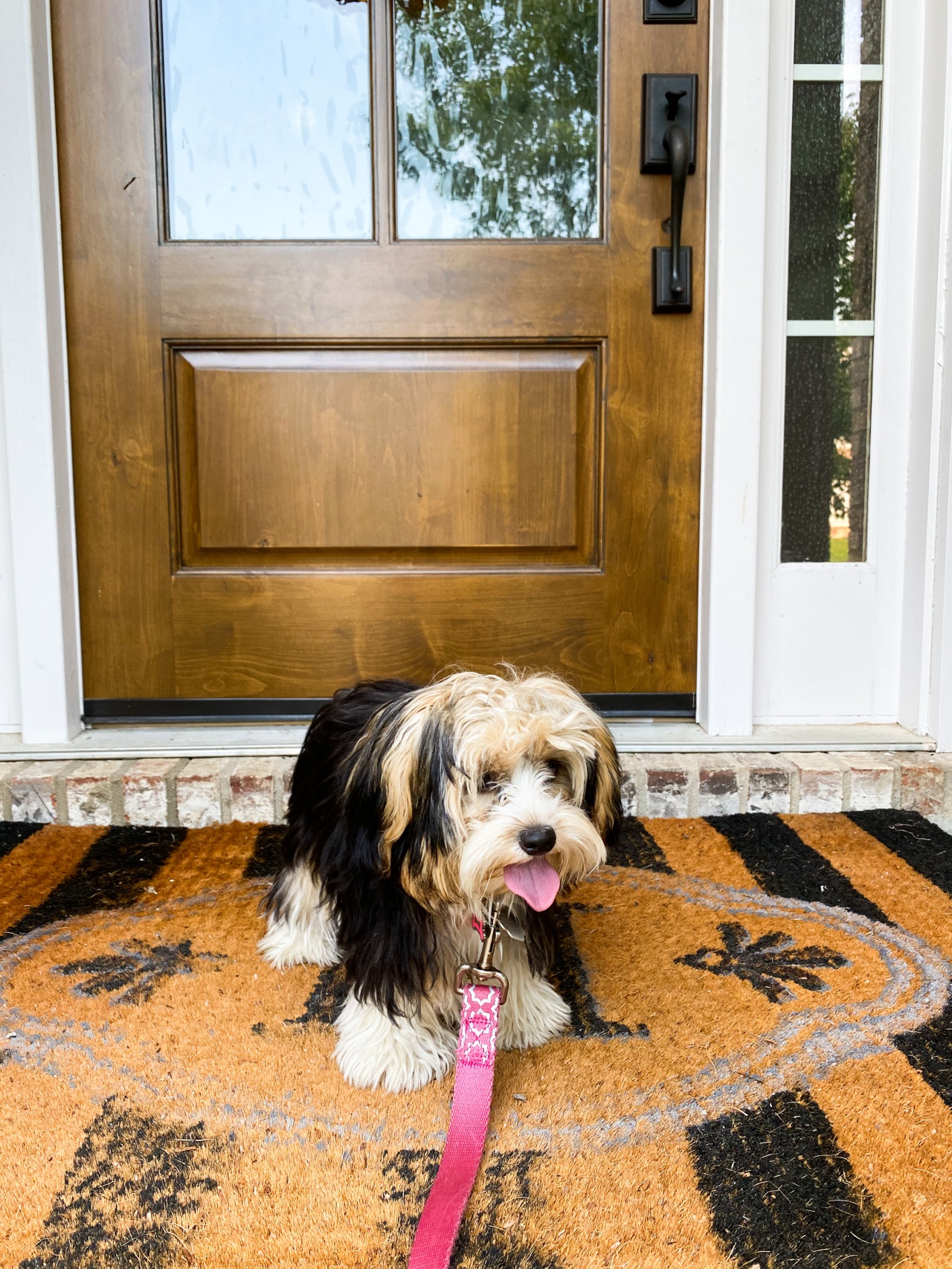 I tried to get Daisy to pose for me, but she was tired and plus we need to work with her on sitting and staying. Mark had her sitting on command, but we need a refresher on that. She's definitely motivated by treats. We learned the hard way not to let her escape out the door without a leash on. She's a runner and thinks it's great fun to have everyone chasing her.
It happened at the beach when we were packing up to leave and also at our house one morning when Rose was dropped off. She squeezed out the door, took off running and 3 of us were chasing her around the neighbors house when she finally ran to one of us and got caught. She's so fast we cannot catch her until she's ready to be caught. The rascal!
I chose a few homes to feature again from the home tour last week in case you didn't get a chance to see them. These are all beautiful features and some new to me bloggers.
This beautiful fireplace mantel from LeCultivateur .
This kitchen is so adorable for fall from Golden Boys & Me.
A beautiful fall outdoor table from Quarters One.
A pretty fall front porch from Pretty Life in the Suburbs.
And finally, this fall inspired dining from from DIY Beautify.
Hope you enjoyed more fall inspiration today!
Don't Miss a Post, join my list!