Today I'm joining a few blog friends and we are sharing our fave things. You've seen some of these before, they are on my perpetual favorite list, but you'll see some new faves too. I'm sharing home and beauty and fashion things too. More home this time than fashion, but I hope you enjoy these favorite things. Most of these things I already own, so I'll tell you about some of them and a few things are just things I like and think they would make great gifts this season.
Affiliate links used below.
On this list are a few beauty and fashion items. I have all of these and use them. The Amazon top is a new fave. I've been wearing it on repeat. Cozy and casual, perfect for this time of year.  I love that Victoria Emerson bracelet and wear it all the time. The Ked's slip ons are truly a fave and I wear them often. So comfy and goes with so much. That Mac red is a fave too, it's a good color for blue eyed blondes.
IT CC cream and Tarte Shape Tape are staples as well. Great foundation and concealer for every day. I have a couple of Tarte eye shadows and they are so pretty, this one has such great colors. This shower cap I've ordered twice on Amazon. The first one stretched out after a couple of years and I bought another one. The Babylis flat iron is a really good one and works great for straightening my hair. I've had this one for a year and love the 1.5 inch size.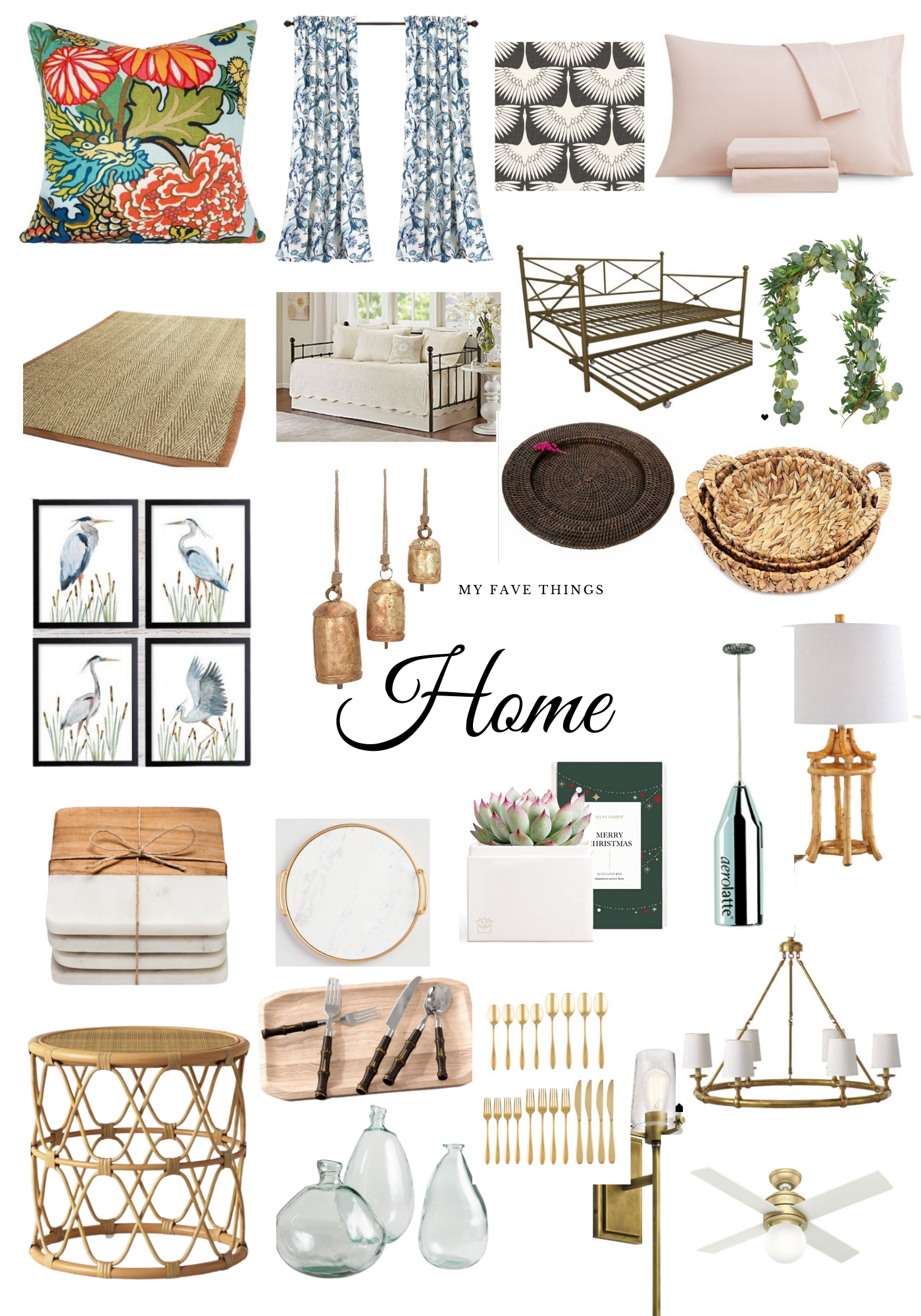 All of the above items are great for the home. I'm sharing some of my favorite lighting, fan, and other home gadgets and accessories. I have most of the above too, with the exception of just a few things that are similar to what I own.
I've recently been working on my office space and added a daybed in there. I've included it on this list too, of you're looking for a daybed, this one is so pretty and affordable. I also added the daybed bedding I bought (love it!) and the microfiber sheets that are on Black Friday sales from Macy's. I ordered 2 sets of twin sheets for the daybed and they are very soft. So affordable and all sheet sizes on deep sale. I'm including the Feather Flock black and white wallpaper on here too. I'll be sharing that room as soon as it's completely finished. I'm waiting for one more item to come in.
I was gifted one of those succulent boxes you see in the pic and it's so cute. Very nice gift idea for the person who's hard to shop for. Who doesn't like easy to care for plants? It comes in it's own gift box.
Those blue and white drapes are  recent additions to my guest room. Love them and they are so affordable! Those two flatware sets I have and love. The bamboo goes with everything and the gold is fun for some bling. I'll be sharing my Christmas table with the gold this year.
The seagrass rug is the one I have in my living room. It's by Safavieh and really a great rug if you're looking for natural fiber. I love the 8×8 size for a small space.
All the other things on here are things I own and love as well! Can't go wrong with any of these things. The eucalyptus garland is from Amazon and this is the second year I'm using it. Very pretty and versatile, I have two of them.
After wearing these Sheec socks for a few months, I can definitely say that these are my favorite non-slip comfy no-show socks. They have so many kinds to choose from. These are the low cut I and they are perfect with sneakers and flats. They do NOT slip down, with a rubberized back that really works. They have several profiles, including Ultra-low cut, mid-cut and high cut, so choose what works for you. I can't recommend them enough! Get 25% off with code 4GPZ2Q.
You can find all the items on both my fave boards here below in one place.