If you've never tried making a charcuterie board, let me tell you it's fun to put together. I've seen them all over the internet and some food bloggers really do a great job with them. They are fun and interesting and you can make them any way you choose, putting together so many food items that work together and look pretty too. This was my first time making a charcuterie board, but it sure won't be the last. If you're looking for a festive way to eat a meal outdoors, a charcuterie board is fun and filling.
How do you make a charcuterie board? You need a big wood tray or board to hold it all, so if you don't have that, try a cutting board or something large that will hold everything. I had a big tray that I use on my dining room table so I used that. Charcuterie boards make a great light meal, but you can make them as substantial as you want.
Here's my wooden tray that I got long ago at Homegoods. It has a pretty metal edge that is easy to pick up and carry. My board is about 18×18″.
I layered the bottom with parchment paper, just to make sure it was clean and ready for food. I got a few things from the grocery store to add, but already had several things in my fridge that worked for this one. I chose finger foods and things that were easy to serve and we all added things to our plates and ate outside on our new screen porch. I simply carried the tray downstairs and put it on a middle table so that everyone could reach it.
I cut up sliced bell peppers, carrots, and cucumber and added a bowl with ranch dressing for dipping. I made sure to have plenty of spoons and forks handy for everyone to use to serve their plates. I pulled out things I had in my pantry and fridge as well as a few things from the grocery store to make up my charcuterie board and I love how it turned out. It was a feast for the eyes and stomach.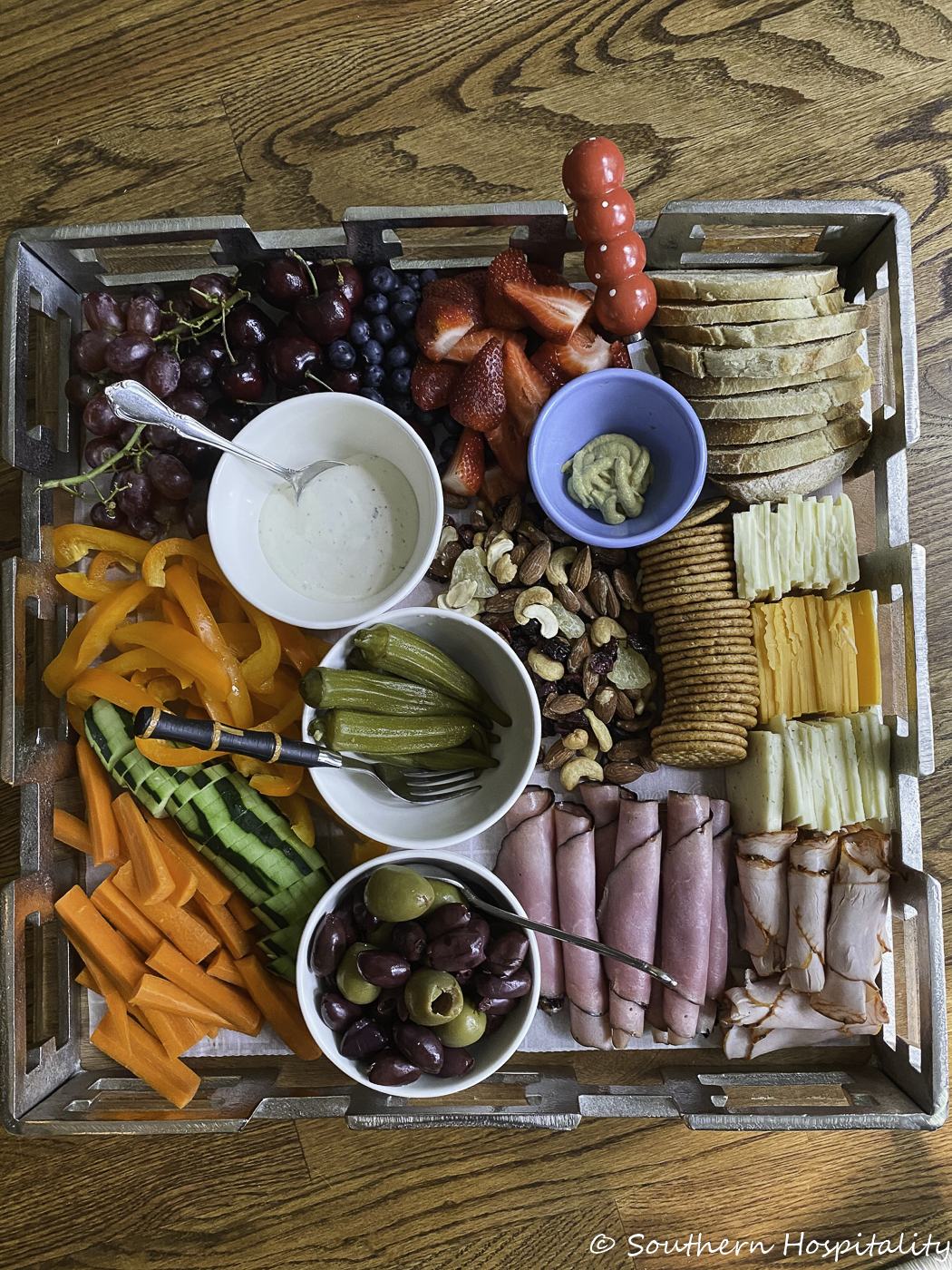 And here's the finished charcuterie board. I have a variety of things on the board, nothing too heavy, but filling enough for a light supper.
Boars Head Ham and Turkey with mustard in bowl
3 kinds of sliced cheeses (cheddar, dill Havarti, and Amish Farmers cheese)
Crackers
Toasted Bread
Mixed Nuts
Bowl of Olives
Bowl of Pickled Okra
Sliced carrots, bell pepper and cucumber with ranch dip
Grapes, cherries, blueberries and strawberries
I also had chips and salsa ready to serve. I invited over my friend Vicki and her husband and we enjoyed a beautiful summer evening under the screen porch.
Sharing a charcuterie board with friends is a great way to spend an evening under the stars. I took this blue hour picture and will remember the good conversations we had while sharing a meal together.
Have you made a charcuterie board?
There are so many great examples online and my friend, Sandy, with Reluctant Entertainer, is the queen of charcuterie boards. She has posted so many on Instagram and I always look at them longingly. She does so many types of foods on hers and I admire them so much. Such a fun way to display food for a crowd!
Here are a few boards that would be great for charcuterie boards if you're looking for one! (affiliate links)
Don't Miss a Post, join my list!