Once the holidays were over, my sis and I pulled out some sparkly things and completely redid her mantel into something that spans the seasons for a few months.  We added shiny glass jars, mercury glass pieces and a little preserved greenery in white to lighten and brighten her mantel.  A bit springy!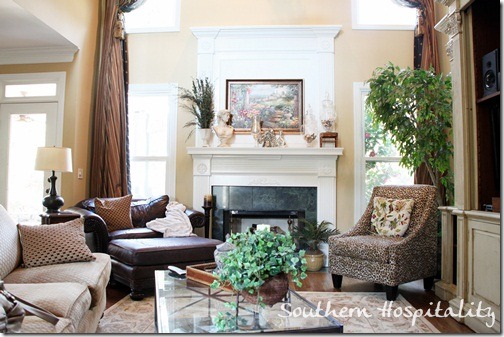 My sis's family room is comfy and cozy in spite of having high ceilings and tall windows.  A tall mantel can be a little intimidating to decorate, but we added some large scale accessories to make it work.
We did 3 groupings and staggered heights for interest and texture.  A little glass, mercury glass, and lighter toned items completed the vignette.
A side view.
My bust of David was a nice addition to the mantel.  I have had him for many years now.   The tall preserved greenery in an urn adds texture on that side of the mantel.
Side view from the other end.  I love that little bamboo stool I found along the way at a yardsale.  Pieces like this are great for adding height to a table or mantel.
Mercury glass adds sparkle.
This silver horse head was a TJ Maxx or Homegoods find and we love him mixed in.
Shells and those tiny mercury glass ornaments from Christmas are added in the large glass apothecary jars for some opposite textures.
That's our mantel for this year's Spring Fling party.  I hope you'll share yours too at Layla's Mantel party.  You will see all sorts of fun and inspiring mantels out there in blogland.  And don't forget Kate's Spring Craft party on Thursday, my Door Decor party next Tuesday and Sarah wraps it up with Spring Paint projects on the 29th.  You'll feel so Springy and inspired after all this partying!
Enjoy and Happy Spring!
Don't Miss a Post, join my list!