Summer is almost half over now or it seems that way if you look at the calendar. It's been hot and humid of course in GA, but not as hot as past years have been, I'm hearing. I usually join a summer home tour group, but with the busyness of life the last couple of months, I didn't do that. I looked longingly at my hydrangeas outside as they started turning colors and regretted that I hadn't cut any and brought them in as I usually do for summer vignettes, so I made that happen recently.
Affiliate links used below. 
My spring things were all still around the house until the last week when I made a few changes. In the living room, I had picked up these faux Allium stems from Target (affiliate link) a few weeks ago, knowing that would be perfect for a summer arrangement.
Here's that seagrass rug if you're interested. I really love it in here so may not change it back to the blue one.
I do love using faux stems at times when they look realistic and these do, so they will definitely be a new favorite. I had this large hurricane vase and it was perfect for displaying them.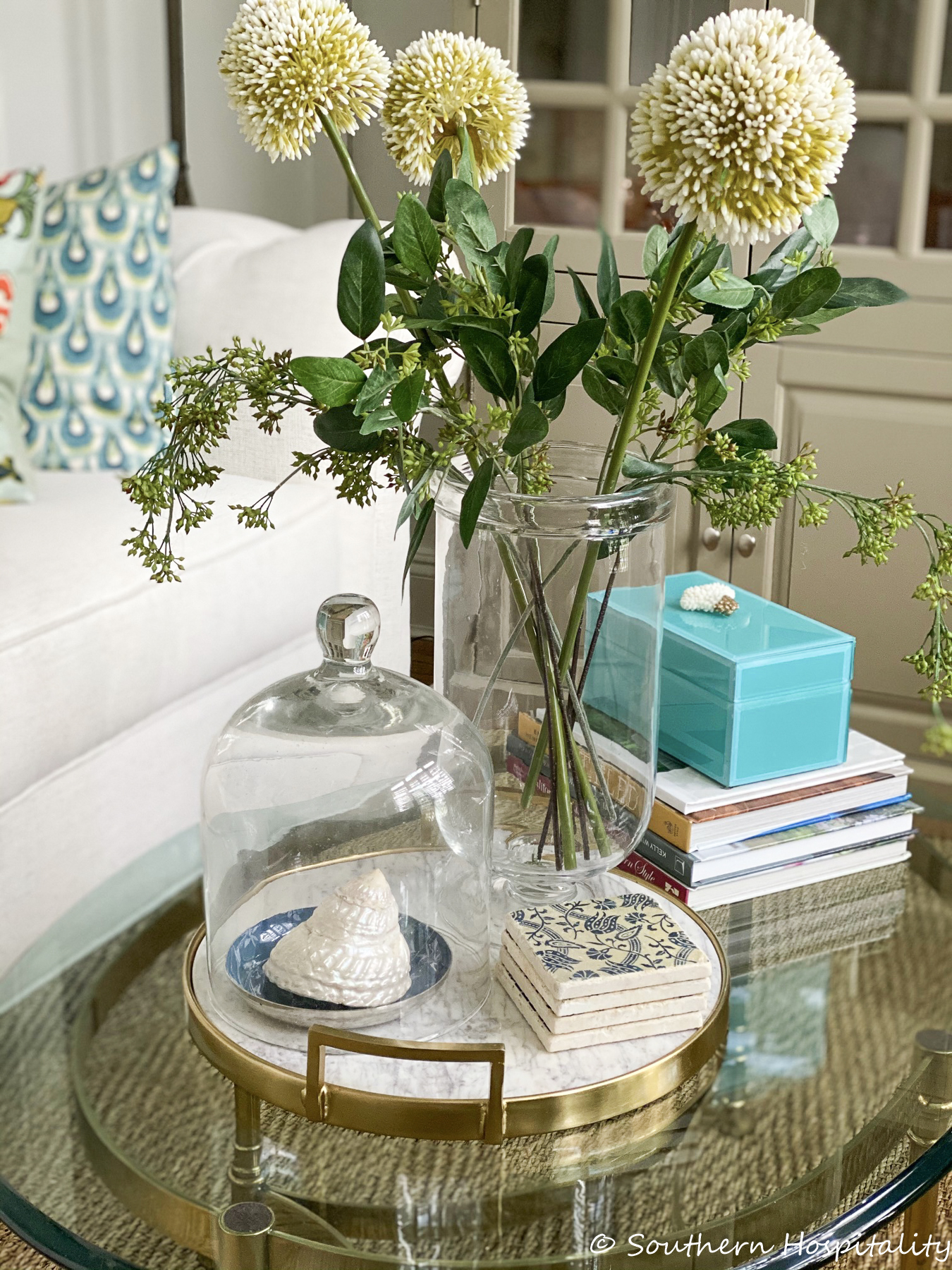 They were only $5 a stem so a lot of bang for the buck and they are still available online if you want some for yourself, see the above link. I bought the other draping seeded eucalyptus stems and these seeded eucalyptus from another online company, Afloral awhile back.
Under my glass cloche I added a white seashell I've had for a long time. I love getting out my seashells during summer months to display.
Still loving that beautiful box molding paneled wall that Mark did last year. It sure adds so much character to our foyer.
Miss Daisy helping me decorate, she's always curious about everything that's nose level.
On the foyer table, I kept it pretty simple using seashells and hydrangeas, a perfect combo for summer.
I found enough blue hydrangeas still on the bush to cut and bring in. Many of them are already fading to their green shades which are still pretty too. Down below, I added some driftwood I found at Homegoods years ago and the shell and coral I found elsewhere. I think that coral came from a yardsale years ago and that big shell is from my uncle who was a missionary to the Philippines back in the 60's. My mom had 2 of those shells.
A dough bowl full of shells is the perfect display for summer, since I have some really pretty ones.
I've so enjoyed my green bottle collection. Hydrangeas are the perfect accompaniment to the color of te jars. I get asked where I found all of mine and they all came from different sources. I've found some at yardsales, antique stores, and Homegoods. You can find them a lot of places, but here are some online if you're interested in starting your own collection. I love the mix!
Here are a few I've found online from World Market and more from them. Here's a nice set from Amazon and another too.
I've been collecting seashells for as long as I can remember and always enjoy getting them out to use in my home. This year I added a bit of green reindeer moss and love the contrast.
I have seashell prints I'm not currently hanging on the wall, but leaning them in a vignette on the foyer table is a great way to use them.
The dining room table got a summer look as well. I love to set the table and have it looking festive for the seasons.
I kept it simple with my blue plates and neutral placemats.
These beautiful seagrass sand dollar placemats were sent to me awhile back from Arthur Court, you can see all the ones they have on that link (not an affiliate link). I worked with them on Instagram and got the placemats and just love them. They're great for summer!
I love to keep my blue and white going for summer and it's a perfect addition to green. These hydrangeas were already fading as they do after the summer heats up, but they are still beautiful.
My blue and white dining room is the perfect spot to add them.
Don't you love the faded hues of these hydrangeas as summer closes in? They're also great to drying and using in your Fall displays.
And that's a look at my summer home. I don't do a lot for summer but I sure enjoy bringing in the hydrangeas before it's too late to cut them. I'm so glad I took the time to bring them in and do a post to share with you all!
I hope your summer is going well. Mark and I are headed to the beach in a few weeks, one of our favorite things to do in the summer. It just doesn't seem like summer without a beach trip. It will be just us this time, I think but I'm sure we'll enjoy it no matter. Mark's big family used to all go to the beach together, but the younger ones started having children and things get more complicated, so those days have come to an end for them.
Thank you all again for your sweet comments on my dad's 94th birthday last week. We did the hard thing this weekend and told dad we were going to have to take his keys and that he couldn't drive anymore. You can imagine that he wasn't happy about it, but I hope he will accept it with grace and dignity. It's a hard road and we knew it had to happen eventually. He had not driven in a month or 2 anyway, so we made it official and the whole family was there to talk to him. We will see how it goes since his memory is so bad. We know it was past time so the decision was the right one.
Happy summer to you all, enjoy all that summer has to offer!
Don't Miss a Post, join my list!