On the way to my parent's house in NC, we stopped along the Ocoee River in Tennessee to take a few pics at the dam. The scenery was just beautiful, a perfect photo op spot.
The dam is pretty spectacular in itself.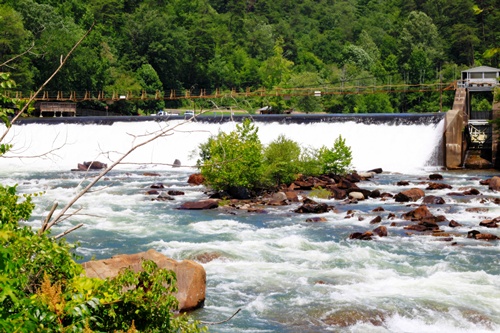 Powerful and beautiful. 
And the stream rushing by the rocks with all that pretty foam is outstanding.
I've always been fascinated with streams, creeks and rivers. And NC and TN is full of such scenes as this.
I posed for the river in the background and then we were on our way.
One afternoon, after our lunch, we headed over to Lake Chatuge, which is not far from my parents house.  A beautiful man-made lake, the mountains are in the background and it makes for a spectacular view.
Pretty, pretty, it certainly is.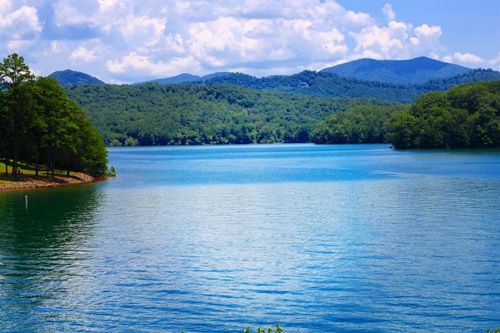 I did enhance these pics just a bit, but the water really was a pretty blue.
NOTE on photos: If you haven't tried out some photo editing software, give it a try to enhance and improve your photographs.  I'm using Photoscape (thanks to my friend, Pat for the tip) and Photofiltre for the most part, but Picasa and Piknik are also great.  Photoscape has a feature called Bloom that I'm just now trying out and it is fun to play around with.  It adds a bit of shimmer and light on a certain spot in your photo (you can pick and choose with it).  I also use the Contrast feature, as well as resize my photos to fit on my blog.  You can also play around with the colors and hues to give your pics a little boost.  Most of the big-gun blogs use Photoshop, but that one's expensive.  These I mentioned are freebies, you gotta love that!
Here's a pic below and you can see what I did with it in Photoscape, Before and After.  I used the Color Enhance and the Bloom feature to add extra light on the haybale.  Now, keep in mind, I'm totally a novice at this, so I'm playing around with it until it looks good to me.  I could get carried away though, so just be aware of that too. 🙂
It's amazing what these photo programs can do!
More of pretty Lake Chatuge.
A couple of kayakers were out getting some exercise.  It was so hot, I don't know how they stood it.
On the way back home, we saw some pretty haybales in a pasture.  NC really has some beautiful scenery, from mountains, to lakes and streams.
As well as pretty  and rustic barns.
Back at my parents house, I just took a few snapshots around the house.  My mom has had these canisters since the 70's.  I think my sister gave them to her back then.  Frogs might be back in again.
My sister and her hubby were there for a couple of days and brought their dogs, Holly….
And Buster.  They kept us entertained too.
Dad's house has board and batten.  Before board and batten was cool. 🙂
Fresh 'maters!
Blueberries.
Homemade ice cream.
Peach cobbler
And loads of fresh veggies.  Are you ready to kill me yet, with all these food pics?  I'm so sorry.
Squash, steamed okra, peas.
My plate was full once again.
But I managed to eat it all. How do I do that?  Ha-ha, I'm telling you, I couldn't eat like that all the time.
Mom made blueberry pancakes one morning.
Yum!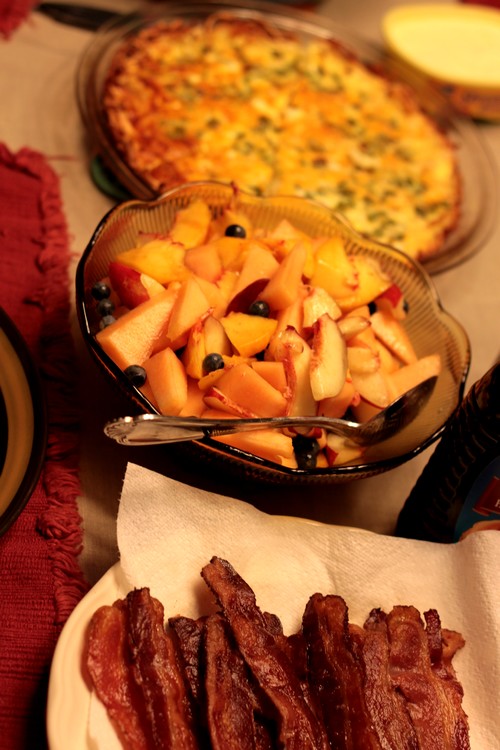 Along with bacon, fresh fruit and a hashbrown/egg dish.
Oh my goodness, was it all good.  I'm getting hungry just thinking about it all again.
I do hope you all enjoyed our trip to NC with my family.  It's a priceless and special time for all of us!
Don't Miss a Post, join my list!