It's amazing how a small change such as new locks can make things better, but it's true!  It was almost 5 years ago that I bought this house and my dad and I started the renovations, which took 6 months. Since that time, I've done so many renovations and updates in the house and it's really so nice to have it all done and now I get to enjoy it all.
I love to see beautiful handle sets when I'm touring a house.  I do notice front door locks and interior door knobs and all of that, do you? I do think it makes a difference in having a nice doorknob set on a door.
One of the things that never got updated were my exterior door locks.  They were all mismatched and not keyed the same.  I could use the same key for the front door and side door on the garage side, but the same key didn't fit the lock at the top of my stairs coming into the house from the garage or the back door lock.  It was sort of a pain and we always had to keep the door unlocked coming in from the garage, since there was no key to open it.  We would lock it at night and keep it unlocked all during the day, which won't change much during the day to day, but at least now the locks are all keyed the same and we can actually lock it and get in with the key now.
So, let me tell you and show you what I got!
Schlage is a very popular brand and I always admire their locks and door sets in the stores.  I've always thought of them as top of the line for locks and door knobs and such, so when I decided to try to remedy this mismatched lock situation at my house, they were who I reached out to. They work with bloggers and so I figured they would work with me too on getting my locks all keyed the same in a pretty new finish.  I'm very happy that they said yes and sent me some of their really pretty products.
These are the locks that came with my house and they really didn't even work well.  That deadbolt on top was so hard to open and the key almost got stuck in there more than once, so I didn't even like using it.  The lock was jiggly too and seemed to be loose and not very stable after all those years of use. I had put this off for a long time, but it was finally time to get this done.  Schlage was great and sent me new locks to put on my exterior doors and this time I got to try out one of those keyless entry door handles.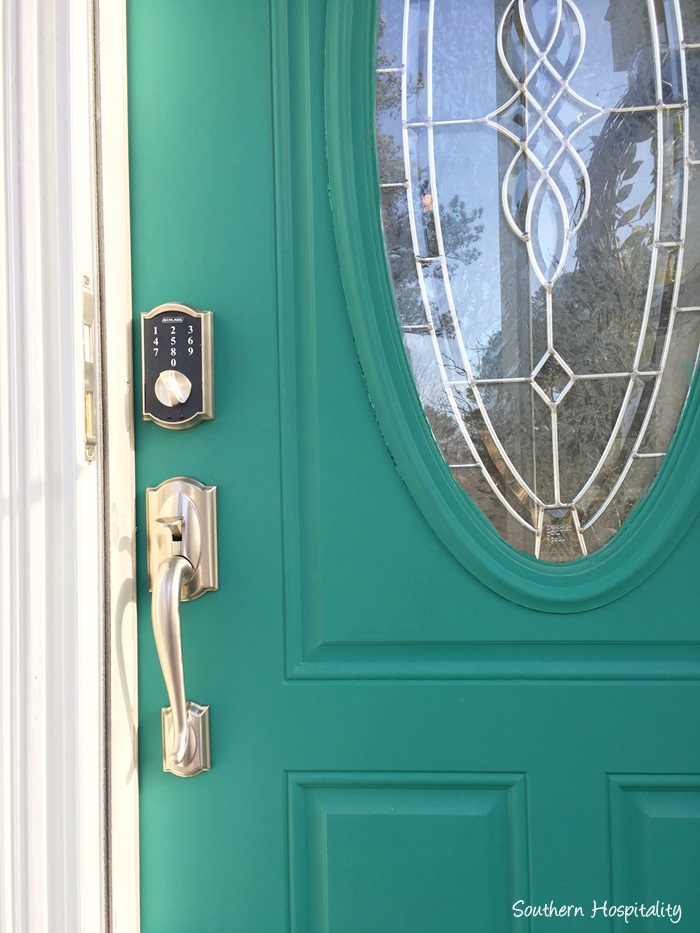 Wow, are these things amazing!  I have never had a fancy door handle set before, but this takes my front door to a new level of elegance.  The Schlage touch Keyless brushed nickel finish is so pretty and I love the keyless entry.  I did hire this job out, since it was a little over my head.  The deadbolts that came with my Schlage locks were shipped at different times, so a locksmith keyed them all the same so that all my exterior locks are exactly the same key now, door knobs and deadbolts, all the same.  Such a nice convenience!
And I hired this one out too since a hole had to be drilled for the handle to fit on there properly and I wasn't up to trying to do that myself.  I know my limitations and sometimes it's best to hire it out.  Best money ever spent!  He got it installed and I set up my code to now be able to get in the front door….keyless!
It has a nice handle on the inside and a heavy duty deadbolt in place.
I know I'm going to really enjoy this new keyless entry and how pretty it makes my door look. It's very easy to set up and operate after installation.
My back door by the garage also got a new lock. This one was completely falling apart and the deadbolt that was there was totally broken and didn't work. I really should have done something long ago, but now it's all finally fixed too.  I chose these pretty antique brass knobs and deadbolts, Plymouth Knobs with Camelot trim.  I just love how the trim piece looks on these knobs.  I used antique brass throughout my interior doors so decided to match the exterior to that finish also, with the exception of the nickel finish on the front door. It's OK to have that one different.
Here's the new knob and deadbolt at the top of my stairs coming in from the garage.  So nice to have all these keyed the same now!
And the backdoor with its new set too.  I just love how pretty it all looks and best of all, they are all keyed the same.  It's amazing how something so simple can make life better and easier, isn't it?
A big shoutout and thank you to Schlage for partnering with me on this project.  They sent me the door knobs and locks and I hired the installation out to pros who knew what they were doing.  Nice to cross this one off my to-do list now!
What color metal are your doorknobs on the interior and exterior.  I think it's fun to see who has what in their house.  There are so many metals out now and all of them work from nickel, to antique brass (or shiny if you like that), to oil rubbed bronze.  I think if I had lighter doors in my house, I'd go back to oil rubbed bronze dark knobs inside my house. I still like that classic look too.  What about you?
Note: This post is sponsored by Schlage. 
Don't Miss a Post, join my list!