Hi, friends, you all have embraced my exciting news with gusto and I'm so happy about that. Thank you for being happy with me on the new beginning and home together.  I can't wait to share all the plans with you and it will be fun documenting projects on the blog again.
I do love my current house and it will always have a special place in my heart with all the renovations my dad and I did to this house.  I'm really glad it will be staying with me for a long time and that Mark's daughter and family will be moving in soon. That makes my heart happy for them to enjoy my cottage home and make it a home for their family to grow in.  They are having a new baby girl soon! As much as I love my current home and am so grateful for it, I'm equally excited to start my life with Mark in our own home.  We talked about this a lot while we were dating and decided that a new home that both of us picked out would be the best way to move forward in the future and I'm so glad we went that route, it just seems to be the best decision to do when you are merging two lives later in life.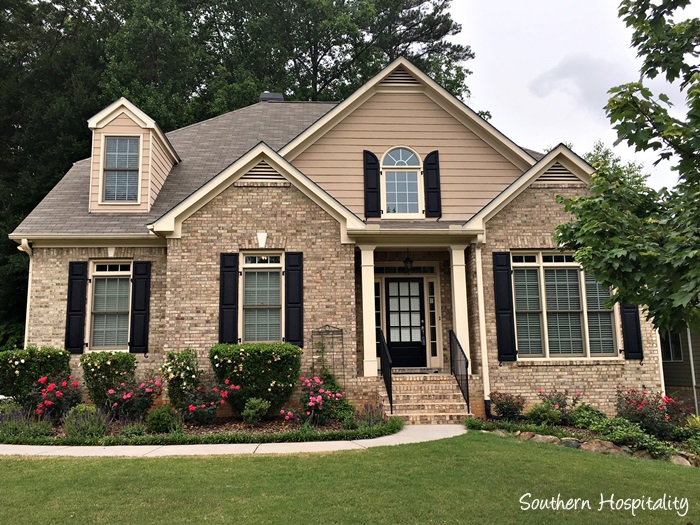 I showed you the exterior last week, so this week let's go inside.  The home has really good bones and is nicely laid out, but it's very plain and vanilla to my eye and it just needs some personality to kick it up a notch and that's what Mark and I will do. We both have a good eye when it comes to enhancing a house architecturally and we want to add moldings and trim and really add more appeal to the house, as well as new paint colors and the final layers of furniture and accessories.  I'm really happy that we don't have to gut anything completely! That will definitely help with renovation costs.  One great thing about this house, it appraised for $35K more than what we paid for it, so that should be very valuable in the future and give us room to spend some money on it and not have to worry about over improving the house for the neighborhood.  This area is really growing too.
I've got a lot of furniture but some of it just won't fit the same way in this house, so we are going to make due for now and add a few things later. Mark has a few pieces of furniture we will be using too, so you'll see our blended style along the way.  We are going to start over with bedroom furniture and get something that appeals to both of us, so I'll share that with you later too, as I think we have made a decision on that.  As far as colors and all go, we are still working through those decisions, but we both like many of the same colors. Mark likes a more muted color palette which is fine with me.  I want this house to be more casually Traditional and probably less cottage style than my last house.  And I'll probably use less accessories here, something about the house says more clean lines.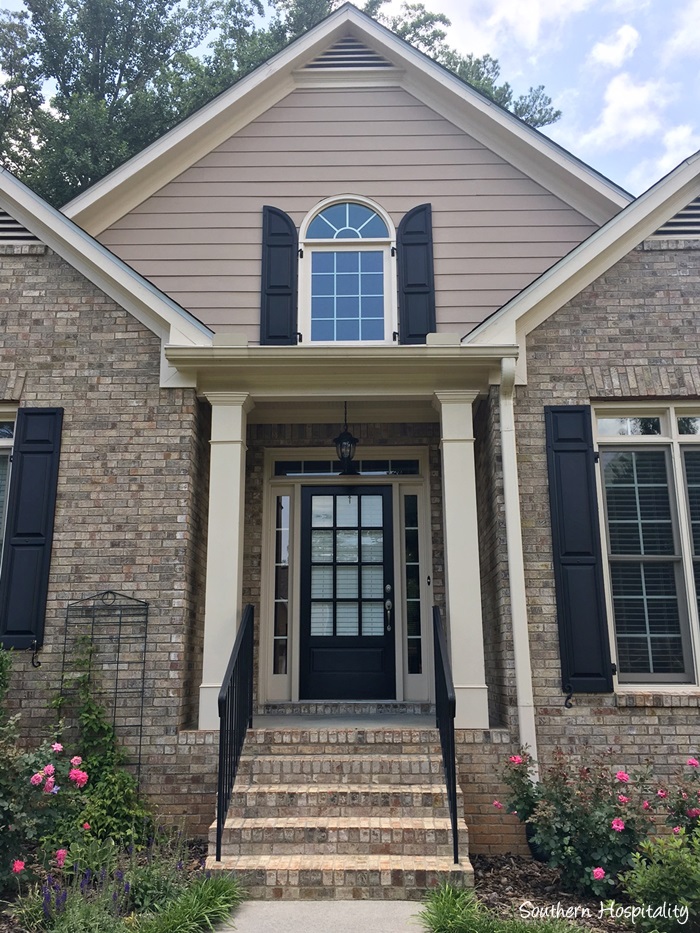 I took some of these pics when the last owners were living here and some after closing, so you may see a little bit of furniture and stuff in some of the pics.  Again, this house is 2600 s.f.,  not overly huge, but a really good size for us. Built in 2005, it's very clean and in excellent condition.
Are you ready to go in for a peek?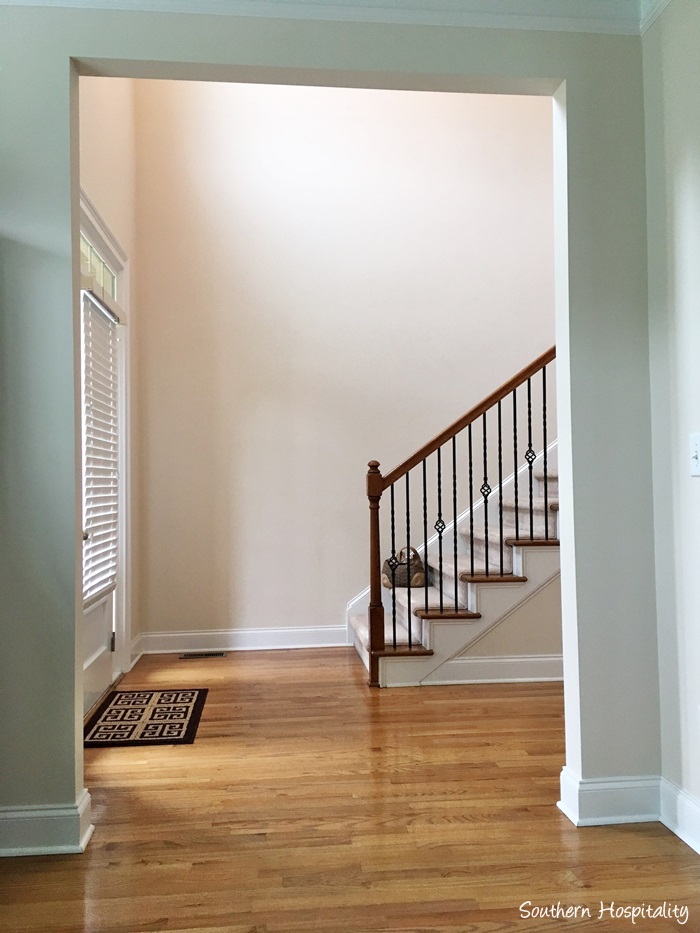 The house has site finished hardwoods on the main level, except for the den and downstairs bedroom.
When you walk in the door, it's an open 2 story foyer and a nice open floor plan of the small living room and dining room which leads into the kitchen.
Front living room with pretty windows and transom.  I love all the light coming in the house, very important to me, lots of light!  This house has a lot of windows.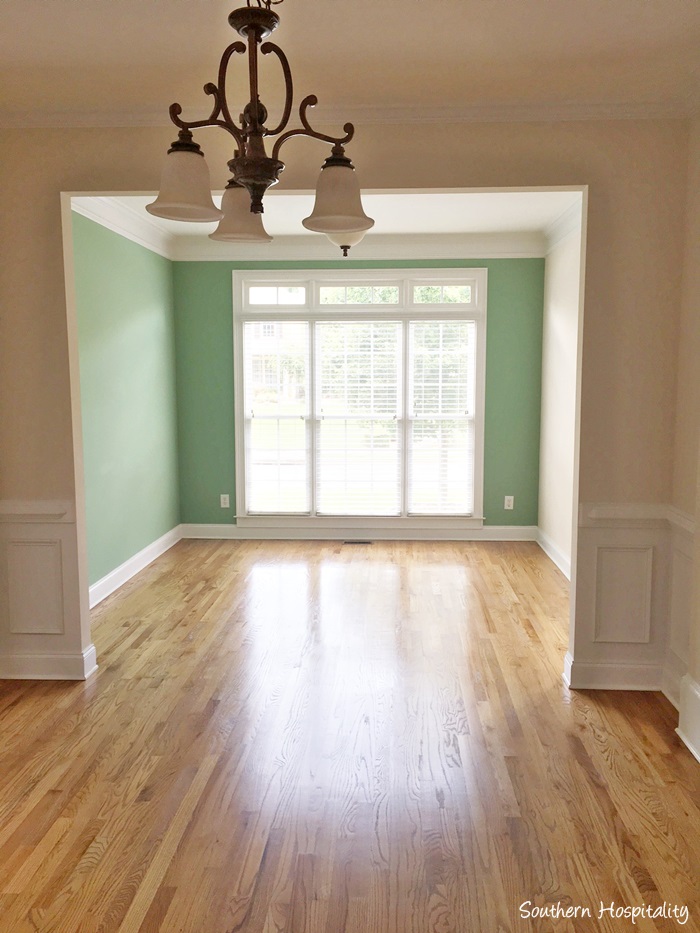 Standing in the dining room  looking towards the living room.  Mark is doing a board and batten wall treatment in the front living room to add some architectural interest.
From the entry hall to the dining room. It's not huge but big enough for my dining table and chairs. Can't wait to see it in here!  Mark is going to redo this molding and add a higher beadboard Cape Cod treatment to the dining room and my plan is to put grasscloth above it. We want to add plantation shutters to the front of the house and include this dining room window which is on the side of the house.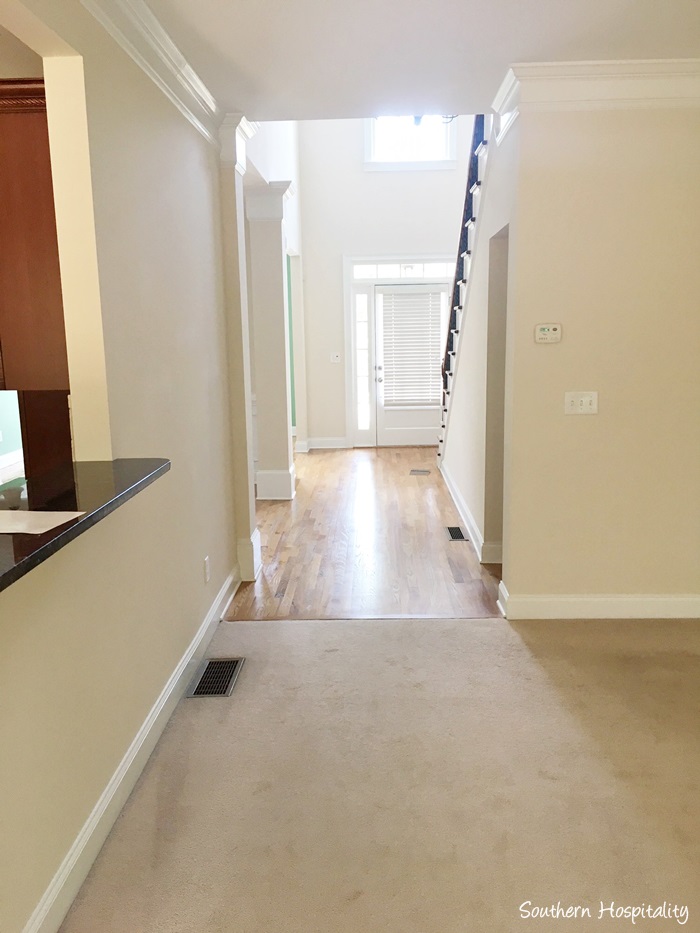 Looking back towards the front door.
Den space with fireplace.  Love this curved bank of windows.  First project in this house, we have already had all this carpet removed into the guest room and continued with the site finished hardwoods.  We had them all sanded and restained a beautiful color called Provencial and I'll show you that later. We are getting all the flooring done and painting done in the main living areas before we try to  move in furniture. Much easier that way.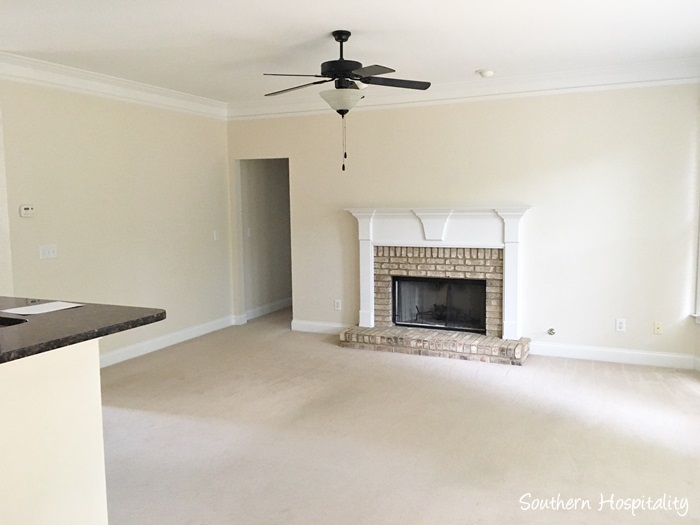 We've got plans for the fireplace too on sprucing it up with molding and probably taking something above the mantel to the ceiling.  This carpet is already gone and the floors turned out beautiful!
Den to kitchen.  That red paint will go.  That wall by the fridge is just screaming for something, so I'm still thinking that over.  I thought about a bank of drawers with open shelve above or I may just hunt down a really neat piece of antique furniture with lots of storage and something unique to go here. It's a small eat in kitchen and I really don't think we need a tiny table here, so I think I'll make a little sitting area here by the bay window sort of keeping room style. The back door is there too going out to the deck. I will probably add 2 bar stools over on the bar and we can eat there too.
The kitchen isn't huge, but we are going to keep the cabinets as they are in really great shape.  We are having them painted by our painter so it will all be done when we move in.  Planning to do white above and a color on the lowers, so still mulling that over and trying out paint samples.
Kitchen sink peninsula looking towards the den.  Probably down the road we will redo the backsplash and possibly the granite.  I love my big single sink and would like to do another one here. It's so nice that everything is very clean and move in ready so we don't have to do everything right away.
I'll miss my big Ikea pantry too, but this one will do. I'm going to figure out how to add pull out drawers in here to make it more functional. Right now it's just stationary shelves.
Gas stove which I haven't had before, but I'm sure I'll get used to it. This was the previous owner stuff.
Refrigerator side of the kitchen.  Again, it's not a big kitchen but it will be functional and fine for us.  No plans to gut it.
Off the kitchen is the deck looking to the woods behind.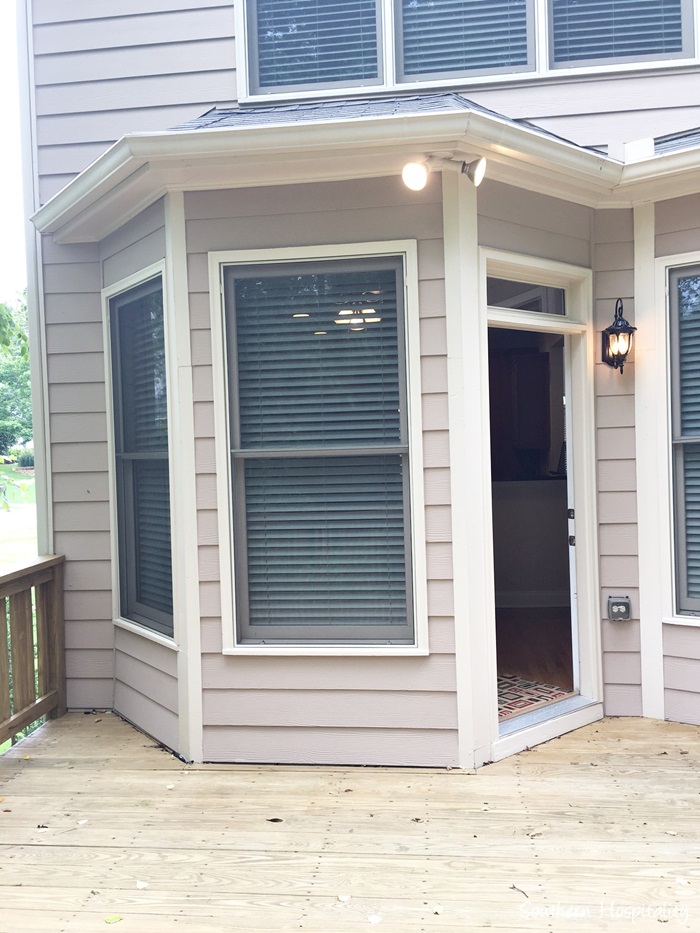 My plan is to eventually get a screened porch built out here. We have to get someone to look at this roof line to see how hard it will be to add a roof and porch out here.  It's so curved with all the windows and may not be that easy, we'll see. But I sure want another porch, as you can imagine. In the meantime we'll fix up below on the patio for a nice entertaining area.  I'll be bringing over all my patio furniture for that space.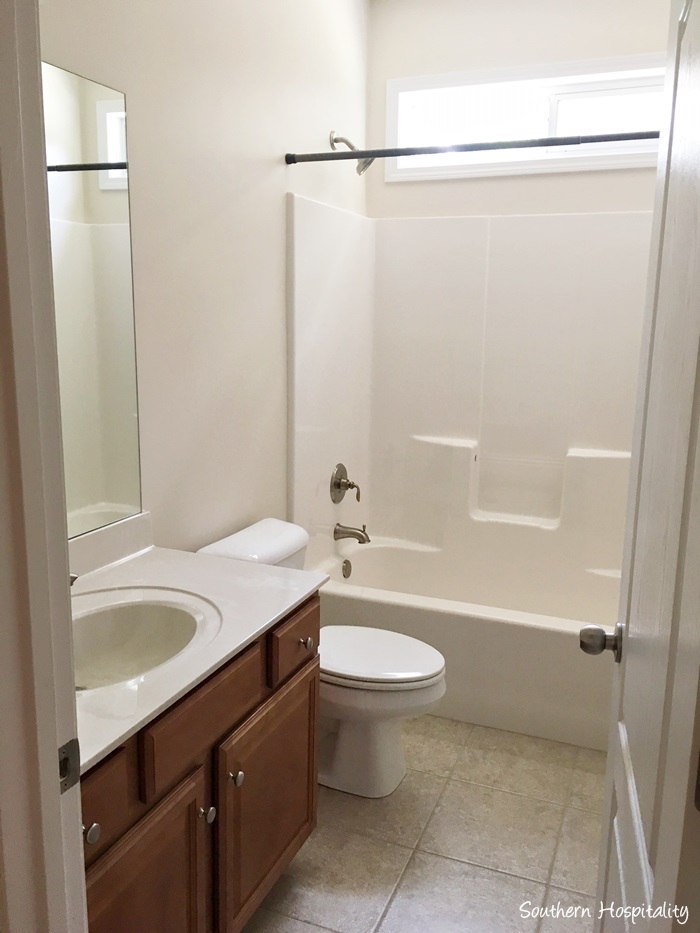 Downstairs bathroom behind the den area.
This downstairs bedroom will be our guest room. It now has hardwoods in here.
I really like the door style in the house and plan on painting all the interior doors a color, to be decided, but maybe a darkish gray/brown.
Looking downstairs from the top landing. This carpet will be coming up and a pretty runner going down.
Upstairs is the master bedroom and 2 other bedrooms.  The master is plenty big and spacious.
And it has a sitting room which will be nice. We'll put some chairs and a TV in here for lounging. Extra closet too. The master closet isn't huge, so Mark will probably use this closet and we'll share some space.
Master bathroom.  It's nice and clean, but very plain so we want to add lots of decorative touches in here too.  That shower is all one unit composite material and even though it's really clean, will eventually be replaced with a tiled shower and clear glass doors.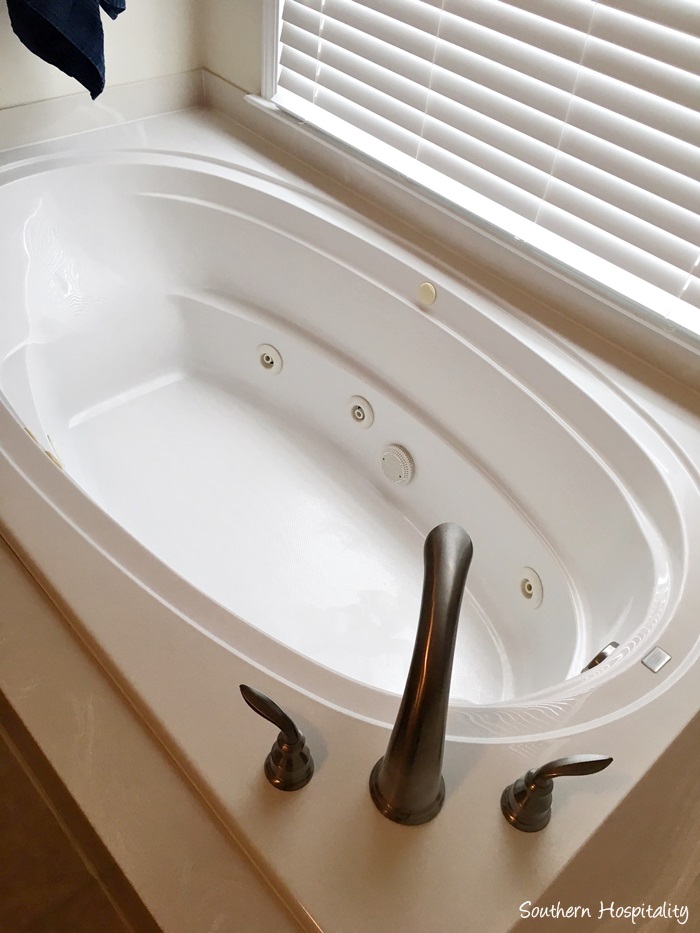 The tub is in great shape so will stay. I don't mind having a big tub to soak in.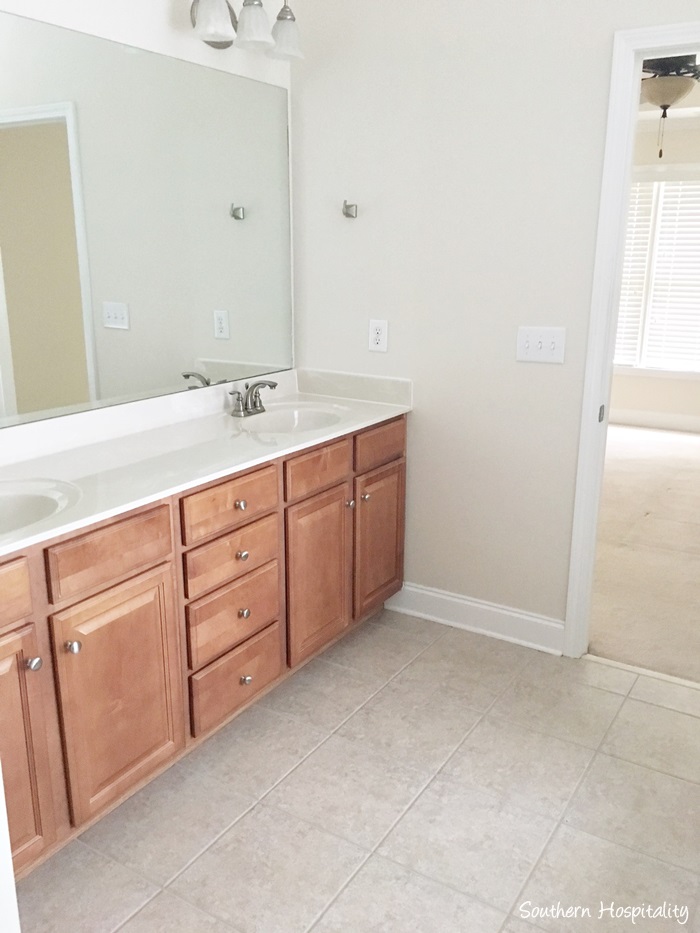 The double vanity is nice too and I'll probably paint these cabinets and we will eventually do a new countertop and probably add some tile to the wall and take down this big mirror for 2 mirrors.  I'd like to add a prettier tile to the floor later down the road.  It's very clean though which I'm really happy about.  We'll be gathering plans to figure out what all to do in here.
Laundry room is off the main hallway upstairs.  The previous owners left their washer and dryer which was really nice.  We are going to switch this out with my current top loader set and bring it over here.  Mark's daughter will get this set to use.  My current dryer is a gas dryer and this one is not, so we'd rather hook up the gas dryer for us to use.
Upstairs bathroom with double vanity.  All 3 bathrooms are in really good shape and very clean, so we will update them all along the way with some fun touches. The vanities are wood and nice so we are keeping them all and painting them and replace the countertops on all eventually for something a little nicer than the current cultured marble.  Both bathrooms have those all in one shower units and they are very clean and look nice so we aren't replacing those.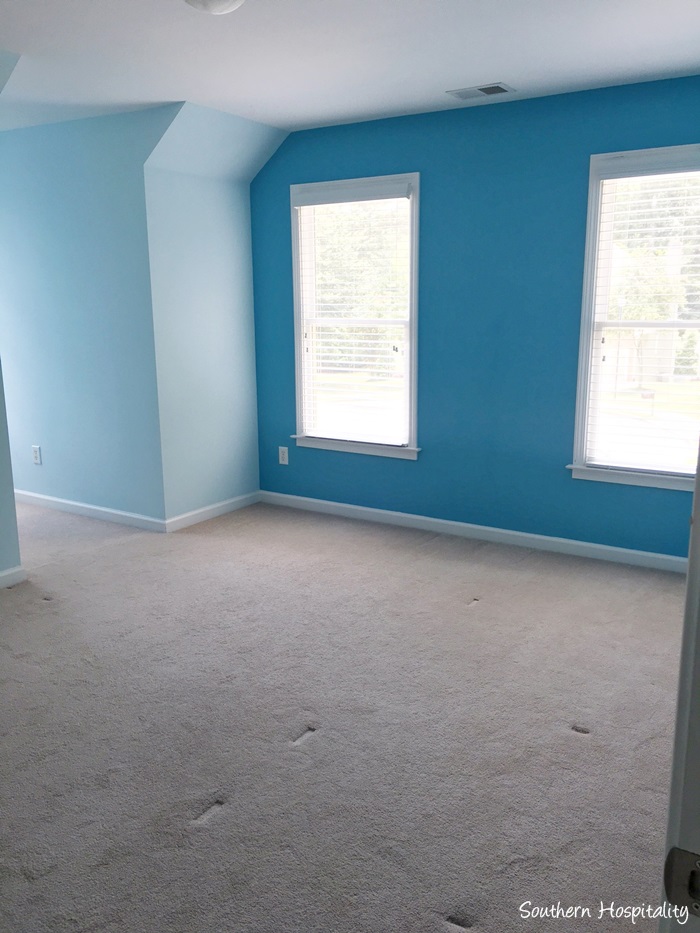 Mark's man cave space, the dormer bedroom.  He loves quirky angled rooms, so this one will be his man cave.  He has his own ideas on how he wants to do his room so it's all his and I won't be doing anything in here, but I'll be sure and share it when he gets it all done.
He will have a big screen TV in here (of course!) and he's going to add all sorts of architectural details like possibly shiplap and brick somewhere, still mulling that over.  As much as we like shiplap, we will not be going shiplap crazy in this house.  Trying to stay more classic in here.
That doorway leads to a small walk in closet.
We didn't find out til our final walk through that this closet has a secret surprise.
It's a cute little playhouse space behind the little door!  The previous owners did this for their daughter.  Mark's grandsons will think this is so neat, I'm sure. They are 3 and 5.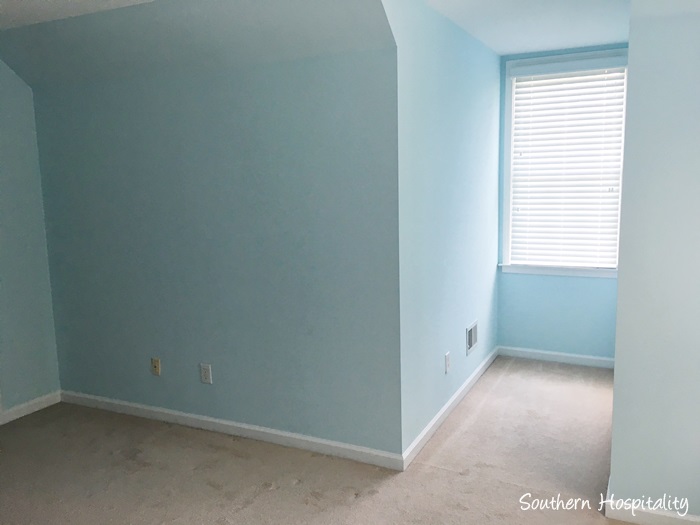 The deep dormer is a neat space in here too and I'm sure he will be adding some fun details to it too.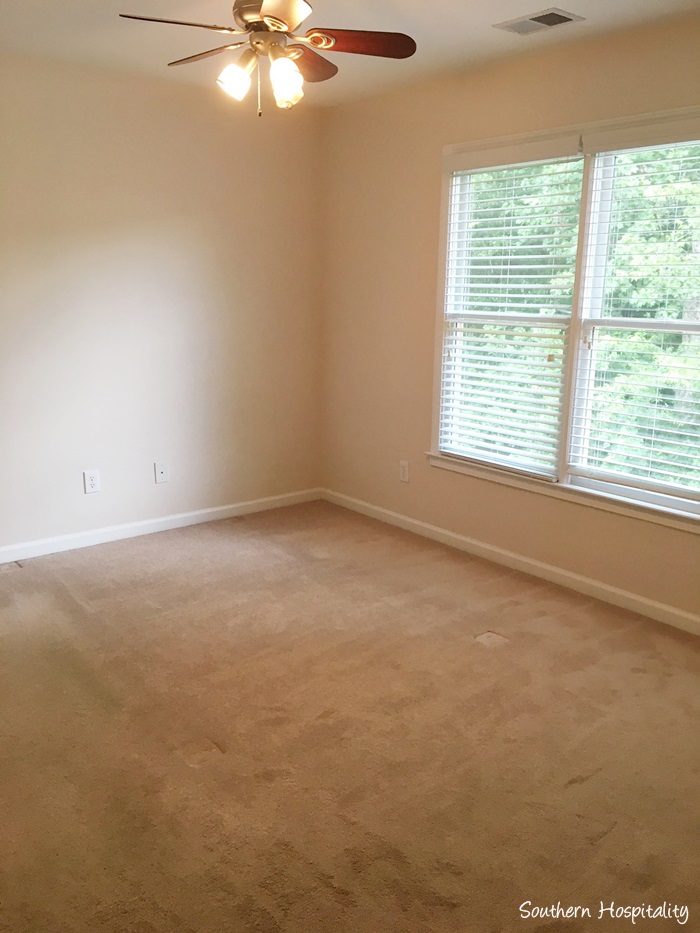 And the last bedroom upstairs will be my office space, looking out to the back yard.  All of the upstairs will have the carpet removed and I'll be working with Shaw Floors to get new engineered wood in here very soon. Can't wait to see this upstairs all in hardwood, it's going to be gorgeous!
It's slightly bigger than my current office and I have plans to change it up some in this house.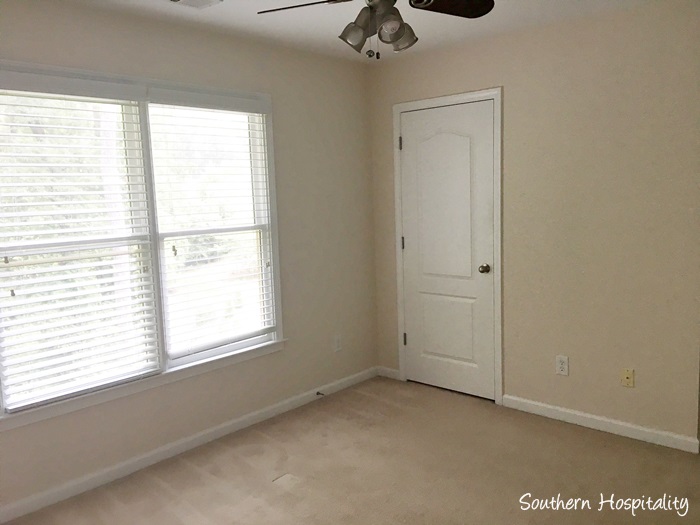 I'll be using my same furniture, but mixing things around with some of my other furniture for a different office look.  I think it will be fun!
Downstairs is a huge unfinished basement, which we love!  There are 3 sections already studded out and it will be easy to finish off a section when we want to.  I'll also be working with Shaw Floors down here as well and getting Floorte installed, which is a luxury vinyl tile that is waterproof.  It should be the perfect flooring for this basement.  We'll install in in 2 sections and probably the middle section of the basement will eventually be drywalled and a ceiling put in.
This is one side of the basement, with a middle section and a far section too that houses a furnace and hot water heater.  Lots of storage in this basement. We'll be dividing this section and putting a dedicated storage room on the far end.  It's funny, there were all these plantation shutters hanging in the basement.  We measured some of them but they don't seem to fit the windows, except maybe one front window. We'll have to figure out what to do with them, definitely won't let them go to waste.  We asked the previous owners about them and they said they were already there when they moved in and they just left them like this.  We'll do something with them, they are too pretty to go to waste and we love plantation shutters!
This is the middle section that's already studded out coming down the stairs from the upper level.
It opens up to this light filled space that can easily be finished out if we choose to down the road.  I love the windows in the basement that lets in lots of light.
One more section to the left of the middle section will be for storage and a workshop area for Mark.  It houses the furnace and hot water heater.  It's nice that the basement is already divided into 3 rooms and that will make it easy to finish off with drywall down the road.
Right outside is a nice huge patio space and we will definitely be utilizing this for entertaining.
My patio furniture will fit nicely out here and this is what we'll use until we get a screened porch done eventually.  See those 2 flowering bushes going down the hill? Those are hydrangeas. They have a few blooms on them but aren't loaded. They are lush and green and healthy, so hoping they bloom big next year. I'll definitely be adding more hydrangeas around here, love them. I can propagate some of my own and bring them over.
So that's the tour of the inside of the house!  We really do love it and think it will be such a great floor plan to live with.  And we can't wait to put our own touches on the house.  There's so much we can do with it without having to gut anything, which is really a relief for me.  I am happy not to have so much work to do to make this house our own and really relieved it's not a gut job! Thanks for being here with us on this journey and I can't wait to share more as we move along and get moved in our new home!
Now this view I could get used to!  I captured this over the weekend as we were leaving our new house at sunset.  The lake is just behind our neighborhood and we drive over a bridge to leave and get back to the main highway.  When I saw this, it took my breath away!
I'll be doing weekly updates on the house as we move along and get moved in.  It won't all be picture perfect for awhile after we move in as we will still have a lot to do to get settled in, but it sure will be a fun process!
SaveSave
SaveSave
SaveSave
SaveSave
SaveSave
SaveSave
SaveSave
SaveSave
Don't Miss a Post, join my list!