I finally got the new office/guest room mostly done and photographed, so I'm excited to share it with all of you today. I'll do a disclaimer on this room since I know from a few comments I've gotten when I shared progress on Instagram that not everyone will like my design style and how I've put it all together. Some will think I put way too much furniture in here and some won't like the drapes and wallpaper together. That's all fine! I am confident in what I like and I love it, so I hope you enjoy it too. It has a lot of my favorite things.
Keep in mind that as I usually do, I use some things I have and don't ever completely start over in a room (hardly ever, that is). This room is no exception. It was time to get rid of the large office pieces I've had for about 15 years and go in another direction. I didn't really utilize this space very much at all and it was way more cluttery than I wanted at this point. So I decluttered all the stuff and sold the desk, console table, the other accent table and bookcase and thought about how this room needed to function going forward. Since Lauren and her family will staying with us now during holidays and visits, I thought a daybed with trundle would be a great addition in there for extra sleeping. Those girls are growing and pallets on the floor will only last so long. Plus, I found this really cool wicker and wood armoire on Facebook marketplace and I bought it on the spot. I knew I would figure out what to do with it later and I did.
As a reminder, this is the office when we moved in here over 4 years ago. It was cute and I used what I had then too, but I didn't really utilize it all that well and it just collected paper and clutter over the years. It was time for a change, but the drapes would stay and the pink chair and ottoman would stay. I thought about keeping the rug, but changed my mind when I remembered I had a pretty blue wool rug that used to be in the living room and is bigger than the old at 8×10 so fits this space really well. It really looks good in here with the other colors, I think. I sold those shelves on the wall, the pink table, the desk, chair, console and bookcase. Facebook Marketplace is a great way to sell your old stuff. I was ready for a change and I got one!
Come on in!
The first thing I did was paint the walls Simply White by Ben Moore. I had it mixed at Sherwin Williams and painted 3 walls and wallpapered the other wall as a feature. This room has a little nook when you come in so I like having this little area that draws you in. I ordered another navy file cabinet and I'm going to leave it in this space, it fits well and is easy to get to. Mind you, I'm not trying to make this room a design statement. Rather, it's for comfort, practicality, and usefulness but I don't mind that it turned out cute and cozy too. I love it! Mark even loves it. They say if you use what you love that it all will come together and I think it has for me.
I reframed these botanical prints I already had in gold frames. With the daybed and new fan which has gold accents, I went that direction.
I added a little bamboo shelf on this incoming wall. I haven't put a lot on it yet, but I'll let it evolve later. I bought it years ago at a yardsale and have been wanting to use it again. This room has a lot of bamboo and that's OK with me, since I love it. I think I'll add a few family photos up there. Are you like me and hardly ever print pics anymore? I'm so behind in doing that. The file cabinet is from Staples.
This room is not huge, so I've crammed a lot of pieces in here, I know. I was hoping it would all fit and work out and it does for me. Some might think it's way too crowded, but again it feels cozy to me and I love it. I wanted to fit the chair and ottoman as well as that big armoire.
The new fan I found online here, it's the Craftmade Stellar fan in brushed brass. I love it! It has a remote so Mark blanked out the wall switch and we just use the remote for the fan and light. Bellacor has it too, so if you're interested just shop around. The remote control style is more expensive than the wall control, but I went for the remote in here.
That feature wall was wallpapered in this Feather Flock from Tempaper. I bought mine from there, but it's also available here for a little less. I bought 2 double rolls for my project. It takes more than you think, but I do have some left over. I didn't have to piece this wall at all. I love the graphic nature of this paper. It's a deep gray and reads black and white.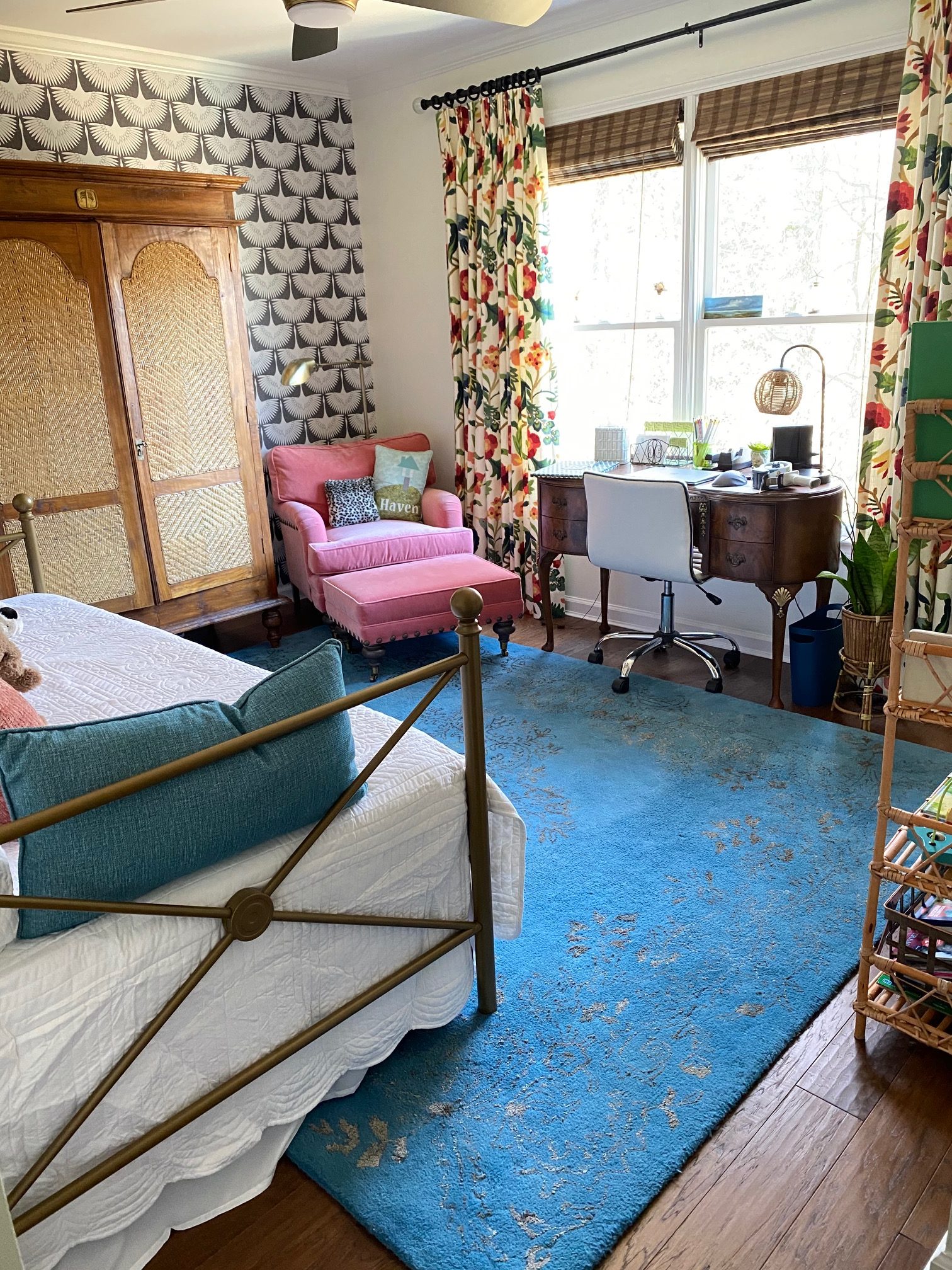 I got this daybed from Wayfair. I'll link everything below so you can check them out if you're interested. My sister and Lauren actually bought the bed and mattresses for me for Christmas, which was very generous of them. They thought that I had done so much of the work of moving mom and dad and wanted to say thank you. I love it! I wanted a daybed that wasn't visually heavy in this room and this one does the trick. I love the X detail on the ends and back. It's metal and comes in gold or black. I love this gold shade.
Looking to the right wall coming in, I ordered this small bamboo bookcase on Etsy. It's cute and petite, just what I needed for this wall and is only 12″ deep.
I've added a few things to it, but it's subject to change over time. I have kids books in that basket on the bottom and a few toys on the next shelf. This room will also double as a playroom at times, so it's going to be multi-functional for the great nieces and grandkids. That's a watercolor of our house that was done by a blog friend.
The daybed works great on this wall after I got it all put together and started figuring things out. Daybeds do take up a lot of room, but they come in handy for extra sleeping. I found this bedding at JC Penney and I'll link it too. It's very soft and I like the simple look of it in white. That print is from Minted and I use to have it on my old screen porch. I love it in here!  Parker and Iris loved sleeping in here at Thanksgiving and were so cute when they left, Lauren had them leave a couple of their stuffed animals and they'll be waiting for them when they get back for Christmas. It was fun having them with us and I look forward to a week at Christmas.
You can see in the above pic that after I painted and wallpapered, Mark put up crown molding. It really finishes off the room now.
It came with 3 shams and that center medallion pillow. I found the pink pillows at Homegoods and I already had the lumbar blue pillows. They blend in with the rug very well and with all the colors in the floral drapes.
The stuffed animals look right at home on the daybed.
Here's a look at the trundle pulled out part way. It's a twin mattress on top and bottom. The daybed suggestion was 8″ mattress on the top and 6″ on the bottom, so that's what I got (both from Wayfair). I'll share those below too. I found a great deal on these blush twin sheets from Macy's and they are soft and cozy microfiber. I have blankets for the girls to use. Daisy thinks the trundle is fun too! The girls fought over who would sleep on the trundle, so will have to take turns while they're here.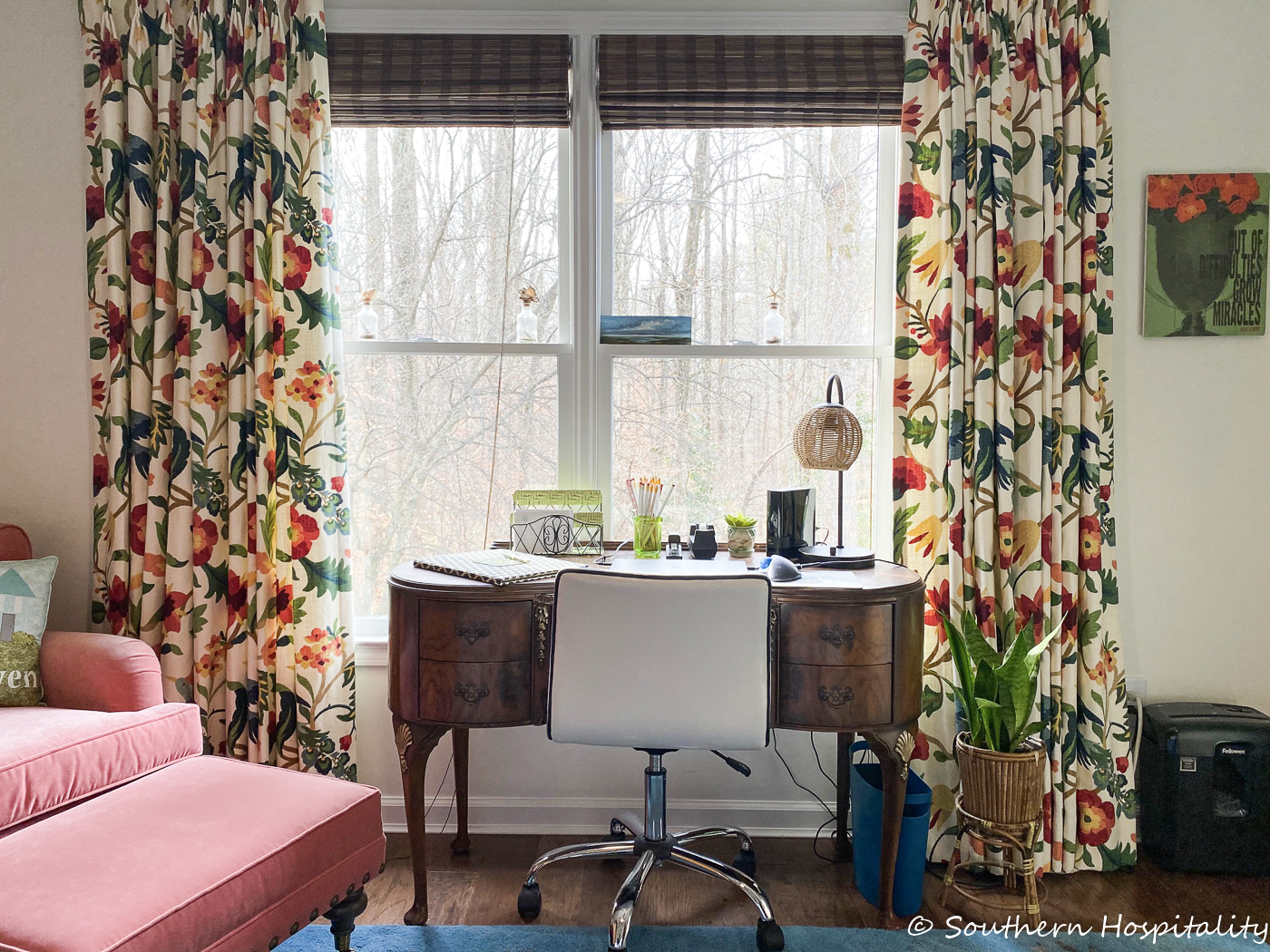 I placed my desk (which is a vanity that had a mirror on it) in front of the window. It's a great place to edit my photos and a good size in here. I don't need a full time office, I use my Mac on the sofa most of the time, but I love that I can come in here when I want to and even use the daybed for a nap or sit in the chair. It's such a great space and I find myself walking in there all the time now.
I love the white paint in here, since this room faces the woods in the back of the house it tends to be darker so the white paint brightens it up a lot. Simply White mixed at Sherwin Williams. I bought a new paper shredder and it fits this space fine. I bought that sign a few years ago on Wayfair, it says Out of Difficulties Grow Miracles and really spoke to me and my life.
I brought my bamboo plant holder up here too for some plant life. I still love these drapes I had made for my old house and I layered 2 panels on each side since I had extra. The fabric is called Lucy Eden by Richloom, I think it's still out there. It's a bold floral with birds and I have loved it for years.
I found this cute lamp at Homegoods and knew it would be perfect for the desk.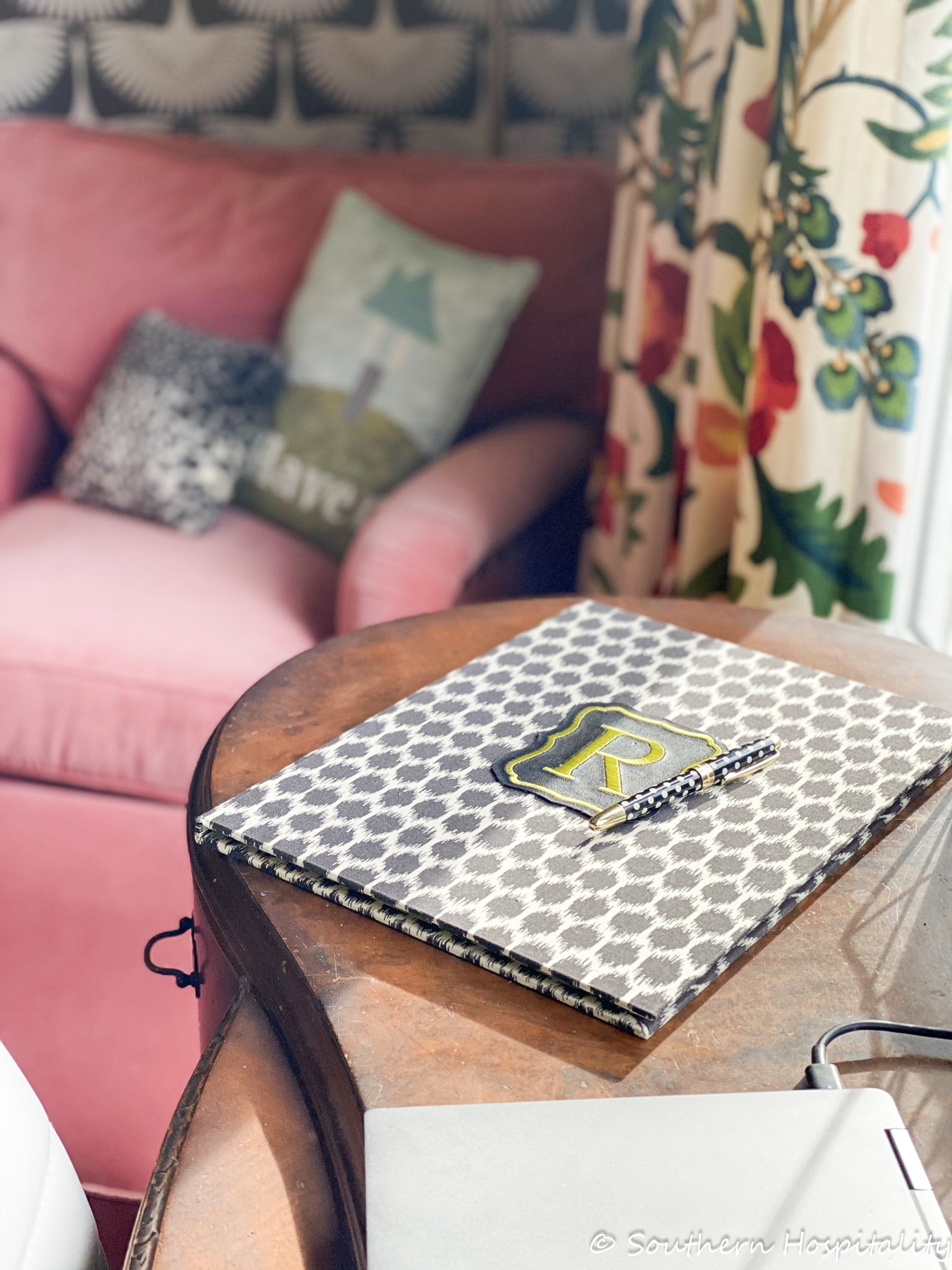 The desk holds just a few things, I'm trying to continue to declutter what I don't need.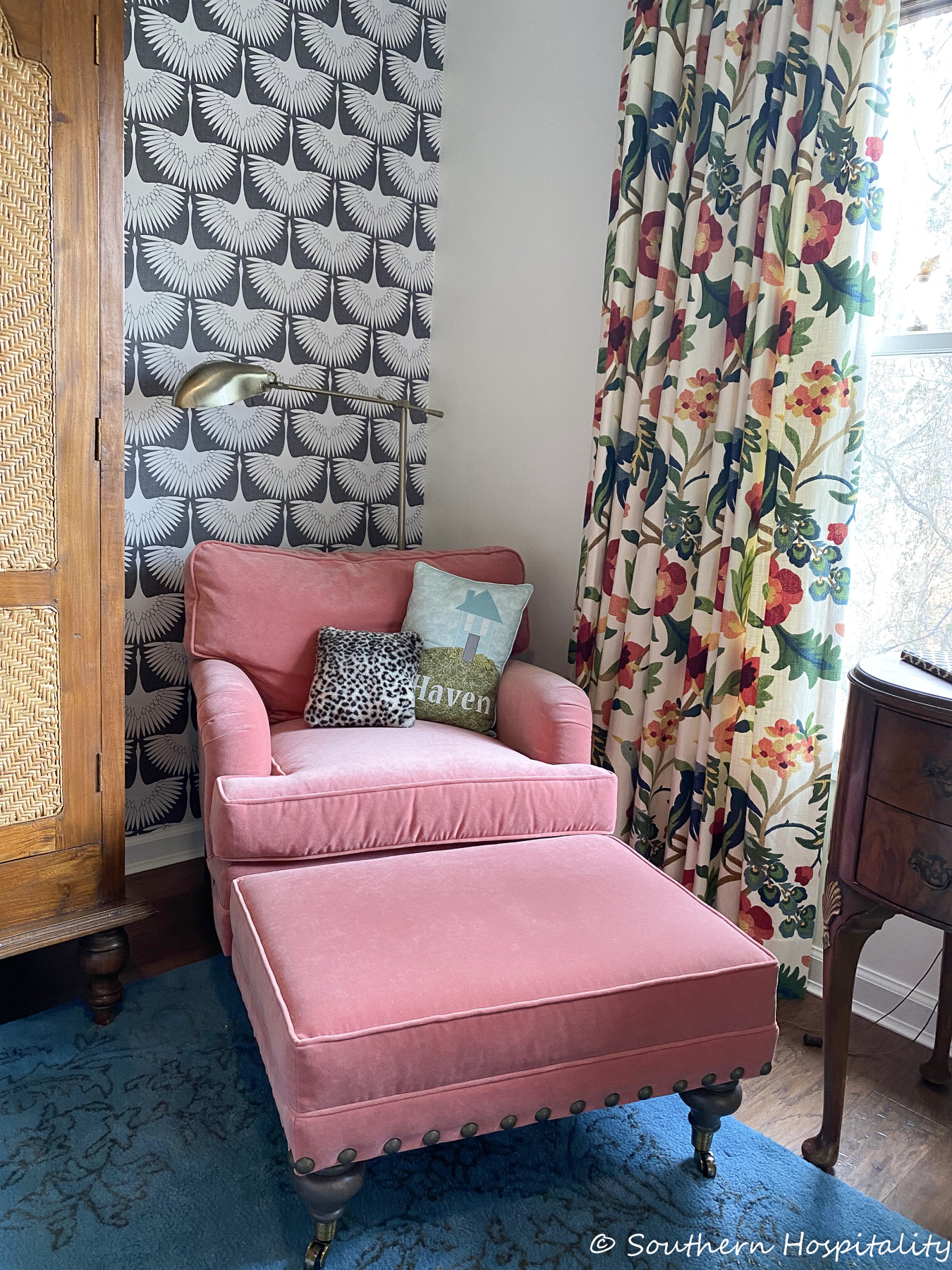 I still love this Ballard Designs pink chair and ottoman and it's small enough to fit in the corner. The rich velvet fabric is so cozy.
A sweet person made me that Haven pillow years ago and I've kept it. Home is my haven!
The armoire makes a big statement on the feature wall and I love it too, but it was not without challenge. When I first bought it, I hired movers to pick it up and bring it to our house. I thought I'd go ahead and bring it upstairs even though I hadn't started on this room. I would work around it. Well, it wouldn't go through the door and the crown molding had to be taken off. So it sat in the basement for a few months until I got to this project and then we got it upstairs and Mark carefully took off the crown and then nailed it back on again. What a lot of work it was, but I sure do love it! I have a great hubby!
I knew I would put my wireless printer in here and I also had that TV monitor hooked up to my computer at one time for photo editing, but I wasn't using it. So I got a Roku and the girls can watch TV in here when they are visiting. It's perfect in here. I also got 2 of my mom's quilts that she made and  I found them when we were cleaning out the house. I folded them up in here for extra blankets. I have a basket of toys in here too.
When I pulled out these quilts from the top of her closet, the memories came flooding back. I remember using these quilts when I was very little and we slept on pallets on the floor many times when we had company or riding in the car. Mom made these and they are precious to have. This one has some stains I haven't gotten out, but it won't ruin things for me.
This one too has fond memories and so I brought them both here to use in this room and I think the girls will enjoy them. Someone mentioned I should get a quilt ladder and I think I will.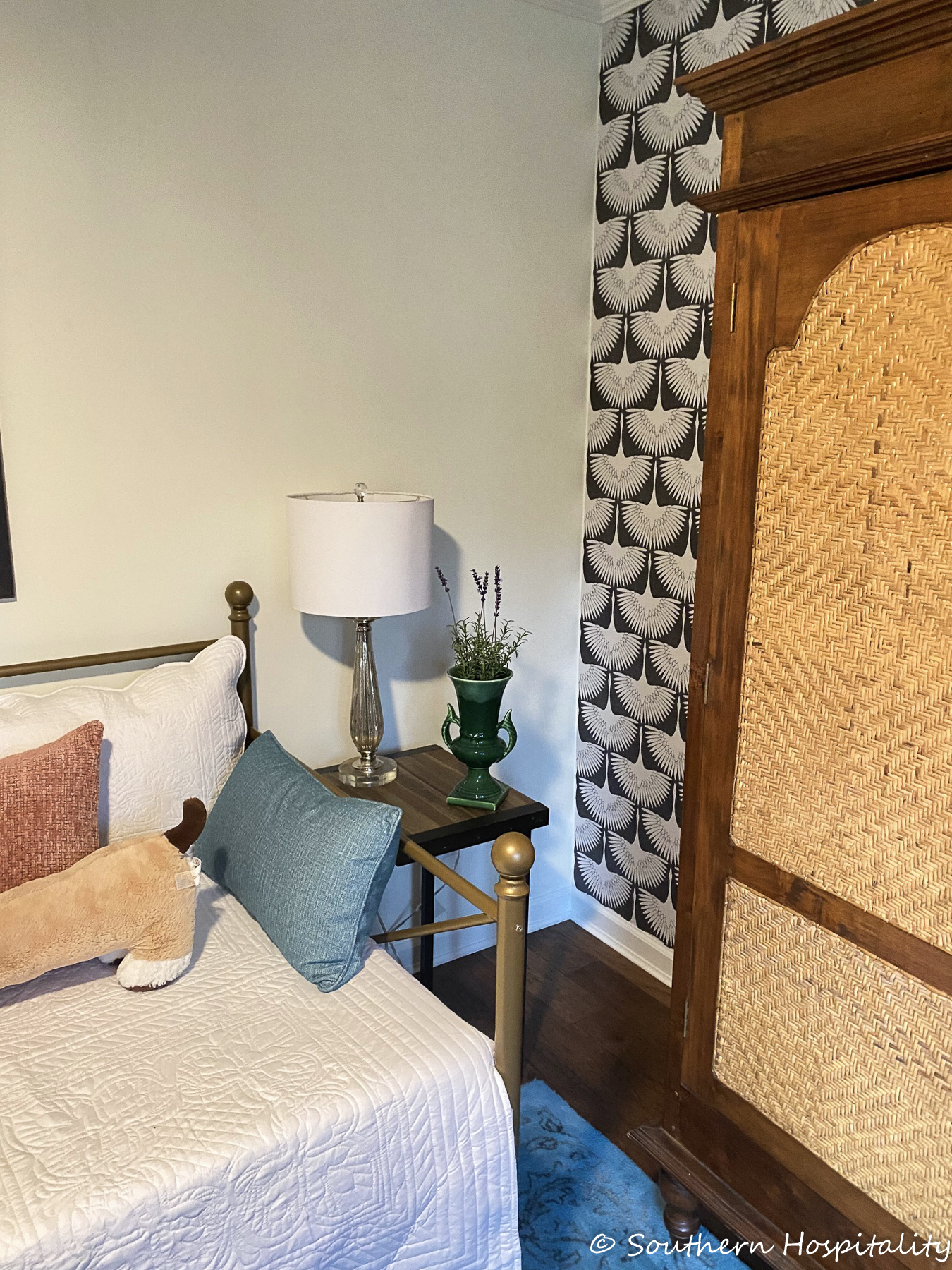 There's room to the left of the armoire for that. I added a little laptop table I had here along with a lamp I already had, so the girls will feel so cozy in this room, with lamplight.
So there you have it! I love this office/guest room space and I know it will be even more used in our house now that it's multi-functional. I look forward to putting it to good use in the years to come. Thanks so much for coming by!
I'm sharing all the links of the items I can source in case you're interested in these pieces (affiliate links):

Don't Miss a Post, join my list!