HI, friends, I'm back today with, let's hear a drumroll please….an actual room reveal!  Yep, it seems like forever coming, but I finally have one finished room to show you all.  My office space has evolved once again over the last 10 years.  If you've been reading my blog for a number of years, you saw me start my office in a small nook space in Birmingham, then a full fledged green office in my fixer upper house and now another office space here in the new house, using all the things I've had before.
I pulled things from other parts of the house that I wasn't using elsewhere and it all came together quite nicely.  It's not really a huge WOW magazine worthy room.  I hardly ever feel like I can pull off magazine worthy these days, with all the talent out there that I scroll through on a daily basis, I never feel like it's ALL that, but it's making a pretty room with what I have, so here you go.  And I know that you all enjoy watching me use what I have. It's not all about going out and buying all new, although it's fun to add things here and there when you move in a new home. We have several holes to fill and I'll be filling them in time!
I happen to think it's pretty cute and feminine and it makes me happy to see all my things reinvented in a new way.  I even got out the spray paint for a few things that I updated with new colors.
I had these black botanicals in my old office, 4 of them, but decided to only use 2 in here and I sprayed the frames with coral pink spray paint.
The wall color in here is Magnolia Home Paint in the color Emmie's Room, a soft blue shade. It's hard to photograph and actually is a bit less gray than it looks here. It's a nice backdrop to my colors in the office.  Thanks to Kilz and Magnolia Home Paint for supplying us with the interior paint for our house.
Here's the view as you walk in the room.  Desk facing the double windows so I can look at the pretty trees outside in our backyard.  My black desk is the same one I've had for years, from Target.  White desk chair I got years ago at Homegoods.
That pretty landscape print came from Minted  (affiliate link) and I had it on my screened porch, but decided it would look great in here and I love it.
I had room for one pair of the drapes I had made for my den space a couple of years ago. I still love this floral material,  it's by Richloom and called Lucy Eden. I still see it online so I think it's still available. With those bold flowers and birds, it's such a happy fabric.
That console table was a find from a thriftstore, an old Bombay piece that I painted coral a few years ago to blend in with my chair. I pulled the coral shade from the curtains.
And that cute coral pink velvet chair and ottoman that I got from Ballards a few years ago looks really at home in my new office space.  This chair was by the bookcase in  my downstairs den in the old house, as was this black and white houndstooth rug.
I kept it pretty simple in here and wanted the room to breathe so didn't add a lot of accessories. Here's a good look at our wood floors from Shaw Floors too. These are called Pebble Hill in Warm Sunset and we absolutely love them in our upper level spaces.  Such a warm color and texture.
These dogs were an estate sale find years ago and I love them in their black and white.
Aren't they the cutest?  Every room needs a little black and white.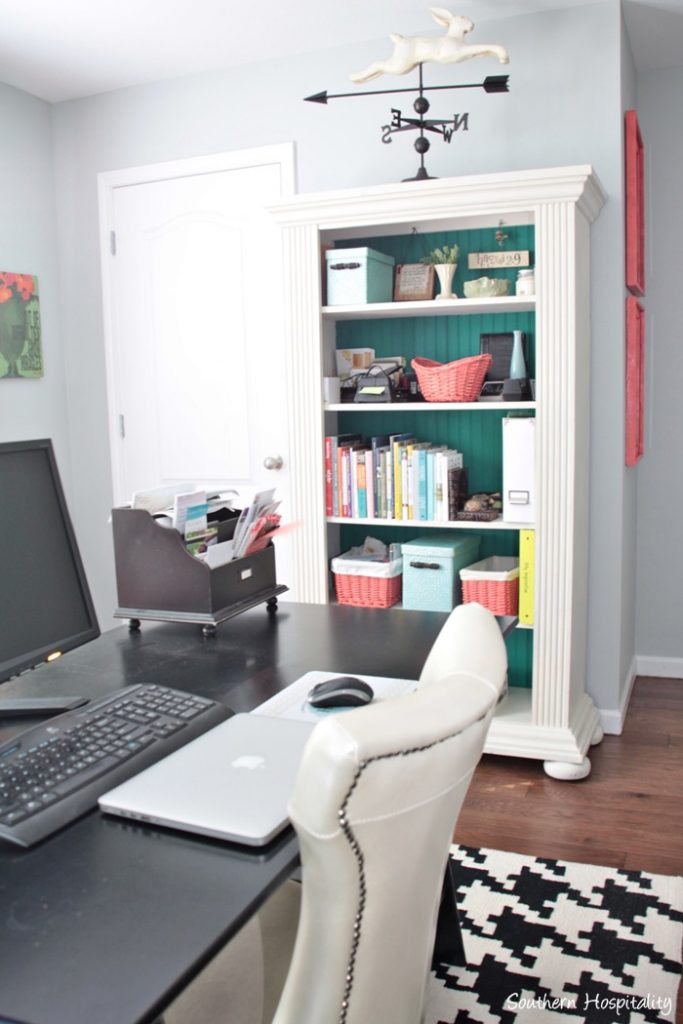 I posted this bunny weather vane from Target on my Facebook page awhile back, saying that I just couldn't get rid of it and wondered who still had one and got so many comments.  Many of you still have this thing from years ago and it is still with me too.  I love it on top of the bookcase.  It's from 2005 or 06.
That bookcase was a yardsale find in Birmingham that I'm still using.  I paid $50 for it and it started off natural, I painted it black and then it ended up white.  Adding the beadboard backing myself was the best thing I did to update it and it's solid wood, so a nice sturdy piece.
The bookcase holds my decorating books and I spray painted a few baskets to better fit with my colors.
Baskets hold a lot of things out of sight, so this area is storage and trying to stay organized.
Ballard Designs shelves I have had for years now still look great over my console table, so up they went again.  I love having them for display space.
I got a new wireless printer over on the console table.
I'm trying to keep this office space more organized and clutter free, so I'm keeping it simple.
I've had these 3 black tole trays for years now and couldn't let them go, so decided it was time they came out again and with the florals in here, they look just right once again, adding some fun vintage details to the shelves.
A couple of family pictures and a few accessories round it out.  The white framed oil painting was a gift from a sweet reader.
I hope you enjoyed a peek at my new office!  I'm really loving it and it feels so nice to have the house coming together.  We're still working on other rooms, but I'll be sharing those with you as we get things more finished around here.  It's really feeling like home now and we are so enjoying our new space and yard!
Some of you have been with me since my very first little office and it's so nice to have you all along on this journey of ours!
SaveSave
SaveSave
SaveSave
SaveSave
SaveSaveSaveSave
SaveSave
SaveSave
SaveSave
Don't Miss a Post, join my list!