I fully intended to get a cruise post up by now, but this week has just kicked my butt! Coming back from the cruise a week ago and then getting a cold really put me behind for the week, as well as a busy schedule last week too with some brand opportunities I'm involved with. So, I don't have a cruise post for you yet, but I will be working on that this week so I can be sure and capture and share everything I want to share. There's a lot and I don't want to rush it! I took over 500 pictures on our cruise and no, I'm not sharing them all, but I want to share a good number of pics from each stop we made. There were such beautiful scenes to see on that Rhine River cruise! Right now, I'm thinking I'll break the cruise into 2 parts and cover it that way.
Today I thought I'd share a bit about our yard and landscape plans. We inherited a nice yard with this house with sodded Bermuda and some plants already established in our front beds and a few in the back beds too. But there is plenty of room for improvement and adding more blooms around our house and that's definitely something I'd like to do more of. We are going to take more grass out of the backyard and add more plants there, something that we can enjoy seeing, like more hydrangeas and I hope a few more things too. I'm going to be working with Southern Living plants again and I can't wait to see what we end up with.
I do love gardening and planting pretty flowers and shrubs, but I have to say my stamina and body can't do all I used to do, so I have to do what I can a little at a time, so some of this might be slow going. Working outside during the summer months is a real challenge for me as the heat just completely zaps my energy these days.
One little project I've wanted to get done I did complete recently and that's adding some Limelight hydrangeas to our fence bed by the driveway. I knew that would be a great place to showcase some pretty blooming Limelights and I ordered 4 of the dwarf ones online from Home Depot, their Proven Winner brand. These were 1 gallons so they aren't huge.
I did all this about 2 months ago. First, I dug out all the grass in the bed and got rid of that.
Then I put down landscape fabric to help keep weeds from coming back up.
I ordered these Proven Winner One gallon Little Limelights (affliate llink). They grow 3 to 5″ tall and wide. Many times these plants aren't sold in the stores. 
When I opened the boxes of plants they looked like dead sticks, but I could see tiny little nubs of green where they were starting to sprout out.
See all those green nodes coming out? They were ready to plant and ready for spring weather. I probably planted these a little early and had to cover them a couple of nights when the temps dipped down past freezing, but they all made it fine and really started to take off when the weather warmed up. We have gotten plenty of rain this spring (and really the last couple of years have been very rainy) and so all of these new plants I've put in have made it fine.
I added black mulch on top of the landscape fabric to finish it off and my little sticks began growing!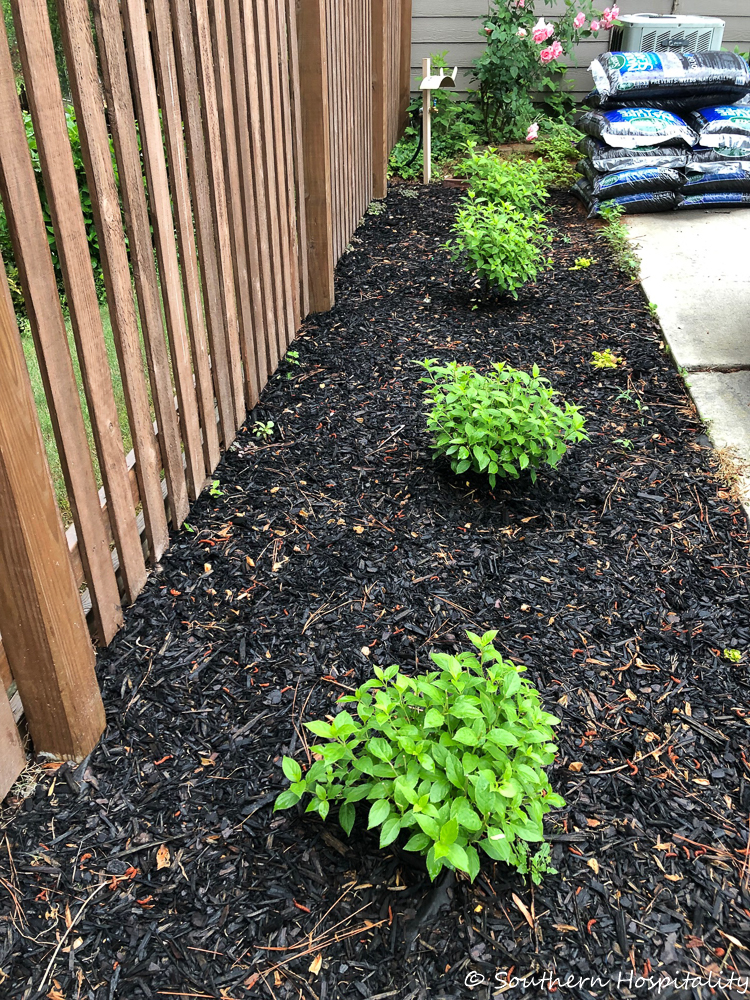 Now 2 months later they look like this! I've been watching them grow every week and was so excited when all these leaves sprouted out and they started getting bigger.
So don't be afraid to order plants online. They do very well. I knew that the stores wouldn't have any of these plants in already, so I thought online was the way to go. I got them in the ground just in time for rain and the heat of growing season and they are looking so healthy and lush. I'll be watching for little blooms to see if they actually do anything this year.
These dwarf Limelights will grow from 3 to 5′ tall and wide which is what I wanted in front of this fence. I didn't want anything to take over this area, but to enhance it. When they all grow in they will probably be touching and look like one big hedge of plants. And I can't wait for those beautiful blooms to happen!
At the end of the fence is this pretty pink rosebush. I have no idea what kind it is and roses are definitely not my specialty, but it's blooming so pretty right now. I hacked it back completely at the end of the season last year, it was looking so gangly and leggy. I'm not up on roses anyway and don't fancy myself a rose grower, but as long as it keeps blooming like this, I'll let it stay!
This area is an eyesore and one we need to work on. There are weeds and our 2 air conditioner units on this wall, as well as our trash can, so I want to put up a little fence to hide all that. There's plenty of cleaning up to do in this area right now. I spared you the ugly of the AC units and weeds! It will look so much better when we get this cleaned up and landscaped properly. At least planting the Limelights will help with that.
In the backyard, these gorgeous hydrangeas that the original owners planted are still going strong. They really do highlight the wall below and give a nice focal point out there from the deck and the patio below. This year when I started looking at them, I noticed that about 1/3 of the branches on each of the plants were completely brown and dead, so I took my clippers out there and cut them all back. It didn't cut them to the ground but probably could have. They are looking better now and many new green leaves are coming out from the base, so it should still bloom this year and look decent. I'm pretty sure a late freeze got them and some of the branches died back from that.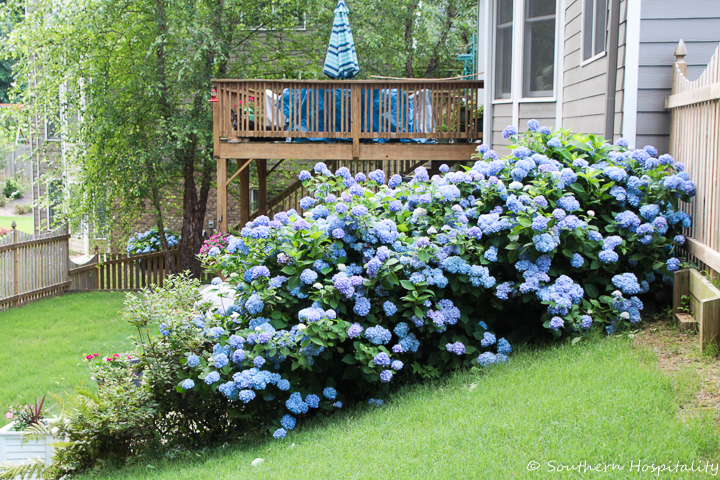 Here they were last year! I know, they were positively radiant!
This back fence line is an area where we want to take out the grass here and just put in some sort of flagstone patio. I'd like to add some hydrangeas along this fence line and the add flagstones and either mulch or small pebbles and make this a sitting area with a firepit. We're still mulling this all over but it sure would be pretty here.
With the backdrop of woods that we have in our backyard, it's a very enjoyable place to hang out. We are grateful for our backyard and how secluded it is. We are working to make our backyard a very nice place for entertaining and having people over. With a lot of family members and friends too, we want to enjoy this space.
We really have a nice backyard to work with and I'm so glad it's already established. We just need to clean up and tweak it some to make it a really great space. This shade garden is beyond our deck space on the far side of the fence. The birch trees are in the shade garden and it has a mix of ivy, ferns and a few other things. I've added a few more hosta as well as a hellebores that I dug up from my old yard.
You can see our stairs from the deck come down here. Lots of monkey grass/lirope in here too and I'm planning to leave it, but this bed definitely needs cleaning up too. With all we had on our plate last year in outside projects, I didn't even attempt to get this done, but now that we are a little more caught up outside (no more staining, yay!) I will probably be able to work on this bed more this year.
This is where some of the Southern Living plants will go as well as along the back fence, I hope. That's to be determined, but I can't wait to add more blooms and get this area looking better.
In this back corner (above), I recently dug up some oak leaf hydrangeas that are in my parents backyard. They have plenty of babies to share, so before it got too hot, I dug up 2 of them and brought them over to our yard and they are both doing great. See that little leaf? That's an Oak Leaf Hydrangea and eventually it'll get huge like my parents.
Here's the other one and I'm so happy to see them doing so well. You can see there are plenty of weeds in this bed too that need cleaning out. I'm not trying to make it perfect back here, but clearing out the weeds and putting down pine straw will help this area look better. I just want it somewhat natural looking with plenty of blooming shrubs and shade plants.
I brought over a couple of my concrete bunnies from my old house and they fit in nicely back here.
I love these ferns and we have a few of them in the backyard now. This bed has lots of liriope with rocks and ivy.
So that's a look at our current landscape situation. The front yard is pretty established already but we have room to add a few more perennials up there and a little more tweaking too so we'll slowly work on everything until we get it the way we want it.
We're about to get started on the backyard under deck area too. I've gotten estimates for the under deck ceiling system to get it weather proof and about to get that started. Can't wait to see that area get dried in and ready for screening. We will definitely use that space too! Haven't completely figured it all out yet, but we've been thinking and talking about it so I know we'll figure it all out.
I thought you might be interested to hear and see what all we have around here in the yard and plans too! Thanks for coming by today! So who's outside getting things done right now? Planting anything? I'd love to hear what you all are planting too!
Don't Miss a Post, join my list!