Back in July I shared that we wanted to update our master bathroom and I shared some examples of different types of bathrooms that I looked at. As usual, we are doing something a little different from what I've seen out there and I couldn't be happier with the plans. I discussed in that post about how watching HGTV and reading blogs might be changing how we renovate our homes. Now there's so much inspiration and so many beautiful pictures out there that make us all want to make our spaces better. I can't help it either, I'm just as guilty of enjoying the updates when it comes to home improvement in our house.
Mark and I are very excited to take this one on. We are hiring a contractor to do most of the work and I think it's going to be gorgeous. Mark is doing a little bit of the trim work and I'm going to paint the vanity and the walls, but other than that we're hiring it out, which is a big load off us.
Here's a look at the mood board I put together. It's always so fun to look at a mood board. It sets the tone and really gives a snapshot of what a space will look like with all these elements put together. These are all the exact materials we've picked out and chosen for the bathroom, so it's so nice to see them all together.
It's an exciting day! The master bathroom project is officially starting today and I am so happy about that. It's going to be messy, but so worth it when it's all done and we can enjoy it all. I've been busy behind the scenes shopping, sourcing, and ordering all the extras that go along with a renovation like this, from paint for the vanity to paint for the walls, rug, faucets, hardware for the vanity and walls, lighting, wallpaper, free standing tub, toilet, and of course, the tile.
Here are the items I can link for you at the moment from my mood board. I can find links to the other things later, but I've gathered these so far, if you're interested. That little brown stool will go beside the tub. The small black and gold fixture will go in the master closet. (all affiliate links)
Runner link is eSale rugs (affiliate links)

I'm so thrilled to be working with Walker Zanger on the tile and it's really going to take our bathroom to the next level with these gorgeous tile products installed. I met them on a kitchen and bath tour I took here in Atlanta back in September and I reached out to see if they would work with me on this bathroom and they said YES! I'm so thrilled to have a tile company the caliber of Walker Zanger working with me on this. Their materials are top notch and definitely not just the average tile.
After a lot of deliberation, here is the tile we chose. This pretty gray/green ceramic subway tile above will go above the vanity all the way to the ceiling in a brick pattern. We will take down the big mirror and add 2 of those black mirrors on top of the tile along with the gold sconces you see on the board.
The marble looking tile above is a porcelain tile from Walker Zanger and it will be installed on the bathroom floor in a herringbone pattern. We love that look and can't wait to execute it in our bath.
Here's an example of a similar tile in a herringbone pattern above from The Shelley Showroom on Instagram. Gorgeous! I'm painting the vanity a beautiful navy from Fusion Mineral paints in Midnight Blue and that color is on the mood board too on that buffet. We're using 4 sconces like the above pic, but I have to wait and see the placement with centering the mirror on the sinks and how much room we will have on the outside of the mirrors. If it's too close to add the sconces on the outside of the mirrors, we'll move one to each end wall and then two more on the inside of the mirrors as shown. I've seen them hung both ways and both look great. So that will be determined later.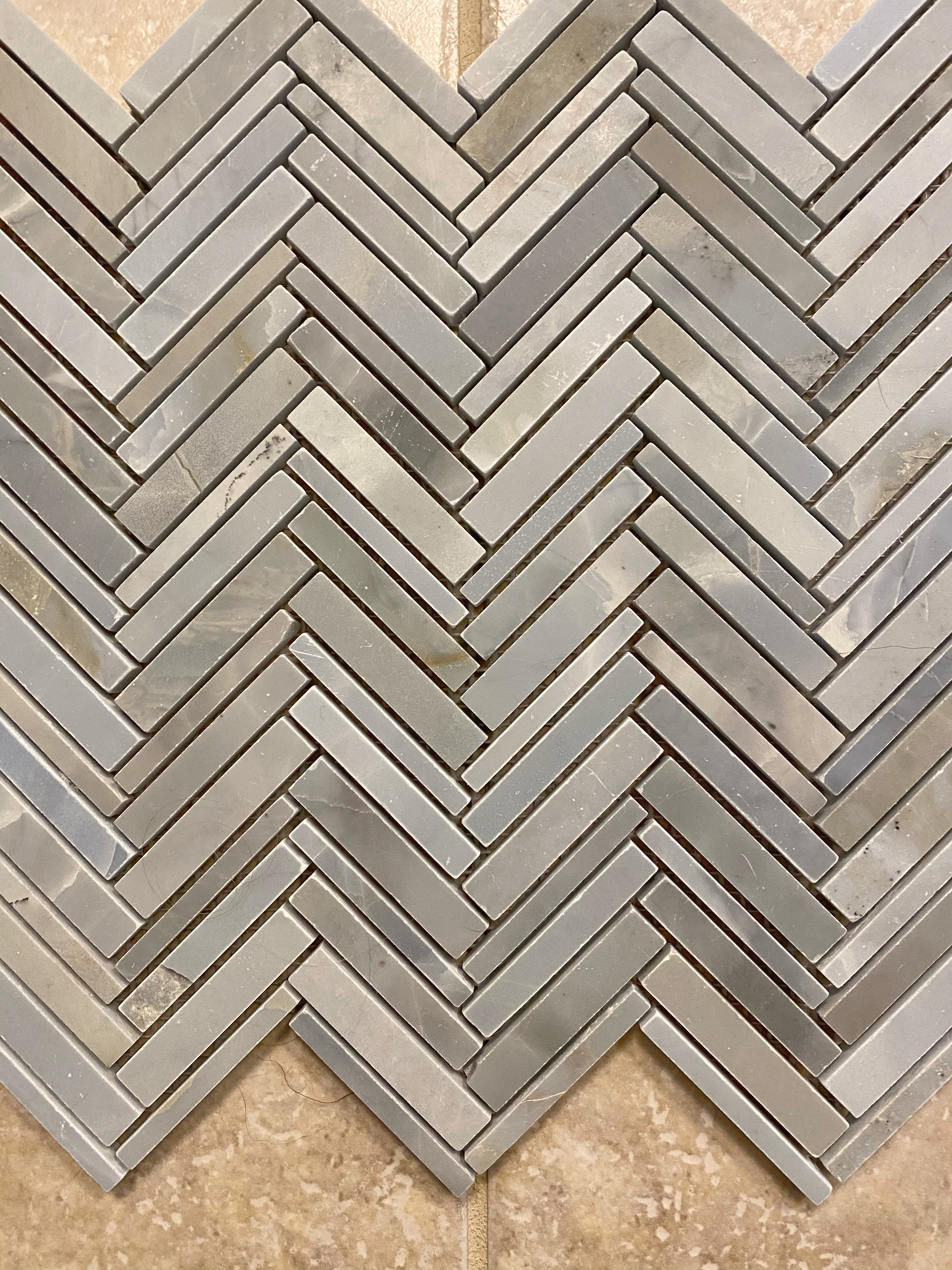 This beautiful marble tile from Walker Zanger will go on the shower floor and in the niche on the shower wall. The shower walls will be the same marble look white porcelain above in a 12×24 rectangle tile. All the walls will be done in that large scale marble look.
The wallpaper from Spoonflower on the mood board will go only in the water closet, above the wainscot board and batten. We are adding that in a couple of areas of the bathroom to add some molding details.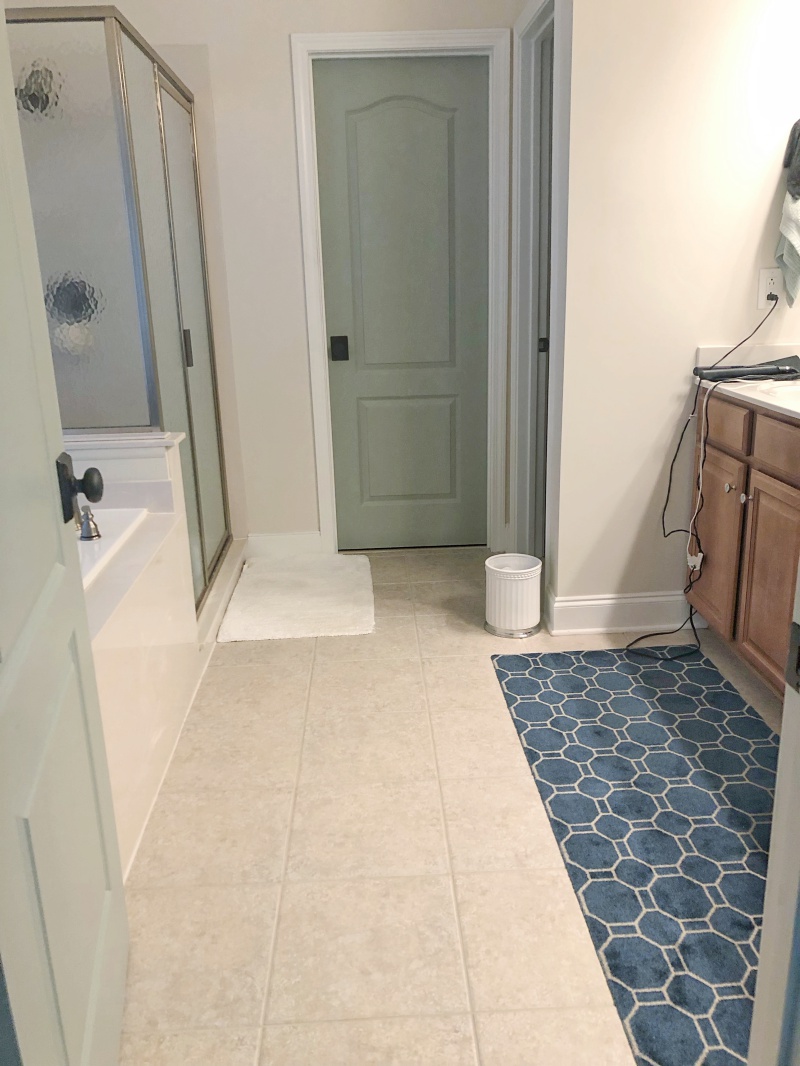 I'm also working with Signature Hardware on our new tub and all the faucets for the bathroom renovation. So thrilled to be partnering with them on our plumbing needs. It's going to be an amazing change in here.
Here's the tub we're getting, the Odenwald from Signature Hardware.
We deliberated on how much we wanted to change, but to get the look we want we definitely wanted to take out the old tub and shower and get a free standing tub and fully tiled shower with glass doors. We decided to keep the old vanity and paint it and add new doors and drawers. I'm also working with Fast Cabinet Doors on this project and they sent me new Shaker style drawers and doors that we will be adding.
I'm working with D Lawless for our vanity hardware and it's gorgeous too!
So that's a recap of the bathroom project that's starting this week. I'm beyond excited to get this gorgeous bathroom done. I've ordered everything and it's all here waiting to be installed. It was fun to shop and plan for all the details in the room. I have saved money and waited to do this until I felt comfortable with the budget and it's the right timing. This will definitely be our big project of the year! We will be spending quite a bit on this project, but I think it will be worth it. Even though we aren't doing a lot of the labor ourselves, we'll do some to help keep the costs down. I found a great contractor through one of my blog friends and she gives him high ratings, so looking forward to the process.
This art print from Lindsay Letters is going in there too. I love it and it will go high up on the wall so I can see it when I walk in. Not sponsored, but love the print and bought it!
We are also going to add a planked tongue and groove ceiling painted white in the space and I think that's going to add so much drama and interest to the room. The contractor is going to do that too. So I can't wait to take you along for the ride on this one and really can't wait to show it all off. I hope it turns out like I see it in my head. That's the fun part, to see the finish! I'll share a breakdown of costs too, since I know you all like to see that and not many people share that online. I like to be realistic. Even though I'm getting a lot of this sponsored, it's still a chunk of money going out from us.
I'm very grateful to be working with all of these sponsors because without their help we wouldn't be doing the whole scope of what we're doing. We would have cut some corners and done something lesser than this to keep the costs down. We would have probably kept the old jetted tub and worked around it. Thank goodness for my sponsors!  Bathroom renovations are not inexpensive and we are so excited and happy to be doing this one!
Don't Miss a Post, join my list!