Sometimes, I absolutely feel like I'm living in a dream world and that one day, I'm going to wake up and it will all disappear. This fun life I get to live and the exciting things I get to experience with this job I have.  I mean, it is a job….but it's NOT, if you know what I mean.  I never dreamed in a million years that I would get to do some of the things I have been privileged to take part in and go to places I never would have imagined.  It truly is a wonderful life I live and I am still so grateful for it, every single day.
The trip to NY last week was hosted by Wayfair.com, the online company that I've been working with for the last couple of years.  Wayfair is the parent company of Joss and Main and I've really enjoyed working with these brands a lot. They have so much to offer in home décor in the way of online shopping and it was such a pleasure to get to meet the folks behind the brand in person.
We stayed at the fabulous Smyth in Tribeca and it was a lovely hotel, in such a good location.  I had to take a few pics of the cushy hotel room.  Put me in a fancy hotel and I'm a happy girl.
Beautiful marble tile on the walls, floor and everywhere.
I should have taken a pic inside the shower, it was all marble too.
Fresh from flying in, I met up with one of my long time blog friends, Melissa, from The Inspired Room.  We had fun catching up for a couple of days.  I know some of you are going to ask about my shoes. I put them on Instagram and my Facebook page the day I traveled and it was blowing up asking me what brand these shoes are.  I copied my cool AL friend, Lucy, on these shoes, she had them on at Tybee Island and I decided I had to have them. too.  They are Sam Edelman shoes, Becker in Leopard and I bought them online.  They aren't cheap and be forewarned, you have to break them in. I'm still breaking mine in after getting blisters on my feet the first time I wore them too long walking.  But, aren't they cute?
Oh, and that is the shower right behind me. It was an open shower with marble tile on the floor and frosted walls.  Cool!
New York is an energizing place and it makes me giddy every time I visit this fast-paced urban city.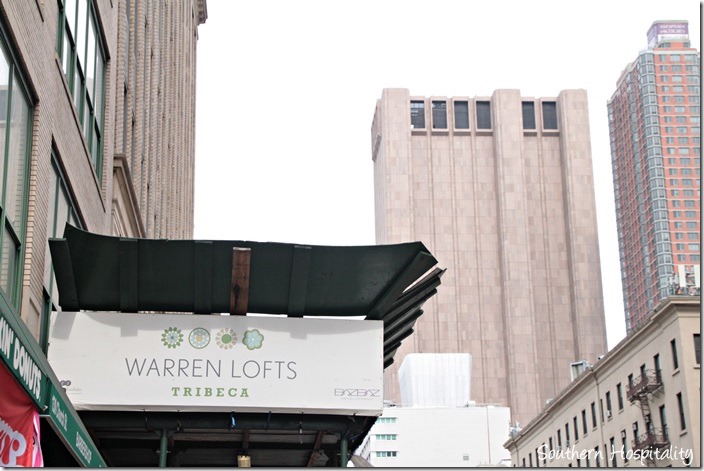 I still haven't had a chance to spend as many days as I would like there, seeing everything and eating all the great food and taking in a few Broadway shows.  One of these days, I'm going to stay longer and soak more of it in.  Melissa and I had a quick pizza lunch and then went back to get ready for dinner.  It was SO flippin' cold this time in NY, they got a cold front coming in and it was freeeezing, along with high winds, so we did not walk as much as I wanted to or do as much as we had hoped to do. But we only had one full day and had to make the best of it.
So back to why I was there.  I mean, it's not often I get to have dinner at a posh and quintessentially NY apartment.
Who am I kidding?!  How about never.  That's never been a part of my life, a dinner party at one of those fancy NYC apartments like you see in the movies.
But, this trip I did get to experience it first hand and what a treat it was!
A few bloggers were invited to their launch party for a new brand called Birch Lane, and the kick off was this memorable dinner at the home of Christiane Lemieux, founder of Dwell Studio.  Dwell Studio is now a part of Wayfair and it was a real thrill to meet Christiane in person, the woman behind the brand.  She's a dynamo and so nice in person. She made us all feel completely at home in her beautiful apartment.
We took a really bad iphone shot together and I had my big camera with me to try to capture this gorgeous apartment.  Christiane was so gracious and let us take all the photos we wanted.  My mouth was agape the whole time!  With low light, the photos are not top quality, but you can get an idea of how grand it is.
You should have seen Melissa and I coming into the building.  It's the traditional buzzer method of getting let in the front door from the street.  We did that just fine and we walked in the building and were faced with this looooong set of stairs going straight up, so we proceeded to climb them, not really noticing the elevator on our right.  Christiane came out about 5 minutes later and yoohooed us down the stairs and in the elevator, where we came out into this big spacious lovely apartment.  That was too funny now that I think about it!  We were giggling all the way.
Beautiful entry table inside the front door.
And her apartment is the ones you think about in NYC, with large picture windows overlooking the street and city lights. One big spacious room with pretty furnishings and a very cozy feel.
Just lovely!
Looking from the living area to the middle fireplace and that far wall with a library wall and dining table.  Just breathtaking!
Middle fireplace.
And that library wall right next to the mega-seat dining table.
The kitchen had  one of the biggest islands I've ever seen, covered in a super thick slab of marble.
We were served appetizers and drinks and chatted with all the Wayfair folks before dinner.  It was so nice to put names with faces and meet the folks we have been working with.
The large back wall of the kitchen.
Appetizers are served!
Dinner guests mingling and chatting.  Super fun space to see!
And then it was time for dinner.
This table reminded me so much of a Southern setting, a grand mahogany table filled with antique place settings, glasses, goblets, and silverware.  Christiane is an immaculate hostess, with everything picture perfect.  Check out that stunning chandelier too.  She told us it came from the famed Brimfield Antiques market, which I think is in MA.
It was such a treat to sit at this table and enjoy a NYC skyline with dinner served and wonderful conversations.
I loved the table settings of candles, fresh roses and those antique candelabras.  Gorgeous and breathtaking!
She had a dinner menu printed up for each place setting.
Another look at the table settings. Dinners like this are extra special.
First course salad is served.
It was an amazing treat to enjoy a dinner like this and it's not one I'll soon forget.  I loved being in NYC again for just a couple of days and I'll be back soon to show you the launch party and the wonderful new products that you will see from Birch Lane.  I was really impressed with their wares and the new catalog, so be sure and check it out when you get a chance.  I love window shopping in catalogs and dreaming of what I want to bring home and have been shopping in catalogs for years.  You can order a catalog or shop online.  I think you all might like this new brand, I sure do!
I'll share lots more from NYC later, including a visit to Ground Zero 911 memorial and a visit to ABC Carpet and Home, always a treat!
Note:  Wayfair sponsored this trip including airfare and hotel.  All opinions and writing are all mine and I wasn't asked to say anything in particular.
Don't Miss a Post, join my list!