After moving in my house over 2 years ago, the one space that has been so hard to keep decluttered is my office.  I just kept putting more and more things in there, that I would bring home from events and conferences.  All sorts of stuff made its way into my office and the bookcase was just being overtaken by, shall I just say it….useless clutter.  So, over time I just quit going in there.  I am loving lounging on my living room sofa with my laptop, but I'd like to use my office again.
So, this spring I'm on a mission to declutter my office and make it more inviting, so that I'll want to spend time in there again.  It's such a pretty room and I need to take advantage of it.  Decluttering will definitely help the feel in there and I'm also going to lighten up some of the furniture.  That room doesn't get a ton of light, so painting a couple pieces of the furniture will lighten it up a lot.
It still looks pretty good here, but it definitely needs a big dose of decluttering.  Spring always gets me in the mood to get decluttered and organized.  How about you?  Paper is always my nemesis and the hardest thing for me to keep under control at my house.
I took most everything down off those shelves and once it warms up enough, I'm going to paint them in a creamy white, to lighten up that wall.
I'm also going to paint the bookshelf creamy white (and maybe the bulletin board frame too).  I think lightening up these pieces will make the room feel so much better.  I'll keep the desk and console table black.
Everything came off the shelves and you can see how much I took out of there.  Not all of this will go back and I'm really going to try to be selective about what I put up again.
Here are some inspirational ideas for you, in case you need to declutter too.  Anyone?
A Bowl Full of Lemons has a great post about home office organization and isn't this a pretty, yet functional space. I've got one of those white Expedit systems from Ikea and need to get mine all organized, so I know what are in the baskets.  Love her shelving on the wall too.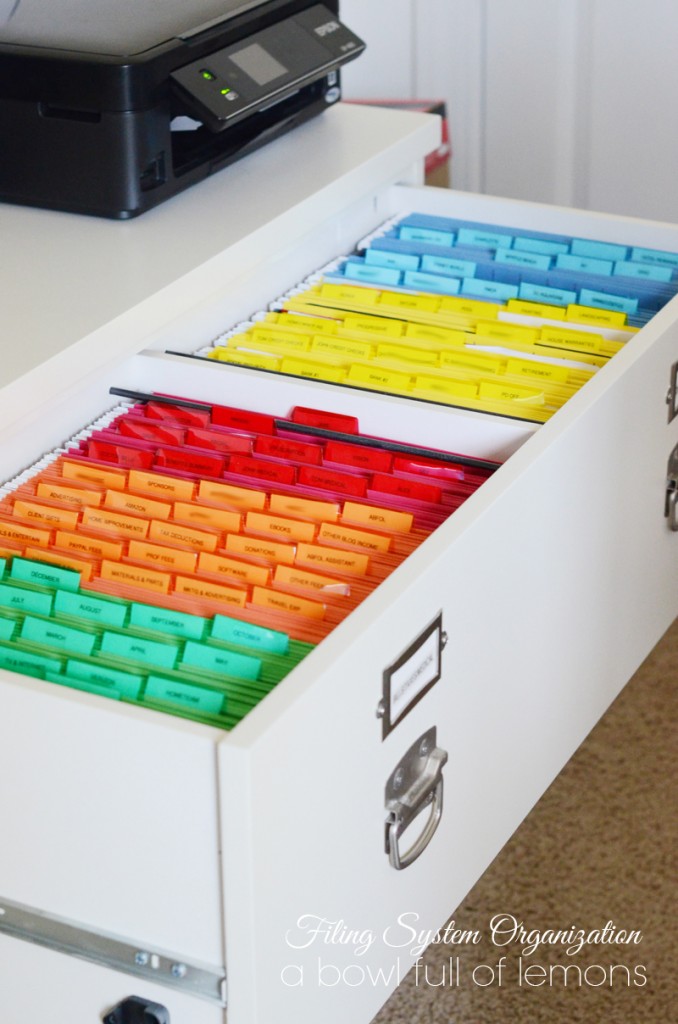 I love this filing drawer system from A Bowl Full of Lemons.  She's got some great organizational posts.
I've got an ugly metal file cabinet like this one and I think I'll use this technique to add frames and paint it white to make it much prettier.  Take a look at this how-to, it's amazing what she started with.  I do need more file storage and just need to get my file cabinet looking better so I can move it in my office.  It's been in my garage since I moved in.
BHG always has some great organizing ideas that are pretty and practical.
Sometimes when you are limited on desk space, it's a great idea to go up and on the wall.  This little system from BHG is cute and fun too.  That's a shower caddy.
My friend, Traci, did one of the best small office/craft makeover spaces I've seen, by making this closet into a home office/craft area.  Great use of space!
So, I've got some major decluttering to do and some painting too. I can't wait til it warms up and I can get this project finished and my office space feeling and looking good again.  I'm really going to try this time to keep it organized and uncluttered.  Being organized totally helps us to stay motivated and think more clearly and I'm not always the best at staying organized.
I'm determined to change that.
How are you doing with organizing and paper clutter?  
Working with Ebay again and I've got a new guide up, I hope you'll check out.  Adding color and texture to a small powder room with blue and white.  

Don't Miss a Post, join my list!