I've got another room refresh up my sleeve, so I thought I'd share what I've got in mind for my office space. When we moved in here 4 years ago, I simply reimagined the furniture I already had, mixed a chair and ottoman and black and white rug in there and used the floral drapes I had in my old den space to make a fresh new office for myself. I really liked it a lot, but I don't really use the space very well and am ready to declutter and get rid of much of what I have in here so hopefully I use the room more.
So much like I did in my guest room, I'm using some of what I already have as well as adding a few new pieces to refresh this space.
Here's what it's looked like after moving in and getting things in place. It stayed this way approximately 6 months and then I ran out of storage space in that tiny blue file cabinet you can barely see at the end of the console table and the paper is currently out of control. I've got to get a handle on that first and start throwing out, shredding, or filing the paper.  I also got tired of the stacked shelves on the wall that I've had for so long so I sold those already.
Next to go will be the big desk and the console table. I really don't need a big desk space and most of what I do in my office is edit pics, so I'm downsizing the desk area and creating a smaller desk out of a vanity I have.
This pink table has been sold too and I'm hoping I can keep the coral pink chair and ottoman and fit in everything I want in here, so we will see when I get everything in the room.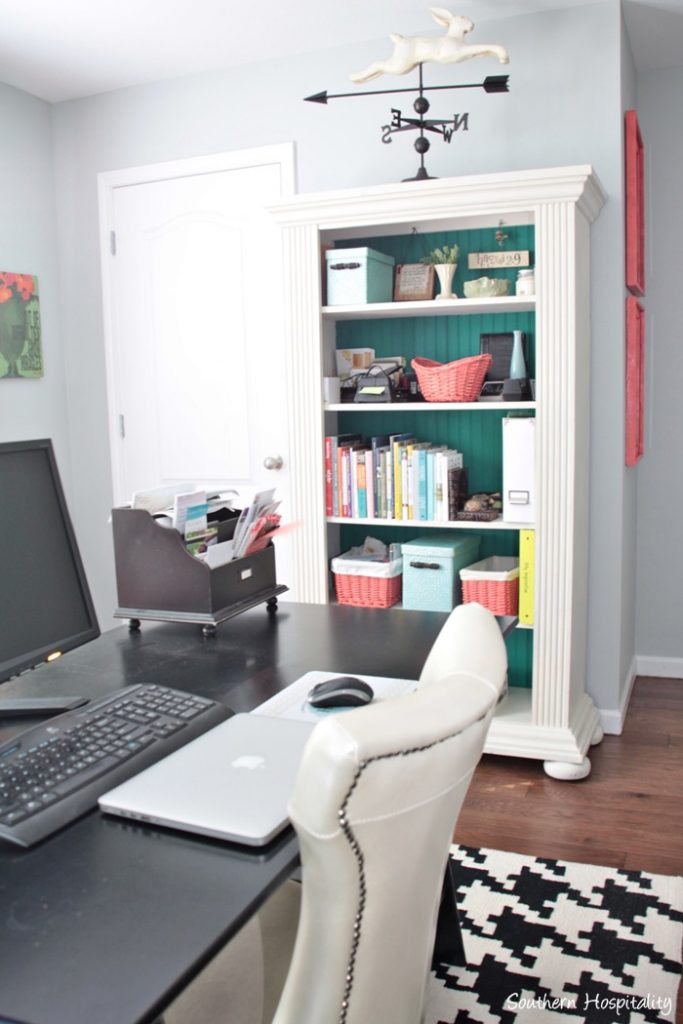 This bookcase will probably have to go downstairs in the basement for storage and my goal is to really declutter the accessories in here. It's definitely time to do some BIG decluttering in my office and make it feel better and hopefully I'll use it more. I tend to take my laptop all over the house and usually stay downstairs, but I have another laptop in my office that I use for editing photos only.
So here's what I have in mind. 
See that pretty rattan armoire?
That was a Facebook marketplace spur of the moment decision after I saw it pop up and had to have it. I had to hire movers to go and pick it up from that house and bring it to ours (so it turned out not to be a great bargain after all, but oh well, I love it!) Then it wouldn't fit through the door of my office because of that thick crown molding at the top, so in the basement it sits. But we think that Mark can take off the crown and we can get it up there. Fingers crossed because I really love it. It has one big shelf in there and I plan to hide my printer behind the doors and maybe add more shelving to keep the things I want to keep in there and out of sight. I think this piece will help me keep it more organized in here. I'll have drawers in the kidney shaped desk to hold a few things and so I'm going very minimal in here, I think. It will feel better without alllllll the stuff I currently have.
That's not the exact kidney desk I have, but it's a similar look.
I'll probably put the daybed against the wall you see when you come in on the left and that's the wall I plan to wallpaper.
Those floral drapes I will keep. I already added an extra pair that was at my old house when I sold it and so now the drapes are double thickness and look really pretty in there. Might as well use what I have and I still love those drapes. Here's a link to that same Lucy Eden fabric online if you're interested. I had my drapes made locally.
I already have that black and white rug so I'm planning to keep it unless it ends up being too small after I move things around. I love a mix of black and white with florals so my plan is to paint the walls a white shade, maybe the same shade of Alabaster that I did downstairs, we'll see how it looks in there. or maybe pick another white. Then I'm adding a feature wall of wallpaper in there, this Feather Flock that I bought from Tempaper. It's a Genevieve Gorder paper and I really fell in love with it. The floral fabric has birds too so it sort of all comes together with that.
I'm also planning to add a day bed in there for extra sleeping if we need it. We do have a guest room too which is nice, but I figured with family coming and grandchildren sometimes spending the night, it would come in handy to have an extra bed or two. And I love a pretty daybed so this one is at the top of my list and I love the gold tone of this Timberwyck daybed from Wayfair. It's on back order right now but I think I'll get it when it comes back in stock. It has a trundle too which is fun for kids.
I've got some measuring to do to figure out space planning since this room isn't that big, but like I said I'm hoping I can fit all of this in the room and have it feel cozy. With the big desk out of the way and probably moving the bookcase out, it should open up the room a lot more, but that armoire I had to have is also a large piece so it needs a whole wall by itself. I hope my vision comes to life as I see it so we will see. I'll probably work on this project in September or later but I've already ordered the wallpaper and got it in since they had a sale going on.
Stay tuned for this project, I'm excited to do this room and fall in love with my office again. I sure have enjoyed the guest room, so I want the same feeling in this room.
Don't Miss a Post, join my list!