An invitation last Saturday to an old-fashioned hoe-down out in the country at a family farm came our way.  We had no idea who all would be there, but it sounded like fun, so we made the drive up near Lawrenceburg, TN to said hoe-down and enjoyed the afternoon with about 50 other folks who were enjoying the beautiful Fall-like weather outdoors.  We had so much fun and the weather was absolutely perfect!  Fall has arrived.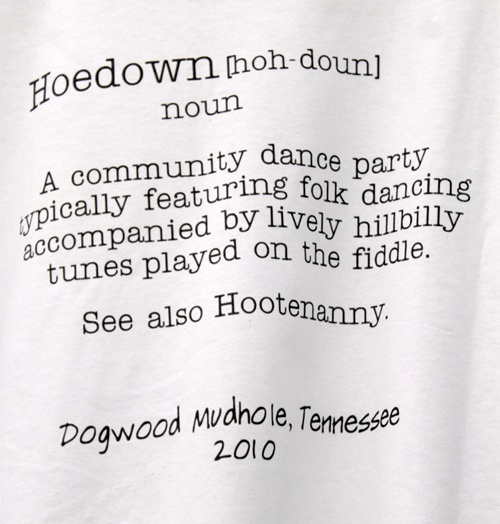 T-shirts were available to commemorate the day.  Loved this.
Picturesque farmland out in the country will surely cause a person to relax and slow down.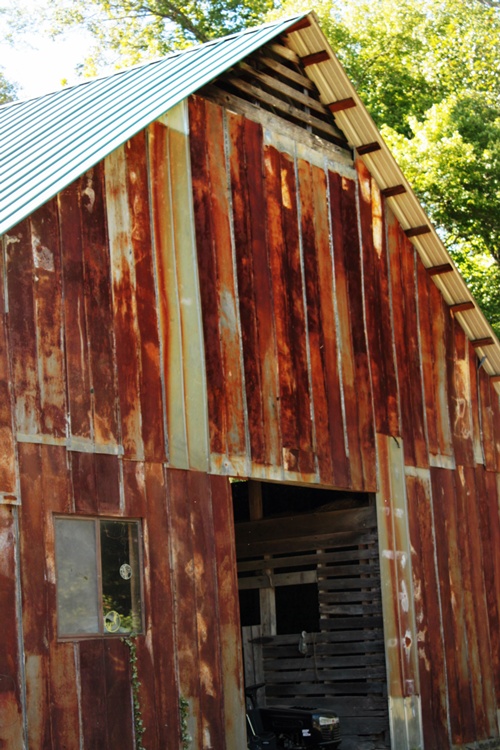 Complete with a rusty old barn.
And a crick (creek) running through the front yard. 
Right after we arrived, an old-fashioned tug-o-war commenced, with kids and adults on both sides.  The object was to drag opponents into the water.  Haven't seen a tug-o-war in ages. 
Farm equipment sitting around.
Plenty of shade trees for just hanging out. 
A blue-grass group played some lively tunes for the day, as well as the square dancing that commenced in the evening.
A bouquet of pretty fall flowers in bloom.
Dogs running around amongst all the kids.
3 baby kitties were up for adoption.  This one was my fave and so sweet and snuggly.  No, I did not bring him/her home, but just look at that adorable face.   The kids had fun toting these kittens around all day.
Horse rides for the little ones.
Cows in the pasture.
I stand corrected:  Scottish Highland heritage breed of cows, these are both bulls. They were really unusual and pretty.
So I had to take their pics.   He is checking me out underneath those red fringed bangs.
The host of the party was the first one in the dunking machine and family members all lined up to give him a dip, which happened a few times.  The family that hosted was so nice, we really enjoyed getting to know them.  They have 7 children and I think 16 grandchildren, and most of them live here on the farm in different houses scattered around.  Looks like a fun way to grow up.
They had activities lined up all day, like rock throwing.  Children and adults alike got in on the fun.  The last throw was a 20-lb. rock.  Some of the girls got in on that one, but I just watched and took pics. 
I made a new friend.  Meet Liberty (love that name!), the host's oldest daughter.  We chatted for a few minutes and I complimented her on her fabric posy she was wearing.  She mentioned the shop she got it from and I immediately knew it from blogging (The Pleated Poppy) and told her I was a blogger too.  What a small world it is.  Liberty is also a blogger, a mom-blogger to be exact and we had a great time blog talking. She was at Blissdom this past year with her blog partner, but of course, we didn't know each other then.  She's so sweet and fun and I'm so glad we got to meet! You just never know when you'll run into another blogger.
It was a full day of activities, including this one….kissing a pig! Have you ever heard such?!  I didn't kiss the pig, but was there to document it for everyone else. 🙂  What a hoot!
The sweet baby pig had been freshly bathed and was wrapped in a towel.  Thank goodness, you really do want a clean pig for something like this.  😉
The kids lined up and begin smooching the pig.
He was pretty cooperative, with a few grunts and squeals along the way. 
He got really indignant when this big guy grabbed his piggy jowls and planted a big one on him.  It was hilarious, all the squealing that emitted from this little guy!
Sweet and tender kisses.
Adults and kids alike.
A last kiss and we are done with pig-kissing for the day.  I'm so glad I got to witness that one, my life is complete now. 🙂   He really was a cute little piggy.
One of the daughter-in-laws has a jewelry business and was selling some things, so I couldn't resist this beautiful turquoise necklace with Swarovski crystals, to add to my jewelry collection.  I loved the crystal coral shaped piece in the middle. 
As dusk fell, it was time for the BBQ.  The host's wife and daughters  served up homemade and delicious grubb for the whole gang. 
It was SO tasty!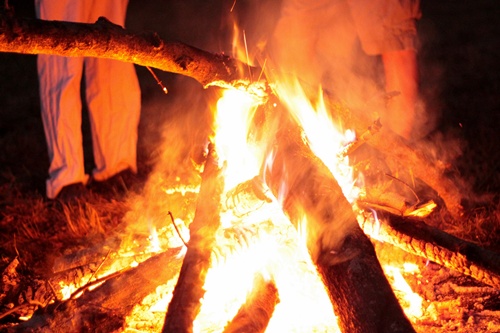 As the sun went down, the air begin to cool off and actually got chilly out there.  Good thing I brought a jacket, but the bonfire helped to warm things up. 
They had strung up some pretty lights over the make-shift square dance floor and the music began and dancing commenced.  We didn't stay too long for this, since we had a 3 hour drive back to Birmingham in front of us, but listened in front of the fire as kids and adults do-see-doed around the dance floor.
It was a warm and memorable time with some great folks.  We enjoyed talking and meeting many of them and the host family was so nice.  I loved their big family and how close they all seemed.  Totally a great way to grow up, I can see their kids are right at home out in the country.
Right before we hopped in the car to drive back home, we tilted our heads back and looked up at the starlit sky.  It was SO beautiful!  Those stars looked close enough to touch and were so sparkly.   Living near a big city, you just don't see stars like that all the time.  I had forgotten how clear and crisp stars can be.  What a glorious sight it was! God's handiwork, right in front of our eyes.
Hoe-downs are fun!
Linking to I ♥ Faces Summer linkup.
Don't Miss a Post, join my list!