Fall is actually a good time for yardsaling around here.  People are trying to get rid of things before the Holidays and it's cooling off.  Plenty of neighborhoods gear up for their sales this month too and one of my favorites is Eagle Point.   I always try to hit that one and it was this weekend.
But, since I just decluttered (and still have some stuff to pack up to donate to the thrift stores), I'm thinking long and hard about what I bring home.  I do not want to pack my storage closet out again, but I did find a few choice things.  I spent a grand total of $3.75 at the Eagle Point sale, but found something in Cahaba Heights too.
I always grab these camis when I find them cheap, these were $1 each and I can always use black and white.
Two cute small picture frames were 25 cents each.  Aren't they pretty?
This galvanized little bowl with copper handles was also 25 cents.  Will be perfect to put a live plant inside. 
Iron plant stand was $3…..
With a cute dragonfly and green and white mosaic design.  Which so happens to match….
Two of these that are hanging in my laundry room.  I got these ages ago, maybe at Joann's, can't remember.  I'll probably keep the plant stand out on the porch. 
There was an orchid show down at the Birmingham Botanical Gardens, so I went to that and on the way back stopped by an antiques yardsale sign that I saw in Cahaba Heights.  These ladies had some really nice things, but most things weren't yardsale prices. This pretty linen lampshade was brand new, tags still on and wrapped in plastic from a pricey shop and I got it for $10.   I had sold the old floor lamp that was in this spot last week at my yardsale. 
Because I had this heavy iron one stashed in the closet that I found a couple of years ago for $3.  Now it has a snazzy new shade, total cost $13 for all.  That's a great deal!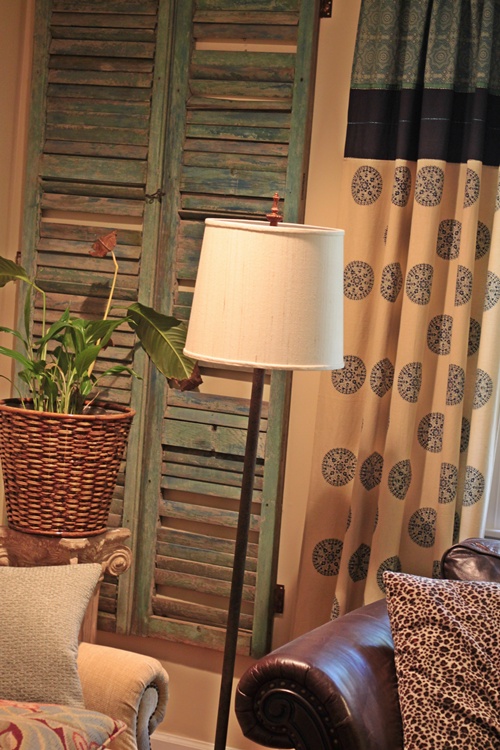 I just need to paint the finial a darker shade and it will be perfect. 
And I did pick up an orchid at the orchid sale.  This one is supposed to be pretty easy to take care of, so we'll see.  I'm sitting it on a table in the living room where I hope it will get plenty of light.  Fingers crossed that I don't kill it! 🙂
Have you grown orchids?  Any tips for me?
*************************************

Just a reminder that NEXT WEEK will be our last Thrifty Treasures for the year!  I know, I know, you love doing it, but we all need a break sometimes.  I will definitely think about bringing it back in the Spring if we all are still enjoying it.
In the meantime, I'm off to New York tomorrow, bright and early for The Nate Show on Tuesday and it's going to be a whirlwind 3 days.  I think I'll leave my laptop at home, because it's going to be so busy we are not going to slow down the whole time we are there, so I will not be online and plugged in very much.  But, we will be having so much fun, I'm just jumping up and down with anticipation. 🙂
BUT, I have a couple of great giveaways going on next week while I'm gone and I think you'll love them both.  There will be plenty going on here on the blog and I will return home on Wednesday with plenty to share (after I rest up a bit!).  It might take a few days, but I'll get pics and posts ready then and will share all my adventures in NYC!  🙂
******************************************
The giveaway winner for the Quick Cornice is:  Amanda J with Keeping up with The Jones.  Congrats, Amanda!  Send me an email and I'll put you in touch with Quick Cornice to get your prize.

What have YOU found lately? Add your link to the Linky list and remember our guidelines for the party:
Add your permalink to the link list, which is the actual post that you did for this party, NOT your general blog url. To get the actual post, after you publish the post, just click on the title and THAT will be your party post url.  PLEASE try to get the correct url in the first time!
Please add my button to your post or blog OR at least link back to this post in your post. That's all I ask. It's common courtesy to link back to the person having the party, so that all of your readers can find it too.
Please do NOT link to an Etsy shop or something similar (even if you think it's a fabulous deal) or I will delete the link. This party is for sharing thrifty finds from yardsales, thriftstores, or something along those lines. If I see that your post is not really on track with this theme AND you don't link back, I'll delete your link. Sorry, but I'd like to keep the party consistent! IF YOU SEE THAT YOUR LINK HAS BEEN DELETED, IT IS PROBABLY BECAUSE IT IS NOT IN LINE WITH THIS PARTY THEME.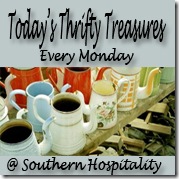 Don't Miss a Post, join my list!