We're back! I can't wait to catch up with you all on our cruise. It was such a fun trip! We are currently jet lagged and not feeling the best. Mark took off work Monday so he could have an extra day to recuperate and we definitely need it. I somehow caught a cold between leaving Amsterdam to home, so I'm trying to knock that out too. I've got SO many pics to share with you all and I think I'll divide the trip into blocks so I can cover it all, so expect at least 3 or 4 posts from the cruise in the next few weeks!
In the meantime, I've got something I've been dying to share with y'all!
You all know how much I love thrifting if you've followed me for awhile. There's nothing more thrilling to me than finding a really good deal out there, second hand thrifty finds are my happy place, especially when I score something that's valuable and I don't even know it until I get home. That happened recently when I was least expecting it, so I can't wait to share my latest thrifty find with you.
I was at my parents one day during the week when we were doing a lunch with the parents. Mom had several bags of clothes and things that she wanted to donate to the thrift store, so I loaded them in the back of my car and took them to America's Thriftstore on Canton Hwy. If you're in this area, you probably know it.
I dropped off the donations and decided, I'm here why not look inside and just see what's there. I love to browse thriftstores when I get a chance just to see what's there and if anything jumps out at me.
Something definitely jumped out at me this time!
As I was strolling through the furniture, there were several coffee tables lined up. I spotted this one and couldn't get over there fast enough! This is what I shared on my Instagram stories when I spotted this gorgeous brass table. I had already taken the glass top off it so I could look at it closer at this point.
I knew it was expensive looking. The details on the feet and the brass were stunning. The beveled glass top was very heavy. It was marked $20! Sold! I grabbed it, found someone and told them immediately I'd take it and they hauled it to the front for me so I could pay and get it in my car. I knew I had found something special, but didn't know at the time just how special it was.
Before I could even get home and barely get it unloaded, someone had shared this on my Instagram messages.
I had no idea what I had found! I didn't know the brand LaBarge or that it was vintage from the 70's, Hollywood Regency, none of that. But I was totally ecstatic to see what a treasure I had found for $20 at the thriftstore!
Upon further research online, I found this coffee table on 1st Dibs, a larger size listed for $2,850!! Can you believe that? I sure couldn't! I got that thrilling rush of the hunt, finding that treasure that I have had over the years. I haven't been able to shop for treasures that much since I have a full house now, so this score made me SO happy.
I had wanted to change out the coffee table in the living room for awhile now. Mark had already mentioned that he thought I should get a smaller coffee table and I had in my mind a brass style with glass top to keep it light in there. I had looked around a bit, but hadn't pulled the trigger on anything I saw. I figured I'd find something eventually.
Here's the old coffee table, a Pier One glass top table that I have had for probably 15 years now. I loved it and it's very heavy and substantial and not a really expensive table at all. But it was a little too big in this smallish space. The room really needed something smaller.
My rug is from Rugs USA and you can find it here if you're interested. 
And now I have it in there, looking so pretty! I am absolutely thrilled with this find, I can't tell you how much I love it.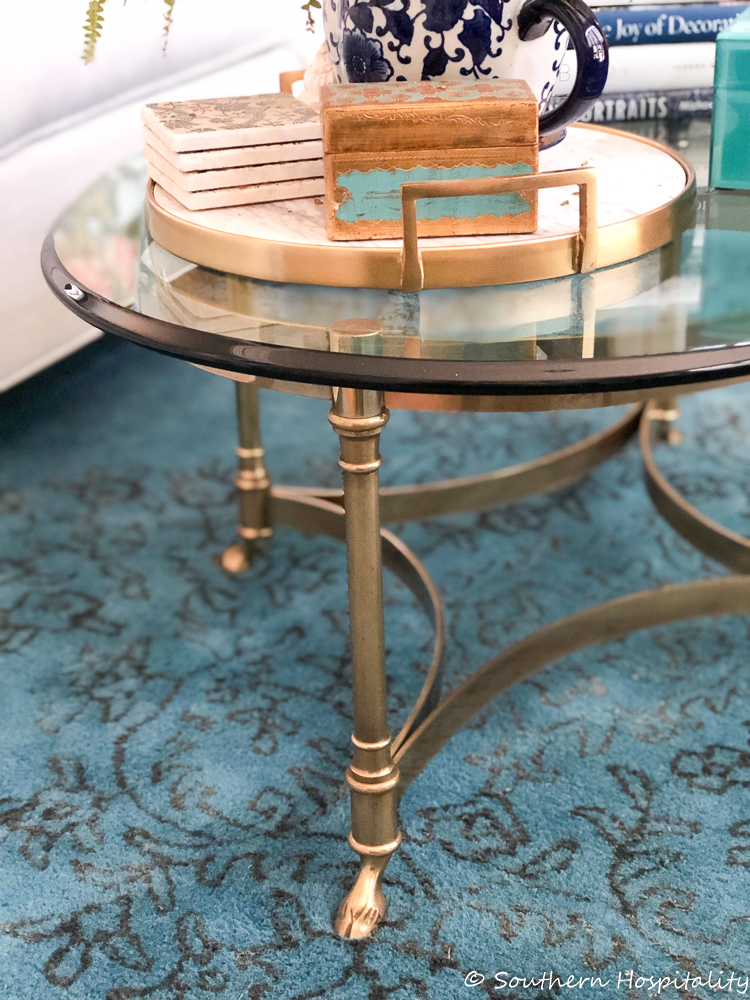 It's exactly what I would have picked if I had hand picked something and there it was waiting for me in the thriftstore for $20! Those feet. Those hoof feet made my heart pitter-patter big time.
It's such a gorgeous petite size and perfect for this room.
It holds my tray and books just fine.
It's about 2 or 3 inches lower than the other one, but just perfect.
It's a great piece in here and exactly what I had envisioned for this space.
This was definitely a God wink day for sure! Finding such a treasure at the thriftstore on that particular day. I feel sure it wouldn't have lasted long. Someone would have snatched it up in a minute, but it was meant for me to find it and I'm so glad I listened to that little voice that said, go in and see what's there!
It was my most fortunate day for sure! I'll definitely treasure this one forever!
Here's a current shot of it in my spring living room.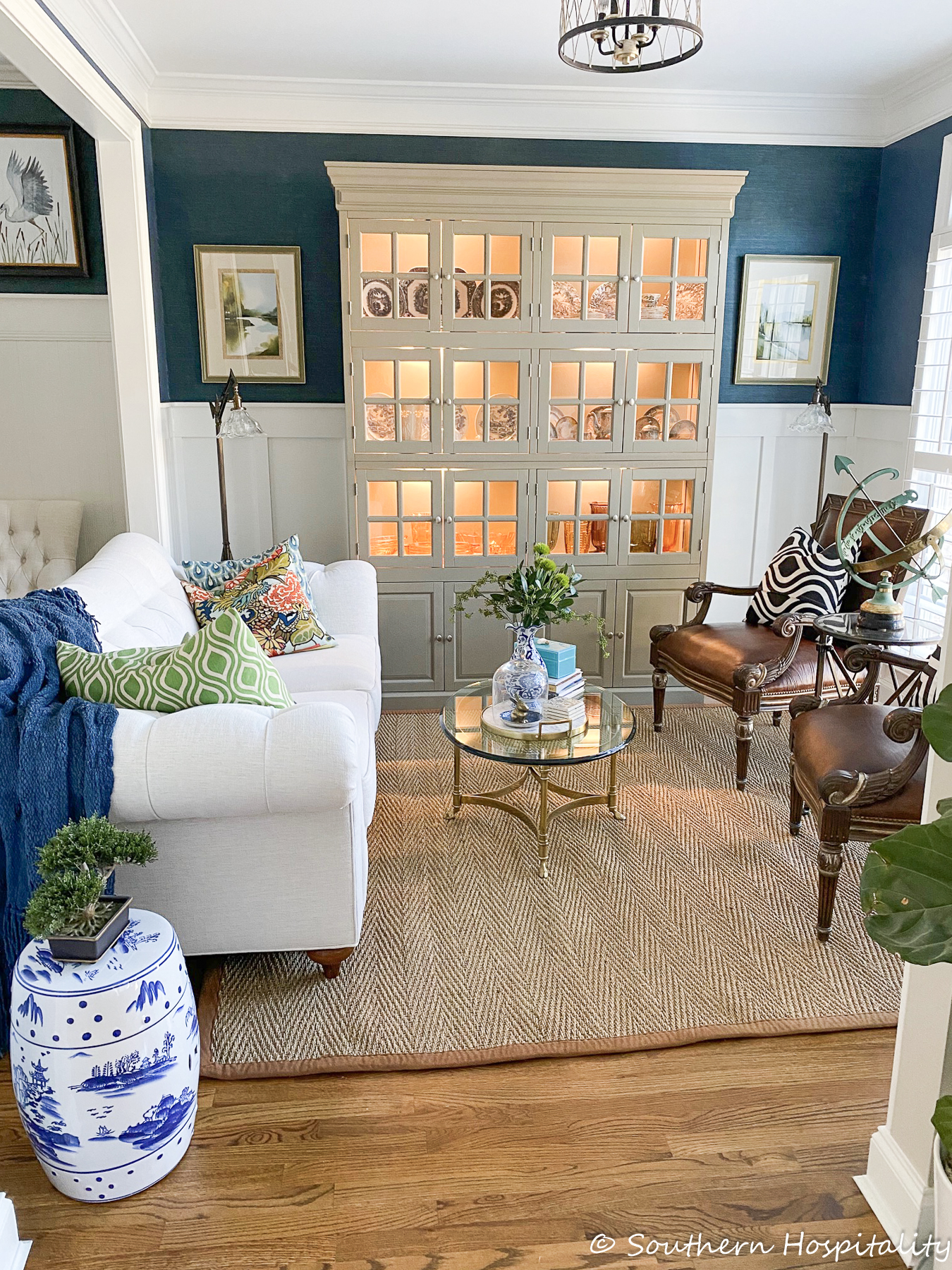 Don't Miss a Post, join my list!