This is not a very exciting post, but I thought I'd share this with you, since I just cleaned out my closet for the 2nd or 3rd time since I've lived here.  I moved in my house 4 years ago this month (time flies!!) and have had to declutter and clear out clothes time and time again.  I'm finally learning to get rid of things that I don't wear regularly and it feels good to donate things and get them out of my house.
My closet is not big, so it's a constant effort to keep it organized and somewhat tidy.
My sister had mentioned that she had so much more room in her closet by switching to those metal and velvet hangers.  You know the ones?  I had bought white plastic hangers for my closet, so decided to take her lead and order some of these and discard the white plastic ones.  They really do take up much less room and by getting rid of older clothes, my closet feels better than ever.
I searched online and found what I thought was a good price for packs of these hangers and ordered a total of 200.  I used all but about 30 of them, so have extras now.  I donated my old hangers to Goodwill. Here's the ones I ordered in case you're interested, this is an affiliate link:
This is not a big WOW closet makeover, because my closet is just not that kind of closet.  It's small and compact and barely a walk-in, but I'm happy to have the space.
This is an unedited view of what my closest had come to.  I have to reorganize at least once a year, because I just can't seem to keep it straight all the time, but I got all the hangers switched out and it feels really good again.  When I moved in, there was one long bar across the top and two lower bars on each side, so I did some reconfiguring to give me room for shoe storage and scarves.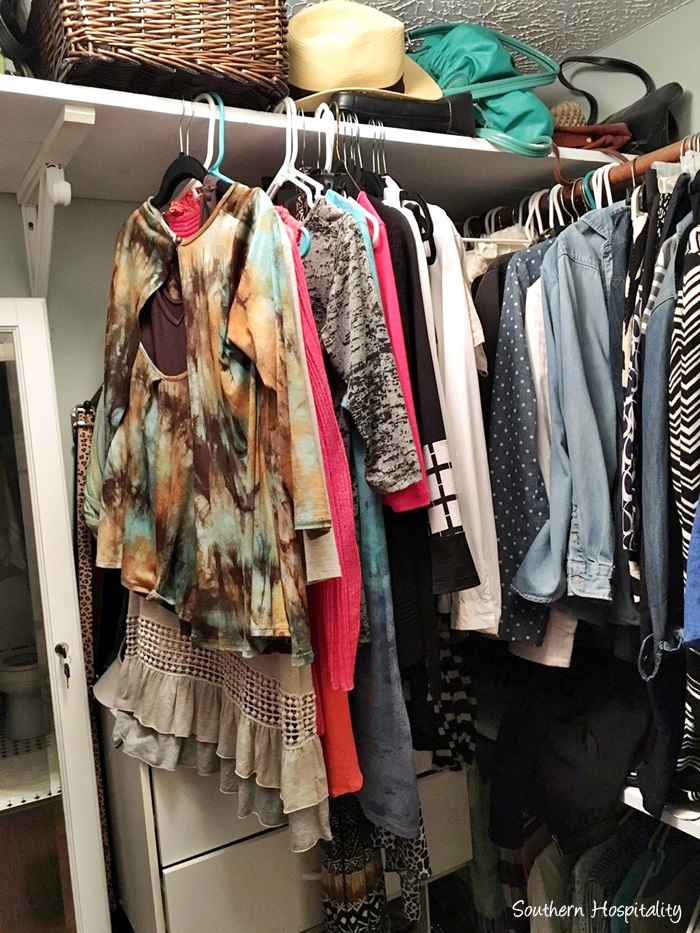 Clothes were hanging everywhere and it was time to get it straight again.
And here is the after, again it's not a huge wow, but more decluttered now. I got rid of shoes, clothes, and changed out all the hangers to the new ones and they really do take up less space.  I can't do much else with my scarves, so they are layered on these hooks.  That's my makeup tackle box there which keeps it all in one place.
I hang all my sweaters together.
Added a basket for my bras to keep them better organized.  My dirty clothes hamper is a fold up one in the corner.  I grab it out and take it downstairs to wash clothes.  Short sleeve tops are on the bottom. Sweaters and pants on the top row. I kept pants hangers for the pants and didn't change them out.
I try to keep things color coordinated and hang jackets together on the top, with longer tunic tops.  Long sleeve tops are on the bottom.  I have lots of shoes and they won't all fit in the shoe cubby, so some are stacked in boxes in the bottom of the closet.
Here's a shot of the jewelry organizer I got from Wayfair a couple of years ago and it's been such a workhorse to keep my jewelry organized, which I have way too much of. I really need to go through this again and discard some that I don't wear often.
This one looks just like the one I have, that I love!
Wall Mount Jewelry armoire from Wayfair (affiliate link)
Not a really exciting post, but thought I'd share about changing out the hangers in case you need a little more room in your closet too.  Is a closet ever big enough?  I've seen some bloggers with huge enviable closets and I'm sure there are plenty out there that are super large and organized (I've seen them online!), but I've never had a really huge closet in my houses, so have to make due with what I have and keeping it decluttered and mostly organized really helps the process.  Happy organizing!  Are you doing any closet cleaning out these days?
Don't Miss a Post, join my list!