How's that for an inspiring post today? Let me just say, I'm no Marie Kondo! I've just been listening in to her show on Netflix, have you seen it? She's a cute and perky little thing with a passionate love of organizing, it seems. The people she is helping definitely need help. I've seen that hoarders show before and even though Mark and I have lots of stuff, we aren't to that stage yet, thank goodness. We do, however, need to pare down more and could definitely do more organizing around here.
The basement is one area that I have let go and not touched since we moved in over a year ago, so it was time to tackle that space. The upstairs is in pretty good shape, but when you have a basement, you know that it can become a clutter magnet. We have things that we having gotten rid of yet, a few pieces of furniture and things we aren't using in this house, but I haven't been able to give away or sell yet. I did get rid of a lot when we moved and even had a yardsale last spring to pare down even more, but this is what's left.
The basement is definitely different than it used to look when it was empty after this beautiful vinyl flooring went in. We have a hallway as you come down the stairs with 3 separate spaces. It's not all there yet in getting organized, but now I know much better where everything is.
I had already started organizing this some before I took these pics, but I stopped and took some progress shots so you could see what I'm working with.
Several extra pieces of furniture and just general things after the move, like boxes of books and craft supplies were waiting to be unboxed.
Looking towards the windows, that's where Holly's crate is and her food as well as the basement door. Past that barricade it's pretty open except for her crate and some Christmas trees to the left.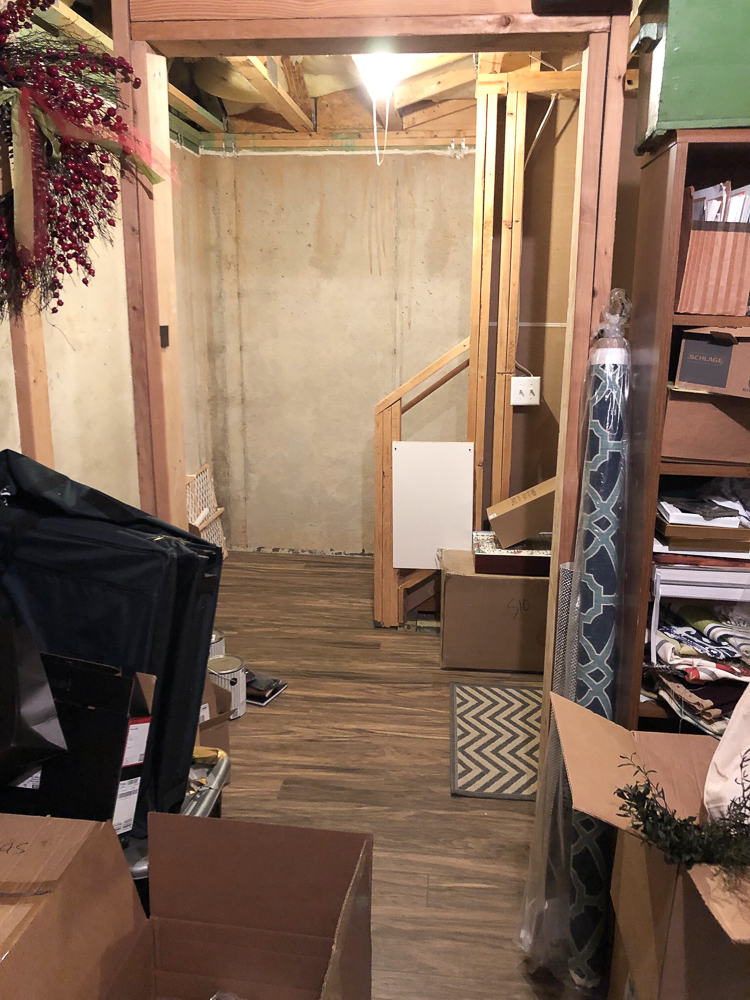 Looking to the stairs from my storage area. Mark and I have our own storage areas down here, so that makes it nice. I have never had a basement before, so I can tell you this…I love it! I  know it's not ideal in that it makes you hang onto things that you should probably get rid of, but having an unfinished basement is nice for any overflow of things that you just don't want to get rid of yet. I'm a collector and have always had a lot of stuff over the years, especially decorating things.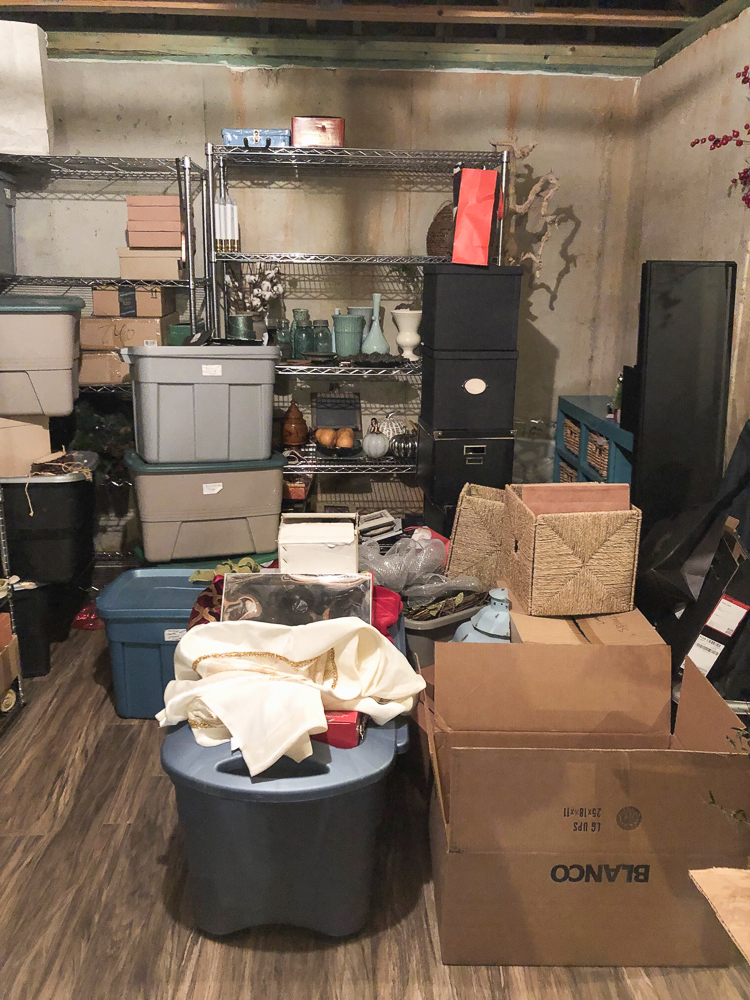 As a blogger, it is just magnified in that decorating is what I share so much of on my blog. One of the best things I did in my old house was to buy these steel shelving units from Home Depot and Lowes. I have 3 of these in my old storage room at my old house for all my extra decor and Christmas stuff. Now I have more room for it to spread out! Good and bad! This is still the mess of Christmas before I put that back up again.  Stay with me, it looks better now!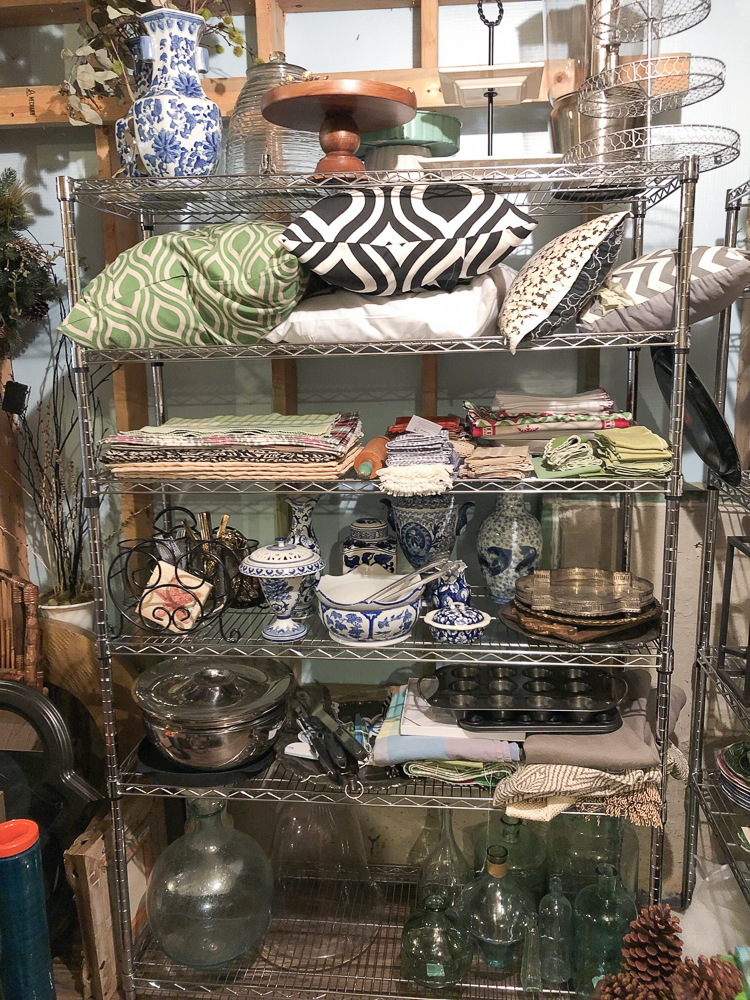 I bought another shelving unit from Home Depot. They put all their storage pieces on sale in January, so check it out. I love these large steel shelves for holding all sorts of things. You can adjust each shelf to go where you want it and it really does hold a lot, allowing you to see what you have. This one holds my entertaining pieces. I have beverage dispensers and finally have a place to put all my linens, like placemats, runners and tablecloths, etc.
I love putting them all on one shelf so I can easily get to them. Extra pillows are here, as well as my aqua glass bottles that I love to use during spring and summer. My blue and white is all grouped together too. Trays and tiered serving pieces are on top and I love seeing it all at a glance on this shelving unit.
On this shelf is all  my mostly summer things that I use periodically in the house. I have white dishware and more summery type accessories. Many of these things I've had for a long, long time. I don't buy a lot of new things, I just shop my own home! Just getting this shelf more organized feels so much better!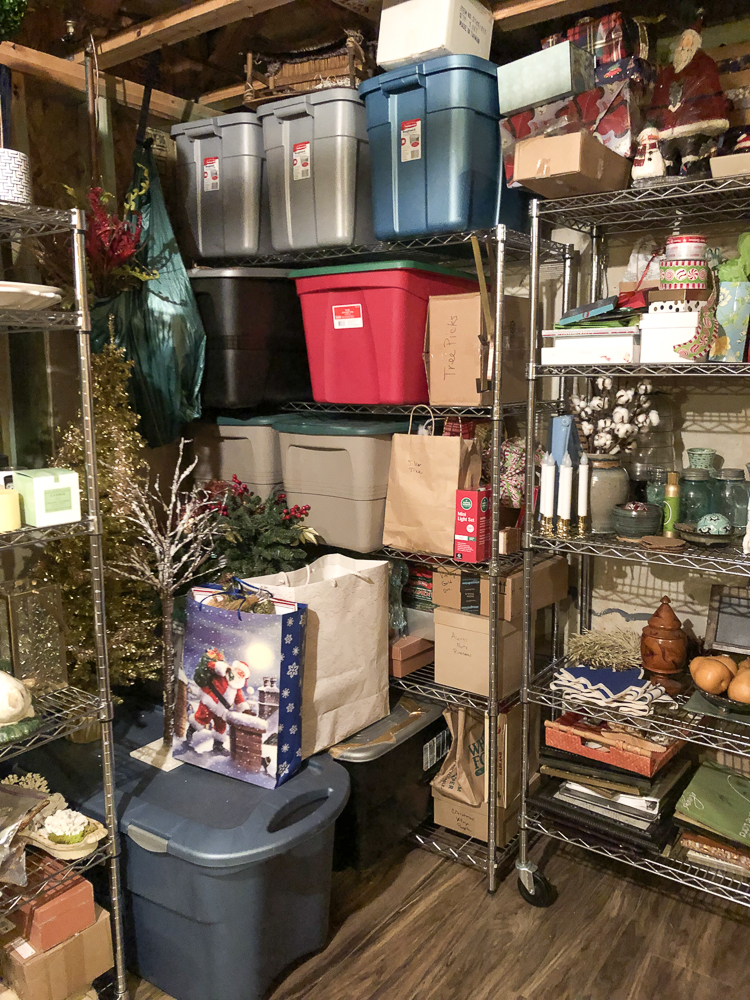 That corner shelf and the bins in front are all devoted to Christmas decor. I labeled all my plastic bins again this year and pared down some of my Christmas decor, I'll give it away or pass it to Goodwill. It felt good to label my bins again, I had done it a few years ago but things get out of order. Now I can see that a bin is marked Gold and White or Silver and White and I'll know where to look.I also use smaller plastic bins inside the big totes to further keep things organized.
I also store Christmas things in sturdy bags if they are shaped differently or even leave them in original boxes if I can see what they are. Now I know what's here at a glance and next year when I get these bins out again, it will be a lot more organized for the Christmas season.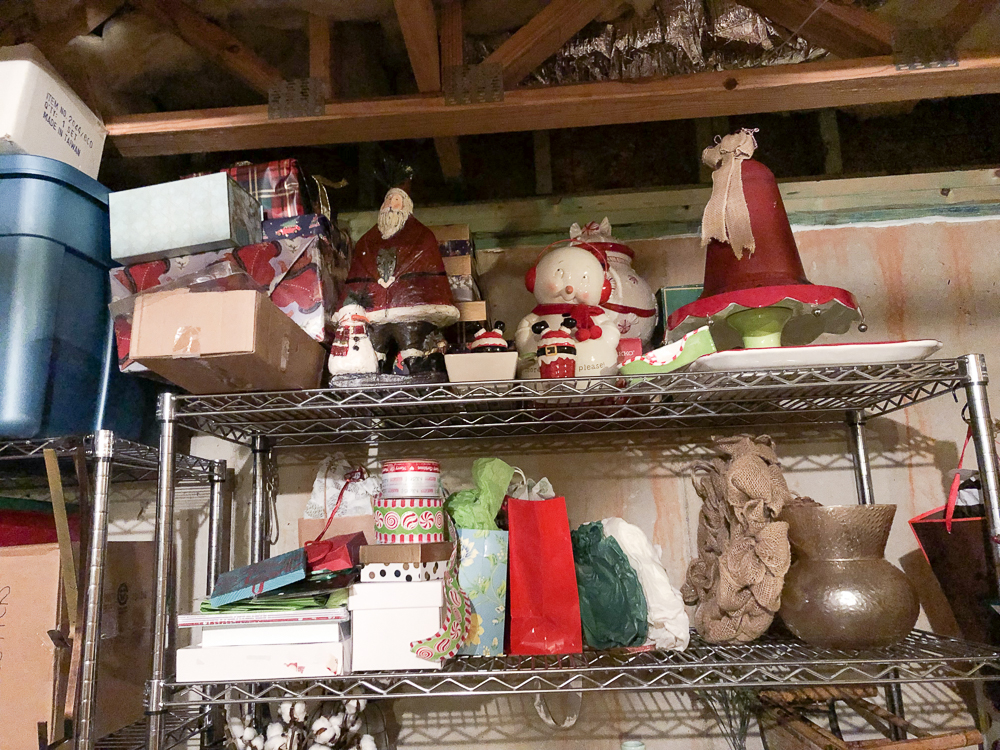 On the top of the next shelf, I have a few more Christmas pieces that are larger and I didn't want to put in bins. It's easy to see what's there and I readily find it. I put my wrapping supplies on the second shelf.
I just write on boxes to let me know what's in there.
Same with bags, label them for fragile things.
I placed some tabletop trees on top of the bottom bins and they will be fine here.
All my Shiny Brites are in original boxes and stored in this sturdy paper bag.
Just labeling bins on both sides is a good start to getting organized.
I've had that little box for years and it holds my ornament hangers.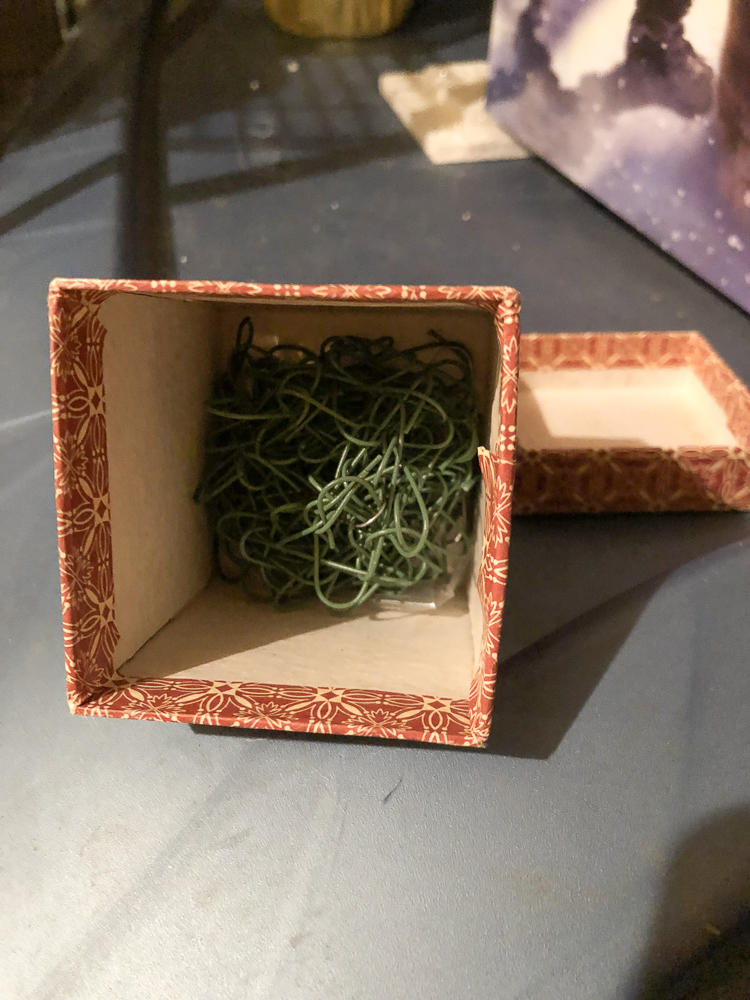 I instantly know it when I see it, a cute little box that I picked up somewhere.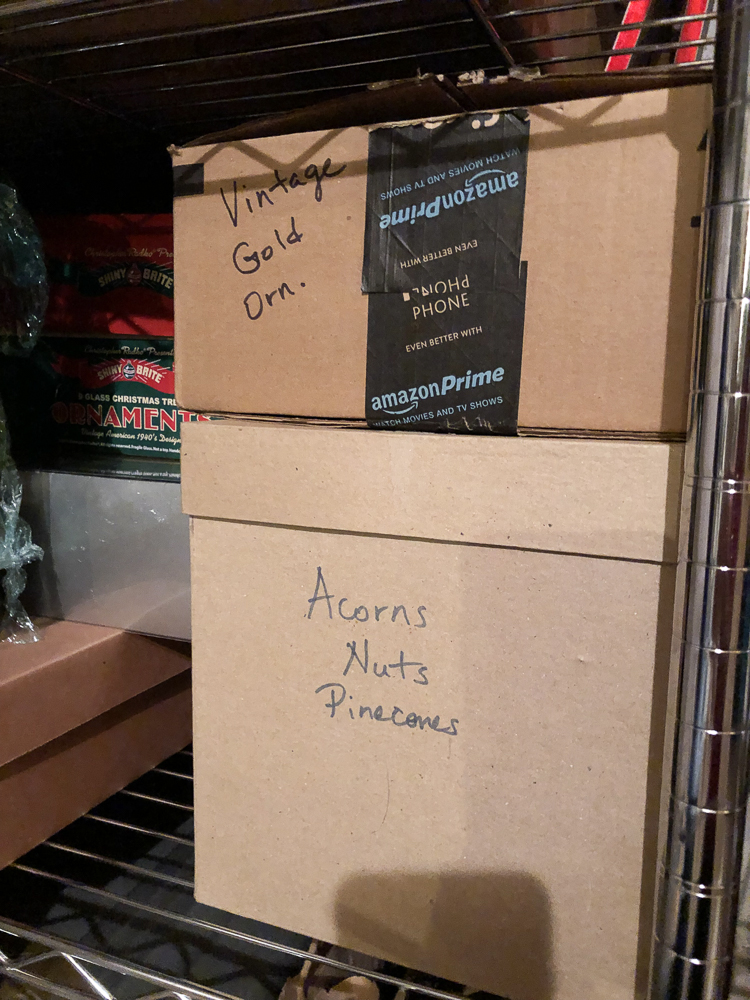 The Sharpie comes in handy for getting organized.
Bins labeled and put away.
Nativity and manger at the top of the bins.
I also added large nails to the studs down there for hanging wreaths. Great way to get them up off the floor and you can see them too. I use some of these seasonally as well.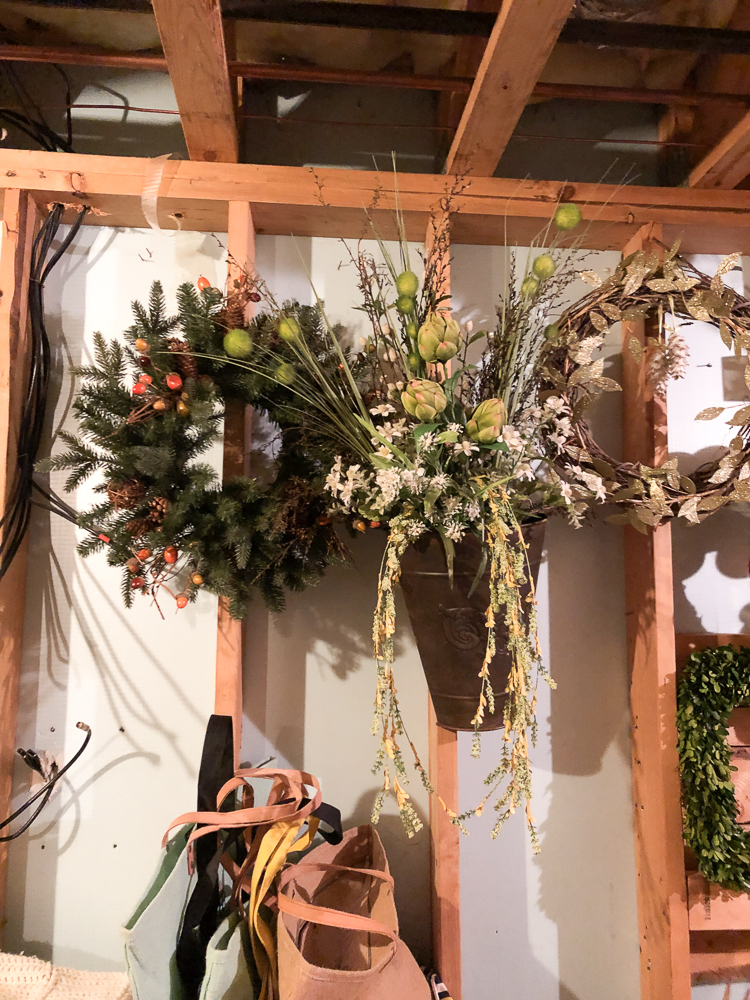 I love hanging things high off the floor and getting them up and out of the way.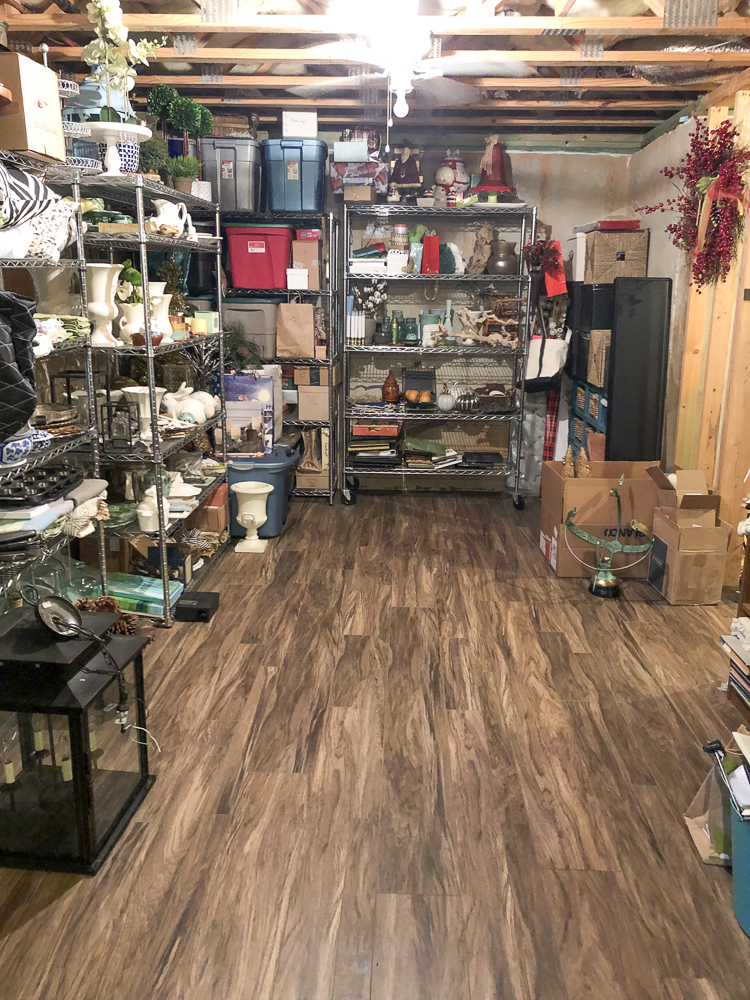 Now, it's looking so much better. I haven't seen this floor in over a year! It feels so much better when I go down there, now I can actually find things.
This area looks and feels so much better to have things up on shelves and off the floor.
I've got some of my Christmas gift wrap in a bag hanging on the side of the shelf and this shelf is old photos along with my Fall decor items that I rotate around.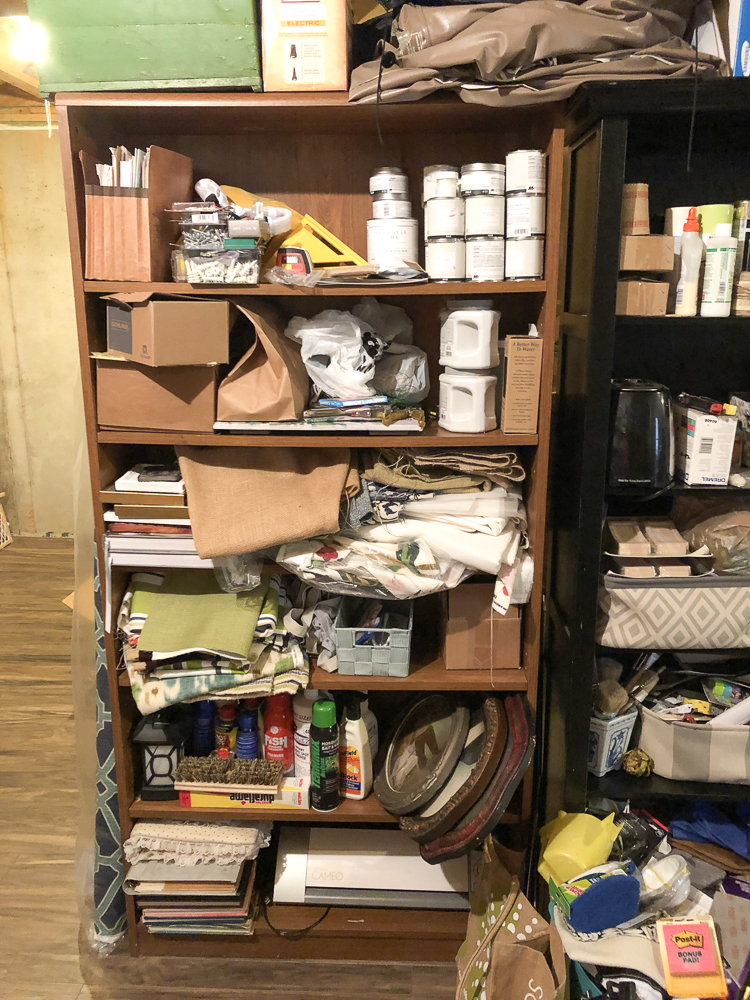 On another wall I have these two bookcases that I've had a long time. They hold miscellaneous things, like craft supplies, old yearbooks and photo albums, old family pictures that my mom passed to me, fabric scraps, and sample paints.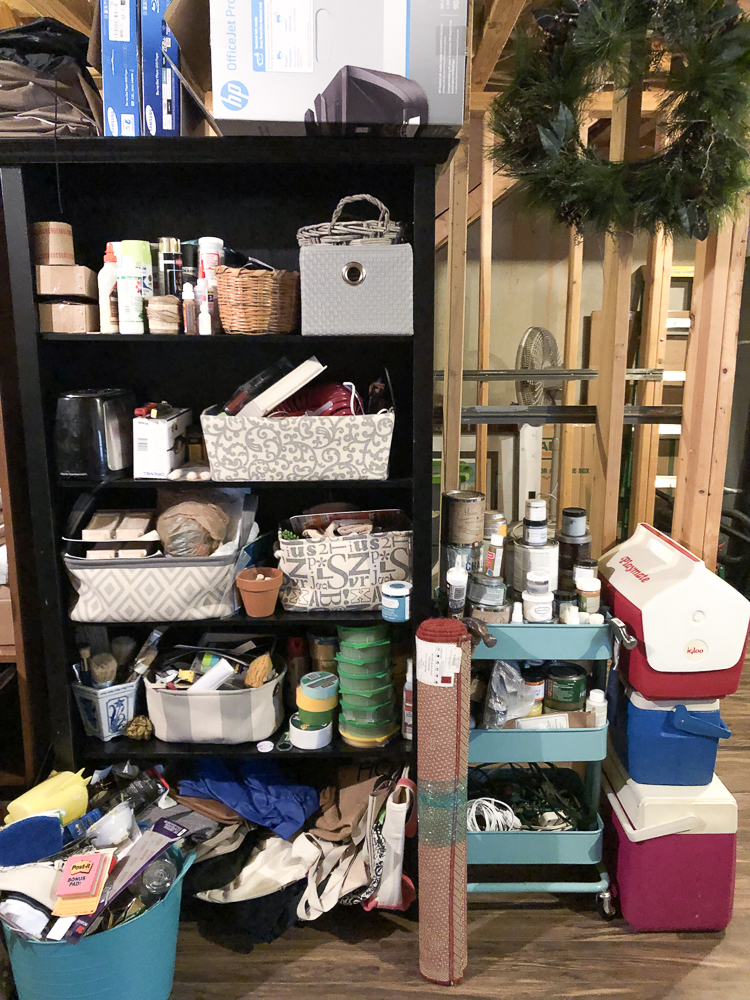 I finally unloaded all my Haven bags from over the years and they are all in that blue bin. I'll sort through that later, but it's all sample things and good useful things that are too good to throw away. I got all my chalk paint placed on that blue Ikea rolling cart so I can find those when I need them. I had those old bins in my old laundry area and those bin hold useful things too, crafty supplies, etc. Extension cords in the bottom of that rolling cart are easy to get to.
I have Frogtape to last for years and so many bags it's crazy!  I mentioned on Instagram that every event I go to, I get a bag. So the bags stack up and I've given so many of them away and still have a ton from 12 years of blogging and 7 years of Haven. We had Haven swag bags all those years and that's a lot of stuff inside.
I'm definitely not all finished, there's more to do, but for now this feels pretty good. To actually see the floor is a huge accomplishment for me. I'm still not ready to get rid of the extra furniture yet, but at least I have a safe dry place for it. I just sold that black lantern light fixture, it was in my old house and we put up another one that wasn't so big and blocked the light. I still have boxes of books to go through.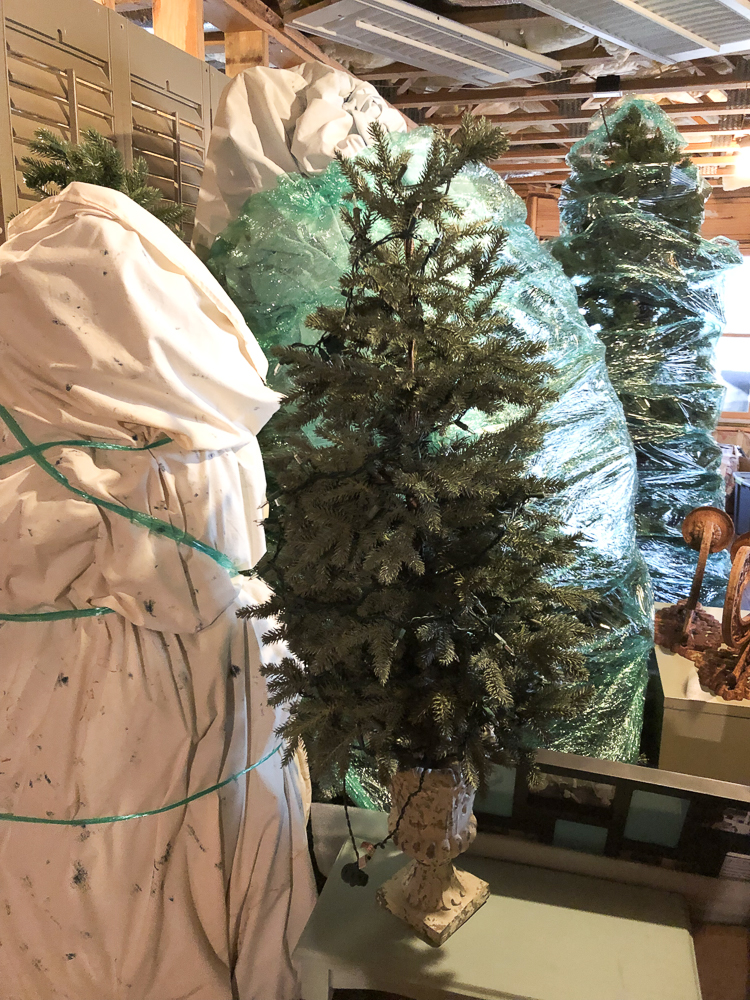 We have lots of Christmas trees as you can see. I'm passing one of these to my step daughter and we will have one big tree left, plus a smaller tree in an urn and this tabletop tree from Ballards that I've had for a long time, so keeping 3 of these.
I kept our newest tree intact and Mark and I carried it to the basement. I wrapped it in that moving wrap to keep it mostly dust free. The dust down here isn't too bad, although I'll have to wipe things off as I use them I'm sure. That's Mark's wicker trunk and his youngest daughter's dollhouse, which she doesn't have room for yet. We have a few things that we've stored for his daughters, so some of this will eventually go.
Do you see those Plantation shutters hanging there on the basement studs? There are even some small ones hanging on the ceiling. The first owners left those (we asked the folks we bought the house from and they said they were left there from the first owners), so we are going to use these on the screened porch wall next to the outside stairs when we get to that project hopefully in the Spring. I think they will look great out there! They didn't fit any of our windows.
In the other main room by the windows, I added another plastic shelf for all the outdoor cushions. It's definitely full and I may get a bigger one for these, but for now I'm happy to get them all stacked up in one spot.
The mower is in here, as well as that slipcovered chair and ottoman that we don't have room for here. I just can't let this go yet, it's a Sherrill chair that I found at the Salvation Army for $100 in Birmingham and I slipcovered it years ago, but I've always wanted to get it recovered. I'm not sure if I'll have a place for it one day, but for now I'm keeping it. And there's the bamboo vintage chair I found at the Goodwill last summer that's going on our screened porch when it's finished.
Mark has a rolltop desk down here as well as another section that has homemade shelves that he built and he has all his memorabila and family mementos in boxes on the shelves. It's a full room too! He loves his stuff and I don't think I can talk him into paring those down either. At least we have room for it all. I can't imagine us ever not having a basement now that we have one. We just couldn't make it without one, I don't think. It sure is nice for overflow and to have a place for things you don't need to look at everyday.
We may end up finishing off this middle room one day, but it's not like we need the finished space. It would probably be for resale value. If we kept the other 2 spaces as storage and finished this one off, which is the one down the hallway, it would be nice. But we'll have to figure that out later. It's definitely not going to be anytime soon.
I hope this sparked ideas for you too, to get organized and pared down more for the New Year. This is a hot topic this month, organizing and decluttering. Again, I'm not the queen of organizing or decluttering (I go in spurts!), but I can get somewhat organized when I need to. This feels good to me even though it might look like I have a store down there! We all have different tolerances for clutter and things, so I have no idea where I stack up with all of you, but that's where I am at the moment. We may look like hoarders to some of you, but others are nodding along and saying, yeah I'm right there with you!
Are you decluttering and organizing this time of year too?
Don't Miss a Post, join my list!