Hey, there and Happy Wednesday! Tomorrow is the big day of Thanksgiving and I'm so looking forward to spending it with my family and Mark's family. We always eat too much, but this is a wonderful week to kick off the Holidays. We all have SO much to be thankful for, don't we?
Today, I'm joining a group of blog friends and we're all sharing some of our favorite stuff.  Things we love and use and some general gift ideas or however you want to use this list.  My list is all things I own and love myself, so I'm putting them all together in one post for you today.  I love seeing what others are buying and using and it's fun to find new products.  My friends always have some nifty gadgets or products that they've discovered, so I hope you'll check them out too.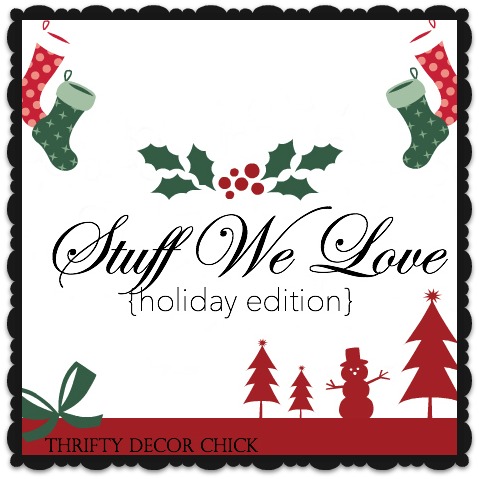 This pretty candle is new to me this year.  It was a gift I received somewhere along the line and I got it out of the box this year to use on my foyer table. It's made of wax and has 3 wicks, but is battery operated and has a remote.  I just LOVE how realistic it is.  I looked it up so I could link it for all of you and it's a little expensive, but I just love how real it looks and the fact that it has a remote.
Here is is in my large candle holder on the foyer table this year.  It's so pretty and adds just the right amount of candlelight to the foyer space.  It even flickers like a real candle!  Since these can be reused over and over, I think it's worth the investment for years of use.
2.  This brass bell set is one I saw on another blogger's list a couple of years ago and I bought it at the end of the season.  I used them last year for the first time on our banister and got them out again this year for the post and I just love what they add to my Christmas decor.  I love how bold they are.
3.  These faux cypress trees in a lime green color are really pretty and realistic looking. I've used them on my spring mantel and again for Christmas this year. They come in 3 sizes and I got 2 of the small ones, but they would be fun in a grouping too.
I just started drinking coffee about 10 years ago and it's mostly due to the fact that I could make fancy coffee at home with coffee syrups, cream, and whole milk.  When I started frothing milk for the top of my coffee like they do a the coffee shops, that was a game changer for me.
4.  I started off with a cup brother that I found at a thriftstore (from Italy) that had a little mesh screen on it. It worked OK, but then I discovered this Aerolatte frother and that really upped my coffee game.  It works great and every morning I pour a little bit of whole milk in a cup, froth it up and put it on top of my coffee.  I don't have an expensive coffee machine, but this little battery operated frother makes me feel like I do!  Know any coffee lovers who would enjoy this?
5.  I bought this ice cream maker a few years ago when one of my blog friends recommended it and it was on sale.  I didn't use it that much, but this summer brought it out and used it several times for homemade ice cream.  It's so easy to use and the bowls are put in the freezer overnight and then you just pour in the mixture, turn on the machine and in about 20 minutes you have a creamy soft serve homemade ice cream.  I love how easy it is for gatherings and it makes enough for about 6 people.  It's a fun little gadget to have around!
6.  This gold marble tray from Target was another pretty home decor item I saw all over blogland and finally got one myself.  It's sitting on my glass coffee table in the living room and is the perfect size for a coffee table or side table.  It looks much more expensive than it is and it's a great gift for the woman who has everything.
7.  Here's another tray from Target that I just love too. You all know how much I love rattan and this one grabbed me when it came out in the store earlier this year.  It's on my coffee table in the family room and has a great texture.
8.  I got this flatware for Christmas last year and just love it.  I wanted a casual set of flatware and this black bamboo set is so pretty.  It looks great on a table set in the dining room and also good for eating on the porch. Casual and pretty!
9.  These lamps are one of my favorite all time bargains.  I happened upon them at Homegoods one day about a year ago, when I was browsing for new lamps for the dining room. These Hollywood Regency lamps jumped out at me. They're gold and bamboo and have that chinoiserie vibe that I love.  I got them for $60 each at Homegoods. Little did I know what kind of bargain that was.  Once I got home, I found out they were designer lamps from Couture Lamps and cost a lot more than what I paid.  I found a couple of sources when people started asking about them, but they are not inexpensive.  This link has white shades, but for over $400, the black shades are available too with a Google search.
10.  This rug in our master bedroom is a favorite of mine too. Love the colors and it goes with a lot of styles.
Black and Decker handheld Lithium vacuum
11.  Another gadget we have around our house, two of these handheld vacuums.  Mark liked this one so much that he bought another on for downstairs, so there's one on each floor.  Great for little spills or getting up dust bunnies.  We keep them plugged in all the time and they're always ready to go.
Wall Mount Jewelry Armoire from Wayfair
12.  I've had this jewelry armoire for a few years now and love it. It hangs on the wall, has a mirror on the front and holds all my jewelry collection out of sight.  I have it in my closet behind the door and it's nice to have it all in one spot.  Great for the jewelry lover!
Loreal Voluminous Superstar Mascara
13.  Moving on to makeup, I'm still loving this Loreal mascara. It has a built in primer with mascara on the other end and it really does work to make my lashes longer. I don't wear it every day, but when I want to dress up more and get my makeup looking better than normal, I wear this mascara.
It Undereye Illumination & Anti-Aging Concealer
14.  One more makeup item that I'm really loving is this anti-aging concealer from IT cosmetics.  I got this in a little sample when I ordered some of the makeup and was so impressed, I ordered a tube. That tube will probably last me for months, as a little bit goes a long way with this concealer. It really does conceal and illuminate and gives me a refreshed look under my eyes.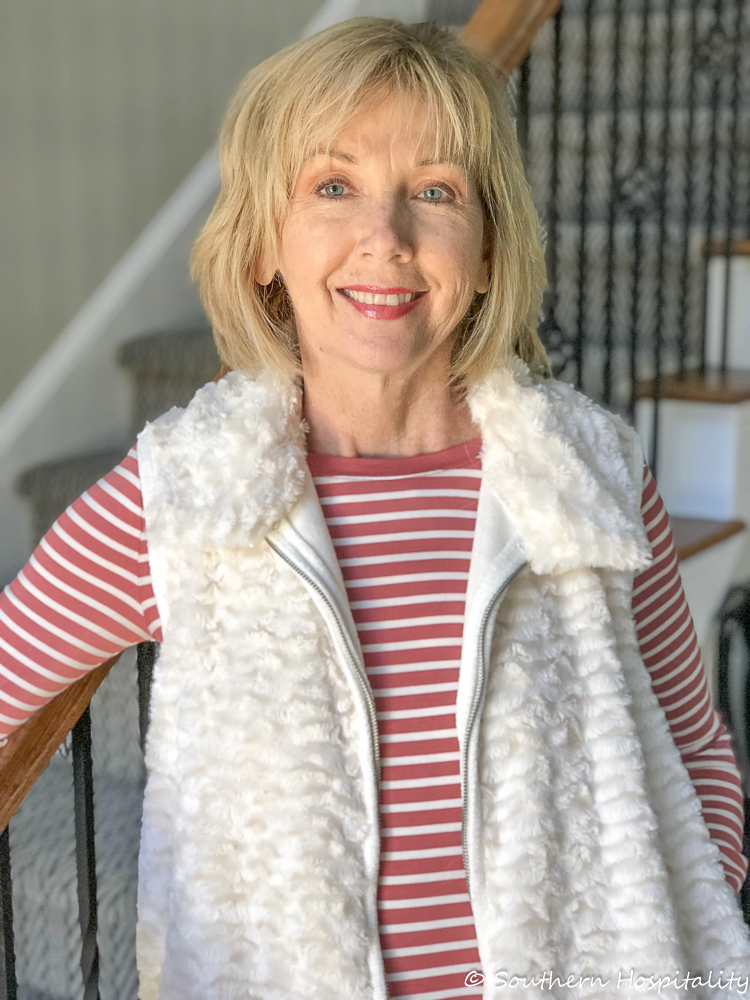 So, that's a look at several of my favorite things that I own, use and live with!  I hope you enjoyed this list and it may give you for ideas for yourself or for gifts this Holiday season.  I know there are a lot of lists out there, but this will be all you'll see from me this year.  I like to recommend things I've actually used and love myself.
Here are the rest of my blog friends who are joining the Favorite Stuff blog hop this week, so stop over and visit them too!  You may get some great ideas on things you haven't tried before and it's always nice to hear firsthand from someone.
Hope you all have a wonderful Thanksgiving with your friends and families.  I'll do a post after Thanksgiving and share our family time with you all.
Don't Miss a Post, join my list!