Hey friends! This week I'm joining a group of ladies and we are all sharing our towns or points of interest around our areas where we live, so today I'm sharing all about our little town of Acworth. We never knew how much we would enjoy a small historic town, but we have grown to love living here and now can't imagine being anywhere else for the foreseeable future.
When Mark and I were looking for houses 2 years ago, we didn't specifically set out to find a house in Acworth. In fact, it was further out than we were looking, but the house found us and we quickly decided that we could indeed get more house for our money in Acworth than we could most anywhere else. When I was growing up, Acworth was a little bitty town and definitely not a destination place to go and I never thought I'd live there.
We must have looked at well over 100 houses in the 6 months we diligently looked at houses and when it seemed we would never find one to suit us both for a price we could live with, our house in Acworth found us.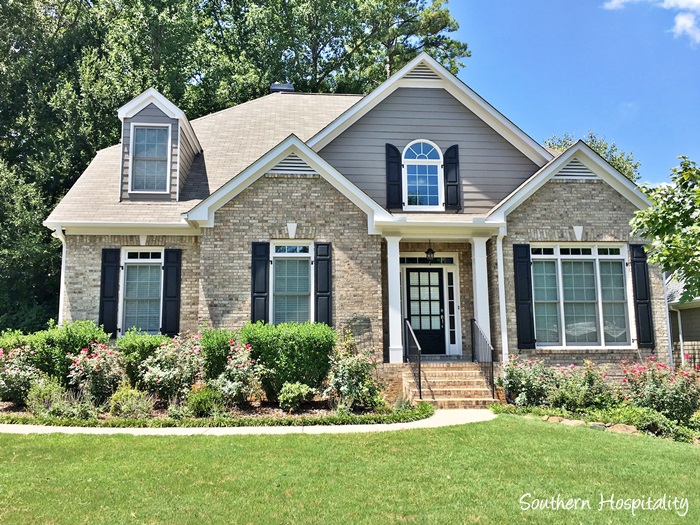 We found out pretty fast that a huge road project was going to come right by our neighborhood. The Georgia DOT had been planning a 3 mile stretch of road right outside our subdivision, 2 lanes which would become 4 lanes and a new bridge would be built over the lake near our house. All of those are great improvements for the long range plans, but we were a little hesitant to have to live through it, but we loved the house and where it was located, so here we are. Those DOT plans just started in August and now it looks like a bomb went off around us, but the charm of Acworth is still there and we will get through the 3 years of road construction.
So, welcome to Acworth, GA the Lake City and let me show you around our small historic town. Acworth's population as of 2016 was over 28,000 and I'm sure it's grown since then. We live behind the historic district and are in the city limits, which has perks. I've never lived inside a small town like this before but we have quickly grown to love the small town feel of Acworth and the amenities for Boomers like us. You can find out more about Acworth at Explore Georgia.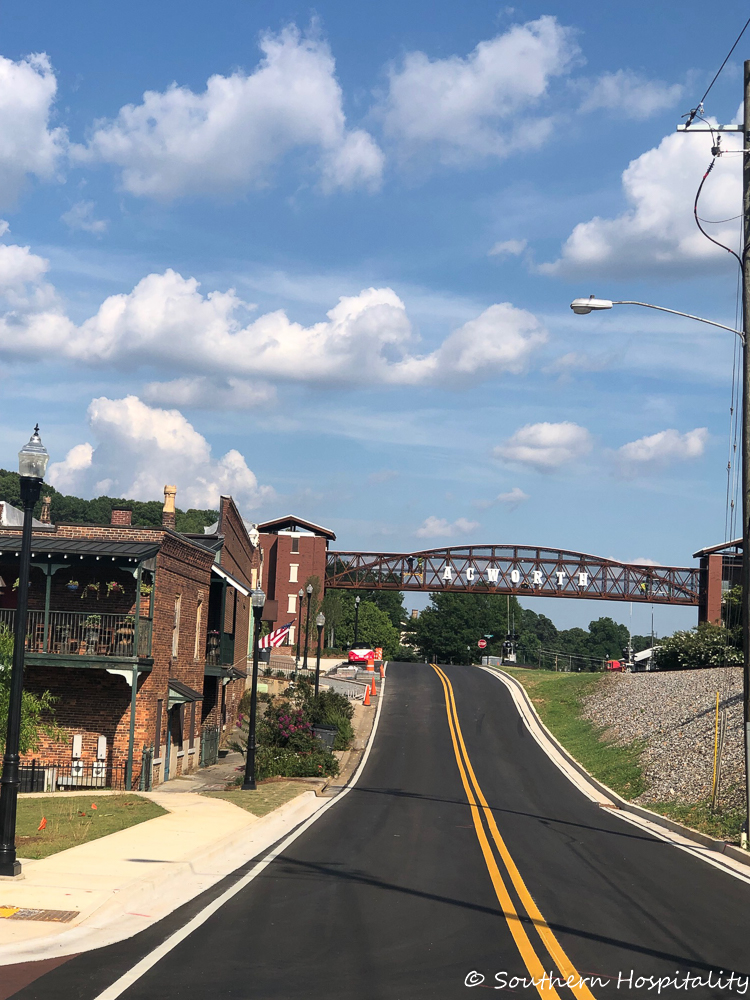 In the two years that we've lived here, Acworth is booming like never before. There are signs of construction everywhere, which means that the economy is good and the town is expanding with new shops and restaurants. We're excited to see new restaurants going in soon and all the improvements that are happening around us.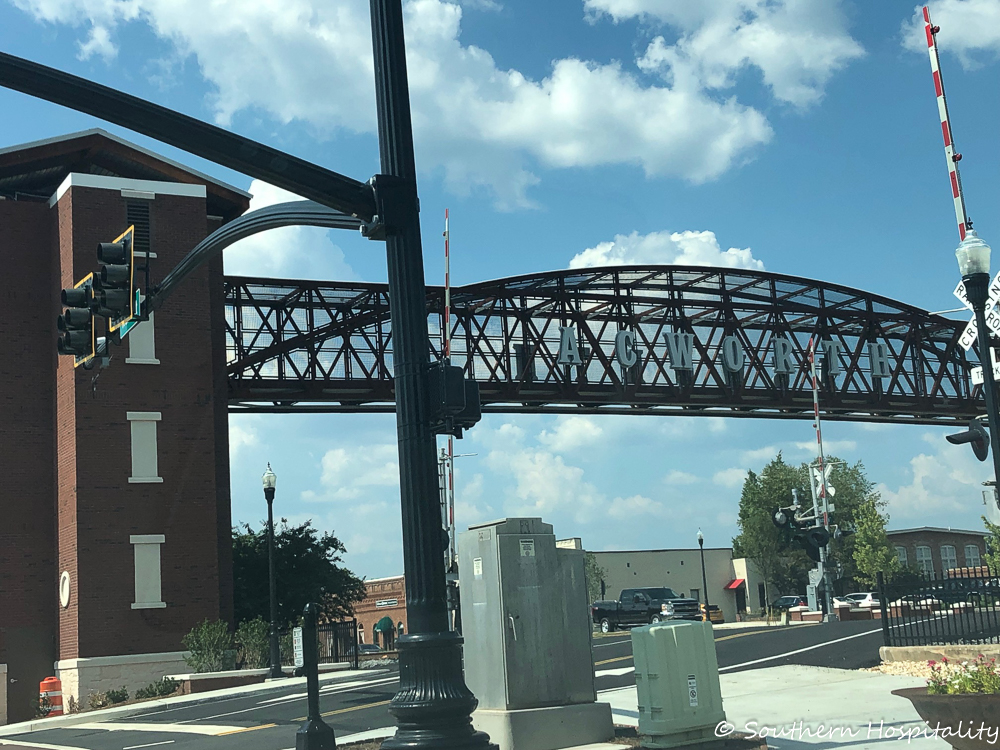 This pedestrian bridge over the railroad tracks reminds us that Acworth had a train station at one time and the city built a new Depot to house historic memorabilia which is really nice. The new pedestrian bridge just opened up for public use and it connects the Main Street of Acworth with the park side of Acworth where soon there will be more restaurants opening.
Main Street got a face lift last year with new pergolas and bench seating, the new train Depot and the pedestrian bridge went in. We are so happy to see the progress and growth of Acworth and think it's a great place to live near Atlanta, but out of the hustle and bustle of the big city. You can't get away from traffic around here, but you can somewhat forget about it when you're in Acworth.
The local train caboose got a facelift too and a brand new coat of red paint.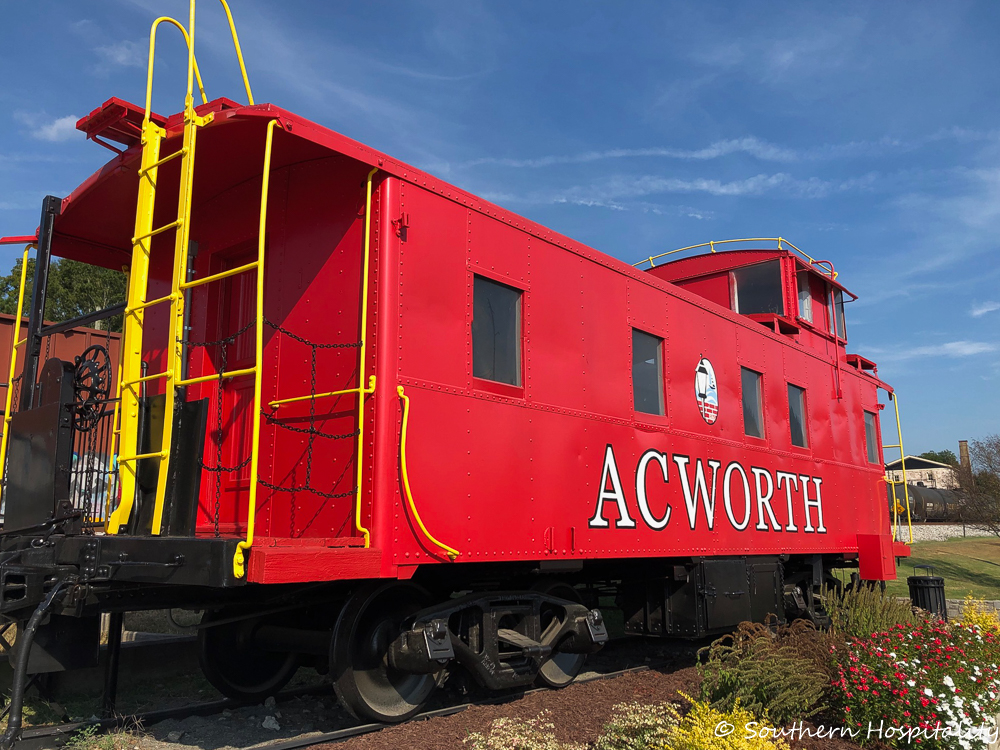 It welcomes visitors to Main Street in high fashion! Isn't she a beauty against that blue Georgia sky?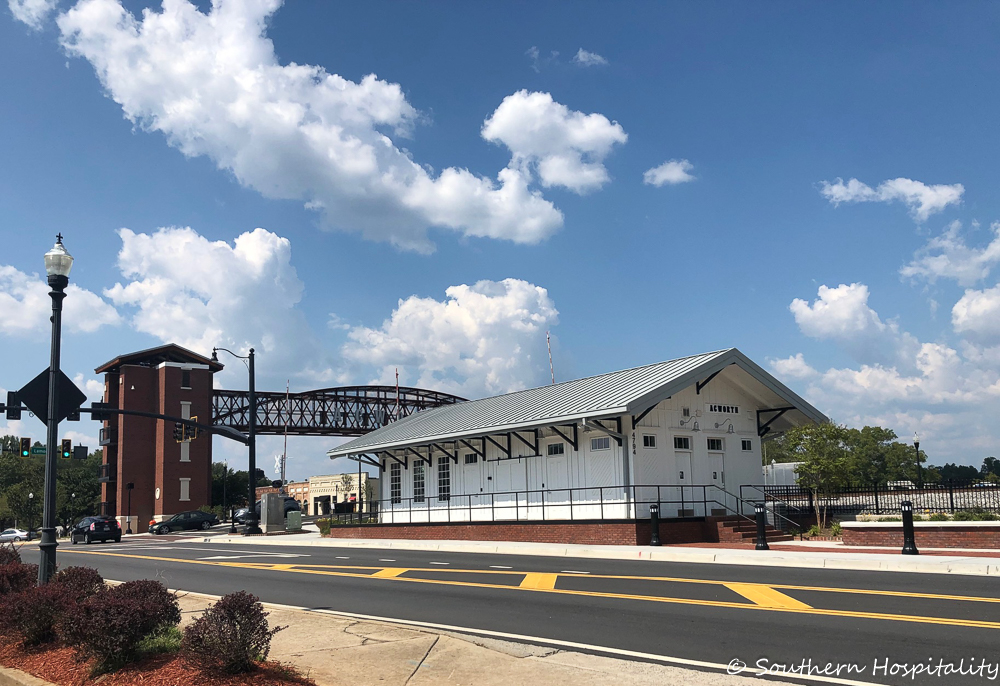 The new Depot has opened with a historic stroll down memory lane of Acworth's humble beginnings as a mill town.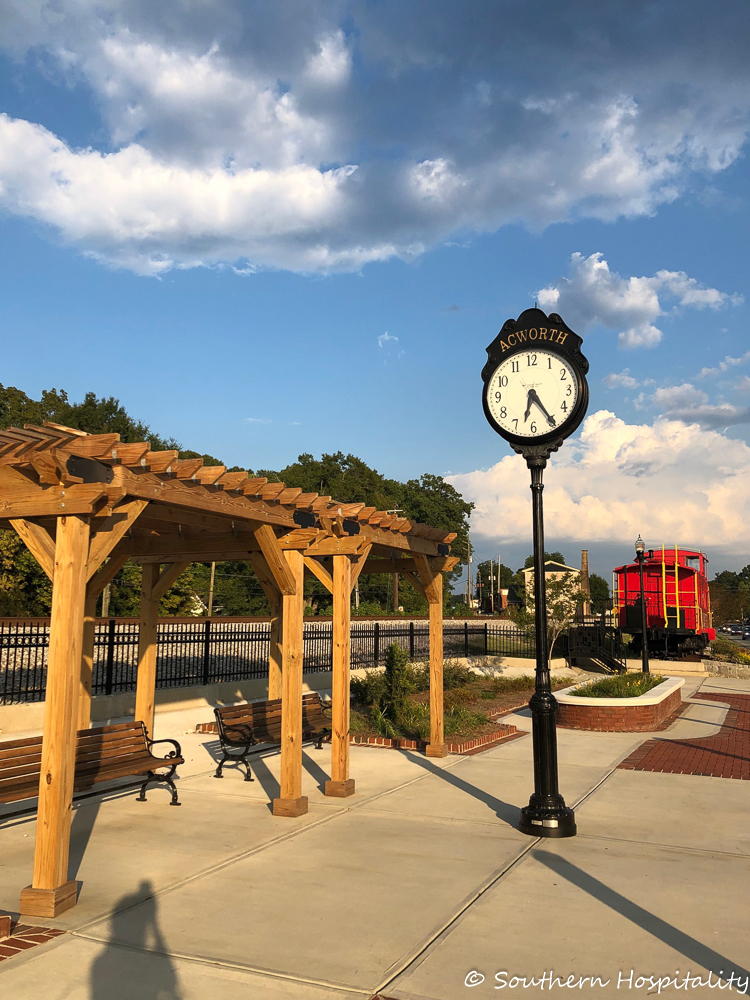 I love the clock addition which gives Acworth a nice nostalgic feel, just like a Hallmark movie town.
Inside the Depot is an interactive display which shares the history of Acworth and notables from the city. I love the style of the Depot with its board and batten siding and black accents.
This view is from the Park Side of town, across the railroad tracks from Main Street. The old building on the right is in need of refurbishment and we are hoping it gets restored and opened for business again. It's just a shell right now but a pretty exterior shell. This is where I do a lot of my fashion pics up by those buildings and it's funny how many other people I see doing fashion shoots around town too. It's a great backdrop with the old brick buildings.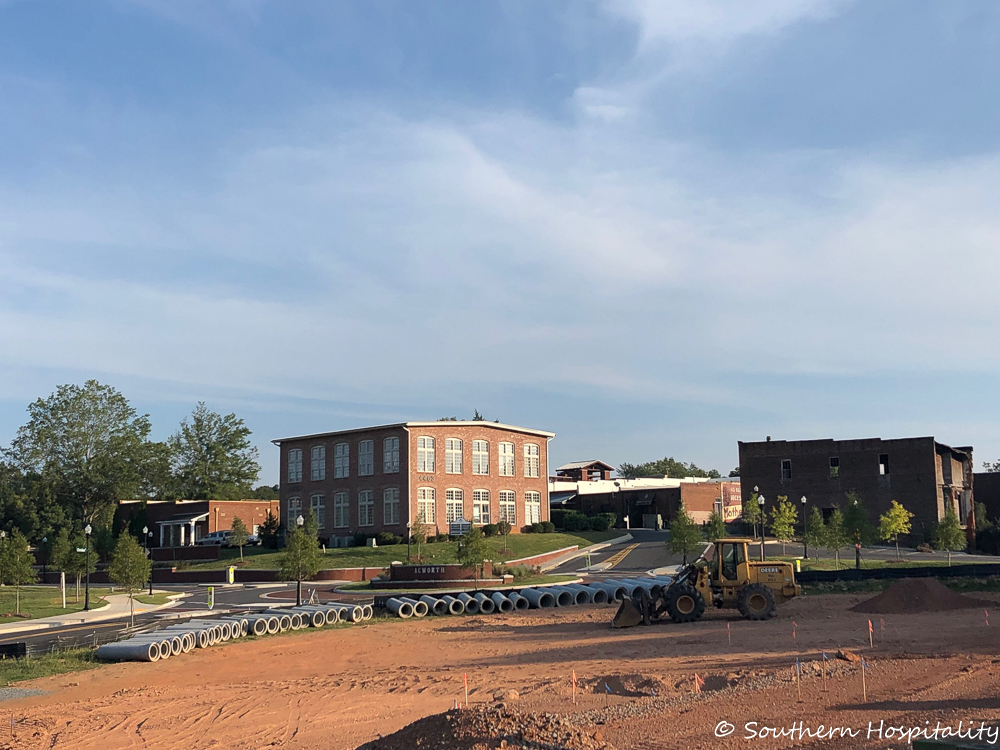 A brand new restaurant is going in here and I'm not sure which one it is. We do know that two breweries are going in and we know where one is being built right now. We are so excited to see all the growth of new restaurants going in which will make Acworth an even more popular destination. We're finding the older we get, we enjoy staying in our little area and not venturing all over Atlanta for things to do. We're quite happy in our neighborhood and town.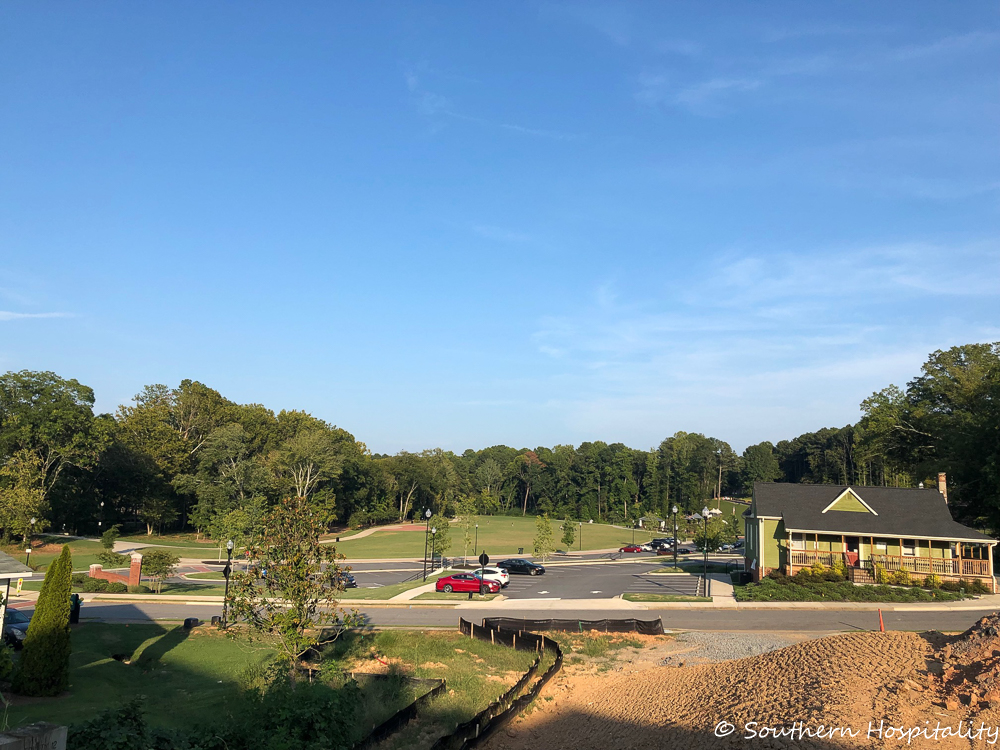 You can see our beautiful Logan Farm Park down below this vista. The green house on the right is an art station, featuring local artists.That big green space is a great walking trail and you can only see part of it from here, another big loop is behind those trees. Mark and I love riding our bikes around town and this is where we end up, going around the loops several times before heading home.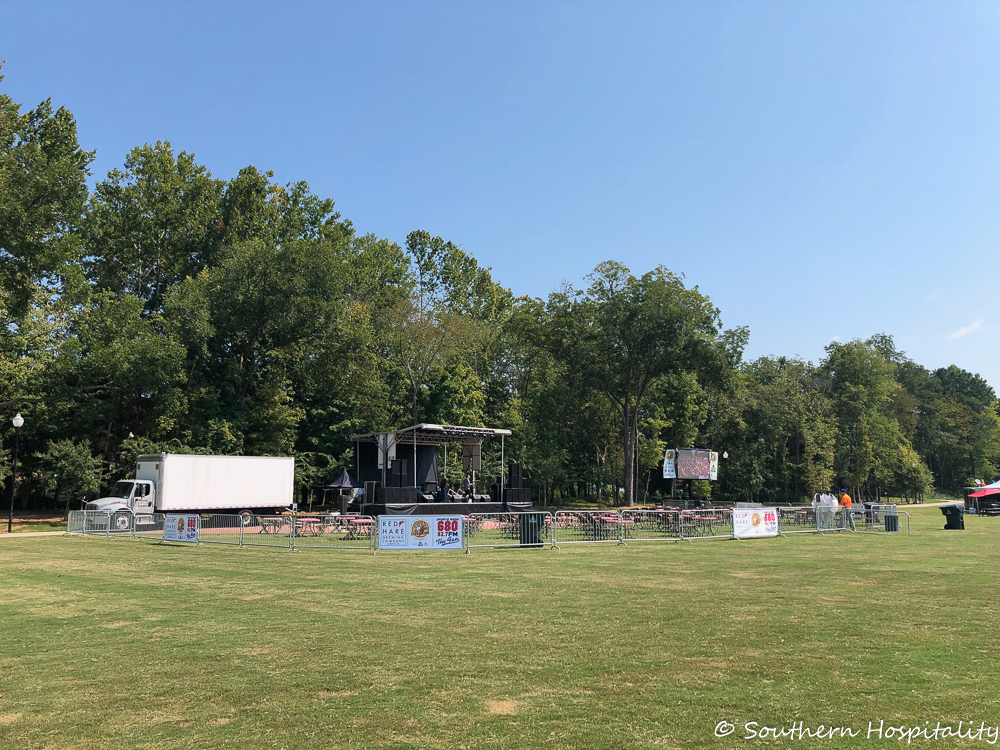 The city and park hosted a fun outdoor concert back in the summer and we enjoyed sitting outside with our chairs listening to live music by Yacht Rock Revue. It was a great summer evening! They had pizza vendors during the day selling food and drinks and it was fun to see the park come alive with activities in our town.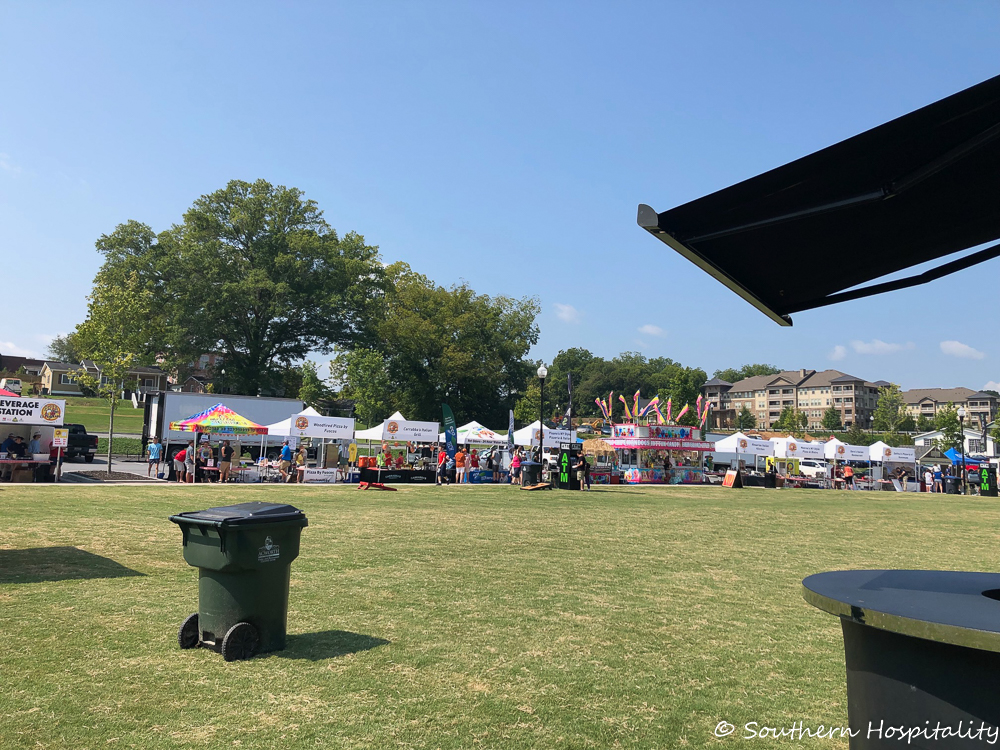 This was one of the first events hosted in the park and we hope there are many more with live music. They were just getting things set up here and the evening crowd was plentiful.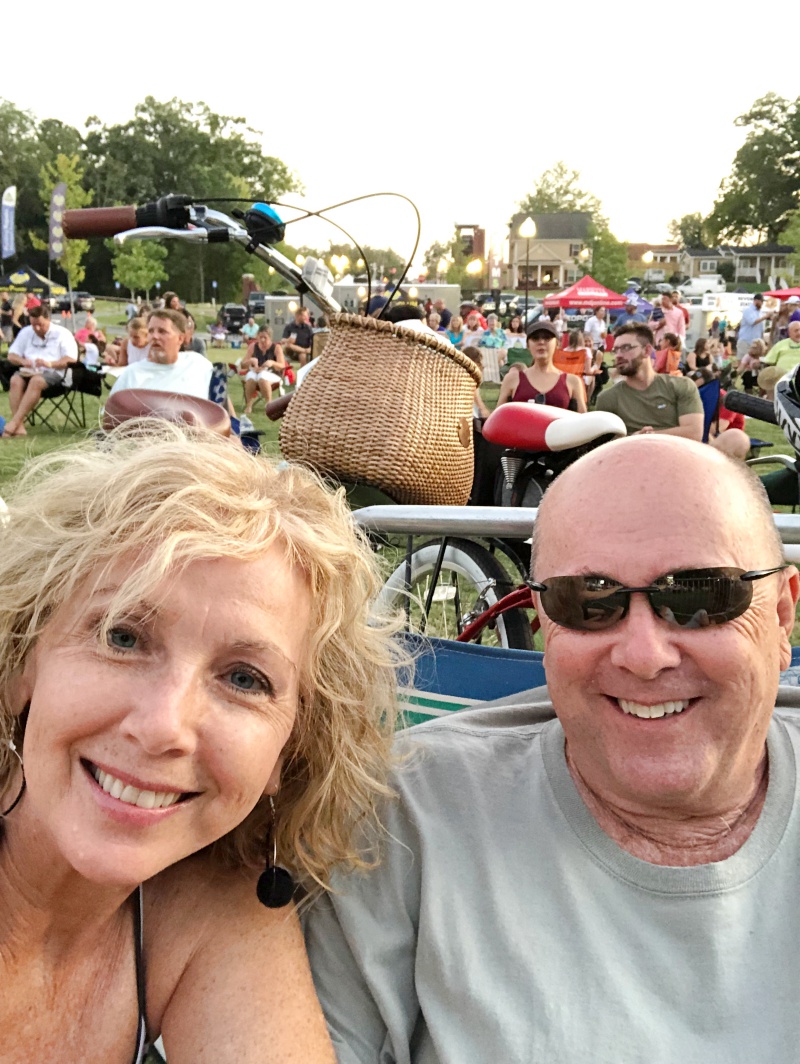 Mark and I rode our bikes out to the park for the concert and enjoyed the evening so much.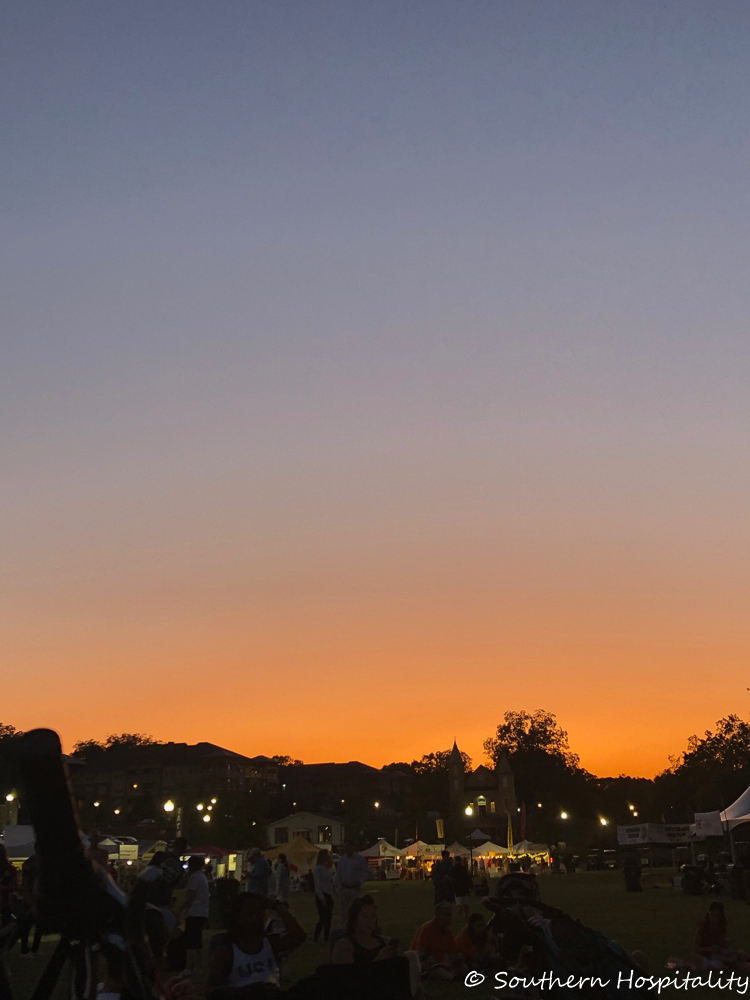 We watched a beautiful sunset that evening over downtown from the park.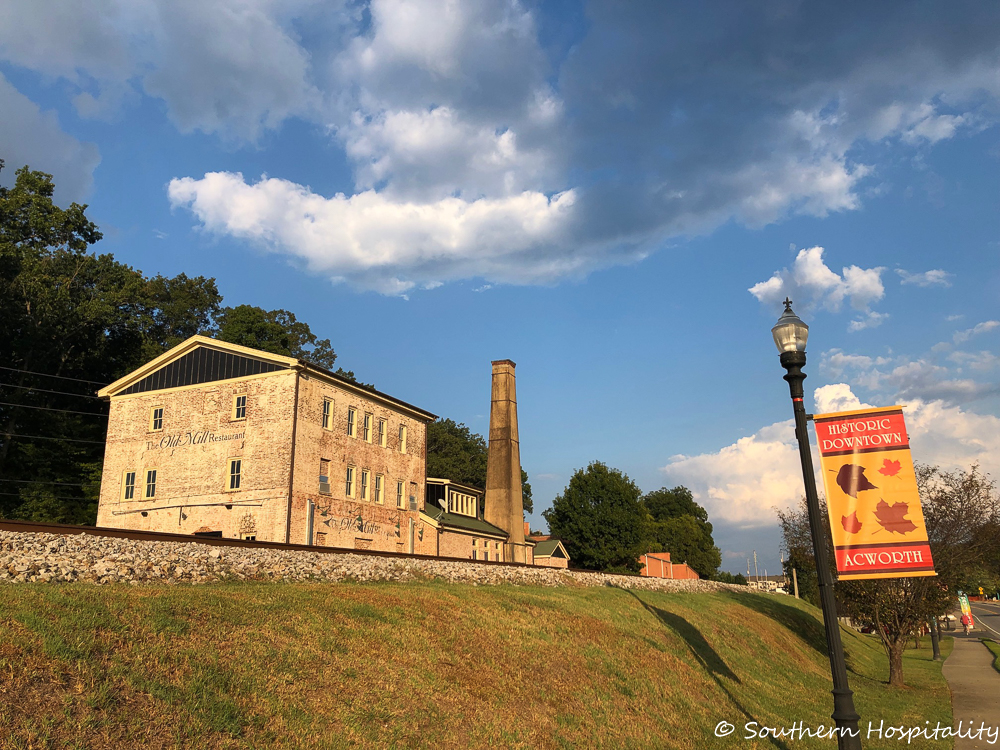 Back up by the railroad tracks is a historic building that has housed many things over the years, most of them restaurants. This is the old flour mill in Acworth, one of the oldest buildings in Acworth, built in the 1870's and the building itself is so quaint and special. We loved it as a restaurant, but it has just opened as an event venue for weddings or other events and it's now called Cowan Mill. It looks like the new owners have put a lot of money and special touches in there to make it a great event space. It's brand spanking newly renovated and even though we will miss this old mill as a restaurant, I'm sure they will make it a beautiful space for weddings and other special occasions hosted there.
During Fall, Main Street businesses and those around town add scarecrows to the fence along our downtown area, which is really fun. I know the kids must enjoy it as it gives such a festive feel to the downtown area of Main Street. It's fun to see those go up every year, reminding us that Halloween is near.
Love this pumpkin head man. Halloween was one of my favorite holidays growing up and it was harmless and fun back then. All we cared about was getting lots of candy!
I took a fashion shot there by the pumpkin man just for fun.
And I shared with you our favorite restaurant in town, Henry's. Henry's has been a fixture in downtown Acworth for nearly 20 years and I had never eaten there until we moved to town, but now Henry's is our very favorite spot to eat. We have had many scrumptious meals here and it's so easy for us to get there and get in the door easily. Chef Henry is from LA and brings his Cajun flavor to town. So many people know about Henry's and drive far and wide to get there! Once you eat there, you'll understand why. Henry is quite the character and walks around throwing Mardi Gras beads at everyone who dines there.
There are several great restaurants in town that we enjoy as well. This special treat place is newly opened this summer, but quickly becoming one of our favorite stops. Flavors of Hawaii has only been opened a couple of months, but wow is it good.
Owner Vincent brings in fresh flavors directly from Hawaii for these Hawaiian shave ice treats. The flavors are so intense and lest you think this is a typical snowcone, oh contraire! It is nothing like the old snowcones we grew up with.
His shave ice treats are indeed finely shaved ice over which intense flavorings of fruits and other yumminess are poured over. That little bit of white on the top is a Snow Cap, pure condensed milk drizzled over the top. Man are they good! We  have made a point to ride our bikes by there many times when we go out and get a treat to beat the heat. I've tried so many flavors from strawberry, watermelon, pineapple and coconut, Blue Vanilla, and more. They are all so good! I really want them to be successful, so please stop by when you get a chance. They are right on Main Street just down from the red caboose.
Another perk of where we live and one I've already shared is that Mark and I are biking boomers and we get out every chance we get and ride around town. Acworth as I mentioned is known as the lake city and that's a treat to enjoy as well. Living near the water is so nice and we are surrounded by two lakes! Acworth has its own small Lake Acworth and then across the bridge is Lake Allatoona, a huge lake reservoir built and maintained by the US Army Corps of Engineers completed in 1950 with a whopping 12,000 acres of water.
With 25 parks, 8 marinas, and 10 campgrounds, it's one of the most well visited lakes in Georgia. You can imagine the boating, fishing, swimming, kayaking, jet skiing and more that is done on Lake Allatoona each summer. Only kayaks are allowed on Lake Acworth which is the one I'm showing above. It's nice and peaceful and we love riding our bikes through town and down to Lake Acworth.
Mark captured this panorama shot of Lake Acworth and it's beautiful. We ride on trails that go around the lake and through the woods, back to town and then through the park I showed you earlier.
We have ridden over 300 miles on our bikes since we started riding at the beginning of this summer and bike riding is something we plan to continue for years. It's so fun flying around town on our cruiser bikes! Views of the lake are extra special from our bikes. 
It's such a peaceful way to ride seeing the water go by. We love that part of where we live!
Going through the paved paths through the woods is so relaxing. We do have hills around though so it's not all easy and flat. We definitely get a workout when we go out and ride those bikes. It's our favorite exercise now and we hope we can ride for years to come.
That's Mark ahead of me, where he normally stays. He's faster than I am but I eventually catch up.
We saw geese while riding last week, a fun sight to see around town.
Going through neighborhoods on our way to and from the lake and through town, we go by such cute historic houses, like this one. It's one of my faves and I admire it every time we ride by.
This one is a fave too and I see that it's on the Acworth History and Southern Charm tour of homes coming up this month hosted by Brookwood Christian School. I'm going to be out of town when they have that or we would do it again. We toured 2 years ago and really enjoyed it.
There's an antebellem home in Acworth, Cedar Plantation that also hosts weddings and it's a beautiful venue. It's so nice to be surrounded by all the beauty of downtown Acworth, the history and charm of olden days, and the natural beauty of the lakes that are around our neighborhood.
Backyard Sunset
We truly have come to love living in our small town of Acworth and now it's growing like crazy. We hope it doesn't ever lose the charm it has now. We've been to a few town hall meetings and planning events and I hope to meet more of the movers and shakers of Acworth eventually. For now, we will enjoy living in our home and taking advantage of the amenities of small town living. We have everything around us that we need, yet the small town brings us so much joy as we go up and down those streets especially on our bikes. We're excited to see more growth and gentrification happening around our town and will celebrate the improvements as they come!
I hope you'll take time to visit the other ladies on this tour! They're all sharing their towns and things of interest near them. It's always fun to see where other people live!
Town and Country Living / Finding Silver Pennies / Southern Hospitality
TUESDAY
My Sweet Savannah / Hymns and Verses / It All Started with Paint / The Happie Housie
WEDNESDAY
Creative Cain Cabin / In My Own Style / Duke Manor Farm / Hearth and Vine
Don't Miss a Post, join my list!