This post is sponsored by Ready to Care. These are important messages for all of us with aging parents and relatives.
Do you remember sitting around with your family members and telling stories and talking about the past? Memories of days gone by and all the wonderful parts of life that there are to celebrate. Mundane days and memorable days.
Listening to my dad tell stories has always been a big part of my childhood. I can remember sitting around the adult table as a child, taking in all the stories and dialogue about my parents' early years as young pastors in the small churches they started in.
My dad has a rich preacher voice with a soothing tone and it's been something that has calmed my fears and soothed me growing up. I could hear that voice talking down the hall when I was in bed falling asleep as a little girl. That voice was all I needed to hear to fall into a deep calm sleep.
As a little girl, this was a priceless way to grow up. Those stories were everything. I could listen to them over and over again. One was remembered recently when my mom talked about going back to their old church here in Marietta. They were remembering when the new part of the church was being built and my dad did a lot of work on the church himself. A little neighborhood boy stopped by one day, curious about what was going on inside that church that was being built and walked through the church looking at everything.
He asked someone who was the pastor of this church and the guy pointed up to the top of a ladder where dad was perched working on something .
Right there, he said, that guy's the Pastor.
No way, said the little boy. Pastors don't climb ladders and do work like that! 
Well, this Pastor did. He worked hard and did the labor too. You all know how much he helped me on my previous house and how I couldn't have done it without him.
Dad has always been a hard worker, as a Pastor and also at home. Home improvement projects weren't hired out at our house. Dad did them.
Mom was the keeper of the house and she always has been a great mom and housewife, not to mention Pastor's wife. She's got the temperament to be a wonderful caring Pastor's wife and not everyone can say that. I don't think I could do that job. She was the best at it! Women love her and confide in her and ask her to pray for them. They know she knows how!
She can also bake a mean cake and all sorts of desserts. These have kept our family going for years as my daddy has a voracious sweet tooth. Mom spoils him and makes sure he has plenty of sweets around the house.
Mom and dad have been married 66 years. September 5, 1953. Oh, the stories they can tell from all those years together.
Two young people who met in Bible College in Lakeland, Florida with their whole lives ahead of them, mom and dad were married. They got out of Bible college and started on their journey with my dad pastoring and my mom being his helpmate, the Pastor's wife. They moved from their first church in central Florida up to Virginia, where my sister and I were born. About a year after I was born, we moved back to the Panhandle of Florida to a church there and we moved to Marietta Georgia the summer I was 6 and about to start 2nd grade, so Marietta has always been home to me.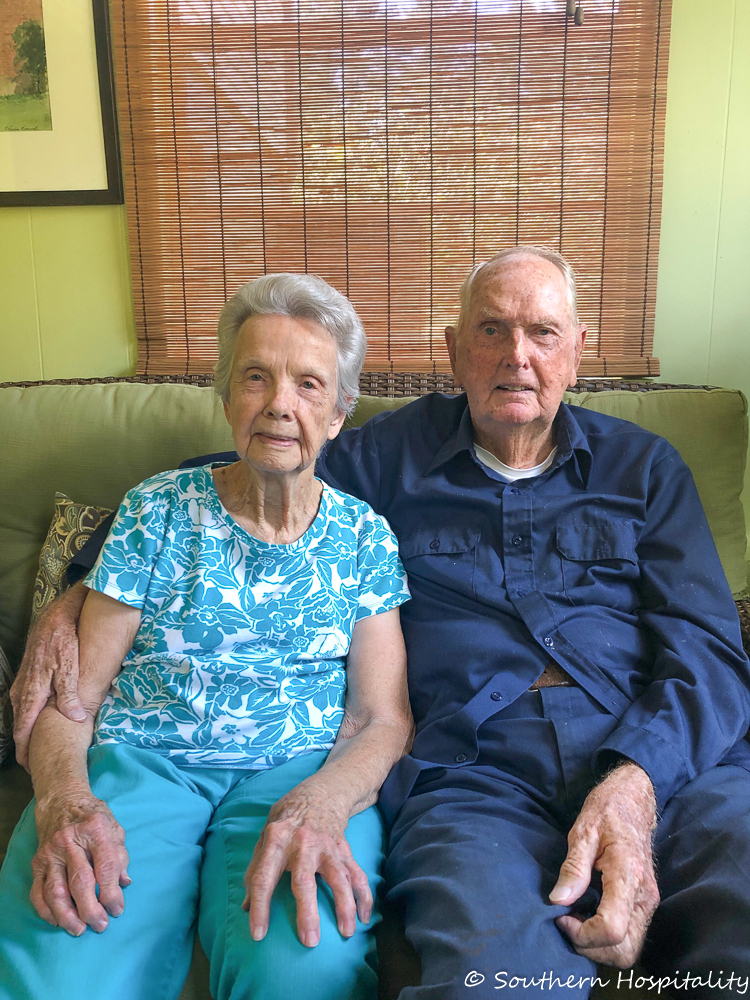 Those 66 years have been good ones and the stories they can tell are priceless. Daddy has always had a good wit about him and loves telling jokes and laughing. Sitting around that table as a little girl created such a warm feeling in my heart to have these two lead our family. I knew that I was loved and taken care of. We didn't have a lot of money, but we sure had the love.
There were always friends and family coming to our house too. I can't tell you how many other preachers and their families that we hosted. Mom always opened her door to so many people and put together whatever food we had available. Sitting around that table, listening to stories being told was a huge part of my growing up years. I can still hear it today. Laughing til we cried, telling stories about things that happened in church and out of church.
Their wedding day cake was the beginning of a beautiful life together.
A life of faith, family, and a beautiful legacy that will never be forgotten. Those stories and memories will always be a part of our family. I love those stories of my parents first start at pastoring, the few churches they were part of, and the final church that my dad spent 27 years in here in Marietta, GA. Those were the stories I grew to love and cherish. Those stories are part of my life too and I could hear them over and over. We all had our favorite stories that we would ask dad to tell again and again. Funny stories and poignant stories.
This couple impacted a whole lot of people during their lifetime and I'm glad they are my parents. I wouldn't trade them for any other parents in the world.
Seniors like my parents have so many wonderful memories of life that we don't want to lose. Let's keep those memories and stories going by passing them down to the younger generations. All of the seniors in our lives deserve to be treated well and honored for the lives they have lived. Let's take care of our seniors until they leave this earth.
I've shared Ready to Care with you before, but it's worth mentioning again.
How can we help our seniors?
Ready to Care is an initiative by Home Instead Senior Care® to enhance the lives of aging adults and their families. Just through awareness and simple acts of kindness and care, the initiative aims to expand the world's capacity to care for older adults.
We're all getting older and I'm reminded that I want to be taken care of when I get to that age too.
Ready to Care challenges people to complete Care Missions right there in your community. They guide members through various ways to give to causes that help seniors, to learn about the aging crisis and issues impacting seniors, and to serve seniors through small actions or volunteering.
Each week, a new Care Mission is delivered right to the participants' phones via text message. That sounds easy, doesn't it? It doesn't take a lot of effort to help, so I would encourage all of us to sign up with Ready to Care.
If you don't have a senior in your life that you're caring for, this would be a great opportunity to get involved.
Why are seniors the focus?
Did you know that older adults are at greater risk of experiencing things like limited mobility, chronic conditions or feeling isolated? And seniors are growing at a rapid rate. The Boomer generation is just behind them in age. 
When older folks don't have immediate family to look after them, their lives are harder to navigate and a helping hand is in order.
I hope you'll check out Ready to Care and consider signing up today! If we all do a little bit, it will help a lot. This is a good reminder for all of us to be aware of.
Don't Miss a Post, join my list!