This post is sponsored by Viking Cruise Lines. All joy, excitement, pictures and posts to follow when I return are all my own! 
I'm a little off schedule this week, so no Feature Friday today. I wanted to share a bit about our upcoming cruise with you all.
We are so excited to be embarking on a dream trip for us! A Viking River cruise, the Rhine Getaway. I think this will be the perfect time of the year to go to Europe, early spring and the weather should be really nice. It's been almost 30 years since I've been to Europe and Mark has never been, so I'm excited to get to experience this with my sweetheart!
We leave Saturday afternoon, where we will land in Paris and then take a short flight to Basel, Switzerland, where we embark on our longship, Kara on Sunday. From there we meander down (or maybe up) the Rhine river stopping along the way with several shore excursions and lots of sight seeing.
Here's a screenshot of our itinerary if you want to follow along. From Basel, Switzerland ending in Amsterdam, Netherlands.
All Photos courtesy of Viking River Cruise Library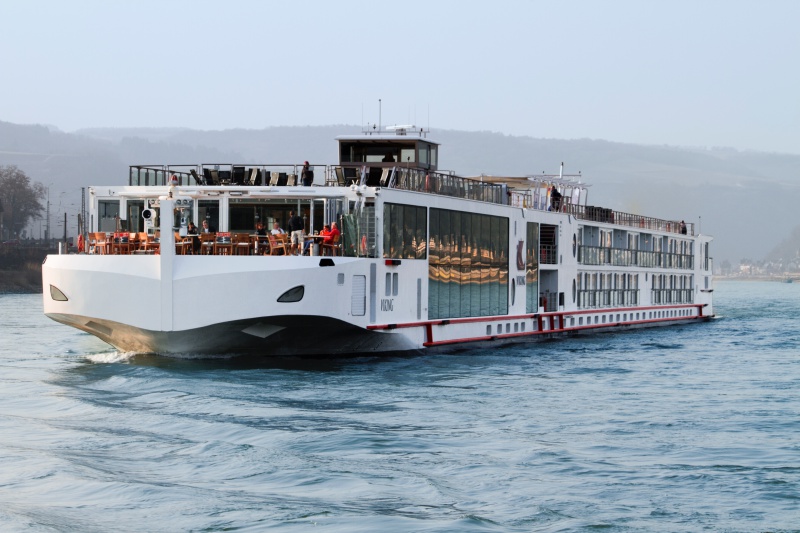 I've been to Zurich, Switzerland once before, but again it's been almost 30 years since I went to Italy and went on trips to France and Switzerland from there. Hard to believe that, but it has been. The rest of our itinerary will be brand new territory for me and I'm SO excited for this trip. Mark has never been out of the country, so he is a bit nervous with the state of the world these days. I have assured him we will be fine. It's an adventure of a lifetime for us. I'm so thankful to get this sponsorship from Viking River Cruises since this is something that was on my bucket list.
We will be on the longship, Kara, which will look very much like the above picture.
On board, the ship looks very different from ocean liner cruise ships I've been on before, but I look forward to exploring every bit of it in person. This of course is the dining area.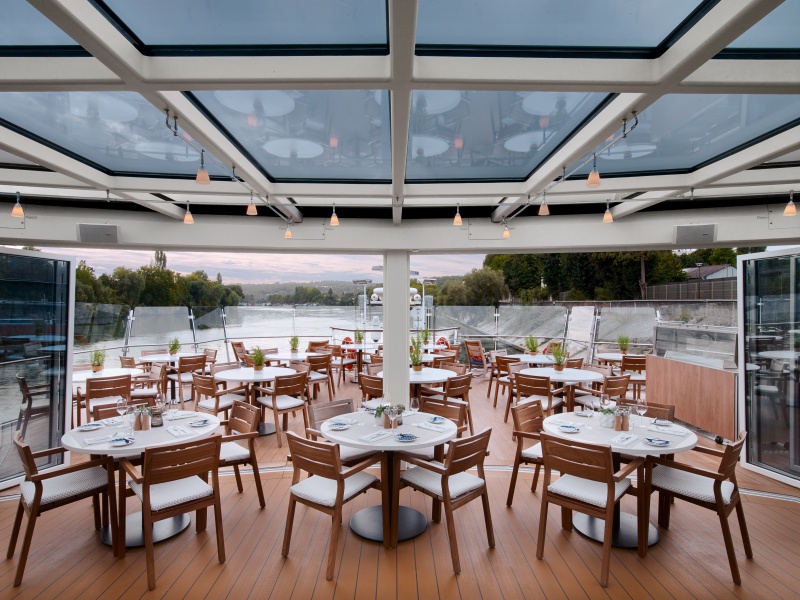 I'm just imagining having breakfast outside every morning. What a treat that will be. It's going to be a bit colder than I thought. I was remembering when I went to Italy almost 30 years ago that the temps there were similar to our weather here in Atlanta, but these European countries we will be traveling to are further north, so the temps haven't warmed up quite as much as South.
It's only going to be in the 50's and 60's during the day, with rain expected, so we will dress accordingly and be prepared with rain jackets and umbrellas for our day excursions.
The longship looks so delightful and I can't wait to be there and experience it all. This is the herb garden.
A lounge area on the Viking longship. It looks like a wonderful place to relax and enjoy the scenery that will be outdoors at every moment.
The Library
This looks amazing! Pinch me now!
I know that Mark and I are going to feel so pampered on this trip and enjoy it to the fullest. What a wonderful opportunity we have been given.
I have only been on large ocean cruise liners before, so this will be an entirely different experience I'm sure.
Our Veranda stateroom will be similar to this one. Look at that balcony right outside. I know where I'll be spending a lot of time sight seeing at all the gorgeous scenery going by sipping coffee every morning!
I simply cannot wait to experience the sights, sounds, smells, and food of the Viking River Cruise. I'll be taking so many pics and sharing them with all of you when I return. I know I'll have plenty to share and you know I'll be sharing it all! Be thinking about us next week!
We have a house sitter, so that's why I don't mind saying when we will be gone. We have someone staying here to take care of the house and Miss Hollie. It's a long flight over and back, but I know it will be worth every single moment to get there and experience this adventure of a lifetime!
I've got a couple of family posts that I'll share next week while I'm gone, but I'm on vacation and will not be taking my laptop. I'll have my phone and will take a zillion pics, but I'm officially taking the week off and won't be worrying about the blog until I get back. I'll schedule those family posts on New Orleans and Easter while I'm gone, since I wanted to share them anyway. I'll have plenty to share when I get back and then will be jumping right into that show house patio space I shared with you last week!
Don't Miss a Post, join my list!