Read along on this travelogue of our Viking River cruise, the Rhine Getaway which explores one of Europe's best loved rivers, we cruised on the Viking Kara longship from Basel, Switzerland to Amsterdam, The Netherlands on a scenic cruise of castles and cathedrals on the Middle Rhine of Europe, an area rich in history and beauty.
This post is sponsored by Viking Cruises. All opinions below are all my own and a true recap of our experience.
Hi, friends! I'm so excited to get to share with you our Viking River Cruise on the Rhine Getaway, a 7 night cruise on the Viking Kara. We saw so much beauty, walked countless cobblestone streets, viewed castles from afar and up close, as well as explored medieval cathedrals that we could only dream about seeing in person. What a rich and wonderful trip to take! I can't wait to share it all with you. I'm breaking this cruise down by day so you can get an idea of how a Viking River cruise flows. This was our first and I'm hoping it won't be our last! We thoroughly enjoyed this cruise and had an exceptional journey with them, truly a dream of a trip!
In this post, I'm going to share like none of you have ever been on a Viking Cruise, so that when I'm finished sharing, you'll have a grand overview of what it's like. From our Veranda stateroom accommodations as well as lots of food we partook of onboard the Kara, we were not disappointed at all. In fact, we were fed so well it was impossible to even get hungry!
Here's a peek at a Veranda Stateroom. It's not huge, but plenty big enough for a couple.
Once we finally got over jet lag, we slept pretty well in here.
The bathroom is very compact and the floors are heated. Makes for a comfy shower and even though it's small, it's stocked with everything we needed. Our gal who took care of our room really did a great job and she made up our bed every day and tidyed up the room and bathroom.
It's small, but works just great.
Mark and I enjoyed a few sunny afternoons on our balcony watching the world go by. What a way to travel!
I wanted to share a few shots of the common areas on the ship, they were nice to have as well. Seating and lounging areas.
Up on the sun deck there were plenty of chairs to sit and take in the scenery. We had a mix of weather but were able to get on the sun deck a couple of afternoons.
Herb garden for the kitchen is up top too. I love that!
There's even a library for checking out books to read.
The Aquavit Terrace is open for lunch every day if we didn't want the full lunch meal in the restaurant. We dined here at least one day and what a beautiful view on good weather days.
You can dine inside or outside and this spot was a cozy place to lounge too.
One of my favorite things was the coffee service. This machine made coffee any time of the day, from cappuccino to cafe latte's along with all the condiments to go with it. Great for grabbing a coffee to go. They kept those bins to the left stocked up with pastries in the morning to afternoon and evening cookies. So nice to grab one of those on the go!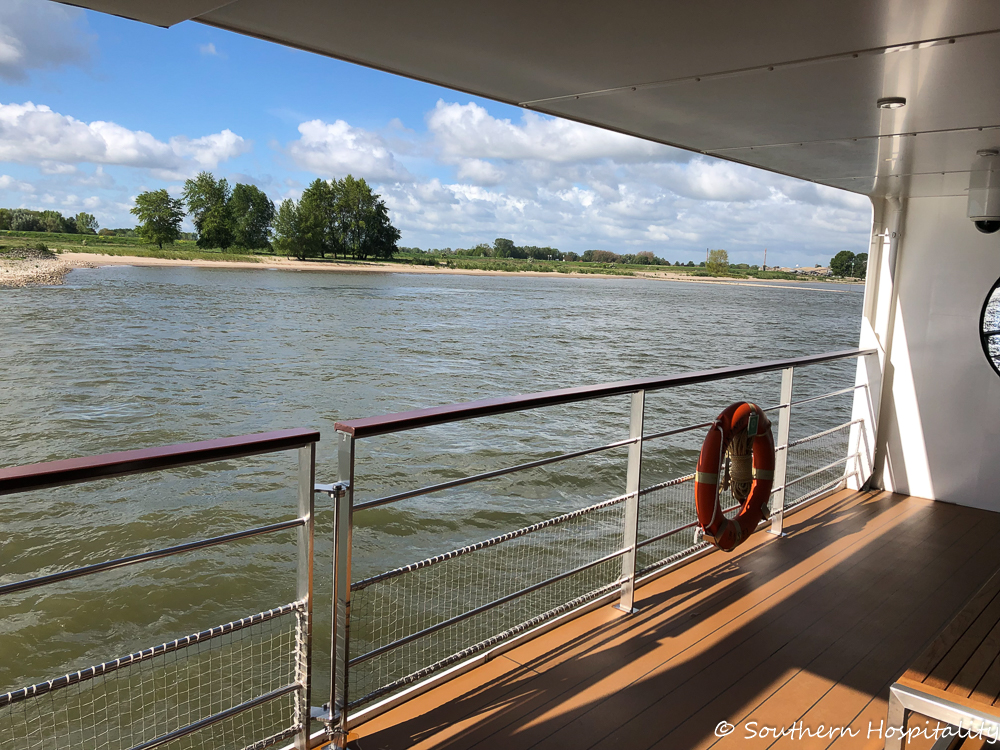 Wonderful views while we were cruising from the ship's balconies.
Are you ready to travel with us? 
Day One: Basel Switzerland
Mark and I flew out of Atlanta late Saturday afternoon, flying over 8 hours and landing in Paris, France. From there we had a pretty short layover and then flew into Basel, Switzerland, arriving there late morning on Sunday. From there, we were picked up by a Viking bus and taken to our cruise ship, the Kara. After everyone was on board in Basel, we sailed around 7:30 that evening.
In the meantime, we had time for a walking tour of Basel, which I did alone. Mark was really tired from jetlag so stayed behind on this one and I went on the bus and took the walking tour. It was very interesting and informative.
Basel, Switzerland is located where Switzerland, Germany and France meet, which means Basel reflects a blend of traditions from all 3 countries. It straddles the Rhine at the river's furthest navigable point. On the Market Square you'll see Gothic, Renaissance and baroque splendor, along with the red sandstone Rathaus or Town Hall. It's a modern city with more than 40 museums of art and culture.
We didn't have a lot of time in Basel, but I loved walking the cobblestone streets and taking in the architecture. That's one of my favorite things about Europe, the history and rich culture of the cities there are so much older than US history.
The cathedral in Basel was beautiful.
Seeing inside these majestic cathedrals in Europe never gets old.
Taking in the sights and sounds of Basel.
The red sandstone Rathouse or Town Hall in Basel.
Viking has a large fleet of buses available at each stop for transporting passengers on excursions each day. We really enjoyed driving to locations and then getting out and walking to take it all in. A note about the excursions. All the walking tours and bus tours came with a local tour guide and we had headsets and transmitters in our rooms so that at each outing, we could get connected to our tour guide, with ear pieces to listen by. We recharged them every evening in our room and brought them with us the next day.
After our walking tour, we headed back to the ship where a wine and cheese tasting was offered on board, with dinner at 7. We were welcomed to the ship at a Welcome Briefing before dinner, where we met the Captain as well as the Management staff giving us a snapshot of the week onboard the Kara and what we had to look forward to. The Lounge was open every evening before dinner for drinks and live music.
The musician onboard for the week was a guy named Blondie, who really had a great voice and made the most of his piano as well as additional digital accompaniment in music every evening. We really enjoyed the variety of music and even danced a couple of evenings. Who knew we could East Coast Swing dance to piano music? We did it!
That first night was so exciting as we embarked on a whole week of cruising on the Rhine. Our first evening in the Lounge, we down with the first couple we met on board, a very nice retired couple from outside Nashville, TN. We had a lot to talk about and they were delightful to visit with. We went on to sit at a dinner table later that evening with 6 others. That table ended up being such a wonderful and diverse group of folks and we mostly stayed together at that table all during the week for lunches and dinner. We enjoyed being together.
We made a point of all coming together the last night on the ship. It was such a pleasure meeting them all and hearing a little about their lives. At our table was the retired couple from outside Nashville, only in retirement the wife had bought her dad's farm property so they run a farm and live in a 125 year old farmhouse, complete with cows and other animals. We were all sitting across from our spouses this last night on the ship.That's our fave waiter, Kamil standing with one of the ladies from Canada.
Another couple was from NY, he was a lawyer, she a cardiologist. A couple of women were at our table, a delightful duo from Montreal, Canada, one was a widow, both retired and traveling together. And the last couple at our table were newly married in their late 50's, he was retired military, she was in the aerospace industry and they had been married a year, celebrating their first anniversary on the ship.
These were the guys who loaned Mark a shirt and brand new underwear after hearing of his plight of no luggage that first night. It was fun to laugh about it later!
We met Executive Chef Klaus that first night and he was available during the whole cruise, making sure we were all happy and satisfied. We certainly were! The food was outstanding and we ate full meals breakfast, lunch, and dinner, with plenty of snacks in between.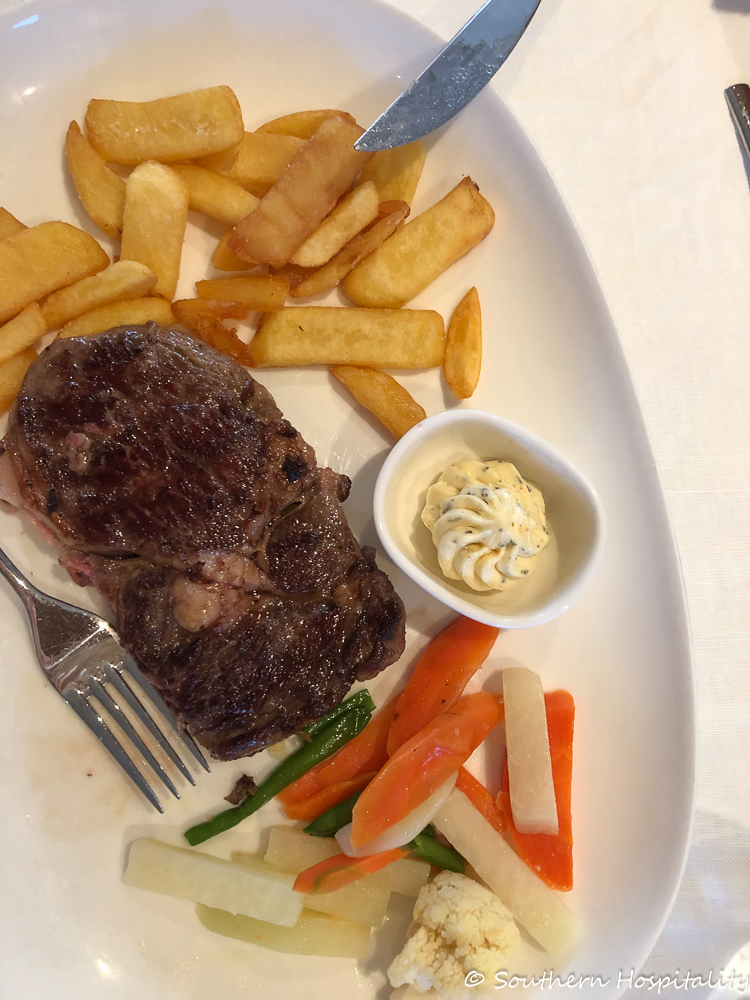 Here's a sampling of dinner, steak, potatoes and veggies. We could check our TV every afternoon to see what was on the dinner menu each evening.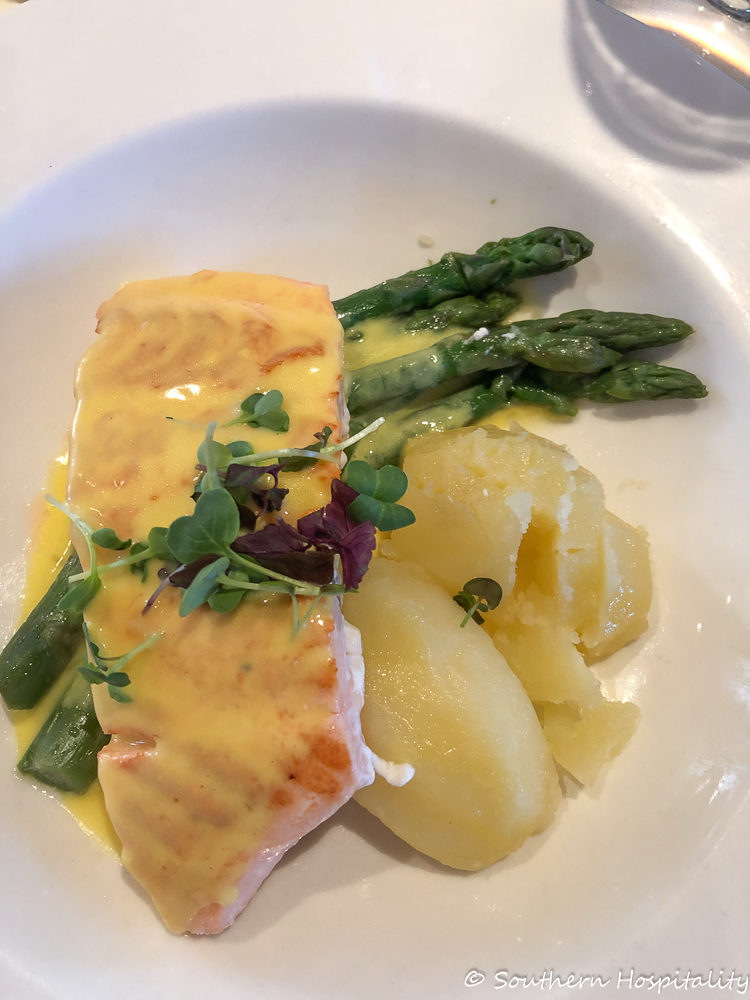 This was my first meal, a delicious fish dish. The food was great and plentiful. There was a menu every night and we could mix things up too ordering appetizers off the standard menu and main dish or dessert off the specials of the evening. It was a fun way to taste a lot of food.
Mark and I both loved the Creme Brulee and had it several times during the week. It was hard to pass up since it one of my all time fave desserts!
Darkness descends on our first evening on board. What a way to start the cruise! Many evenings the ship left just as we all sat down to dinner. It was a delightful way to have dinner with the sun going down and the ship moving along the river.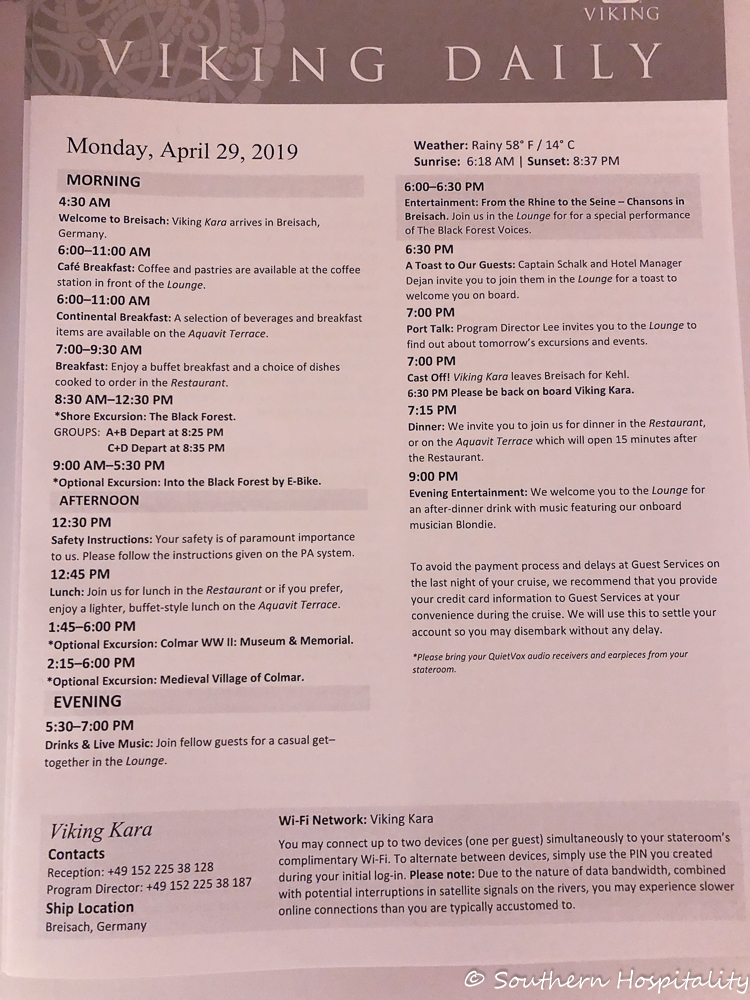 Every afternoon, a Viking Daily was left in our room with everything we needed to know about the next day, including weather, where we were heading, a little about the city, things to do and where to eat if we chose to eat off the ship. It was a great way to stay informed and know what was coming the following day.
Day 2: Breisach, Germany
Most of our excursions started around 8:30 each morning, so we didn't get to sleep in all the time, but a couple mornings were later which was nice. We were up and out of our room by 8 most mornings, had breakfast and were ready to leave the ship by 8:30. Most excursions lasted 2 to 4 hours and we were back in time for lunch each day. We chose not to eat off the ship, but ate every meal on the ship.
There were optional excursions each day (for an extra fee), many of them in the morning or afternoon so some folks could do an included morning tour and optional afternoon excursion if they chose, but some of them did overlap. We only did one optional excursion one afternoon. Each stop on the ship had an excursion included, which was usually a walking tour or a bus tour destination, so we did all of those and enjoyed them.
Our first full day on the river brought us to Breisach and the Black Forest excursion, which was 4 hours long.
We loaded in the Viking buses and headed up the mountains into the Black Forest, an area of Germany associated with fairytales like Hansel and Gretel and Little Red Riding Hood.
The Grimm brothers preserved the folklore of this region. You can almost see the Gingerbread houses in the mist-filled woods of the Black Forest.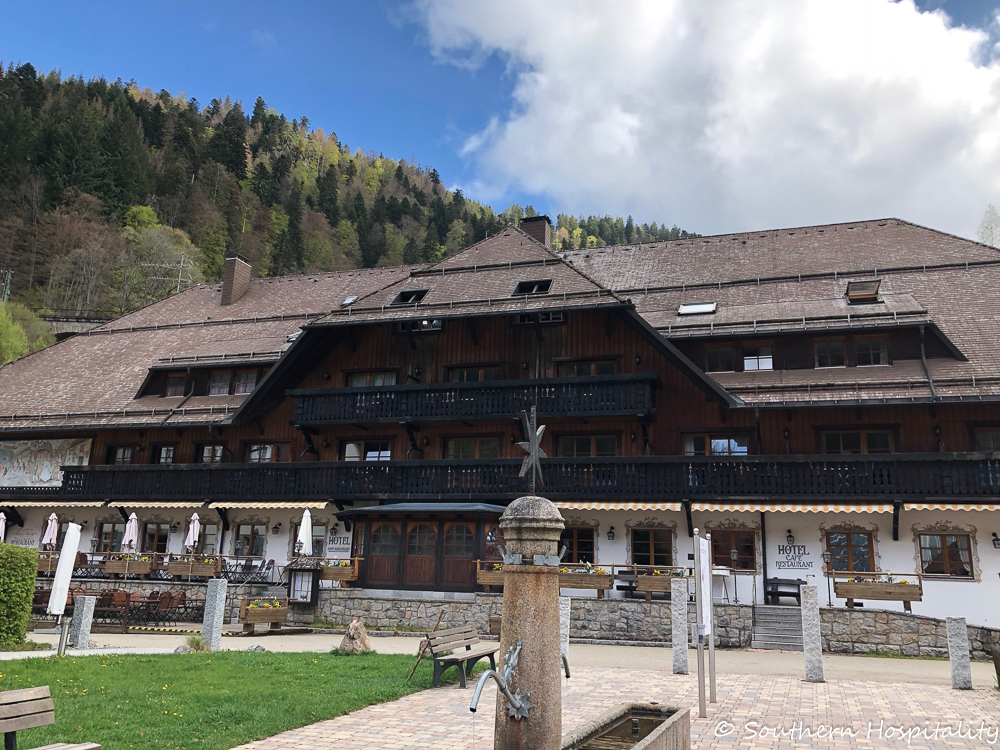 We arrived a little village known for glass blowing and cuckoo clock making and we had plenty of time to look around.
This building looked like a fairytale book cover.
The restaurant had a Black Forest cake demonstration, showing us how that delicacy is made from scratch. We had a piece of cake and coffee while there and it was very good. It was a picturesque ride into the mountains and interesting to see this region.
The town of Breisach is steeped in history too rising above sloping vineyards in the Upper Middle Rhine Valley.
We strolled through town after lunch that day and saw St. Stephen's Cathedral up on the hill overlooking town. We didn't make it inside this cathedral, but we saw plenty of others along the way. Construction on this cathedral was started in the 12th century, with expansions and renovations lasting into the 15th century. Can you imagine? We just don't have these kinds of historic buildings in the States that date back so far. It's fascinating to see!
We were half way looking for clothing shops for Mark since he was still worried about his luggage, but thankfully it arrived after we got back to the ship that afternoon and he was smiling from ear to ear after that!
My lunch after our Black Forest excursion. It was a treat each day to see what was for lunch and dinner.
Just before dinner that night, we were treated to a special performance of a local group, The Black Forest Voices, for a taste of local flavor.
Day 3: Strasbourg, France
Our third day, we arrived in Strasbourg, France in the morning and our excursions began at 8:30. This is the Alsatian region of France, known for their wine making and cuisine. There were optional excursions to partake in both of these, with wine tastings and dinners out, but we opted for the Strasbourg Highlights tour in the morning and came back to the ship for the afternoon.
We took a bus trip with our tour guide and she gave us highlights of the area along the way. She pointed out these stork nests on top of prominent trees driving to the main part of Strasbourg. That was totally fascinating! You can see one there on the top. They prune these trees to make sure they are flat on top so the storks can build their nests.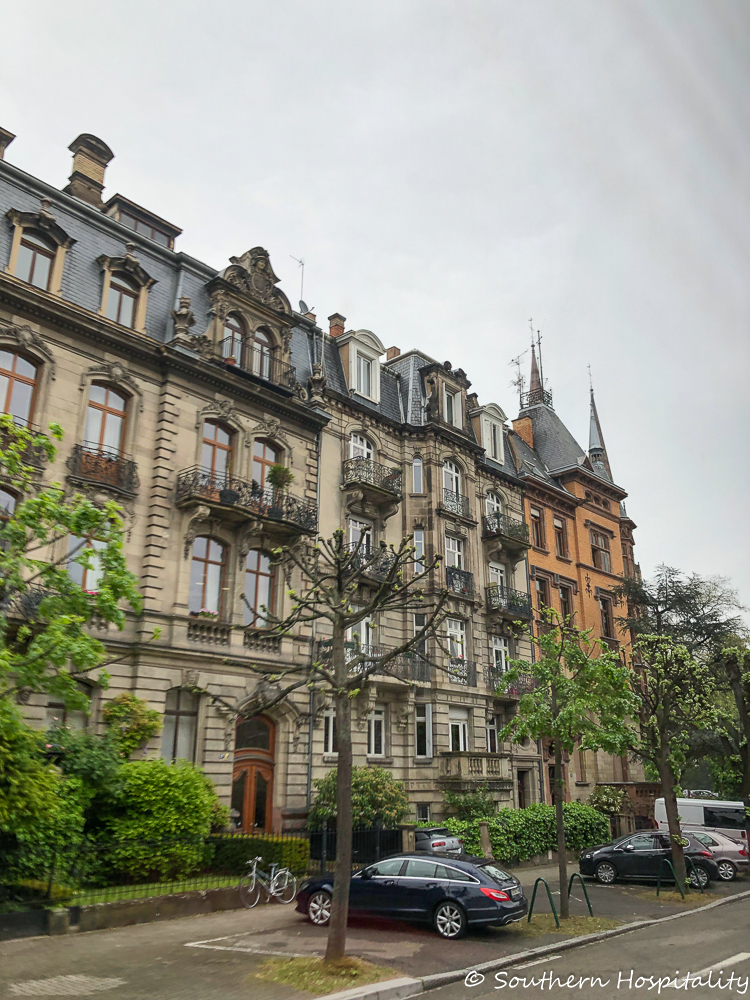 The buildings and scenery in Strasbourg were beautiful. We were dropped off in a location and we all walked and strolled with our tour guide as she led us through these charming streets to the cathedral.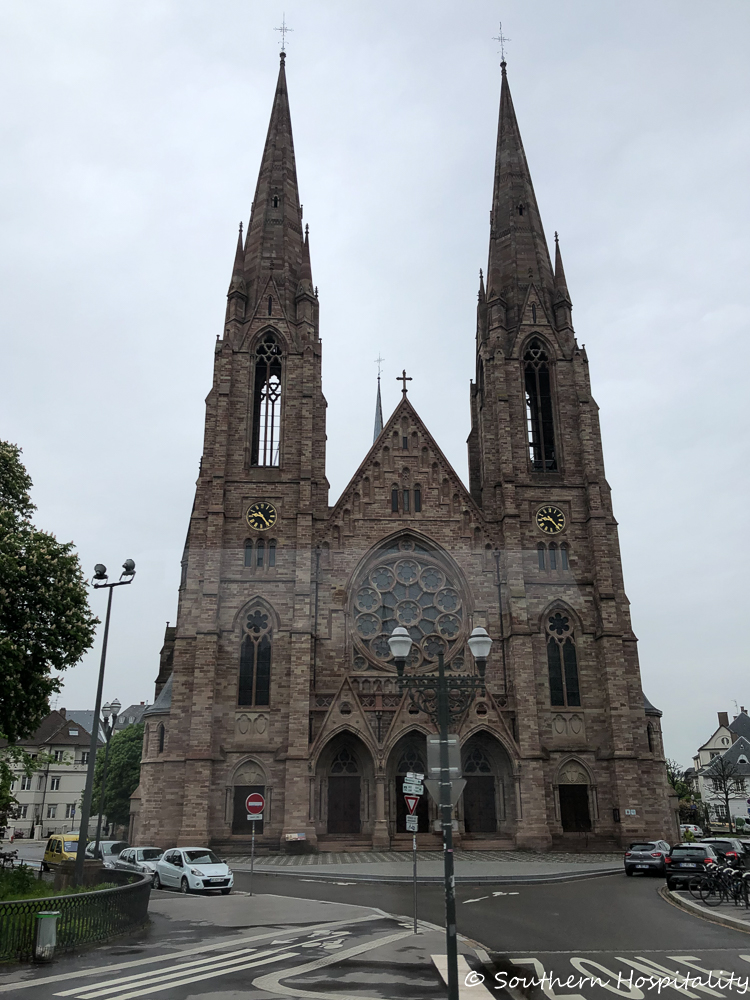 We saw this cathedral, the Eglise St. Paul from the bus, a nice example or Romanesque and Gothic architecture.
Our walking tour took us through beautiful scenery like this canal walkway with beautiful draping wisteria in bloom.
The half timbered buildings are not only historical, but very charming to look at.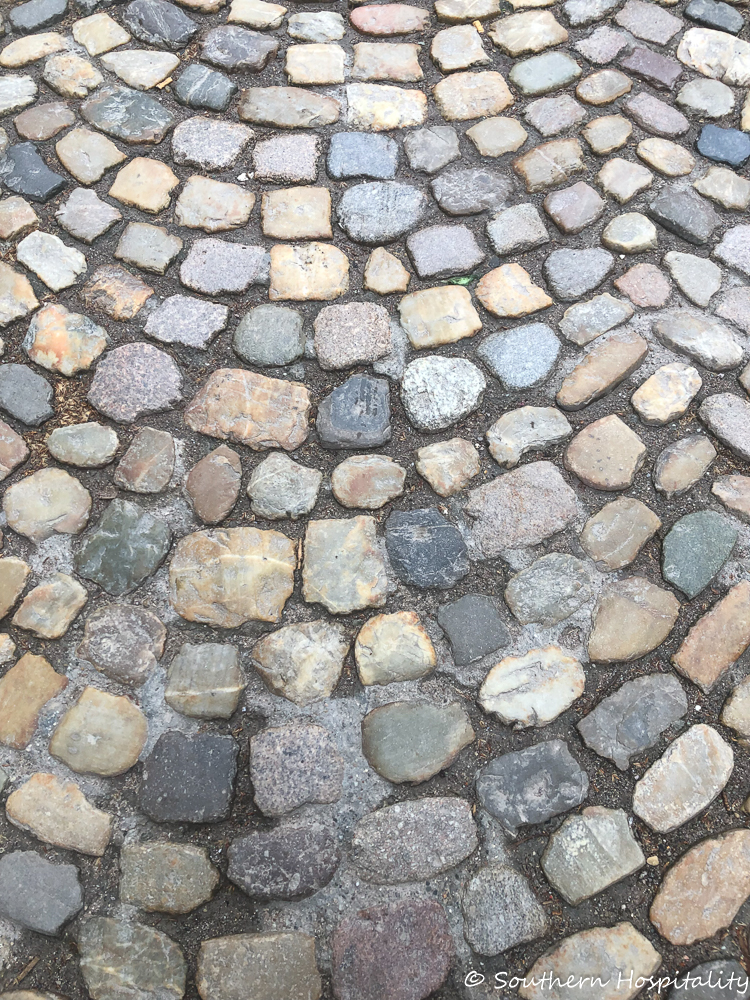 I couldn't get enough of the cobblestone streets.
There were plenty of local shops and restaurants along the way.
Strolling through the Old Town of Strasbourg was one of the highlights of the trip.
You can see how picturesque it was around every turn in the bend.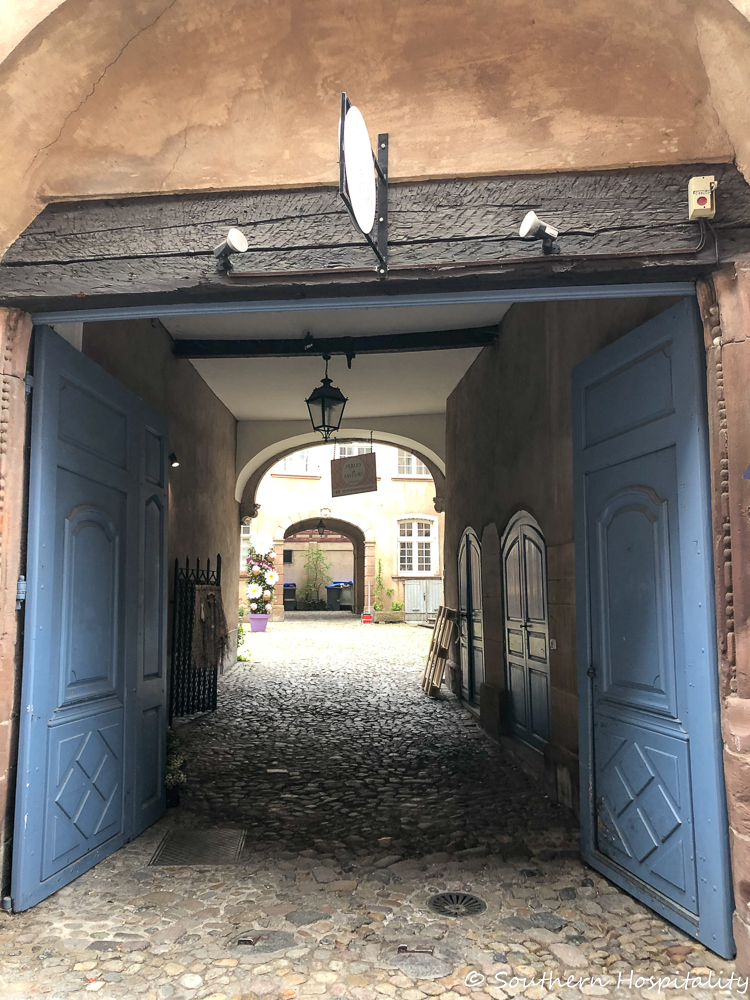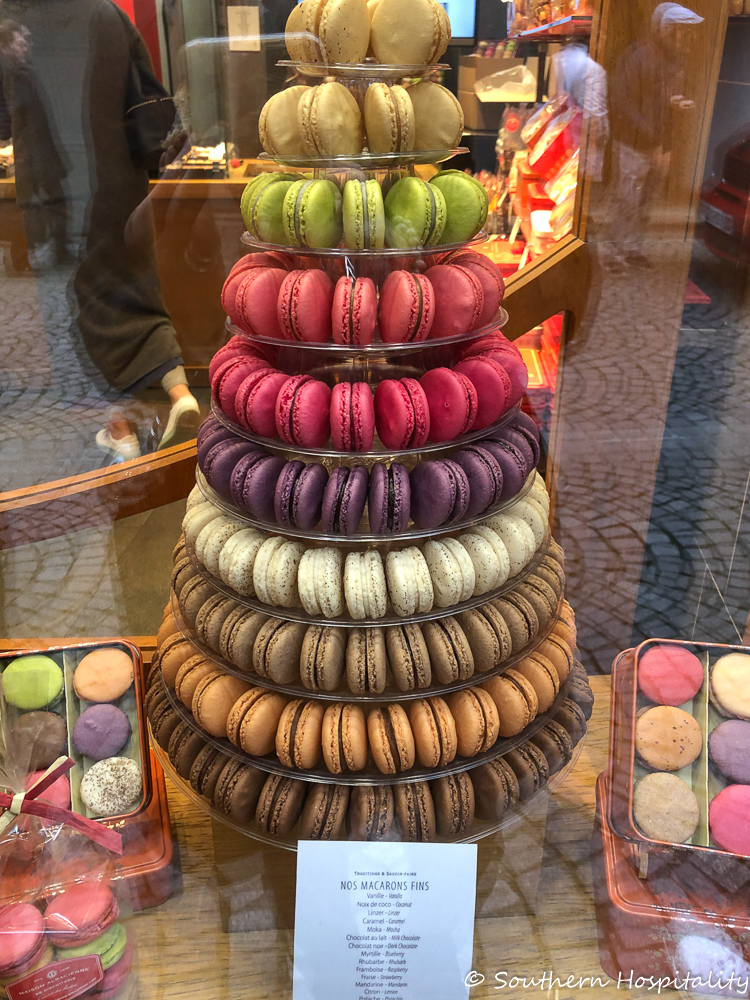 Local patisseries offer plenty of temptations along the way.
We finally arrived at the Strasbourg Cathedral for an inside tour of this magnificent beautifully restored Gothic cathedral. Soaring an impressive 426 feet, it's the highest medieval building in Europe. My photos do not do it justice, but I tried to capture the magnificent architecture as best as I could.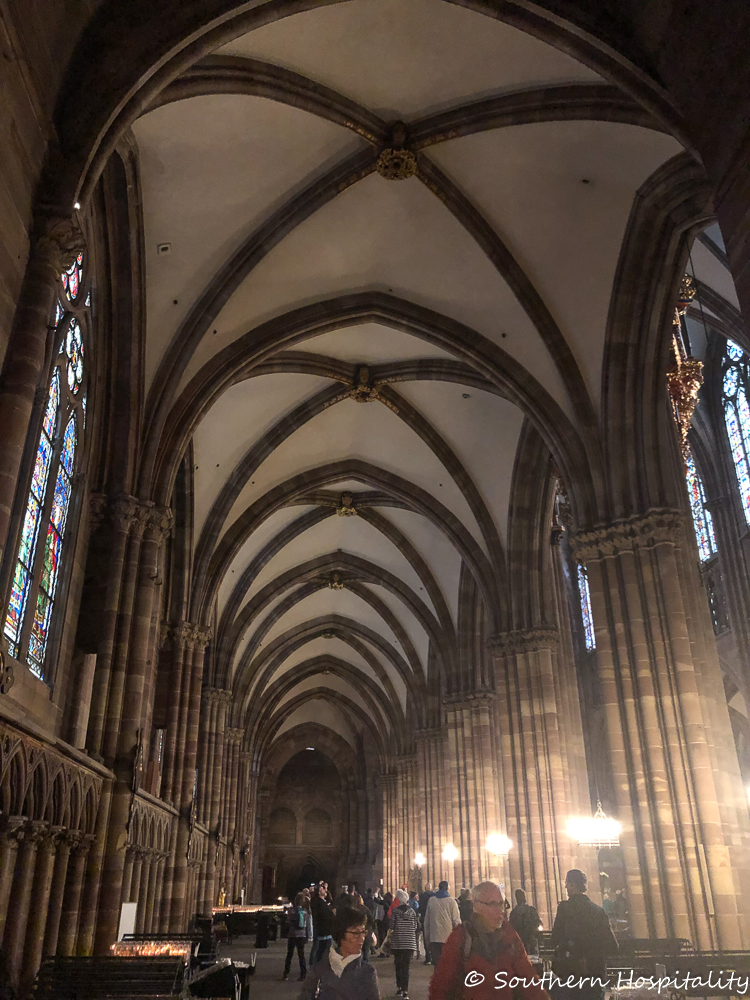 As you can see, it is very impressive on the inside too.
The stain glassed windows were magnificent with so much color and beauty.
The highlight of Strasbourg Cathedral is the astronomical clock, which dates from 1842 and depicts the beginning of life through man's death. We watched the skeleton man come out and parade by at a certain time (you can see his face above). There were a lot of people inside the cathedral when we were there, so it was nice to get back outside.
Mark and I took an obligatory selfie in front of the cathedral. You just have to do that!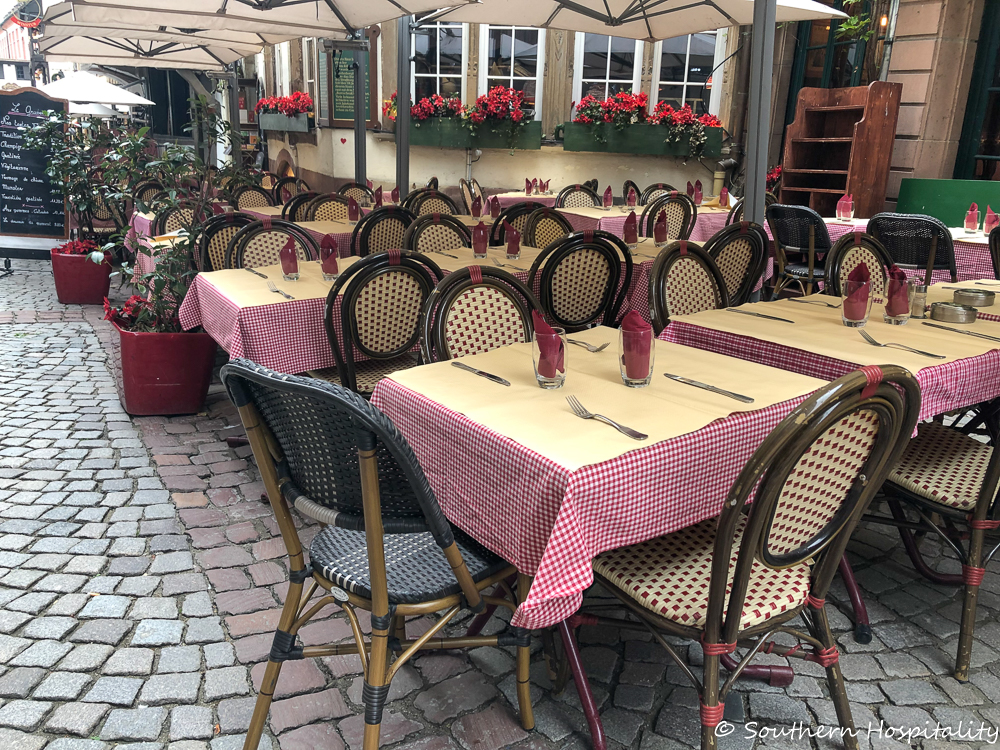 And we did a little more strolling through Strasbourg, taking in the quaint and charming streets.
There were plenty of shops to browse, such as this Villeroy and Boch shop of beautiful porcelain and dinnerware.
It was exactly like you would expect a city in France to look like.
With flower stands and charming shops.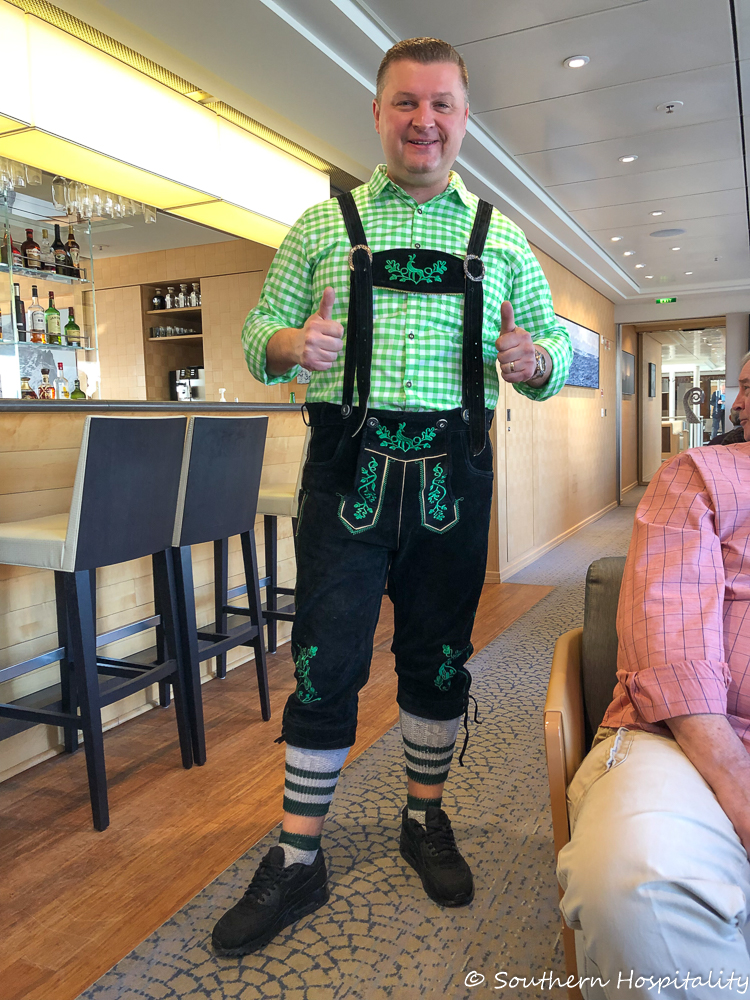 Back at the ship before dinner that night, we were treated to a regional dress up from some of the crew alerting us of what we could expect for dinner that night. This is the ship's hotel manager, Dejan.
And Lee, the Program Director, a British chap who was wonderful at his job. He made us all feel welcome and at ease with plenty of laughs along the way.
That night for dinner, the Chef and his staff had prepared a typical German dinner for us, including tabletop displays of cheese, fruit and pretzels.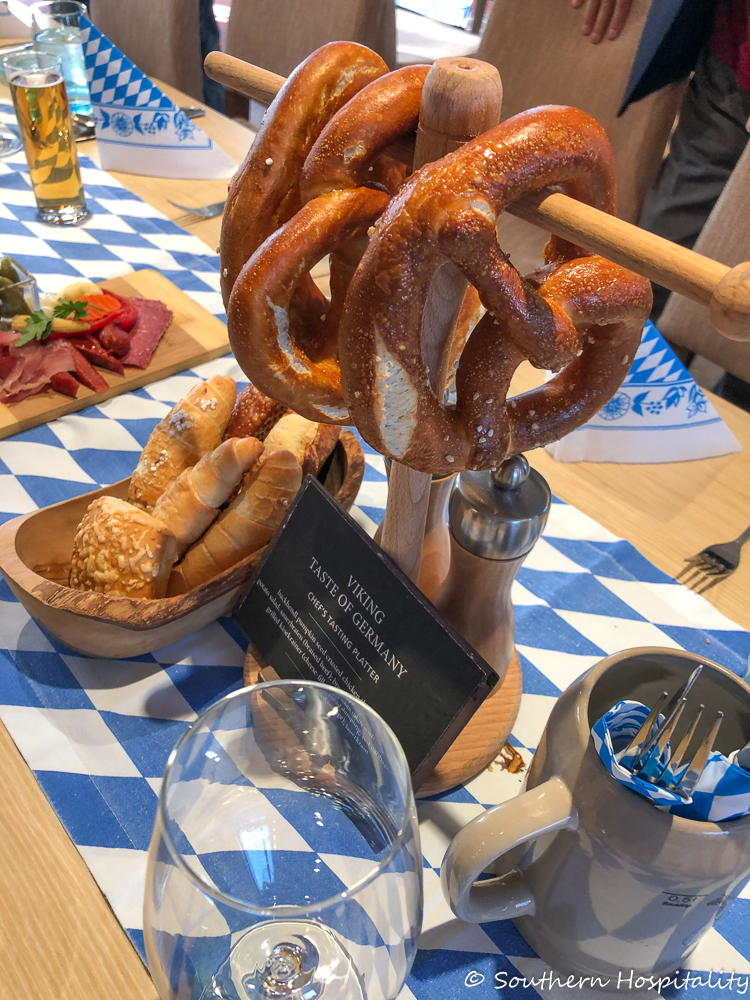 It was a beautiful display of regional specialties.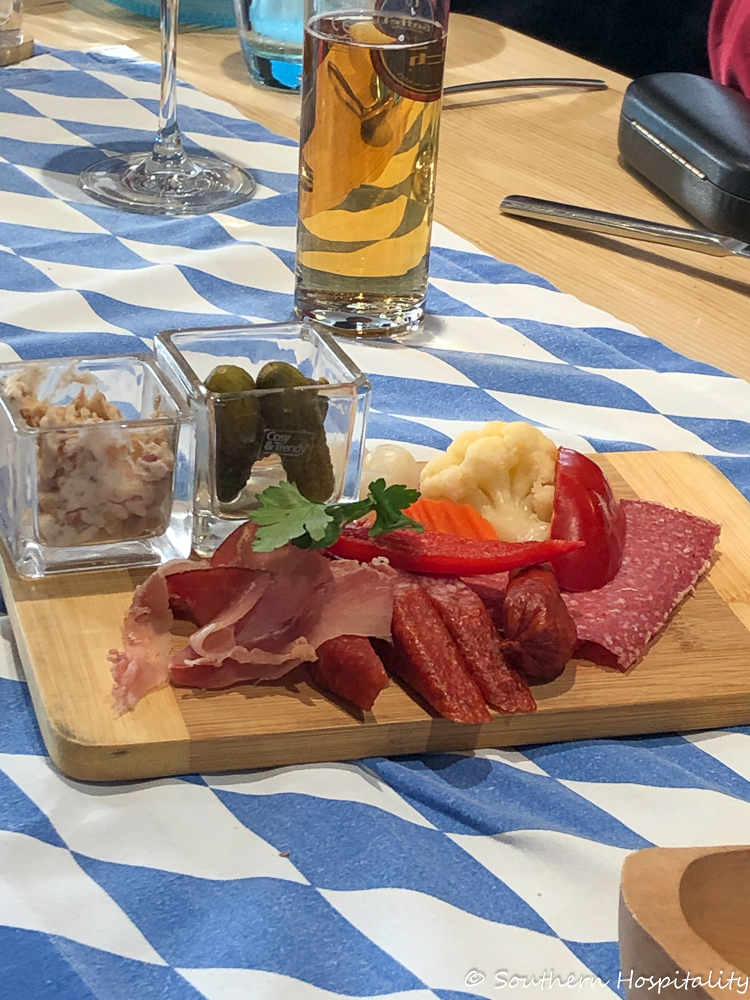 Local meats and cheeses.
Most of us opted for the German plate that night to sample a traditional German meal of pork and potatoes. That's white asparagus atop the plate, a regional delectable that this area is known for. The meal was good, but it was probably my least favorite of all the nights, just because German food isn't at the top of my list.
I can't remember what this dessert was called, but it was delicious as were all of them. Of course, we didn't pass up dessert and had it for lunch and dinner. That's what cruises are all about, right? Eat the food. Enjoy the desserts. Walk it off!
One more thing to note about beverage service. House wines, beers and soft drinks are included with lunch and dinner. There is tea service and a coffee bar accessible all the time as well. There is a Silver Spirits package with unlimited beverages including a selection of premium local wines, beers, cocktails, specialty coffee drinks, soft drinks and juices throughout the day; plus an open bar (during operating hours). You may purchase the package prior to sailing or once on board.
We were given the Silver Spirits package as an upgrade for our cruise so that was a nice bonus as well. I'm not sure you'd really need the upgrade unless you have certain expectations for premium drinks. The regular service for lunch and dinner would be very sufficient as it was, but you're on vacation so keep that in mind as well.
You can find a list of FAQ's online at Viking, so this might be helpful if you are looking to book a cruise of your own.
A beautiful sunset awaited us after dinner. I tried to capture as much of the beauty and splendor of the region as possible.
I'll be back in the next post covering at least two more days of our Viking River cruise on the Rhine Getaway. i hope you enjoyed this first part, stay tuned for more. Next stops, Mannheim, Rudesheim and Heidelberg.
Don't miss Part 2 and Part 3 of our Viking River Cruise! 
Here's a cute video Mark put together so please enjoy the scenery! It really captures the essence of a Viking Cruise!

Don't Miss a Post, join my list!