We had a fun 2 days in Asheville, NC recently, so today I'm sharing where we stayed and what else we did in our two full days there. I looked up B&B's online and booked a cute one, Oakland Cottage that was very near the Biltmore. It turned out to be the perfect place to stay and we enjoyed it a lot. It's pet friendly and we took Daisy with us.
Cute Oakland Cottage in Asheville.
It's a quaint and cozy B&B with the most fantastic breakfast. Our hosts were Erica and Jim and they were just lovely folks. We stayed in the Blue Ridge room if you want to take a peek at the accommodations.
I sat on the front porch one day and it was so nice.
Inside the living room common area.
Breakfast is served here. It was such a delicious breakfast both mornings!
Erica changed the board every day to share what the breakfast of the day would be as well as a weather report.
Breakfast started with coffee and orange juice as well as this yummy fruit bowl with yogurt and granola.
Our first breakfast really blew us away. Clafoutis (French baked custard) with blueberries, chunky potatoes and bacon. Perfect breakfast. I'll tell you more about that custard dish below.
I had never heard of Clafoutis before, but it's one of the yummiest things I've ever put in my mouth! I asked Erica for the recipe and they have it on their website so she printed out a copy for me. I promptly made it after we returned home and it was a success. You bake it in a cast iron skillet (that's the one I baked above).
Click here for the Clafoutis recipe from Oakland Cottage. It's so easy, if I can make it you can make it! Have you heard of this before? It's like a mix of creme brulee and egg custard pie. Delish!
I had fresh blueberries and made fresh whipped cream and we loved it! I'll be making it again real soon. It's perfect for breakfast or dessert.
Our second morning, we had a yummy omelet with sausage and lemon cake.
We had almost two full days so went out to dinner two nights. The first night we went to one of my faves, Tupelo Honey. I liked my meal better than Mark did, but it's always one of my fave places to go. There's one here in ATL now, I think in Sandy Springs but going there seems like so far away, we tend to stay closer to home when we eat out.
Their biscuits and blueberry jam are so good! These are huge, cathead biscuits if ever there were cathead biscuits.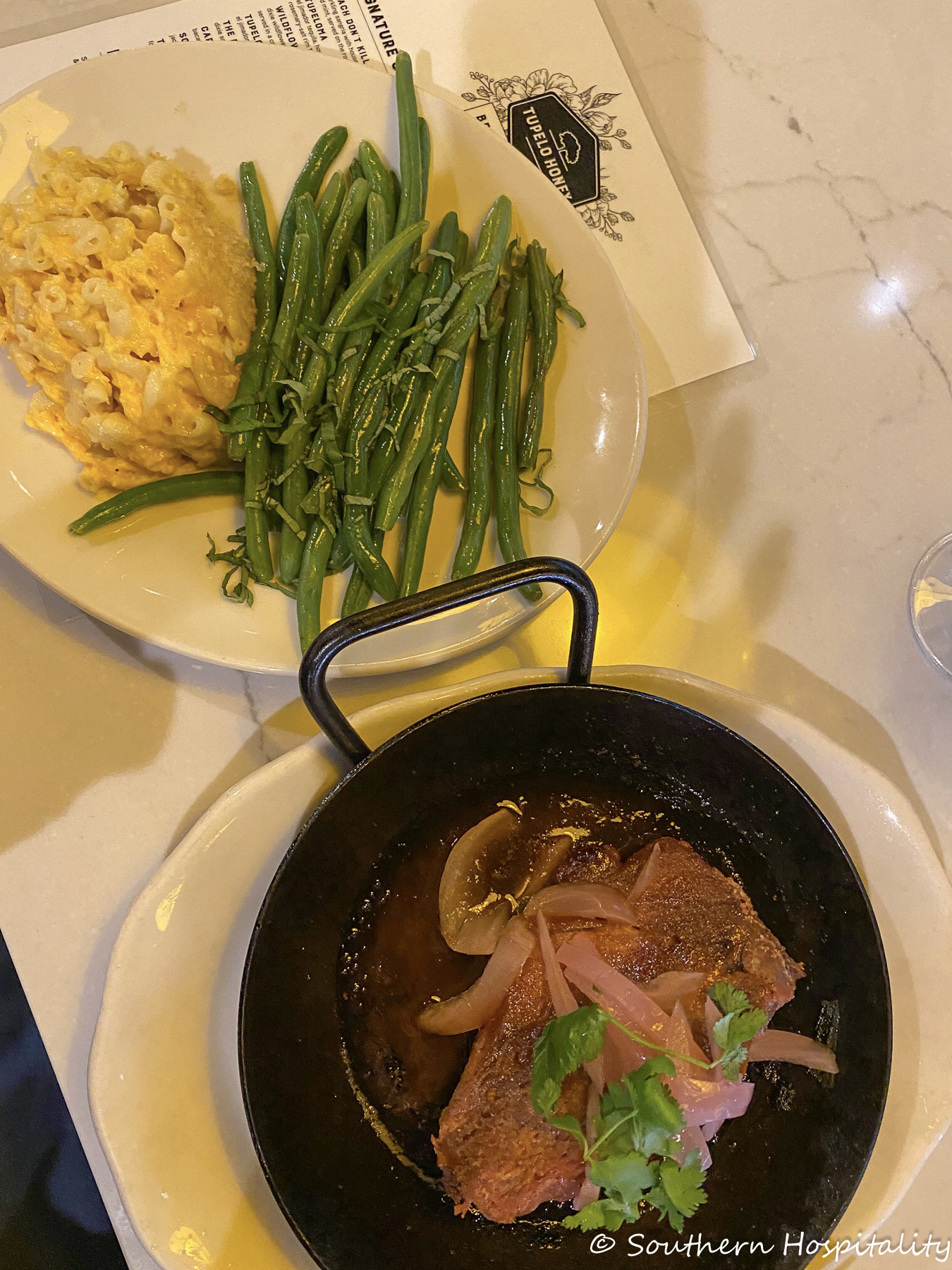 I got a pork dish that was delicious, as well as the mac n Cheese and green beans. The green beans were garlic flavored but could have used a bit more flavor. That pork was out of this world though!
The next night we went to Vinnie's, a wonderful Italian place and we were NOT disappointed in this one. These risotto balls were killer. That's a smoked tomato cream sauce and it was so good.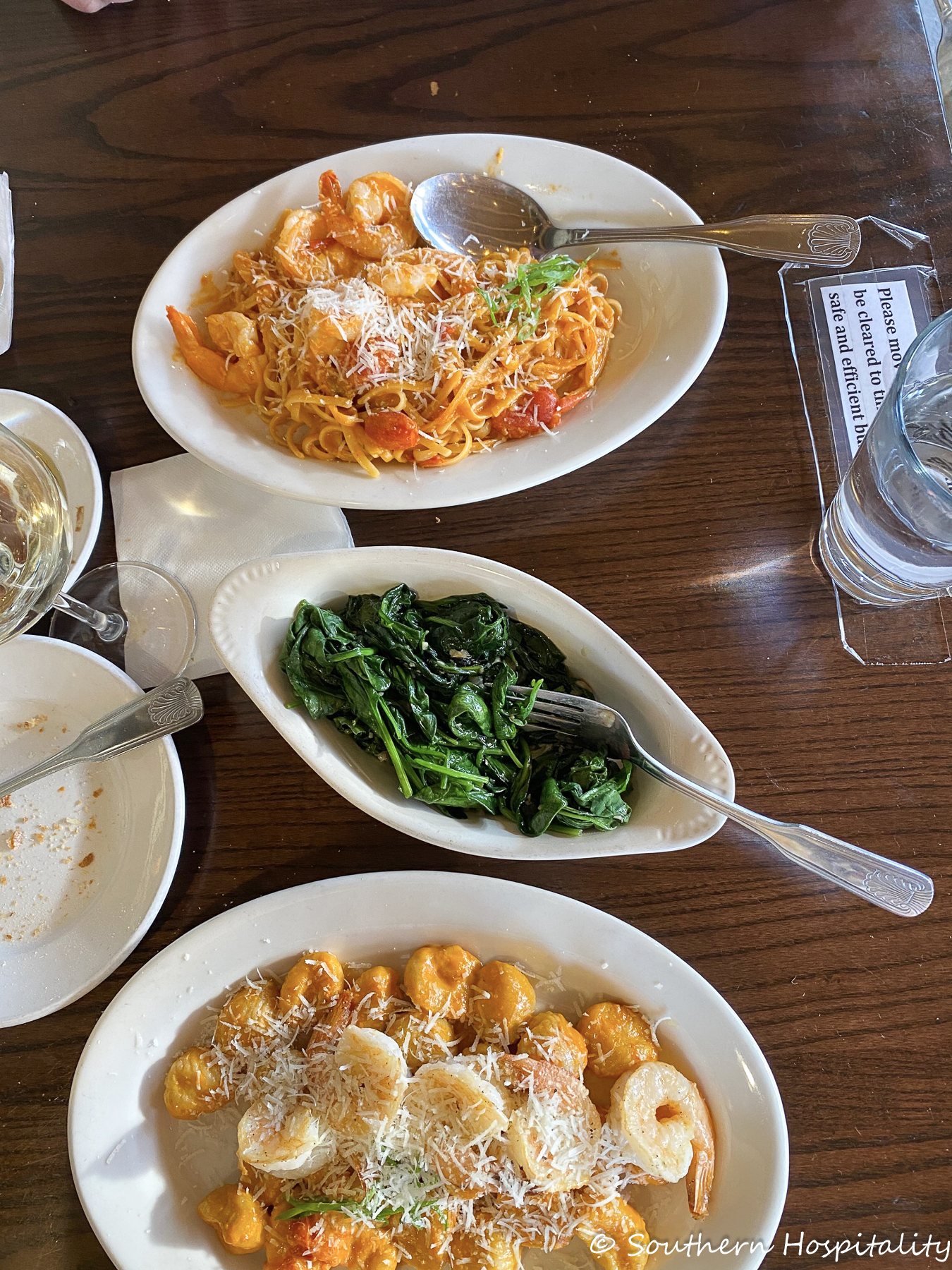 We both got shrimp on our pasta dishes, mine was homemade gnocchi with the same smoked creme sauce and I got a side of garlic spinach. It was SO good. We went back to the B&B and Erica had homemade cookies for us both days, which was a fun treat.
Back to the B&B, we stayed in the Blue Ridge room which had it's own private deck. It was the perfect set up for taking Daisy along. There was a little room off the bedroom where we put her crate and she stayed there for the night. We could bring her right outside for potty time. Erica and Jim also had a Daisy and she was so cute on the other balcony, whining at our Daisy when she came outside.
In the backyard they have chickens for fresh eggs and Daisy had a big time with those chickens. Every time I took her out she wanted to head to the chicken pen to see them. They were bigger than she was, it was so cute.
This boxer statue was in the backyard and Daisy thought he was real the whole time.
We had a great time at Biltmore, visiting the home and gardens and we left Daisy in her crate and then went back and got her after we were done. We figured it would be too much for her in the heat of the garden.
We did take her antiquing though, they allow dogs in here at the Screen Door, one of my fave places to visit in Asheville. I went here years ago with some girlfriends and have hit this place every time I'm back there.
It's definitely a fun place to browse.
I loved this armillary but it was $400 and a bit too steep for me.
Me and Daisy!
Mark found this sign so I had to take a pic!
We then went to the Tobacco Barn, another fun place to browse. SO much stuff in there!
Loved this pretty sideboard.
How about those owl lamps.
Lots of vintage bamboo, but too pricey for me.
Another beautiful vintage sideboard.
And that's it for our tour. We had 2 short days, but made the most of it and had fun with Daisy too. Her first road trip, but definitely not her last.
We spotted this pretty pink B&B on our drive and I just loved it! Hope you enjoyed this vist to Asheville, NC with us!
Don't Miss a Post, join my list!