Happy Independence Day to all of you! I hope you're enjoying your weekend, celebrating our freedom in America. We are going to see fireworks at our local lake here in Acworth and looking forward to the festivities.
We recently went on a hosted trip to Coastal Mississippi, which I'll be sharing in the coming weeks. We had a great time touring coastal cities in MS, which is a state I've never explored before. It was fun and informative and since we were heading to the coast anyway, decided to stop in Laurel, MS as our first stop on a week long trip.
We've been watching Home Town, the HGTV show starring Ben and Erin Napier since the beginning and have loved all the episodes. They are tackling the revitalization of their hometown by renovating so many homes and businesses around this small town and it definitely shows. They actually started renovations way before the show started, but the show put them on the map. If you haven't watched Home Town, it's one of the best renovation shows out there. My favorite at the moment for sure. I love that Erin has adopted Grandmillenial style and proudly uses vintage finds mixed with modern and traditional style.
It was my pleasure to meet Ben and Erin back in 2019 at the AdThrive conference I went to in Austin, TX. They were speaking at the conference and I got a pic with them. They were such down to earth folk.
We so enjoyed our one day visit and even though it was short (less than 24 hours), we packed in as much as we could see before we headed on to the coast. Come along and I'll show you what we saw and did.
We stayed at a cute Air BNB right in the historic district and I'll share that below. It was the perfect spot for us and within walking distance of downtown. Of course, the first thing we did was walk around and take pictures at all the iconic murals around town. These really add to the charm of Laurel! We took Daisy with us everywhere we went and she did great.
Don't you love the murals? It was a hot and sticky day in MS but we made it.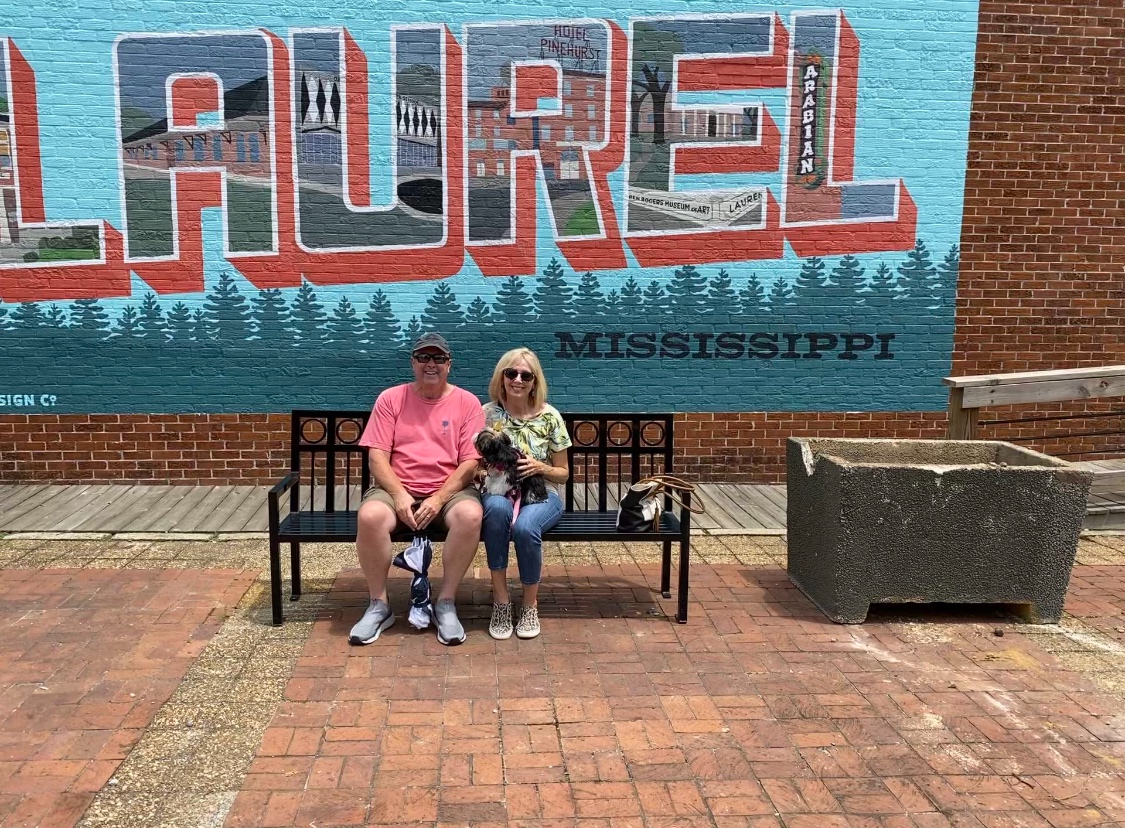 Mark, me and Daisy.
We of course had to visit Ben and Erin's stores, Scotsman and the Mercantile are both their stores. Ben's workshop is right in town by the railroad tracks and his pretty vintage blue truck is displayed out front.
I didn't realize he had a retail shop attached to the woodshop until we visited. There's a big picture window separating the two spaces and you can watch what is going on in there. We didn't spot Ben that day!
I'm sure there are plenty of people like us who are just curious about Laurel and stop in for a look while on a road trip. I'm glad we got to visit!
The town is charming and you can tell that people are proud of their little town.
Inside the Mercantile is a big poster of Ben and Erin. It was fun to see the town after watching the show for 5 seasons.
The Mercantile had lots of hand made items and was fun to browse.
We stopped in a little park that had astroturf grass for a little break from the heat.
It was a nice respite from the sun.
I snapped a few pics of downtown and looked for shops that I recognized from the show.
Shug's caught my eye and I remembered see it on the show.
A candy shop with cookie dough.
Such a charming little sweet shop.
One thing that took us by surprise was the construction going on downtown. Apparently the brick streets were installed in the 70's and were never meant to be driven on, so they are taking all of those out and paving. I think there were water issues too I heard. Anyway, there were construction barriers everywhere downtown and piles of rubble. The historic streets have the old brick, but these were not old. I asked someone what was going on and that was the answer I got from a few people.
More art in some of the old buildings make a colorful statement.
Here's a peek at the little cottage we stayed in. I found this Air BNB online and it was perfect for us. There's a queen bed and lounge area with TV in the room with a kitchen and small bath. It was just right for us. It's called the Blue Rabbit Hole in Laurel, MS and Sally is the hostess. If you stay here, tell her I sent you! None of this is sponsored, just sharing our little trip.
A few of the places that were mentioned on the show were closed on Monday or not open for dinner, so we found this place close by our cottage, Blue Crab Grill.
We both got fried shrimp and it was very tasty. Got us in the mood for more coastal seafood on our next destination.
We were right in the historic district so took the opportunity to walk the streets and that was the best part of our trip, I think. Several people told me where Ben and Erin live and it was so easy to find. I won't share their house publicly but it's a well known secret in town, I'm sure. There's a sign up in the yard saying no photographs and their house was just around the corner from where we were staying. They just had a new baby girl so I'm sure they are enjoying the time with her as a family. We had some rain but we managed to get plenty of pics between rain drops.
This cute cottage above is one of the ones they renovated for someone and it was literally just around the corner from where we stayed.
We so enjoyed walking around and I loved taking pics of these beautiful historic homes. I hope you enjoy seeing them too and you may recognize some of these from the show. I don't have a great memory on which houses they did, but a few of them I know.
Many of these look like they could have been on the show, so  let me know if you recognize any.
It's a charming town and I can understand why everyone would want to live in this historic district.
Several people told me they stayed at the Wisteria Bed and Breakfast and it was just a block away from where we stayed.
You couldn't miss it and its purple glory!
Looks like a very charming place to stay.
There were so many photo opps along these streets. I guess the residents are getting used to their houses being gawked at all the time now.
The huge oak trees created a beautiful canopy of trees up and down the streets.
This house was so interesting with the huge oak tree limb hovering over the sidewalk right in front of the front porch. I tried to take pics from all angles.
Here's the street view.
Someone said when I posted this house on video that it was one of the houses they did.
This looks like it could be one of theirs too.
We watched this episode (above) the night we were there and then the next morning saw the house in person.
Several told me this is Mallorie's house, Erin's best friend who is married to her first cousin. They own the Mercantile with Erin and Ben and here's a little about Mallorie from the HGTV page.
This one looks familiar too.
So that's our quick tour of Laurel, MS. Hope you enjoyed coming along with us. It's definitely worth a stop if you are heading that direction and I'm glad we got to visit. I'll be sharing a lot with you soon of our coastal MS trip and all we saw and did there too. It was a fun trip, we were gone almost a week and it took me almost a week to rest up. Traveling is great, and while it does wear me out, we are determined to see all we can see before we get too old to enjoy going places.
We also ended our trip in Covington, LA where my sister and brother-in-law have just moved. We stayed with them a couple of nights and saw their lake lot that they hope to start building on soon. The dock and boat house plans are coming along and they will be able to enjoy the lake this year even though they aren't there yet. Hopefully in about a year, they will be in their new house and I'm excited to see that happen. I'll be sharing all of that with you too!
Don't Miss a Post, join my list!