SummerTime is here and the living is easy!
That's what we all try to enjoy about summer and now that school is out for most and June is right around the corner, we'll all be getting ready for more outdoor parties and entertaining.  I do enjoy this time of year so much especially now that I have finished the patio installation along with all the furniture that we'll be enjoying and using out there.
With that, I know that I'll be having some parties on the patio. It's nice and spacious and can seat a lot of guests, so it will be fun to use.  That's where Frontgate comes in.  We've been chatting and they sent me a gorgeous beverage dispenser which will come in handy on my potting bench on the patio, holding 3 gallons of beverages for guests.  What fun that will be!
I knew this potting bench would come in handy and be a great serving station out on the patio.  It's perfect for that.
The Durachill beverage dispenser from Frontgate is so cool!  You know how beverages can become watered down when you have to put ice in there and leave it outside?  Instant meltdown.  These dispensers from Frontgate are stainless steel with compartments in the bottom and top that holds ice, keeping your beverages ice cold without diluting down the drinks.  Love that feature!
They also have some great Super Chill insulated serving pieces for outdoors that keep things super chilled too.  These serving trays pop open and ice can go underneath the metal, keeping whatever is on the tray super cold.
Yes, indeed, SummerTime is for easy living, that is for sure!  And watermelon is part of that for me. I love watermelon and all the summer fruits that go with this time of year.  To make my chalkboard sign, I copied this chalkboard printable with my own version with regular chalk, link here.  Just adds a fun touch to your table.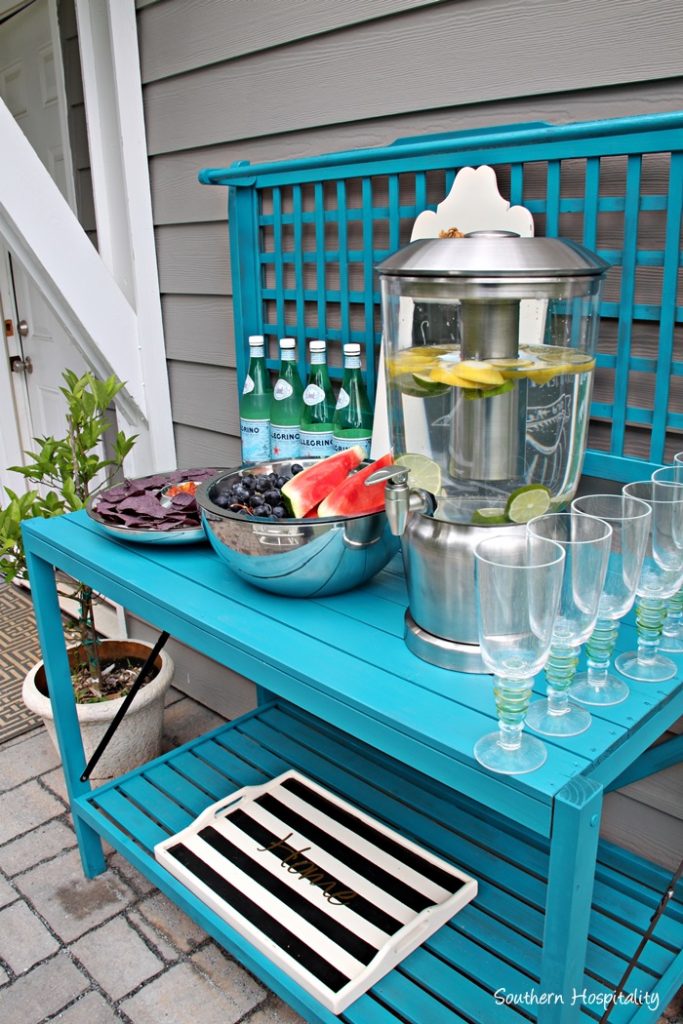 So looking forward to hosting a few gatherings in my backyard this year and getting out these serving pieces will be fun.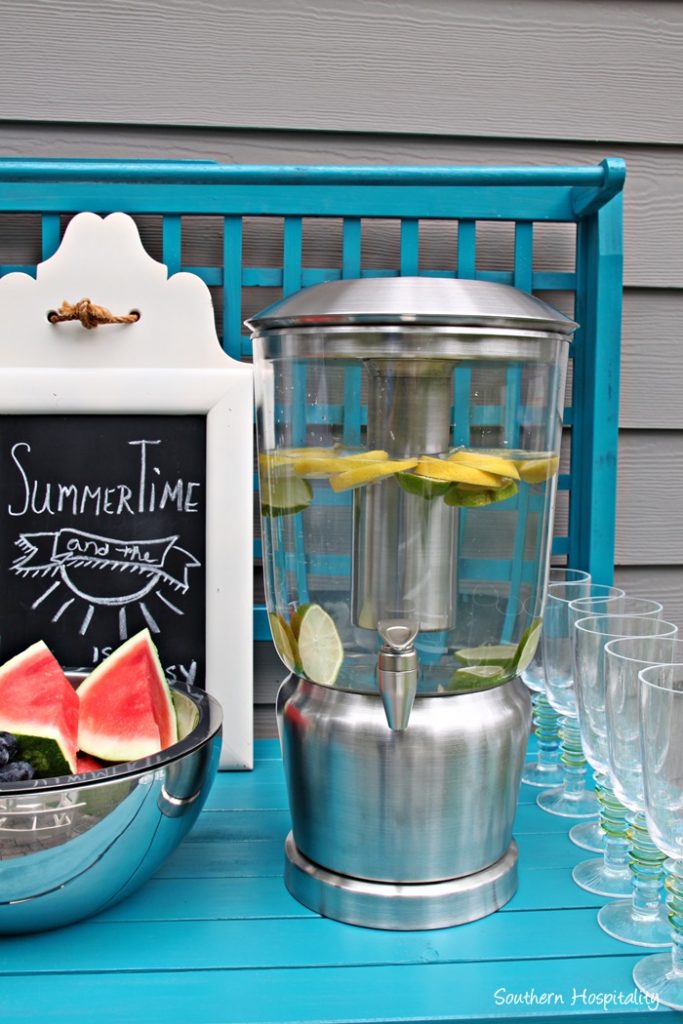 Great news for one of YOU!!  
Frontgate is giving one of my readers their very own Durachill Beverage dispenser too.  This 3 gallon dispenser holds a lot of liquid, so you can entertain a crowd in style.
Bring on the parties!
Here's  a look at how the ice goes in the top tube which is inserted down into the dispenser.  More ice can be added to the bottom area too for super chilled beverages.
All you have to do is leave a comment telling me where you will use the Durachill beverage dispenser of you are the lucky winner?  Do you have a favorite outdoor spot that you like to entertain?
If you've never checked them out, go over to Frontgate and have a look at their beautiful outdoor entertaining items, they have some great stuff.  There's a Frontgate outlet store here in Atlanta and I love to go in there and look.
PLEASE NOTE:  Sign into the Rafflecopter widget and leave a comment here on my blog. Check the box saying you left a comment here and I'll be choosing the winner from the Rafflecopter widget.
Thanks so much and Happy Summer to all of you!  Here's to Summer entertaining! 
Note:  This is a sponsored post by Frontgate.  I was compensated in products.
Don't Miss a Post, join my list!