It's that time of year where we are all spending so much more time outdoors. I love it, even though it gets hot, it's so nice to be outside. We have really enjoyed our porch deck and I love setting a pretty table out there for special occasions. You all know I have such a love of outdoor living during the summer months and creating a beautiful outdoor space is at the top of the list when it comes to entertaining and enjoying our outdoor rooms.
Today, I'm partnering with At Home stores to show you how I freshened up our deck with some of their summer pieces. I found some cute things to share! Have you been to an At Home store? They literally have SO many home decor products all under one roof and you can spend hours in there browsing all the different departments. One of my favorite is Outdoor Living  with everything from furniture to outdoor accessories and they have so many outdoor cushions to choose from. You can outfit all your outdoor furniture with new things from the store with so many patterns as well.
I have so enjoyed working with them last year and this year and many of my cushions and pillows on the deck came from At Home.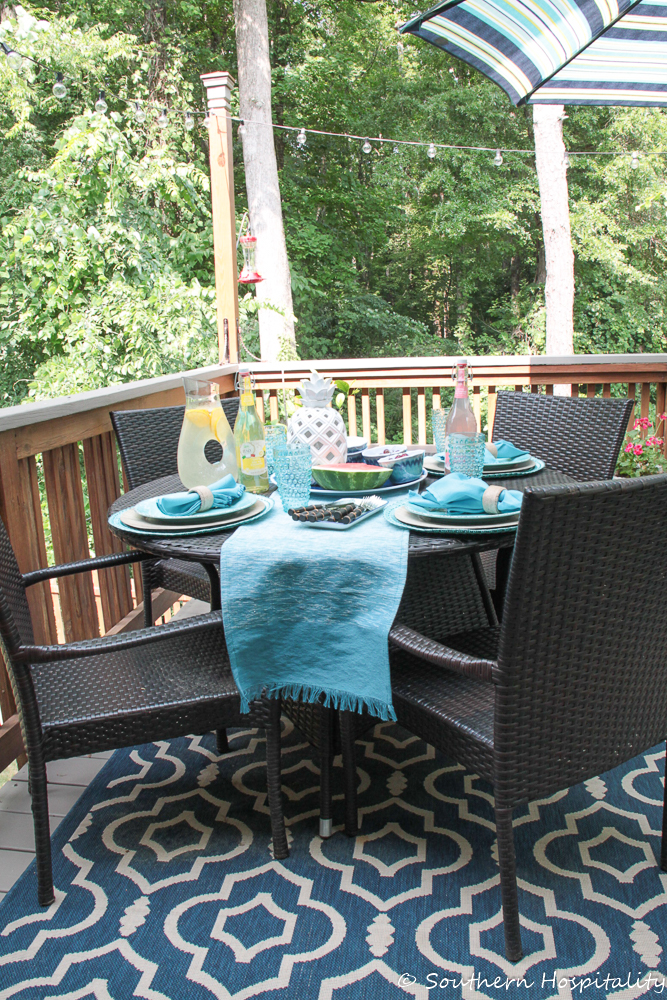 We have this nice faux wicker dining set and it's nice to be able to eat out there when the weather is nice and the sun is going down in the later afternoon.
You all have noticed that I love color inside and outside my house, so even though the trend these days is for all outdoor spaces to be neutral with white cushions (I've seen so many of those outdoor spaces around blogland and I love it too), I just can't do white cushions. I know they may clean up just fine and all of that, but I want easy care and darker cushions work better for me.
So my I let my dark brown furniture and the green of the trees behind our house be the backdrop for the added colors of blues and greens I like to add to our porch.
I found some great things from At Home that mix in so well with entertaining pieces I already have. The nice thing about choosing a few colors to work with (and I chose several shades of blues, with some green mixed in), it's easy to move things around.
I kept in mind as I was adding things out here that we have a big patio space below as well as a new screened porch space below coming soon as well and since I have my colors already set up here, I'm doing the same colors below. It's so easy to move things around and everything will mix and match with this method!
I love melamine for summer outdoors and found a few new things to mix with my melamine plates I had. Let me show you all the cute things I found to add to my table from At Home.
That white ceramic pineapple lantern is SO cute and I got two of those to use on the porch. They will be so fun to move around as needed and they come with battery powered candles inside. I love that! And they are on clearance right now so head to your local At Home store and see if you can find them. When I shared these on Instagram everyone had a fit over them! I got them for around $14, but they are marked down even more now.
You can't shop online at this time with At Home, but they do have a lot of their items pictured online and you can see if your local store has it in stock.
This navy and white melamine platter was a clearance find at At Home and I love it as a centerpiece.
Those little melamine bowls are from At Home too with all the colors I'm using out here, perfect for adding dips or fruit inside.
I had these plates already, as well as the aqua glasses, but found the napkins and napkin rings at At Home, as well as those pretty faux wood poplar ash chargers underneath. They add just the right amount of texture to the place setting.
Those pretty aqua round placemats are from At Home too, as well as this cute little ceramic tray with just the right colors. My bamboo flatware I had is a perfect mix out here.
That pretty cotton table runner is from the store too.
These pieces make a great statement all together for a fun summer party outdoors.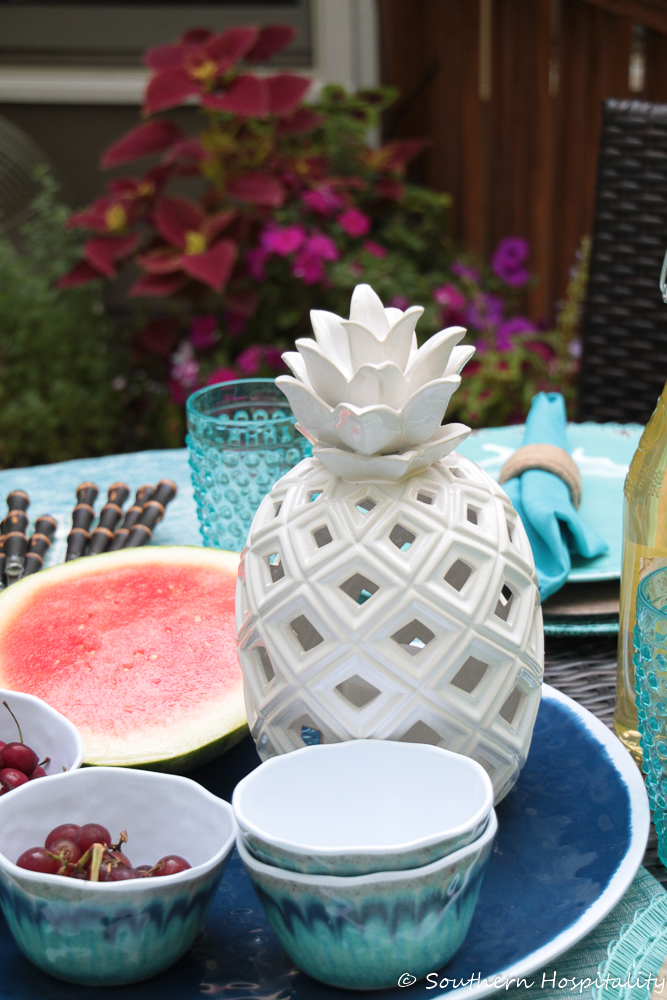 I'm in love with these white ceramic pineapple candle holders and can see using them all over the house during all seasons.
We sure do enjoy our outdoor dining space and it feels like we're sitting in a treehouse.
As the sun goes down, it adds to the ambience of the porch.
Let me show you what I found for that vintage Goodwill chair I picked up last summer! I was so excited to see that the store has so many shapes and sizes of pillows and cushions and I found just the right hinged pillow to fit my old vintage rattan chair.
And let me tell you about that side table from At Home! I just about died when I saw it! You all know how much I love bamboo and rattan and this cute square bamboo side table with teal accents has the look of vintage without the price tag. I snatched it up so fast! If you like bamboo like I do, they have a nice selection of side tables right now.
This vintage rattan chair will go under the deck when it's finished. I couldn't resist the fish pillow, so pretty and vibrant and the aqua with coral accent is also from At Home. I can mix these pillows anywhere on my outdoor spaces and they will work.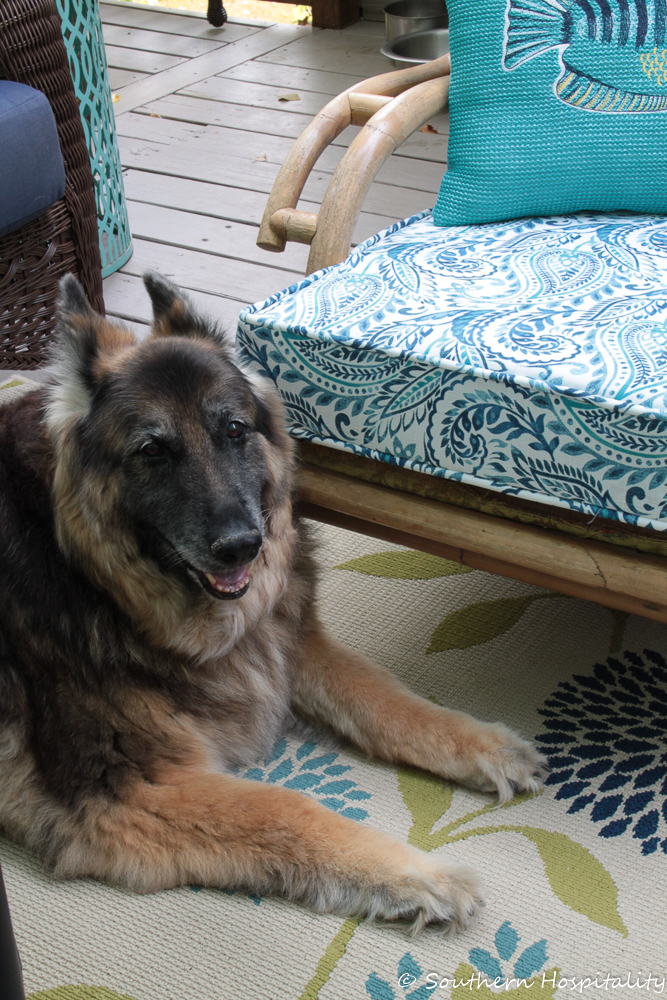 Holly had to be in the photoshoot, she loves her deck space.
It's going to be so fun to get our underdeck finished and I'll move this vintage rattan chair and the new side table down there.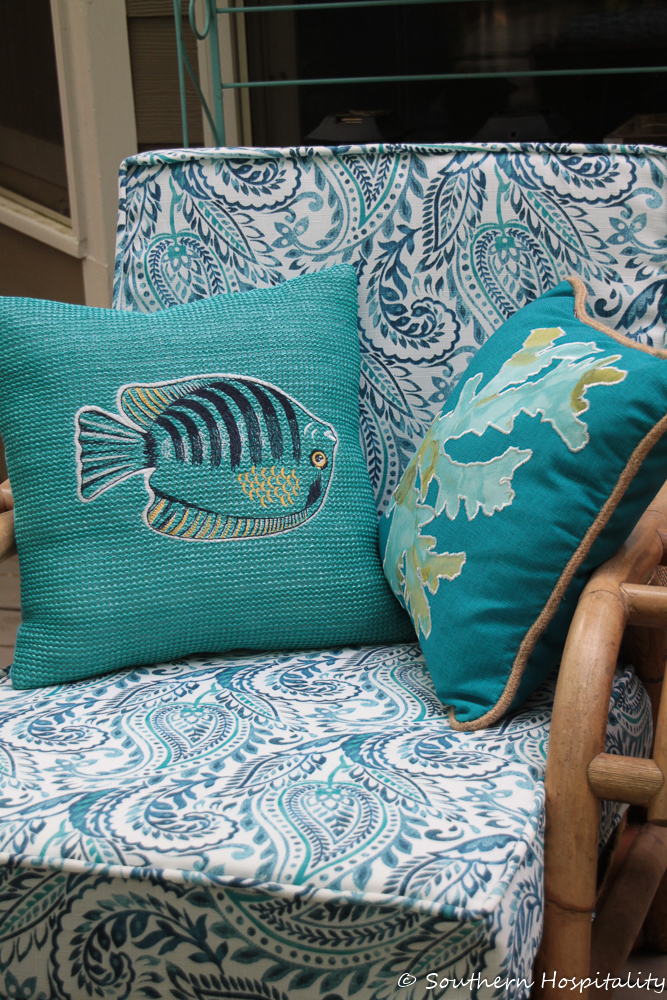 I think this paisley fabric cushion really looks great with my vintage chair, don't you?!
Another thing I had fun looking at and buying is their lanterns. At Home has a huge selection of lanterns for indoor and outdoor use and I couldn't resist these brass ones that were on clearance for 1/2 price. They will make a nice accent hanging somewhere.
These black and tan bamboo lanterns were too cute to pass up too, so I'm going to find a good spot for these down on our new screened porch. I may hang them from the wall somewhere. They have glass inserts for candles so I'm sure I'll use battery candles in here.
That's a look at how I spruced up our porch and outdoor areas with some fun affordable finds from At Home. I hope this inspired you to get outside and enjoy it all with some entertaining ideas. We have a few parties planned soon at our house and I'm so looking forward to using some of these pieces!
Have a happy and sunny summer!
This post is sponsored by At Home. I love working with them and shop there anyway, so thank you for supporting the brands that support my blog. 
Don't Miss a Post, join my list!