by Rhoda September 20, 2017
Good Wednesday morning!  I'm back today with a Fashion over 50 post.  Yay, it's been awhile.  I really haven't dressed up at all much lately because I've been painting, unpacking, organizing, cleaning, and all that stuff that goes into moving in a new house.  So, I've missed getting dressed and going somewhere.  I met up with some girlfriends this week for a dinner in and we had so much fun catching up.  It was good to see them all and that gave me a chance to wear one of my new outfits that I haven't shared yet.
I had a company reach out to me, Lisette, out of Canada and they asked me if I'd like to try out a few of their clothing items.  I took a look and said yes, sure I'll try them out.  So I picked out 3 pieces to try (they sent them at no charge).  All of them came in about the time we got married and headed to the beach and I never got the time to really style them all well.  But I wore one of the pants to my girl's night out dinner and love them.  As soon as I put them on, Mark commented on how much he liked them too, so win-win.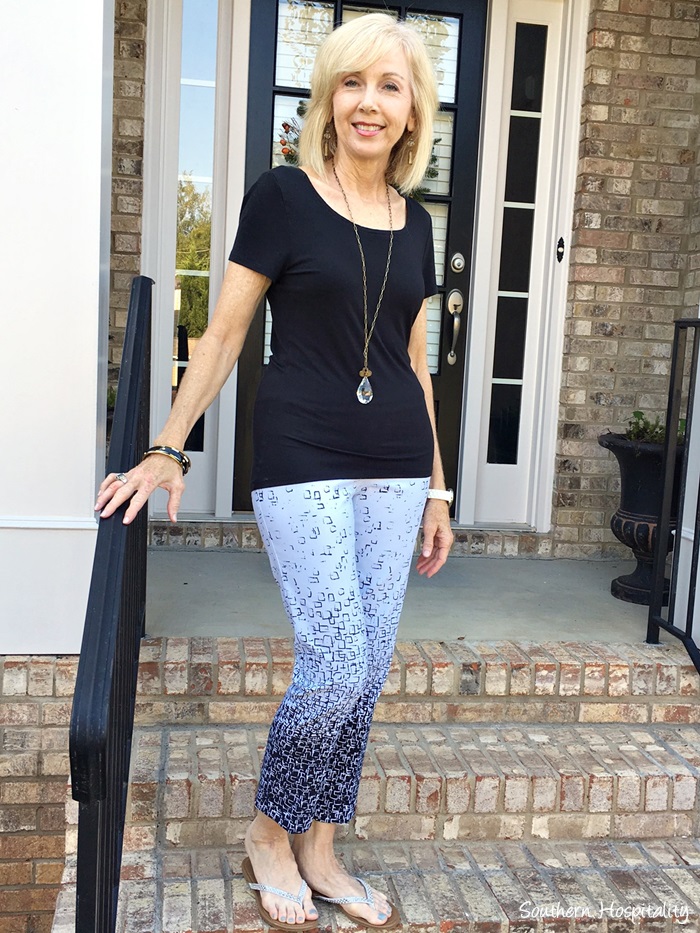 These are black and white with a funky print and the neat this about this company is the fabric they offer.  It's a mix of rayon, nylon, and Lycra which makes for a stretchy pant. I like stretchy pants. It's flattering fabric that looks good and molds to the body.  And these don't have a zipper, they just pull on but feel very good.  She did tell me to order one size down from my normal, which I did. 
They have several lengths from crops to longer and shorter. These are the 28″ crop pants.  The color here looks a little blue, but it's white and black.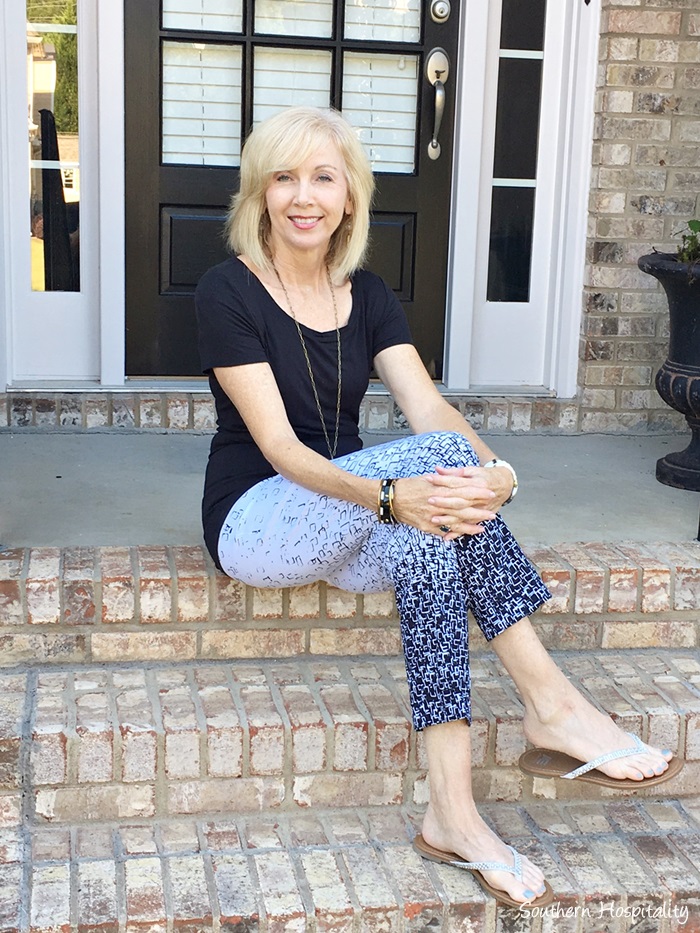 I paired the pants with a black soft tee from Tahari that I've had a long time and it was a fun little outfit to wear. It's still very warm here so still wearing sandals. These are from Payless and I picked them up last year.
I got a pair of shorts too and these will be fun to style up and wear. Love the length of them and they are form fitting without being too tight.  The fabric really is great!
This is a 31″ long pair of white pants with a zipper on the side.  Always need another pair of white pants. If you like the looks of these, check out the website.  I thought they were fun enough to share.  Thanks for stopping by today for Fashion over 50!  It felt good to be dressed up again!
SaveSave
Filed Under: Fashion Beauty & Fitness 9 Comments
by Rhoda September 7, 2017
Hello friends!  I've met some wonderful women across the country since I've been blogging and so many of them have written books. I'm so happy for them and it's always fun to see their hard work come to fruition and many of them I've shared here on my blog.  Today, I'm sharing another blog friend's new book, Kelly, from My Soulful Home is a delightful lady who lives in CA.  I met her at Haven and … Read More»
Filed Under: book review 7 Comments
by Rhoda September 6, 2017
Happy Wednesday!  Since I'm still not doing much fashion shopping and dressing up right now, I thought today I'd share some finds that I saw on TJ Maxx, the online store.  I was so happy to find out last year that TJ Maxx is now online, since they have been a favorite shopping destination for me at least for 20 years.  I always find good things there and I know the prices can't be beat. Women … Read More»
Filed Under: Fashion Beauty & Fitness 9 Comments
by Rhoda September 4, 2017
Happy Labor Day weekend to you all!  It's been a week since we officially moved into the new house and even though there's not a lot of pretty to share with you yet, I figured you all would like to see the process we are in getting this house organized and ready to live in.  As you all know, since most of us have moved a time or two (or for some dozens of times), it's definitely a process to get a … Read More»
Filed Under: House Renovation 93 Comments
by Rhoda September 1, 2017
Happy Friday!  I'm so glad it's Labor Day weekend and we get an extra day off (well, my hubby does and that's a good thing for us!) to get things done around here.  This has definitely been the hardest move, at least it feels that way. I guess we forget the pain of moving until it rolls around again, but this one has just kicked my butt.  But, everything's moved now!  I had to make sure my house … Read More»
Filed Under: Decorating Details, Feature Fri. 30 Comments
by Rhoda August 29, 2017
Good Tuesday morning!  By the time you read this, we will be moved in the new house. It's seems like it's been the longest move ever, but we made it.  I know I'm not the only one who's moved and regretted how much stuff I have to pack up and move on, but it seems like it multiplies when you're packing.  We stretched this move out longer than usual due to our busy summer schedule and getting some … Read More»
Filed Under: Family Friends and Me 43 Comments
by Rhoda August 27, 2017
HI, friends!  Will this move ever end?  I have hauled and hauled stuff over to the new house and it's all stored in the basement until we get moved in this week and I can get some sort of semblance of order going.  We have been working on projects in the house and that delayed us getting moved in. We took our time to get some of these things done that would have been much harder after we moved in, … Read More»
Filed Under: House Renovation, paint project, Projects and How-To 45 Comments
by Rhoda August 25, 2017
It's Friday again and that means Feature Friday time!  I'm still busy as a bee this week packing and moving to the new house, but I wanted to share Melaine today with My Sweet Savannah.  Melaine has been blogging probably as long as I have and I've sort of known her online for years and have always admired her beautiful rustic home and garden style.  Her house, in the Seattle, WA vicinity is set … Read More»
Filed Under: Decorating Details, Feature Fri. 6 Comments