Last weekend was a fun time of spending a beautiful day in on Canton Street, a charming historic area of Roswell, GA, with shops and restaurants and bustling activity on a Spring day.  It was perfect weather for an outing and lunch outside.  My friend, Marian, also known as Miss Mustard Seed, was in town doing a paint workshop of her new line of milk paint and at least 50 people were there, soaking up all the information Marian had to share about painting furniture.  I was invited to come hang out and couldn't turn down an opportunity to see Marian and try out her paint as well.
The paint workshop was held at Founders Hall, a beautiful old historic home in Roswell that is used for events.
Of course, I loved that part too!
Inside, it was quaint and old like you would expect a historic home to be.
Original floors and planked ceilings, which are all the rage again.
In the back was a very large room big enough to hold all the round tables for this workshop.
I ran into Ella, one of my niece, Lauren's, old college friends and she recognized me right away and so I sat at the table with her and a few other ladies.  They had new cabinet doors at each place setting and this was our project for the day.  We would paint our doors with milk paint (color of our choice) and add decorative handles, making a cute tray.
It was great to see Marian again. I'm so proud of her and how far she has come with her business, writing a book last year and coming out with her own line of milk paint.  What a dream come true for her. We both have accomplished a lot with our blogs and that has been a joy to watch so many of my friends doing so well too with their blog businesses.
I didn't do a lot with my door, but many girls heavily distressed theirs.  I did use 2 colors and layered them, with a soft aqua, Kitchen Scale, on the bottom, with Luckett's green on top.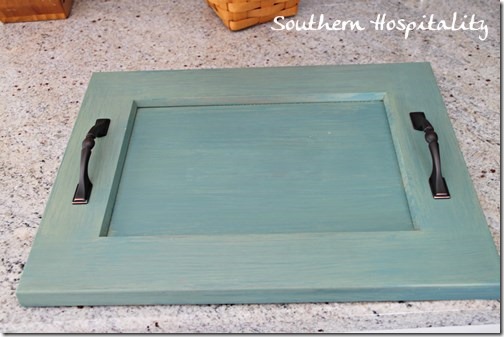 And here's how it turned out, sort of streaked with a little of both colors showing. They added the handles for us and this little cutie will go on my screened porch coffee table.
Marian did a talk about her paint line and then we got started painting. She came around seeing all the progress on the painting techniques we all did. Everyone did something unique and different and it was fun seeing them all.  These ladies were sitting at my table.
Marian and Mary Ann, who owns Brushstrokes on Canton Street and hosted this event and it was an honor to be invited.
After we finished our trays, we broke for a 2 hour lunch and it was a positively splendid Spring day to walk down the street and eat outside.  These cottages on Canton Street, Roswell, are so cute.
This area has lots of adorable shops and restaurants and it was hopping with activity that day.
Loved all the different types of houses on the street.
Cuteness all around.
This little cottage especially caught my eye. I'm not sure what Campbells' cottage is used for, but it's so quaint.
Down the sidewalk at Nine Street kitchen, we opted for sidewalk seating and enjoyed our al fresco meal.
Lanterns outside
A beautiful blue sky Spring day, not a cloud in the sky.
We all had fun chatting at our table.  The lady in pink, Robin, lives in Birmingham, so we had fun catching up.  She goes to my old church over in Birmingham and we knew some of the same people, so it's a small world.
Kim from Savvy Southern Style and me.
Delicious chicken salad lunch.
Loved that this restaurant has a picnic area, they supply the chairs and blankets for a picnic on the grass. You just order food and they bring it out.  How cool is that?
We had a few minutes to kill before the rest of the class began, so we walked over to a little antique mall and browsed.
I've been in Canton Street antiques market before, but it's been awhile.
Cute stuff!
It was a fun day, getting to see Marian again and hearing her talk and showing us exactly how to use her milk paint.  It is really good paint, you do have to mix it up though, since it's in powder form, but I was glad to see the consistency of how it is supposed to be.  She has some gorgeous colors, you can use it with or without the bonding agent.  The bonding agent does help it adhere to surfaces a lot better, but if you want chippy, then you don't have to use it. You can click on Marian's blog for info on purchasing her milk paint.
I've got some Luckett's green that I will be trying out one of these days.  I really enjoyed my day at Miss Mustard Seed's painting class!
Don't Miss a Post, join my list!