Hey, friends!
One of the things I've been working on in our new house is updating all the interior doors with a paint color.  I mulled it over for awhile before I decided on one, but this one really stood out to me as a good choice, so that's what I ended up doing and I am SO happy with the results.
I'll share mine at the end of this post, but I wanted to talk about this trend of painting interior doors today and see what you think.  It seems that painting interior doors is one of those trends that hasn't been around all that long.  It's only in the last few years that I've seen so many people doing this. It was over 5 years ago when I moved in my last fixer-upper that I painted all the doors a deep chocolate brown and I loved the look in that house.
So, how do you decided what color to paint an interior door?  I think it just depends on what you have going on in your home and you have to take cues from your interiors, paint colors, and furnishings to decide what color might be a good fit for you.  White has always been the standard for interior doors, painted to match the trim in most cases, but there's something fun about painting interior doors a different color. I asked some of my blog friends to show me their interior doors.  Some of these are exterior doors too, but it just goes to show the power of paint and how a fun color can brighten up a front door or inside the house.
My friend, Shannon, with Fox Hollow Cottage painted the inside of her front door a pretty aqua blue, which carries into her home furnishings as well.  I love it and it is so much more fun than a white door would be.
What a breath of fresh air this green front door is, from Maggie Overby Studios.  I do like a pretty front door color, but our house has black and it will probably stay that way for now and black is a classic.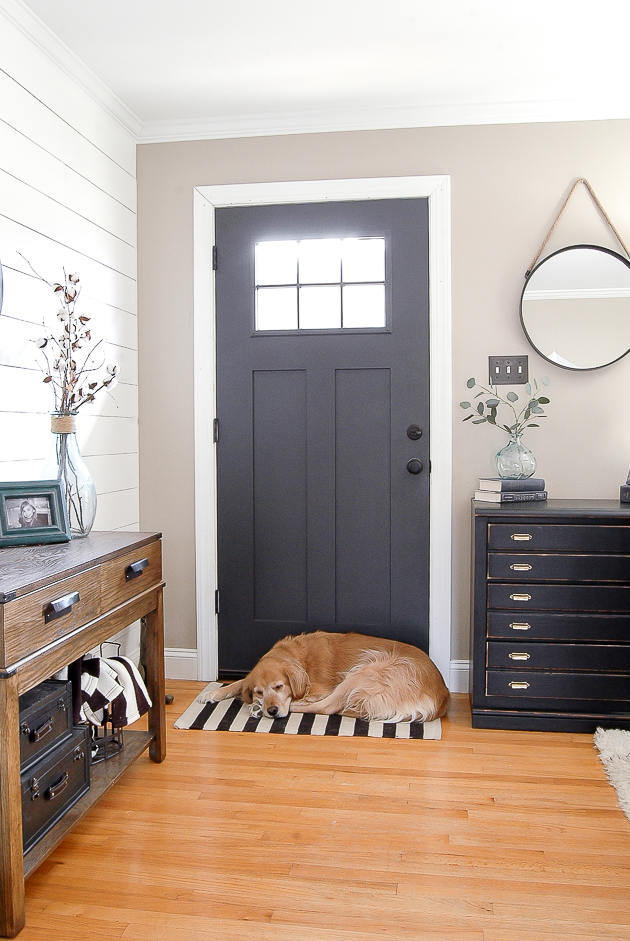 Little House of Four did a classic black front door in a Craftsman style and it's so pretty.  See the black accents she has already?  That's a good flow and black really does make an exterior door pop.
Melissa with The Happier Homemaker also did a black front door inside and it's a nice punch to the foyer.
Natalie from A Turtle's Life for Me, went bold with her green accented doors along with the blue and white, a nice combo. I did a similar color in my old house in the laundry room and it was fun to have some color in that space.
Melissa with A Polished Habitat decided on a pretty aqua to accent the inside of her patio door.  It leads the eye out to that color on her porch and how pretty is that?!
Toni with Design Dazzle did a gorgeous laundry room and added a pretty aqua shade on the door. That really makes this room special.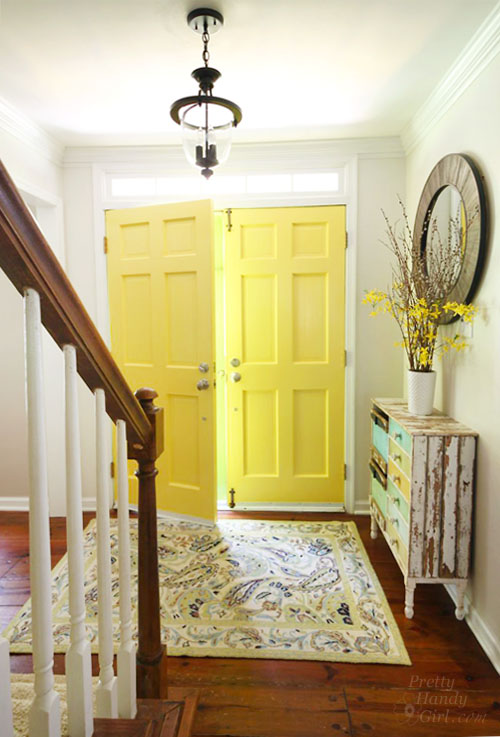 How about this front door for sunshine and happiness?!  Brittany with Pretty Handy Girl chose a sunny shade of yellow for the inside of her front door.  I think it's on the outside too and how happy is this entry?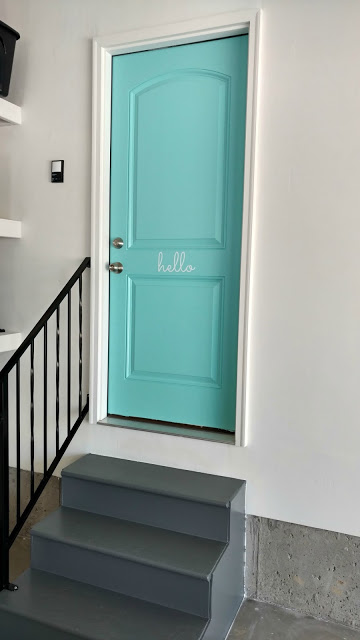 Sunshine and Munchkins did a fun garage door entry in a pretty shade of blue with an added Hello to really make it fun. I love this! Much more fun to come home to than a plain white door!
Kristi with Addicted 2 Decorating has been working so hard on her fixer-upper and is making lots of progress. I love these deep blue doors in her house and what a statement they make.
These coral doors just scream happiness and fun, don't they, from Lolly Jane.  Their guests can never miss this house!
Kristi with Chatfield Court also opted for a pretty aqua shade for her front door. This is a popular shade of blue.
Black is bold and Domicile 37 does a beautiful pair of black doors in her dining room, complete with trim over it.
Anita with Cedar Hill Farmhouse painted her interior doors gray way before the trend started and I do love gray interior doors. Such a nice and neutral color.
Jenna with Rain on a Tin Roof spruced up this set of of doors with classic black and adding pink to the mix for some retro fun.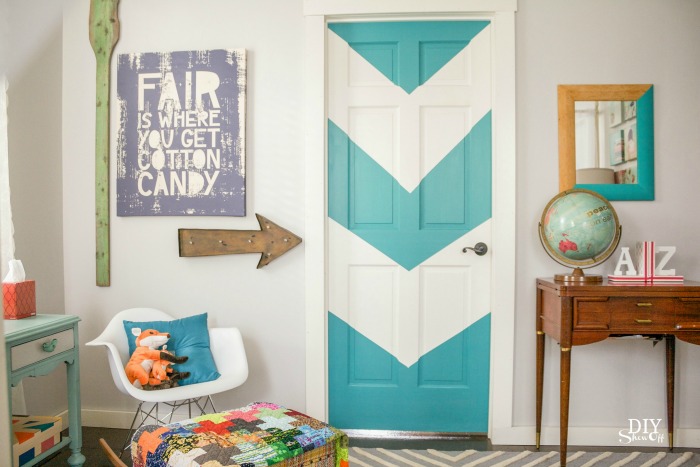 And Roeshel with DIY Showoff had a lot of fun with  her grandson's nursery door in this colorblock style.  I love this!
Monica with Monica Wants It has just moved into a new house and is taking her time decorating it, but she went with all black interior doors. I love it and I also love the style of these doors!  This classic 5 panel door is historic feeling and I'm seeing this trend in new builds now.  So pretty! With her white walls, it's so classic and timeless which is just what she was going for .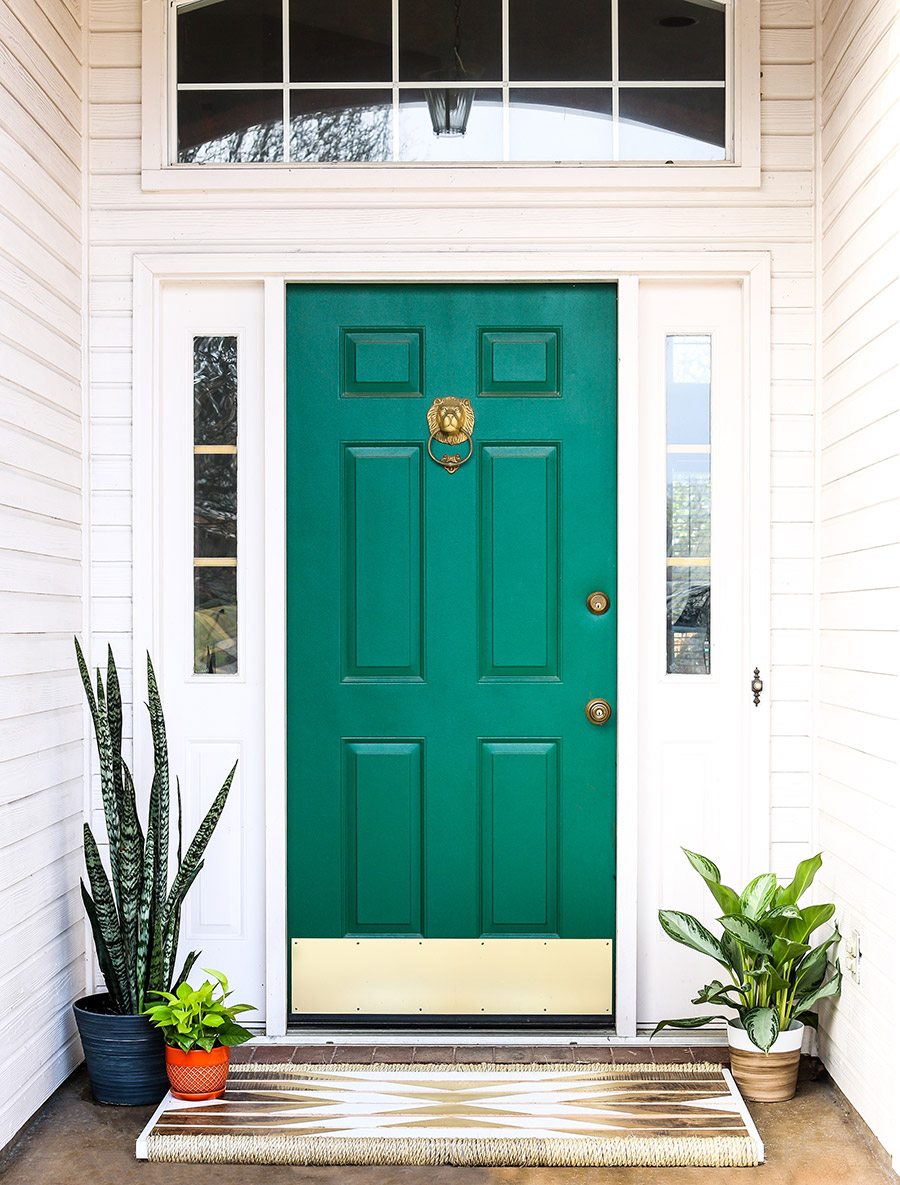 Jen with Jen Woodhouse painted her front door a vibrant emerald green and it pops!
So that brings me to our doors!  As I mentioned, I mulled it over for weeks before I decided on a color. We have these pretty arched doors in our house and I do love them, but white wasn't my favorite.  I knew I wanted a color that would flow with everything in our house and with all the shades of blue I'm using, a soft shade made sense.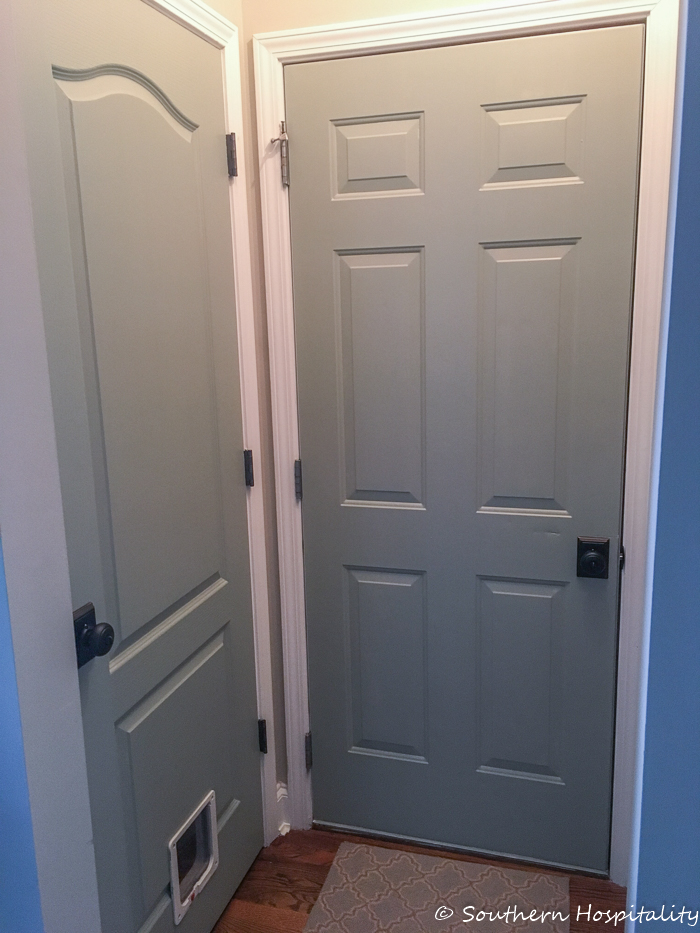 So, I went with Oyster Bay by Sherwin Williams in a Satin finish.  I'm already finished with our downstairs, but will move upstairs next and get them all painted.  That means, every interior door will be painted this color.  It's soft and so pretty and looks really good with all our colors and furnishings. We are also changing out all the door hardware too and I'm partnering with Schlage on that, so stay tuned for all of this to be shown soon.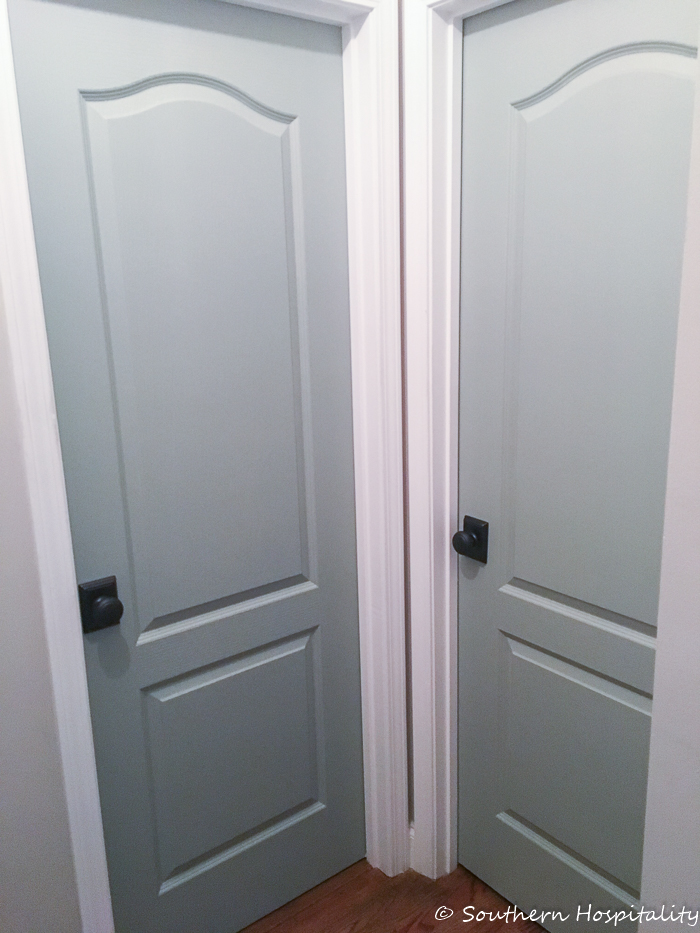 Here's a sneak peek at how great it all looks!  This color is so soothing and calming and we both love it so much.  The black/oil rubbed bronze doorknobs just take them to another level as well.  I can't wait to get it all done and I'll be sharing all the sources with you soon.  Our old door hardware is a silver toned, but this black totally changes the look and of course, we love that backplate too.  You can see how pretty it is with the white trim and Magnolia Homes Gatherings paint color on the walls, which is our main paint color through the house.
Someone asked me when I was sharing these on Instagram, how do you decide what color to paint interior doors?  That's a good question and so that's something I thought worth discussing.  I'm sure many of you have white doors, right?  That's totally normal, so if you love them, keep them.  So many people stay with white doors.  But I just like to shake things up a little and paint my interior doors a different color than just white.
As I mentioned, my previous house was painted deep chocolate brown on the doors and with my creamy white walls, it was a good mix and I loved that color there. But this house seemed to call for something else, something more subdued to go with the flow and furnishings of what we have going in this house.  And Oyster Bay was the winner for us.  I tried it out and walked around the house and knew it would be a winner and it is.  It accents the alcoves and looks so good with everything we have in the house.  All these shades of blue just flow together.
So, if you're in the market to paint your doors, I think you have to look at your main paint color, your furniture and furnishings colors, trim color, and then decide what color will flow with all of this.  It might be black, gray, taupe, or some shade of blue.  Or something entirely different.  I do think that painting interior doors is a way to make your house stand out from the crowd and it give it a whole different feel.
Are your doors painted, yes or no? And what do you think about this trend?  Like it or not?  Let's discuss!
SaveSaveSaveSaveSaveSaveSaveSaveSaveSaveSaveSaveSaveSaveSaveSaveSaveSaveSaveSave
SaveSave
SaveSave
Don't Miss a Post, join my list!