One of the things I decided on when I was renovating my house was to paint all my interior doors black.  Dark chocolate brown to be exact.  I had seen the trend of black doors out there for awhile now and I think it's a great accent and feature in a house. Now, I do think that to do this successfully, it helps to have a lighter color palette in a house and it makes more sense with neutrals, with the dark brown or black adding a grounding factor to the doors.  I have all Pure White trim and kept the door trim in white as well, but the impact of the dark brown doors really make a statement in my house, since I don't have a lot of architectural interest in here except what my dad and I added during renovation.  Keep in mind, this is a plain 1979 house, so it's not a grand house.  I did what I could to add interest as we renovated.
So, today I'm going to talk about that and how it adds a lot of interest to a house and do an update on my dark brown doors.  I haven't really showed them since the house was finished, so here you go.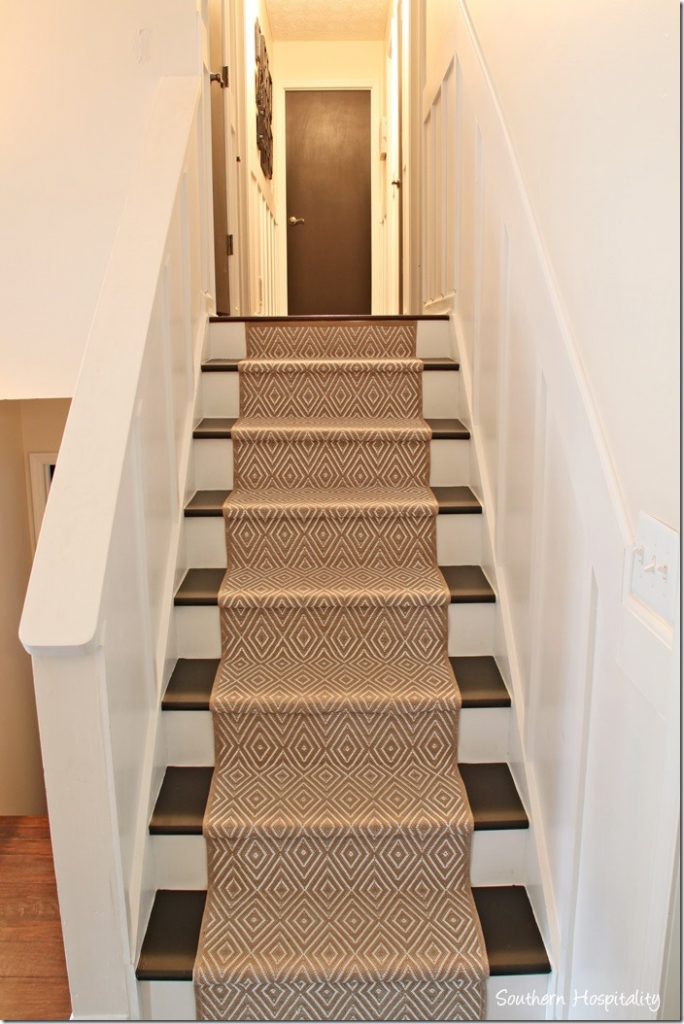 Once I painted my stairs in Valspar Fired Earth (a deep chocolate brown), it just made sense to paint the doors the same color.  The dark brown flows well with my hardwood floors and keeps the continuity going.  I used Fired Earth in a Satin finish for the doors as well as the stairs.  Stairs were done in Porch and Floor paint.  I was originally going with black paint on the doors, but decided to keep the dark brown espresso color since I did the stairs in that color too.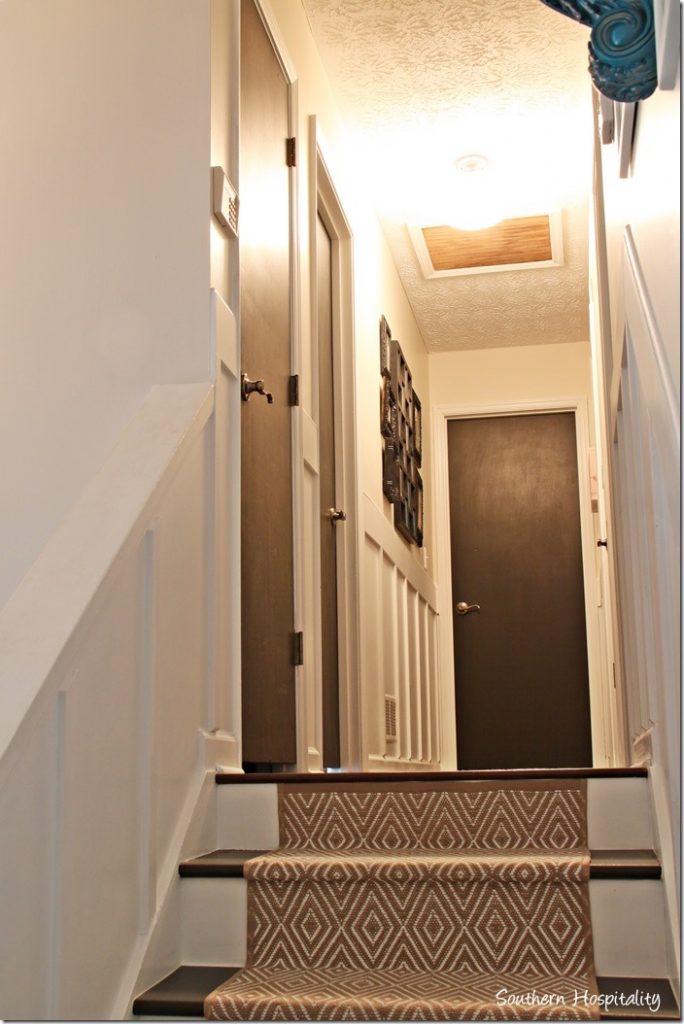 I painted all my interior doors (except the front door, that pop of turquoise inside and out) this deep dark brown and I still love how it looks.  I think it looks so much richer than painting them white like the trim would have been. But, you can see I've got lots of white and cream in this area to offset the dark brown, really an espresso color.  They are very dark brown, but a little softer than black would have been.
This upstairs hallway has 6 doors in it, 2 closet doors, 3 bedrooms and a bathroom door.  So that's a lot of doors! You can't see the bathroom door from this angle, but it's there.
Here's another shot of the hallway floors and all the doors.  You can also see I still need to paint the beadboard that closes up my attic space.  I'll get to it eventually.
In my bedroom, I painted the louvered closet doors the same dark brown.
And the master bathroom door too.  All for continuity and flow.
And downstairs in the den, this space has 3 doors, one to the laundry room on the left, the one on the right goes upstairs and the one in the middle goes to the garage.  The light shining in gives these doors a hazy cast, but they are deep brown too.  I do occasionally wipe them down to get white marks off that happen from use and brushing things against the doors, but it wipes off with a damp cloth.
I still love how the dark brown doors look in my house and would do it all over again.  I had planned to add some molding to these doors to make them look better too and maybe I'll get around to that one day too, but for now I am enjoying the deep rich chocolate brown color that they are.
Have you painted your doors a color or do you go for white doors?  What do you think of dark brown or black doors, would you try it too?
Don't Miss a Post, join my list!