When I shared my newly painted Ballard shelves and the yardsale bookcase's 2nd renovation, I mentioned that I was using a new paint on them.  It was a fun project to complete, so I'll share that process with you.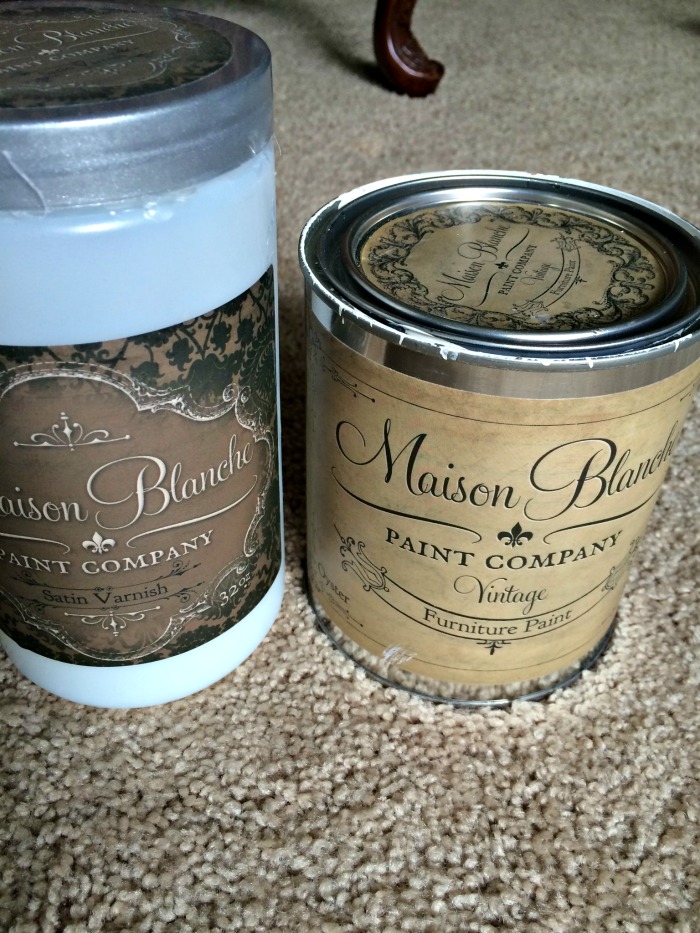 I worked with Maison Blanche paint line and they sent me all sorts of goodies to try out, including their paint and varnish, along with dust, glaze and more.  A cute girl named Annie Omar started Maison Blanche paint and it really is a nice product.  I met Annie in person a couple years ago and she is a sweetheart.  The Vintage paint line colors are inspired by her Louisiana roots and you will see some gorgeous colors in the line. 
Using chalky paint over the black paint was a bit of a challenge as it took at least 3 coats to cover the black.  But, this paint dries to a soft velvety finish and leaves a nice look.  I chose to use a Satin varnish over it instead of waxing.  I'm just not a huge fan of waxing.  Adding varnish is faster too. 
You will remember the Before state of the bookcase.  This was a great yardsale find a few years ago for $50 and it has served me well.  I painted it black back then and was tickled over it and used it like this for a long time.  I added that beadboard backing myself and painted it a light blue).
Something had spilled on one of the shelves, an oil I had stored there, so I got out my sander and sanded down the wood to get off the sticky mess.  The great thing about chalk paint is you don't have to sand or prime, I just needed to get off the mess first.  Now, it's ready to paint.
I used a foam roller and a small paintbrush to paint the piece.  It did take a little time and I waited for drying between coats, but this paint dries really fast. It's easy to work with like most chalky paints are and I like the color, Oyster.  It's a creamy white.
After 3 coats of paint and a protective coat of varnish, my bookcase is completed.  I painted the back of the beadboard in a color that was color matched at Lowes, in Valspar paint. It's a copy of Annie Sloan paint, Florence, a vibrant turquoise.
I love how it brightened up my office so much.  What was a black hole of a bookcase now is vibrant and colorful.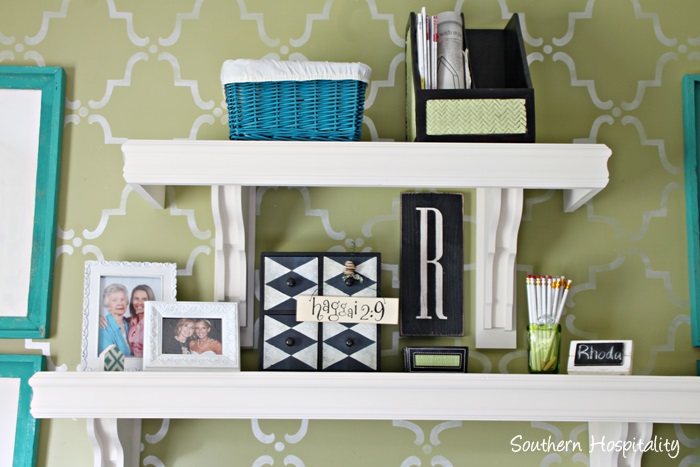 I used the same color on my Ballard Design shelves too, to brighten them up on the green walls.
I also used St. Anne's green on my refurbished desk in the living room.  I love how it turned out with the Satin varnish on top.  This paint is easy to work with for beginners, you really can't mess it up.  And look at all the beautiful colors you can choose from!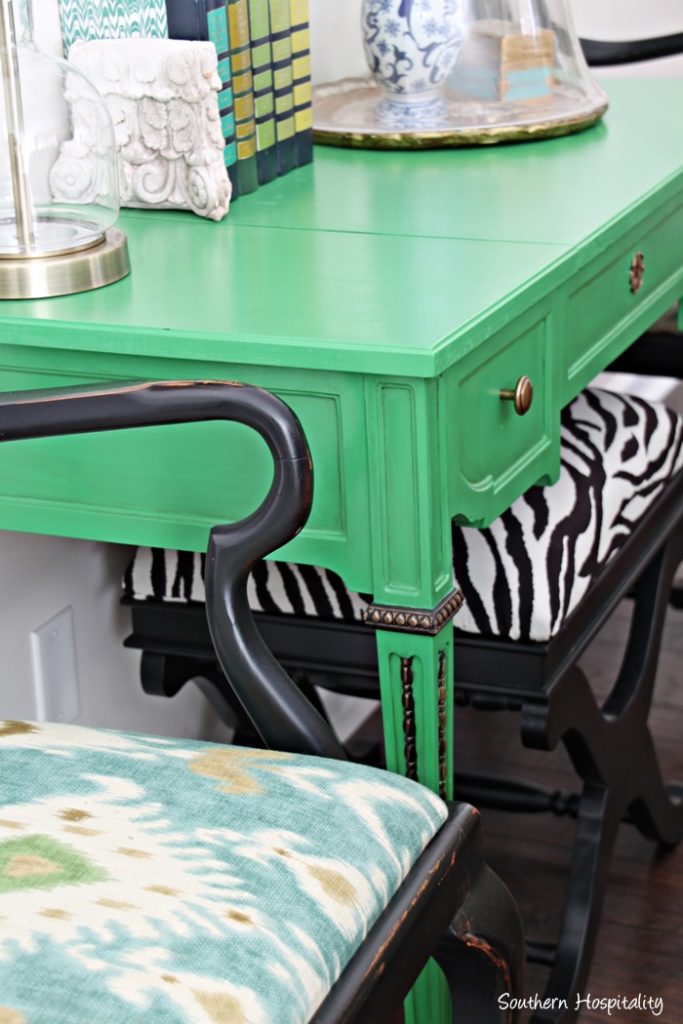 Do you have an old piece of furniture that needs new life?
Note: This is a sponsored post by Maison Blanche paint.  All ideas and opinions are my own just using the paint around my house for projects.  
Here are a few more Maison Blanche paint projects from blogger friends who are sharing today, so check them out for more paint inspiration!
Don't Miss a Post, join my list!