One of the main projects we wanted to accomplish while in New Orleans, was getting stripes painted in the nursery. So here is a fun post on painting stripes on walls ideas!
Lauren had decided she wanted khaki and white stripes. The walls were already white, so all we had to do is tape them off and paint on a khaki shade.  Her ceilings are 9' tall in the upstairs rooms, so she got out a calculator and we figured we could do 7 stripes at 15" each stripe.  We kept the top stripe and bottom stripe white and then had 3 stripes of khaki in between, which is a nice visual look for stripes.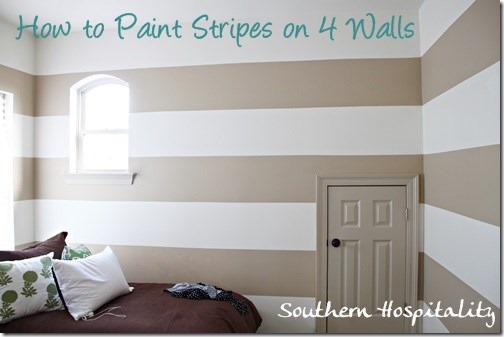 Here's how we did it!  The stripes turned out so pretty.  I had never done a complete room of stripes with all four walls and thought it might be a bit daunting, but it really turned out not to be so hard to do after all.  We used some good tools to complete the project and I'll show you exactly how we did it all.
Oh, by the way, that little door above is an access door for attic storage, so don't be fooled by the smallness.  I had a few comments about that door when I shared on Facebook and Instagram.  🙂
Here's the room before we started. Her sister-in-law passed on the baby bed for Lauren to use and it will stay this wood color. No painting for it.  She won't be using the old Jenny Lind crib she had as a baby.  This room is also a guest room for now with 2 twin beds that my mom and I slept in.  We did this project in one day and didn't even smell the low VOC paint that night at all.
Here are our tools:  laser level, FrogTape®, regular level, and a measuring tape (not pictured).
I started one wall measuring down from the ceiling 15" with a measuring tape, marking tic marks with a pencil every 15" down the wall.  That gave us 7 stripes total from baseboard to ceiling. Be sure to count in your baseboard when you are measuring since you'll want to subtract the width of it when making your marks.  Once we took out the measurement of the baseboard, that gave us 15" even stripes to mark off, which made it easy.  If you end up with fractions, you might want to just round it up to the next inch to make it an easier project.
Remember, that you are going to tape your tape OUTside the lines of the stripes you'll be painting.  So, the stripes that are left white will be taped into and those stripes will appear skinnier after you're done taping, I'll show you that below for a visual.
After I did one wall using tic marks and taping it by myself, Lauren came in with a laser level and we used that for the rest of the walls. The laser level makes it easier to keep things straight for sure.  Place the laser level on your tic mark that you have drawn and make sure the bubble shows level. That will shoot a red line across the wall and the other person can then continue making small tic marks with a pencil all the way across the wall.  Then go back with your tape with 2 people working on either end, to place the tape on the line and press down firmly so that paint will not seep under.
That's a really important part when using FrogTape®. Press down the edges very firmly and you'll have a crisp line.  These walls are not completely flat, they have a knock-down or slight orange peel texture, which I'll show you, but for the most part we did get a nice crisp line.  It's impossible with textured walls to have a completely crisp line unless you do paint the edges of the tape with the base wall color which in our case would be white. We chose not to do that and took a chance on our lines and they turned out great!
So, here's what I was talking about above.  The top and bottom stripes will remain white, so that leaves 3 khaki stripes that we'll be painting. See how those stripes look larger?  It's because you want to tape on the OUTside of the lines so that the whole 15" is taped and ready to paint.  When you continue measuring all around the room, you might run into slight discrepancies when you get into the final corner, where your tape might be slightly "off" when meeting up with the row of tape you already have placed.  Does that make sense?  It's hard to keep these kinds of projects completely straight and level, you just might be off slightly and that's where you just have to wing it.  We were off just a fraction or so, but we just moved our tape on that last wall as best we could to match it up with the final wall.  And it worked out fine. You would never know by looking at it that it's slightly off.
You can see the pic below is the final wall we taped, joining it on the left corner with the first wall that was taped.  We made it work, even though it's not perfect.  Just try to keep your lines as straight and level as you can.  Once it's all painted, it will be beautiful!
Here's that final wall all taped and ready to go.  This is the most time-consuming part, but once you get all this tape up, the fun begins!
All four walls taped and ready to paint.  Really, this is the fun part, watching those stripes come to life!
We used 4" foam rollers and started painting the khaki stripes.  You will need to cut in with a brush around the trim and doors, but that's quick and easy.  All of the trim in their house is khaki, so they are leaving it and it's actually really pretty for this house.  We color matched the existing khaki trim for the stripes and I don't have a color to share with you.
One coat of khaki on the stripes in progress.  After that one coat was dry, we worked our way around the room and did the 2nd coat.
As soon as the 2nd coat is complete and still wet, then you're ready to rip off that FrogTape and then you can see your handiwork!  Rip the tape off while it's still wet to avoid pulling the paint off when it dries.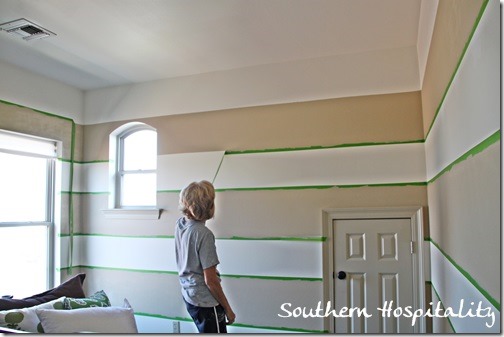 Just pull that tape back with a downward motion, wrapping the tape up in a ball as you go. There will be wet paint on the tape, so just be careful that you don't glob it on anything.  It should come off clean from the walls, leaving a nice crisp line.
Again, with textured walls, unless you paint over the tape first with the base coat color, there will probably be a bit of seeping under the tape, but it was minimal in our case.  Unless your eyeballs are right up close, you don't see that at all.  With normal flat walls, FrogTape® will give you a really crisp line every time!
And here's our finished stripes, all done and drying.  We were oohing and ahhing over how it looks. Doing stripes like this is such a fun way to personalize a room for minimal effort and $$.
So happy with these stripes and Lauren loves it.  I love bolder, wider stripes instead of making them skinny.
It was nice to get this project finished, so now Lauren can concentrate on what she wants to do in this nursery when the baby gets here.  She will take out the twin beds and this will be just the nursery then.  She will find out the sex of the baby this month, so that's going to be exciting!  We were talking about what colors she could bring in here, depending on boy or girl and we thought hot pink or soft pink with khaki if it's a little girl and navy blue if it's a boy. Doesn't that sound fun?!  She'll have a ball figuring it all out and I can't wait to see what we're having.
Stay tuned for more from the nursery!
Disclosure: I'm a Brand Ambassador for Frogtape® and am compensated to share my projects using FrogTape®. All opinions and methods of using the product are all my own.
Don't Miss a Post, join my list!