I mentioned recently that my roommate and I are really trying to eat healthy foods.  Rhonda (I know, you can imagine the comments we get when we introduce ourselves!), eats mostly Paleo, but she will eat white rice and potatoes, which is not strictly Paleo. The idea is to eat natural foods that have not been processed so much, so that's what we are striving to do most days.  We eat plenty of meat and veggies, but try not to eat anything out of a box.
Some of my blog friends are also trying to lose weight and eat better and these banana pancakes came up in conversation recently and they looked SO easy, I just had to try them.   And I'll tell you this, they are going to be my new favorite breakfast food!  Yummy and so easy to make.  We're pretty sure these came out of a Paleo cookbook, Rhonda had had them before.
The ingredients are so simple:  one egg and one banana.
Start with one banana.  Mash it up really well and add an egg.  I sprinkled a dash of sea salt in there.
It will look like this once you have it all mashed up and blended.  I added some cinnamon to mine.  This will make 3 small pancakes.
Put it in over medium heat in a nonstick pan and let it brown on one side before flipping it over.  I had a little trouble the first time I did them with flipping them without it falling apart, but did much better then 2nd batch.  Let it brown well before you start to turn it over.
And it will be nice and brown like this.  Cook both sides and take this one out and spoon in another one.  You should get 3 pancakes out of this one little batch.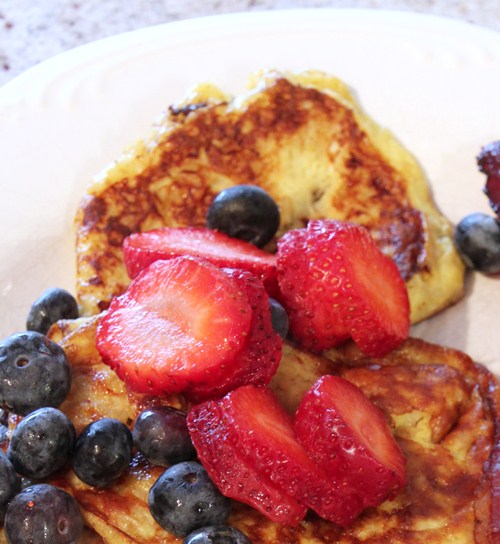 With 3 pancakes on a plate, add fresh strawberries and blueberries, with honey over it all and you've got yourself a yummy breakfast.
I love, love them with a side of bacon, it's a filling breakfast that will stick with you for longer than cereal.  Yes, bacon is not so great for you, but this bacon is from Trader Joe's and doesn't have the chemicals that most have.  A little bacon won't kill you, right? :  That's what I think.
So, I hope you'll try this one, I was so happy with how they turned out and how easy they are to make.  You'll be hooked like I am now.
By the way, any of you from Florida, I have to tell you this!  These strawberries came from Plant City, FL and I've been buying my strawberries at Aldi's (one of my new fave shopping spots too).   Plant City is the strawberry capital of the Southeast and my mom grew up near there.  My first cousin, Kendra's, daughter, Kelsey was just crowned Strawberry Queen this year at the Strawberry Festival, so my family is celebrating down there right now.  So happy for her!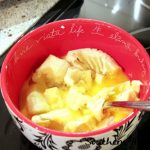 Paleo Banana Pancakes
Paleo Banana Pancakes
Ingredients
One Banana

One egg

dash of salt

dash of cinnamon
Instructions
Mash banana

Mix one egg, add dash of salt & cinnamon, if desired

Spoon out a round pancake in heated pan over medium heat.

Let brown on one side, flip to the other side and brown.

Makes 3 smallish pancakes.
Don't Miss a Post, join my list!