Thanks for all of you who stopped by yesterday and took the time to leave me some comments. I appreciate them all and will be keeping a running list of some of these ideas for future post topics.  Y'all had some great ideas!
You might still see me posting frequently for awhile. I've got several posts that are saved up and a few giveaways in the wings, but you will see less posting eventually, so don't think I lied.  🙂  It's nice to give myself the freedom to step back.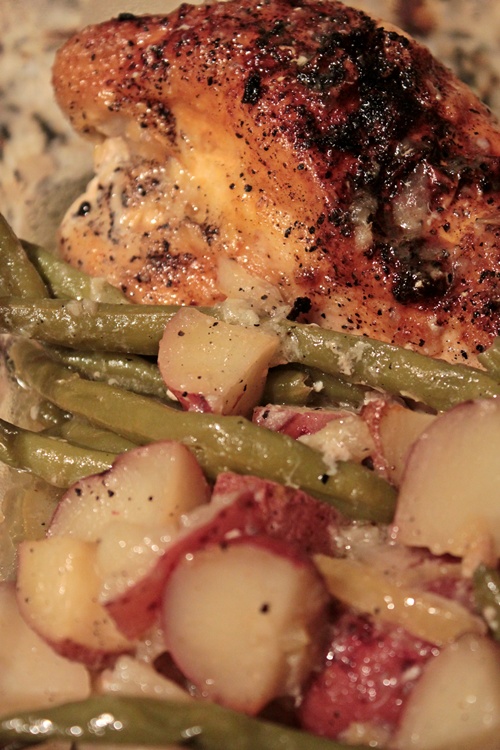 Some of you mentioned that you love my recipes.  I'm all for sharing and trying new recipes, so when I find some that are share-worthy, I'll definitely do that.
This is a good chicken recipe that I got from my friend, Rue, who unfortunately was one of those bloggers who gave it up and now her blog is private.  She's a sweetheart and I printed out this recipe from her blog, so I'm giving credit where credit is due. Thanks, Rue!
Pan-Roasted Chicken with Lemon-Garlic Green Beans (from Rue)
6 TBL olive oil
2 lemons, 1 thinly sliced, 1 juiced
4 cloves garlic, minced
1 tsp. salt
1 tsp. freshly ground black pepper
1 lb. trimmed green beans
8 small red potatoes quartered
4 chicken breasts (bones left in, with skin)
Prep:
Preheat oven to 450* F. Coat a large baking dish or cast-iron skillet with 1 tbl. of the olive oil.  Arrange the lemon slices in a single layer in the bottom of the dish or skillet.  In a large bowl, combine the remaining oil, lemon juice, garlic, salt and pepper, add the green beans and toss to coat.  Using a slotted spoon or tongs, remove the green beans and arrange them on top of the lemon slices.  Add the potatoes to the same olive-oil mixture and toss to coat.  Using a slotted spoon or tongs, arrange the potatoes along the inside edge of the dish or skillet on top of the green beans.  Place the chicken in the same bowl with the olive-oil mixture and coat thoroughly.  Place the chicken, skin-side up, in the dish or skillet.
Pour any of the remaining olive-oil mixture over the chicken.  Roast for 50 minutes.  Remove the chicken from the dish or skillet.  Place the beans and potatoes back in the oven for 10 minutes more or until potatoes are tender.  Place a chicken breast on each of 4 serving plates, divide the green beans and potatoes equally.
We really enjoyed this one. It has a strong lemon flavor, which I like a lot.  I did have to add more olive oil and other things to have enough to coat all the potatoes, beans and chicken. That little bit of olive oil didn't go far enough to me, so I just added more of all, so play around with that.
I love dishes that I can prep and sit in the oven to cook.  I didn't take the chicken out, but left the whole thing in about an hour to cook. That's probably why my chicken looks really brown on top. 🙂
But, it was all very delish!  Those lemon slices cook down and it has a nice broth in the bottom. I love having new ways to serve chicken, since we all eat so much of it.
Enjoy!
Added to Jen's Tasty Tuesday.
******************************
The paintstick giveaway winner is Robyn from Imperfect Nest.  Congrats to Robyn!!  I always do a random number generator for my contests and this one chose lucky #178, so you never know what it will choose.  The total that signed up were 180.
Don't Miss a Post, join my list!