We have been gorging ourselves on peaches, blueberries and figs this summer, how about you?
Here's a recipe that has quickly become a favorite around our house this during these hot summer months.  My mom found this from a Taste of Home advertisement and wow is it good.
This is the time of year for fresh and juicy peaches and this delectable fruit has always been a summer staple for me.  I love 'em!  This recipe shows them off to perfection and is light and tasty.
Just right for summertime dining!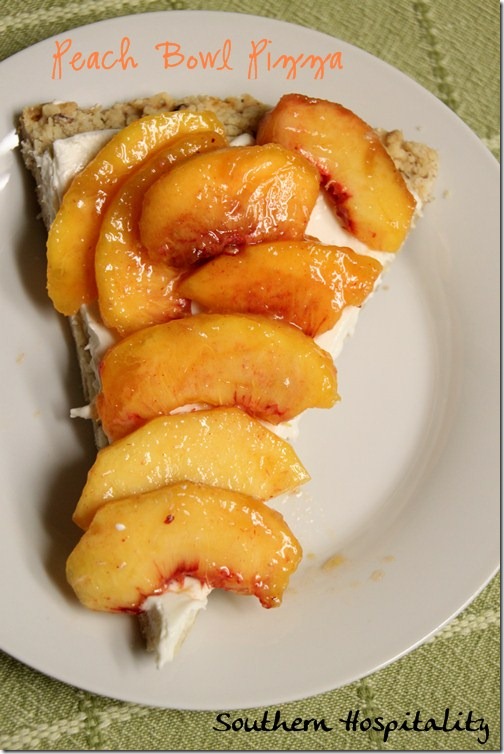 Peach Bowl Pizza
1 1/4 cups all purpose flour
6 TBL sugar
1/4 TSP salt
9 TBL cold butter
1 package (8 oz) cream cheese
1/2 cup confectioners sugar
1/4 TSP almond extract
1 cup whipped topping
4 medium peaches, peeled and diced
*Note:  Mom actually mixed up another recipe with this one and added some chopped fine almonds to the crust before baking and it really made it even better.  She decided that was a good mistake and I agree!
In a large bowl, combine the flour, sugar and salt.  Cut in butter until crumbly.  Press onto an ungreased 12-in pizza pan.  Bake at 350* for 15-18 minutes or until lightly browned.  Cool on a wire rack.
In a small bowl, beach the cream cheese, confectioner's sugar and extract until smooth, fold in whipped topping.  Spread over crust.  Arrange the peaches on top.  Regrigerate leftovers.
How easy is that?  She made the pizza first and then kept her peaches sliced up until ready to serve and then added the peaches to each slice of pie.  The cookie crust is really good, almost like a shortbread cookie, crisp and not too sweet.  Perfect with the cream cheese topping and the fresh juicy peaches.
Try it and let me know what you think.  I love this one!
SaveSave
SaveSave
Don't Miss a Post, join my list!