This is a really tasty treat that I've shared before, but it's so good that I'm sharing it again.  Besides, now I have a better camera, the better to show off pics of these tasty morsels.
We just started our Fall Bible studies at church recently (we're doing Beth Moore's The Beloved Disciple, by the way)  and I brought these.  They were all gone when I picked up my platter.  I had forgotten about this recipe, but this is a great treat for this time of year.  So yummy!
I bought a 24 mini-muffin pan just for this purpose a couple years ago and this recipe makes 36 mini-muffins.  Don't fill the batter over the top, stop right at or below the top of the pan for best results.  You can see I filled a few of mine too full and they baked over the top.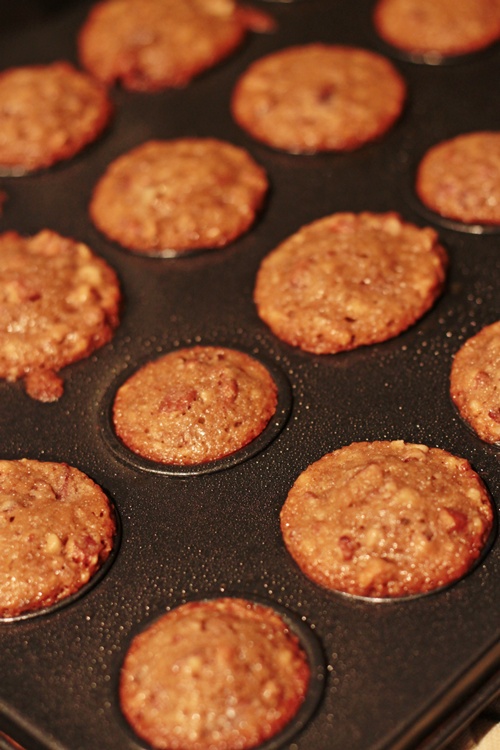 Be sure and spray the pan and they should pop out really easy.
Put them on a pretty platter and you're all set for a tasty breakfast treat.  SO good with coffee!  I'm going to have to make them again soon.  The great thing is they can be mixed up really fast, not a lot of ingredients and they bake fast too.
Here you go:
Pecan Pie Mini-Muffins
1 cup packed dark brown sugar
1/2 cup plain flour
1 cup chopped pecans
2/3 cup butter – melted
2 eggs beaten
Mix all together & spoon in mini-muffin pan. Bake at 350* for approx. 12-15 minutes. They should slide right out of a non-stick pan.
One of my morning treats is watching the hummingbirds out on our deck.  I can sit on my loveseat drinking my coffee and watch these guys fly back and forth, scurrying around, trying to guard the feeder.  I don't know why they don't like to share, but they sure don't.  I've seen 3 at one time actually drink at the feeder, but that didn't last long. 
Soon, they are back to fighting again.  These little creatures are so beautiful to watch that I managed to capture a few pics.
Enjoy the muffins and the hummers!
Joining Jen's Tasty Tuesday.

*******************************************
I recently shared that my staircase project won in the weekly competition over at One Project Closer <——-(click there to vote).  Now, all the entries are in and there is a final vote for the Top project of this year. I would LOVE it if you would go over and vote for me!  The winner will get a $150 giftcard to Lowes or Home Depot. Here's a reminder of my stair painting project, in case you missed it.  There are some other great projects over there as well.
Don't Miss a Post, join my list!