Putting in a pool takes a lot of patience. You certainly cannot get in a hurry with this process. There's a lot of waiting. This is the first time either of us have gone through this experience and it's quite interesting to see the process and how long it takes. It may be longer now, due to the fact that so many people seem to still be installing pools in their backyards. We've been told by some of the guys doing deliveries that they've never seen so many pools going in.
The last update I did, we had just had the hole dug and rebar was installed in the pool, so it formed the base of how the pool would be shaped. All of these steps have been so fascinating to watch. Next came the Shotcrete, the concrete shell that makes the pool stable and durable.
We were awakened bright and early 2 weeks ago by the sound of pinging and tapping outside. It took both of us a bit to realize that yes indeed they had arrived to start the concrete shell. It wasn't even daylight yet, maybe 6:15. By 6:30, I got up and peeked out the blinds to see several guys in the bottom of the pool with lights on working on the rebar, getting ready for daylight as the concrete truck arrived. I guess we were the first stop of the day for them.
They also erected plastic barriers on each side of the pool, I'm sure for overspray of the concrete to protect everything. I was glad to see that go up too.
There was lots of shouting and gesturing with the long hose coming out of the concrete truck snaking back to the backyard and once the right consistency of concrete was coming out the hose, it was ready to start.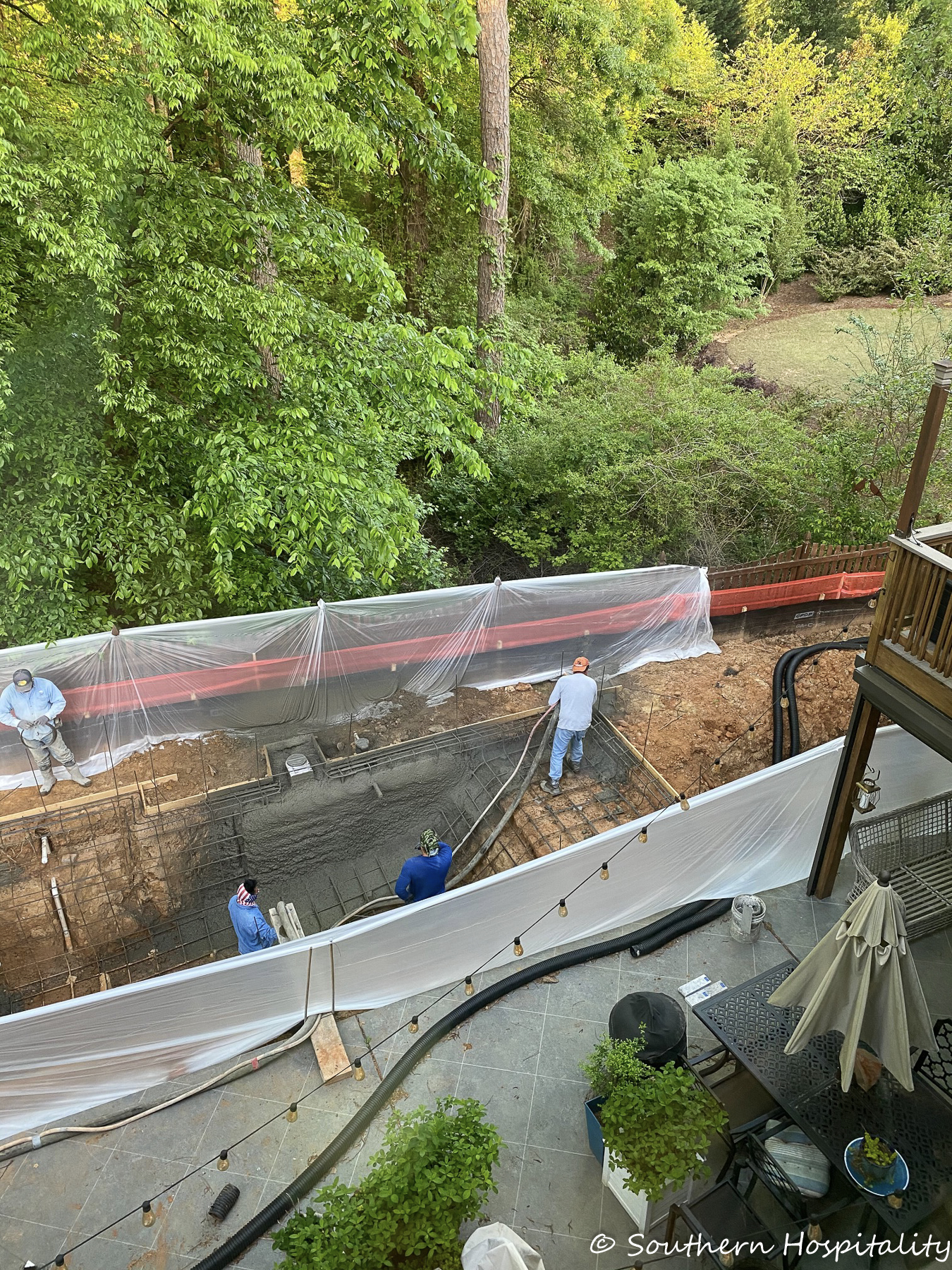 They took turns shooting the concrete all over the rebar base, covering it completely as the concrete shell began to take shape.
It was so fascinating to watch this process and I went out on the deck to take pics. It's thick and by the time they were finished, you couldn't see any rebar at all.
Such a messy job, but those guys were pros and had it all done in no time.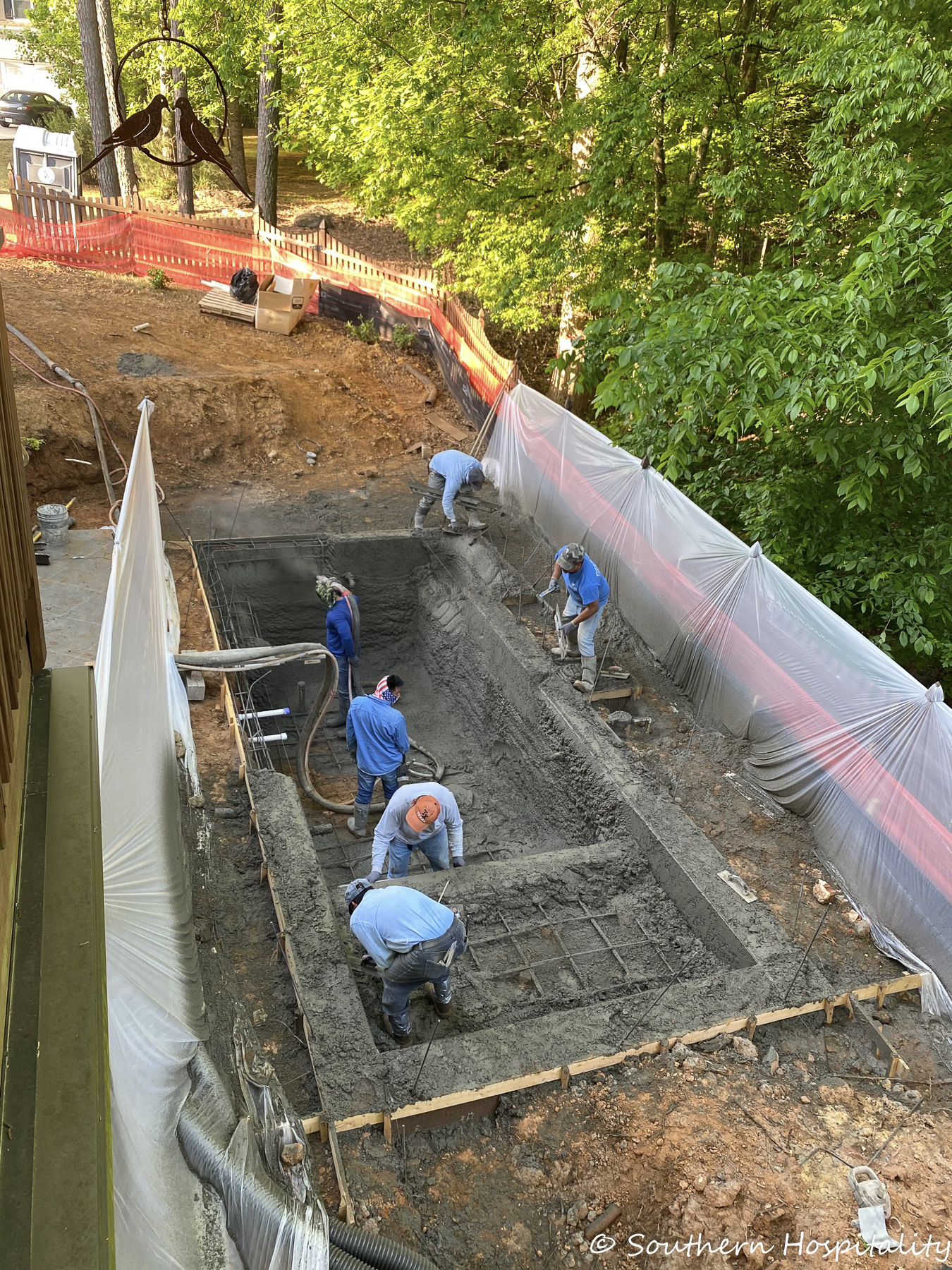 Then the shaping started immediately. They had those long blade things and shaped and sculpted the concrete until it was smooth and shaped.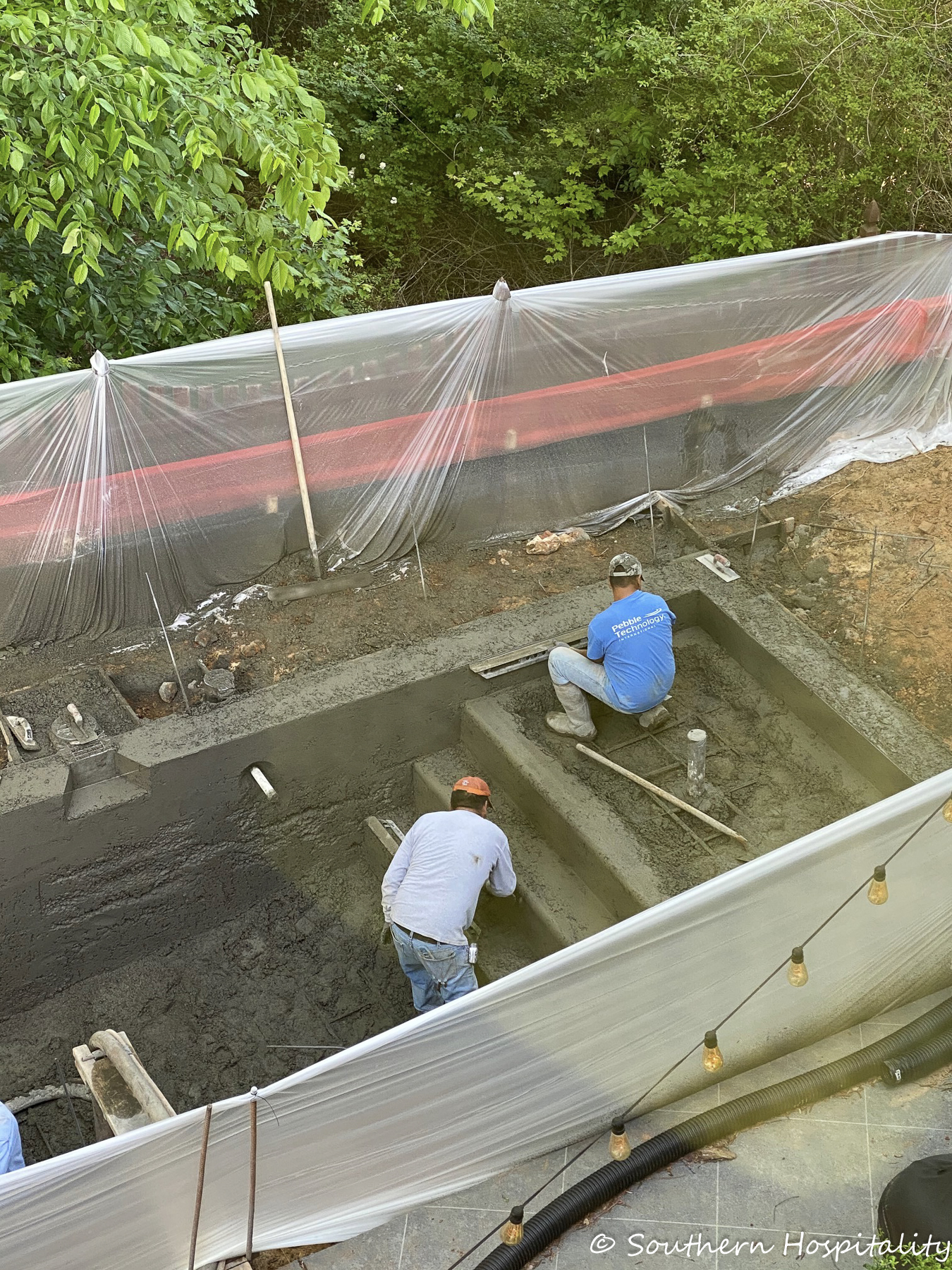 I saw them use levels as they were doing that part too.
It was an amazing process to watch. There were a couple of guys with brooms brushing the concrete smooth as it was shaped. They were finished in 4 hours, around 10:30 that morning.
And after they left, this is what was left. All smooth and pretty!
It was so fun to see how the pool is going to look now, with all the concrete installed.
We are doubly excited watching it all come together. Our finish date is still the end of July, but we sure hope it can speed up a bit. There's still a lot to to to finish.
But this stage is pretty exciting to see. We can really envision how it's all going to look now.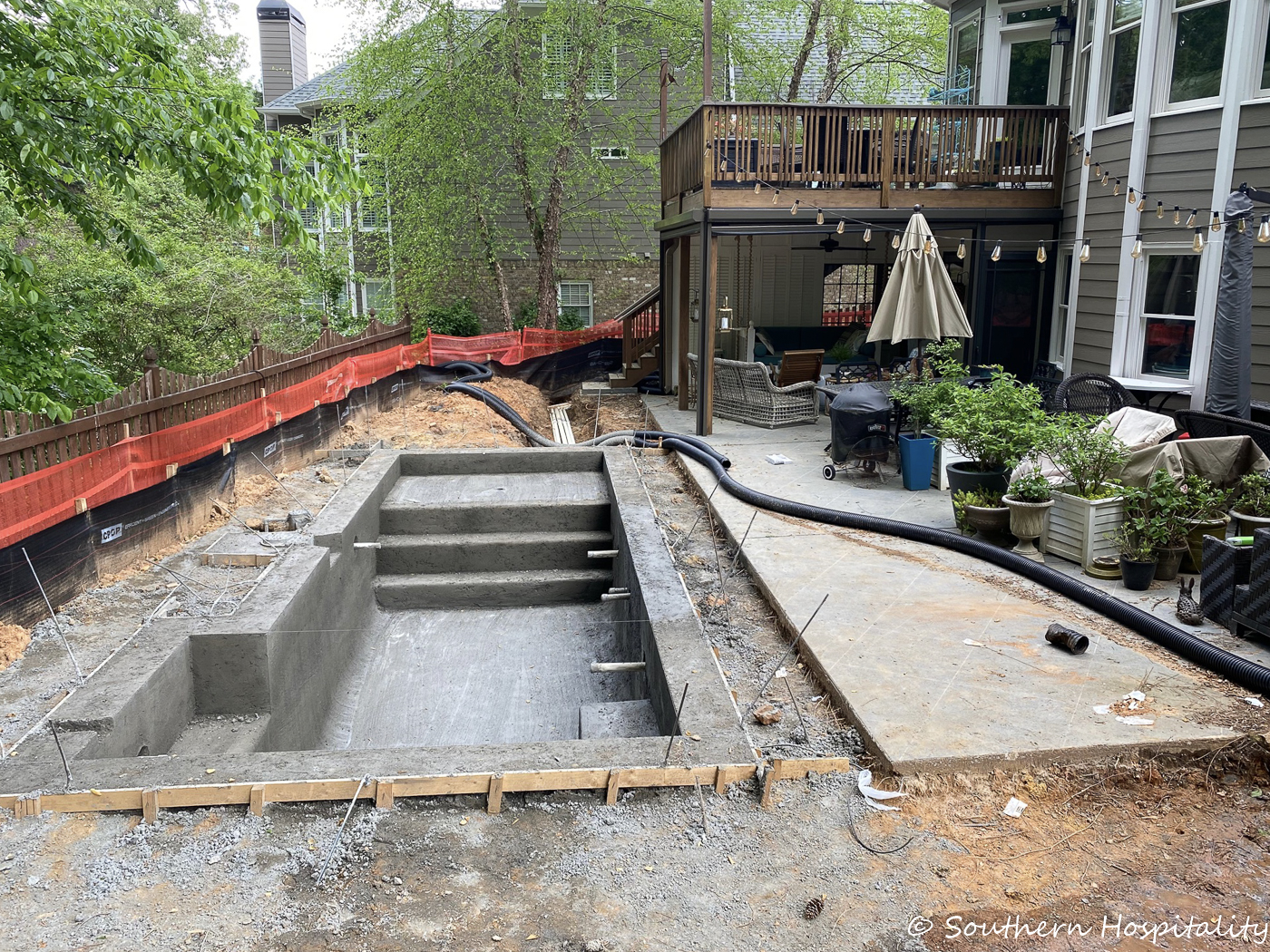 Of course, the patio is all going to have to be cleaned off well after the pool is finished. I have all my planters full of hydrangeas and azaleas that I'm trying to save until we can plant them again.Still not sure where they all will go, but I want to save them.
The next day, another crew of two, the electrical and gas line guys showed up. This small digging machine made us a little nervous, but he assured us it wouldn't hurt the newly poured concrete. That part was nerve wracking to watch.
He dug a trench by the pool to run electrical to the pool and he also got our gas line installed on the end of the house where the pool equipment will be.
You can see the yellow gas line going directly to the gas meter. We are having a heater in the pool, so the gas has to have a special line to come in and we also have to get a bigger gas meter installed from the gas company.
So this is where the pool is now. Next step will be starting the hardscaping around the pool, the pool decking.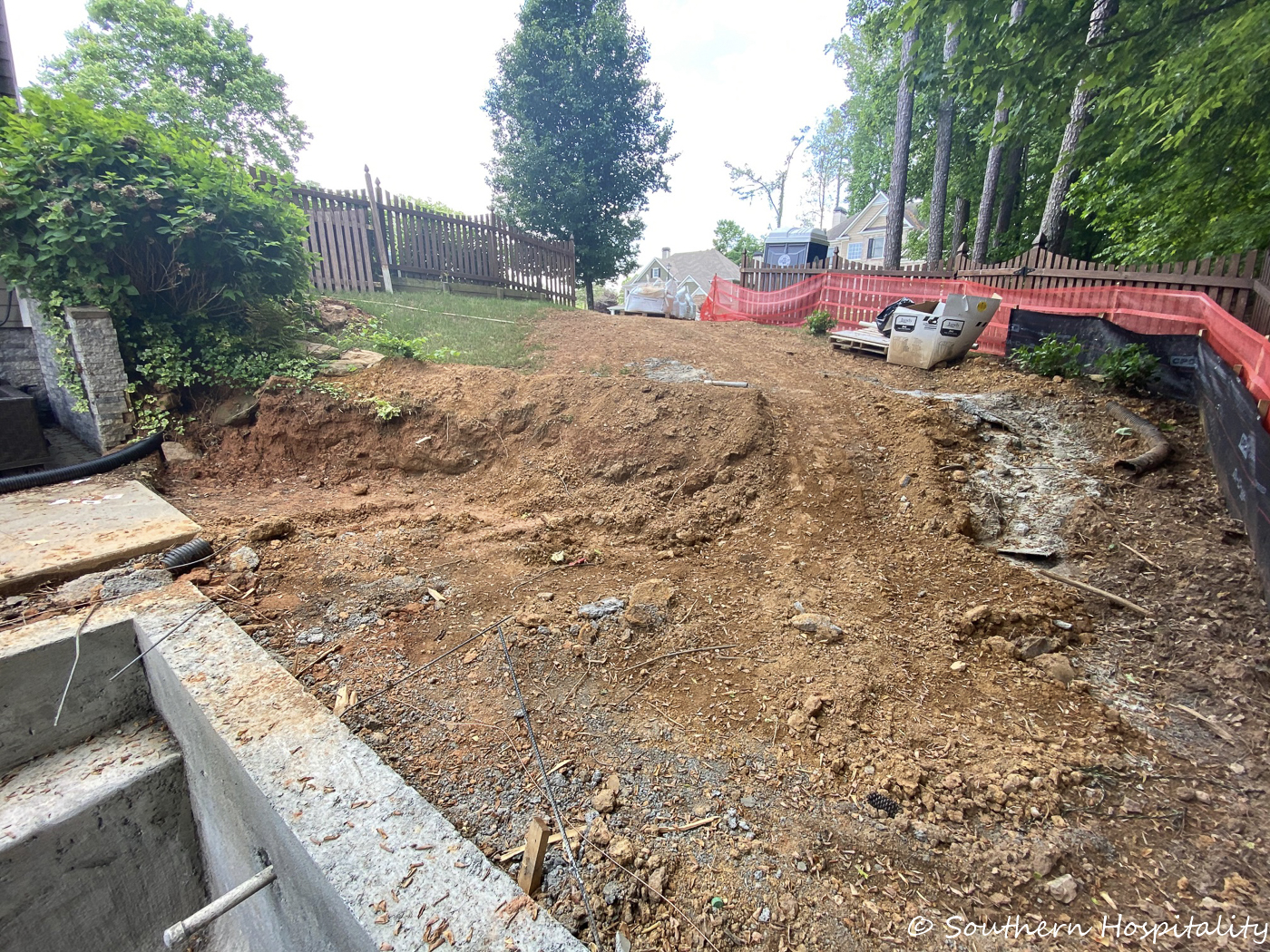 With a retaining wall going in to divert water coming down our sloped backyard, we knew that we'd need to address the slope. We had always sort of planned to do some sort of decorative retaining wall back here since the backyard slopes down so much. With the retaining wall necessary anyway to help divert water away from the pool, I talked to the pool company about continuing the retaining wall to the right side of the yard along with adding nice stone steps. We're using silver travertine for the wall and will continue that look with the steps and additional wall. Of course, that will add a few more thousand dollars to the project, but we want to do this right the first time and it's definitely going to be needed.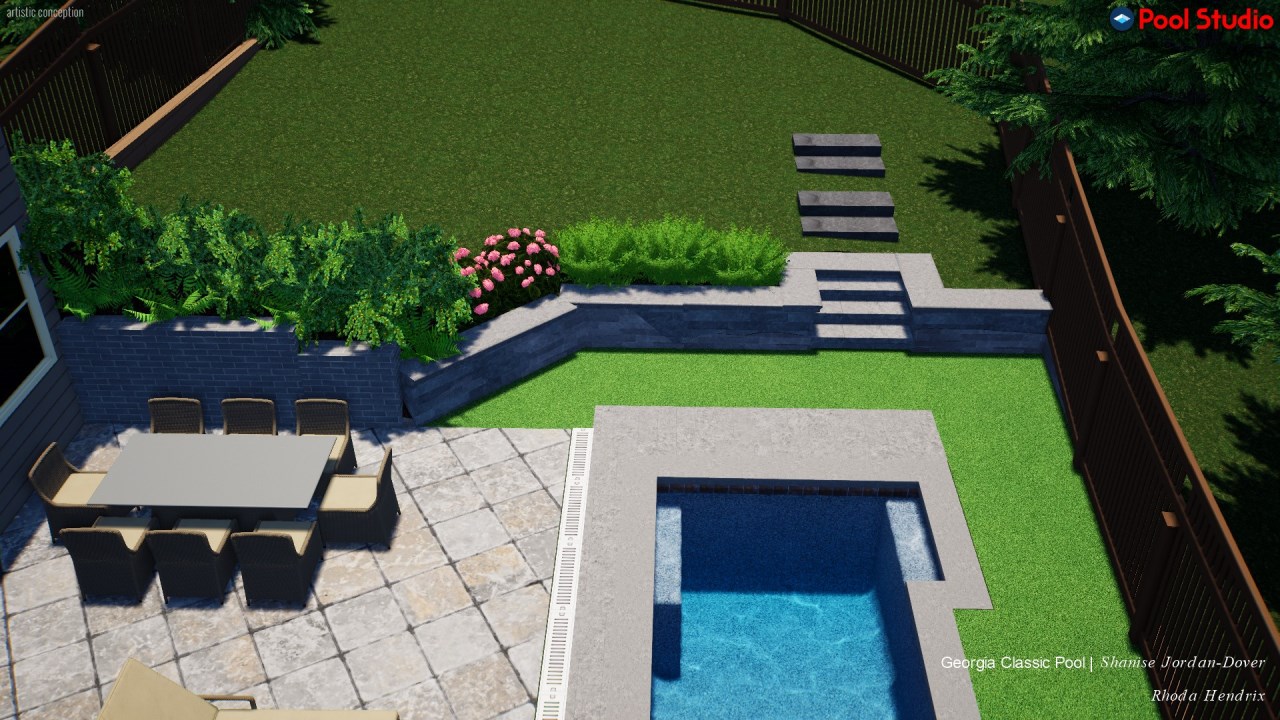 Here's the rendering she did so it will look something like this. I'm excited for this change.
We also want to install artificial turf down around the pool decking on the ground that is left, so that will probably come last. We're still not sure yet if our fence will pass inspection for height, it's really close so we will see if we have to add more fencing around the pool. We sure hope it passes. There are a couple of unknown costs yet to figure out and as we keep moving along, those will have to be considered too.
It is definitely not an inexpensive project to take on, but it's something we both are very excited to have and enjoy. We think we will use it at least 6 or 7 months out of the year since we have a heater. It's truly a dream come true that I never expected to be able to do. As I've said, it's now or never. We aren't getting any younger so I fully expect we will enjoy this pool to the max in our senior years. We have plenty of family and friends who will enjoy it too.
The next thing that showed up was pallets of sand and crushed gravel to start the hardscaping along with cinderblock for the retaining wall.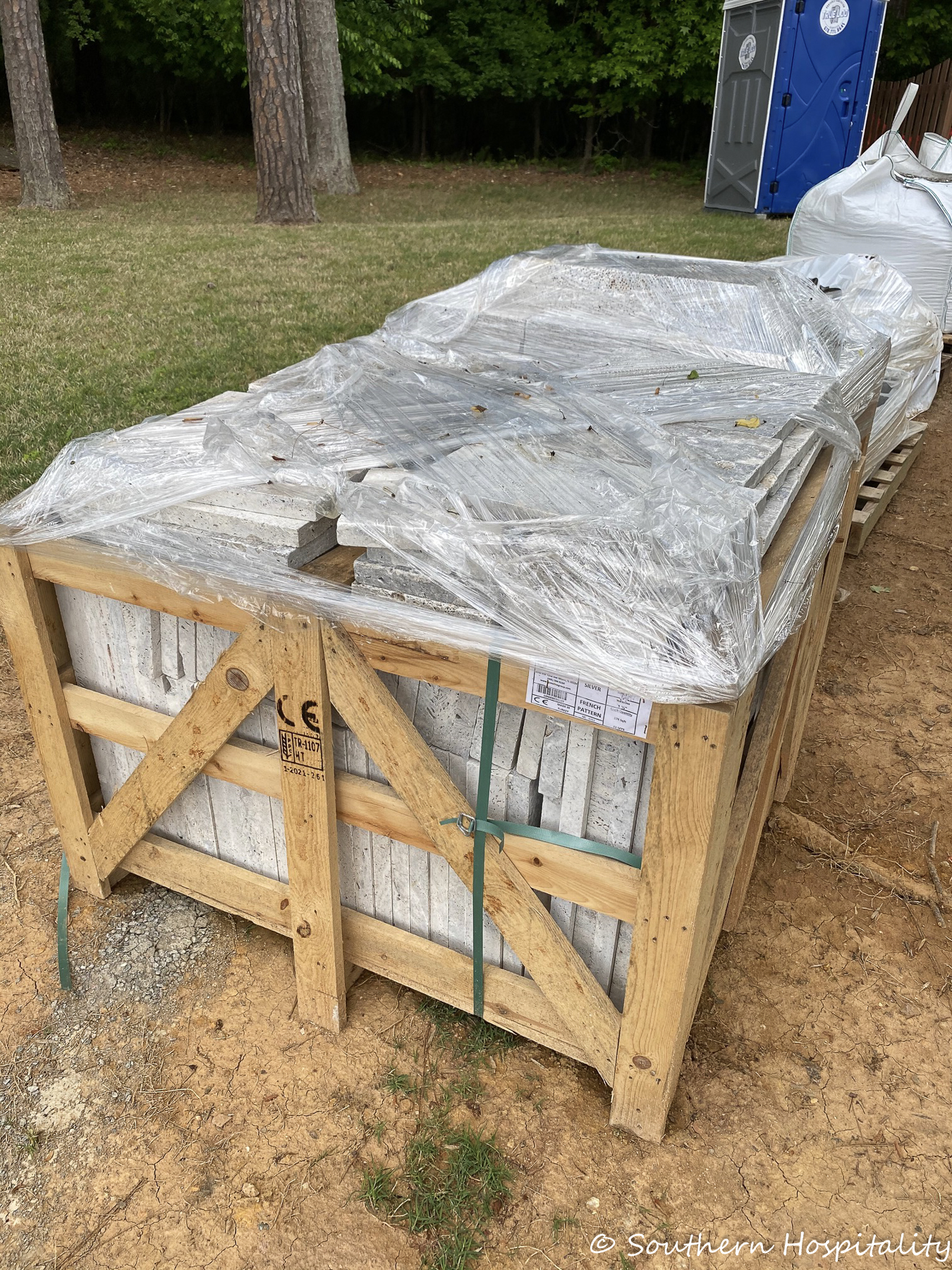 And right behind that is the shipment of travertine for our pool coping and decking. It's so exciting to watch this process happen in real time. I'll definitely keep you posted on next steps.
We are eagerly awaiting the next thing that happens and can't wait to see more of our backyard dreams come to life. If it turns out as nice as this rendering, we'll be thrilled! I hope this process is interesting for you to watch too! it sure is for us.
Don't Miss a Post, join my list!