This month's challenge with Lowes was front door makeover and pop of color, so my project fit both of those. I'm so happy with how the house is turning out and can't wait to share it all with y'all!
I'm going to be back tomorrow to show you the whole house exterior makeover with new paint, but today I wanted to share the front door color.  I did Annie Sloan chalk paint Florence color mixed in Valspar at Lowes.  I then added Webster's chalk powder to make it a chalky finish.  Some were wondering why I did that, when I posted the progress on my Facebook page.  I just know how well chalk paint sticks and I wanted something with sticking power on my metal front door, so that's what I did.
Just as a reminder of where I started on this house, I had to throw this BEFORE shot in.  The transformation is truly amazing and I can hardly believe it myself at times.  When I drive up to my house now, I can't help but admire it all over again.
This was a poor excuse for a front porch, that's for sure!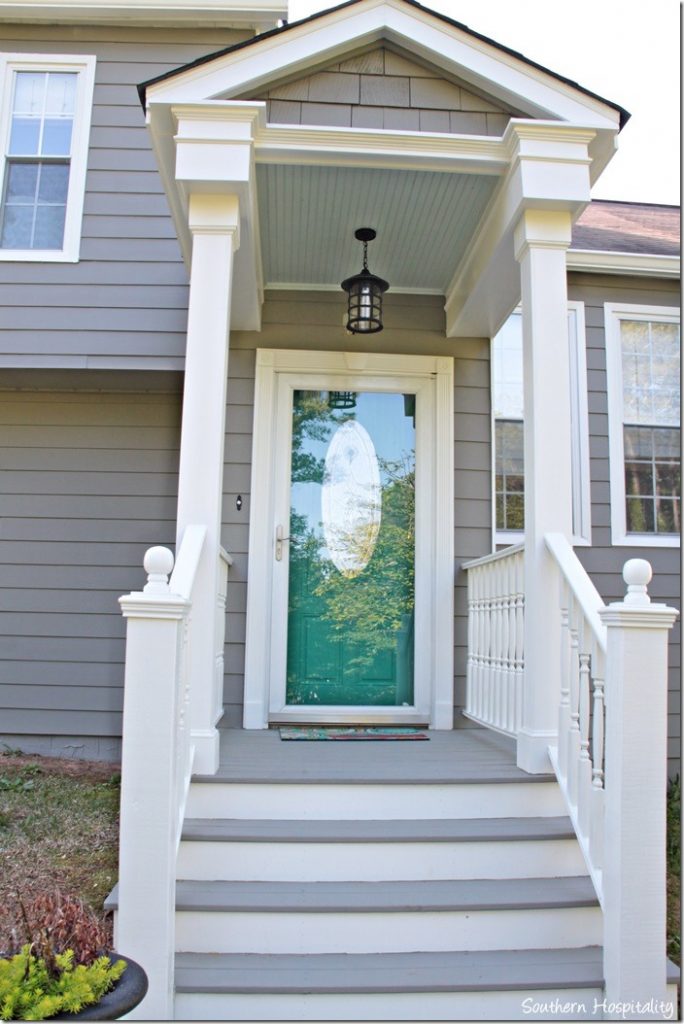 The turquoise is the same as what I used on the inside of my front door and it's hard to tell how vibrant it really is behind the glass storm door, but it really is a beautiful color.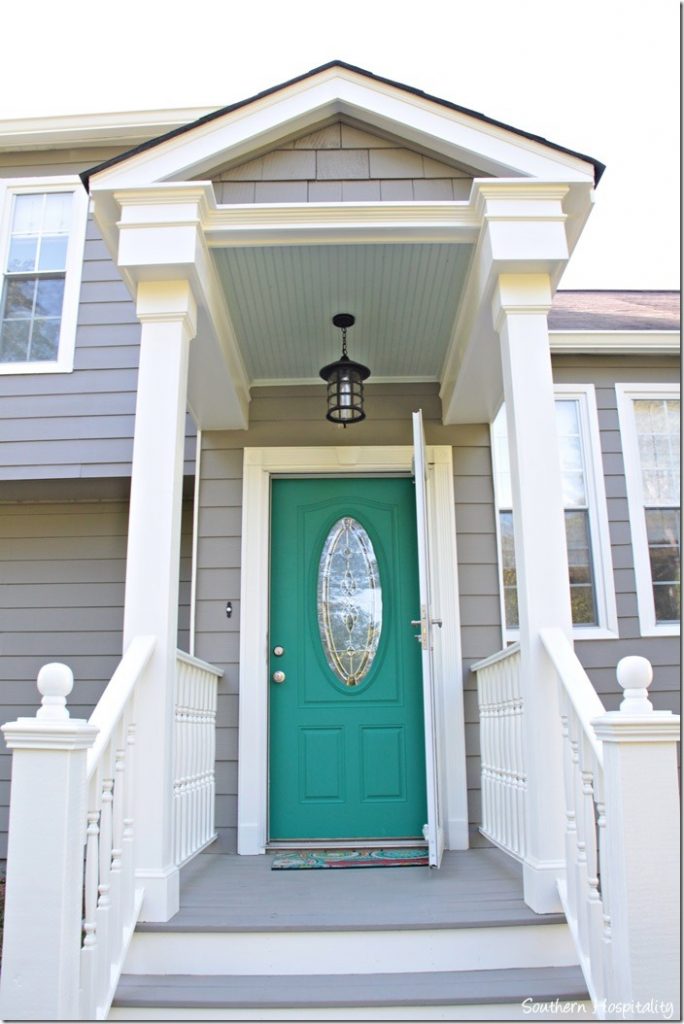 I love how the turquoise contrasts with my new gray and white paint on the whole house.  The ceiling is painted a light blue and I'll get into all those details in tomorrow's post, as well as the new lighting, which just got installed.  For now, enjoy my beautiful turquoise front door makeover.  I absolutely love it!
Here's a late afternoon shot of the front door with the sun heading down in the West.  Lovely, don't you think?
Some of you were asking for the paint formula to match the Annie Sloan Florence, so here's the Valspar paint and primer code:
I used Valspar, Ultra Paint and Primer, Flat, Base C:  BsC-391034, 102-46.5, 107-19, 113-39, 203-39
That's the numbers on the label, so hopefully if you want to copy this color, they will know how to do it with those code numbers.  And if you want to order Webster's Chalk powder, my friend Debbie, in Birmingham is now selling it.
I'll be back tomorrow with the whole house exterior paint reveal!  Can you imagine how much I love it?  Yes, I do!

Check out Lowes Creative Ideas Magazine app, visit Lowes on Facebook, and Lowes on Pinterest.
You can see Lowes on Instagram as well. Instagram is fun for every day real life happenings.
Disclosure: As a Lowes Creative blogger, I am sent gift cards to spend on projects and to blog about them. This post is sponsored by Lowes, but all ideas and projects are my own.
- Rhoda